Next tropical threat (97L Invest) aims towards Europe (Portugal, Spain, France, the UK, Ireland)!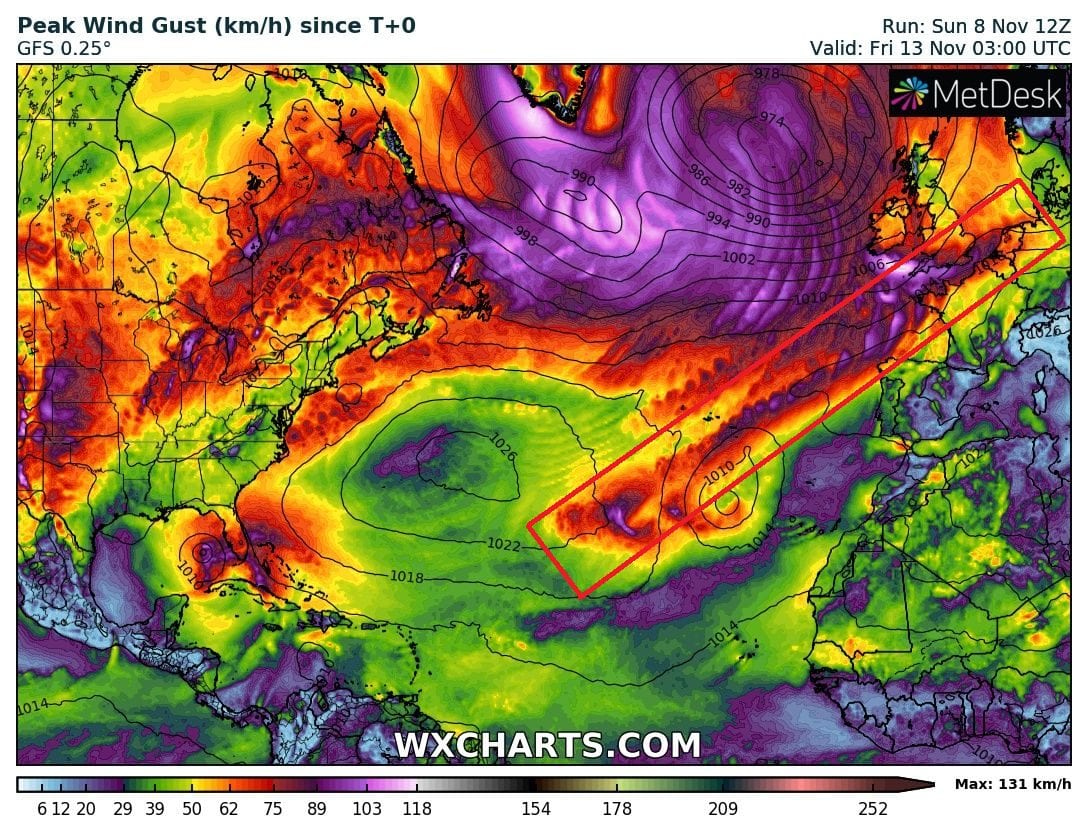 After tropical storms Alpha, hurricane Epsilon and tropical storm Zeta /https://mkweather.com/2020/09/20/tropical-storm-alpha-in-europe-floods-in-spain-portugal-and-france-easternmost-forming-tropical-storm-ever/; https://mkweather.com/2020/10/20/hurricane-epsilon-uk-ireland-france-and-norway-with-dangerous-winds-and-floods-around-tuesday-27-october/; https://mkweather.com/2020/10/29/worlds-largest-hails-20cm-from-cold-front-linked-with-ex-hurricane-epsilon-supercell-storm-in-libya/; https://mkweather.com/2020/10/31/ex-hurricane-zeta-hits-europe-already-in-a-few-hours//, next tropical threat aims towards Europe in November 2020!
Tropical depression 97L Invest only grows above eastern parts of Northern Atlantic now, but until Wednesday – Saturday 11.-14. November it shifts above European land with possible tropical or post-tropical features such are severe winds, flooding rain or significant worsening of weather.
Stormtrack of 97L Invest will be situated between Azores and Canary Islands and system will shifting northeastward during next 5 days, towards northern Portugal and Spain, northern France, the UK and southern Ireland. Then its remnats should hit Benelux, northern Germany and Denmark little, but the storm will be strongest with the biggest probability in Bay of Biscay, La Manche region, England, Wales and southern Ireland.
Heavy rains are projected to more northern regions, such the highest wind gusts, with local or regional possibility of floods mainly in British Islands and Azores.
Tropical depression or soon tropical storm, which has grown over central Northern Atlantic, will cause next coldwaves over region of Global warming hole /https://mkweather.com/2020/09/29/gulf-stream-the-weakest-for-1600-years-northern-ireland-with-the-coldest-recorded-september-temperature-in-history// southwestward from Iceland. It will be one from more factors, which cause, that extremely cold Arctic air floods these parts of Atlantic soon and which move very cold masses of air from Canada and Greenland to Europe /https://mkweather.com/2020/11/07/monthly-forecast-for-europe-between-10-november-and-10-december-arrival-of-cold-winter-is-expected//.
Forecast of next tropical threat should be until Wednesday, 11. November changed little, but it is very probable, that system hits western coasts of Europe already during incoming workweek.
Mkweather will watch the situation and brings current news and forecasts about 97L Invest, soon.
Infographics: wxcharts.com, tropicaltidbits.com: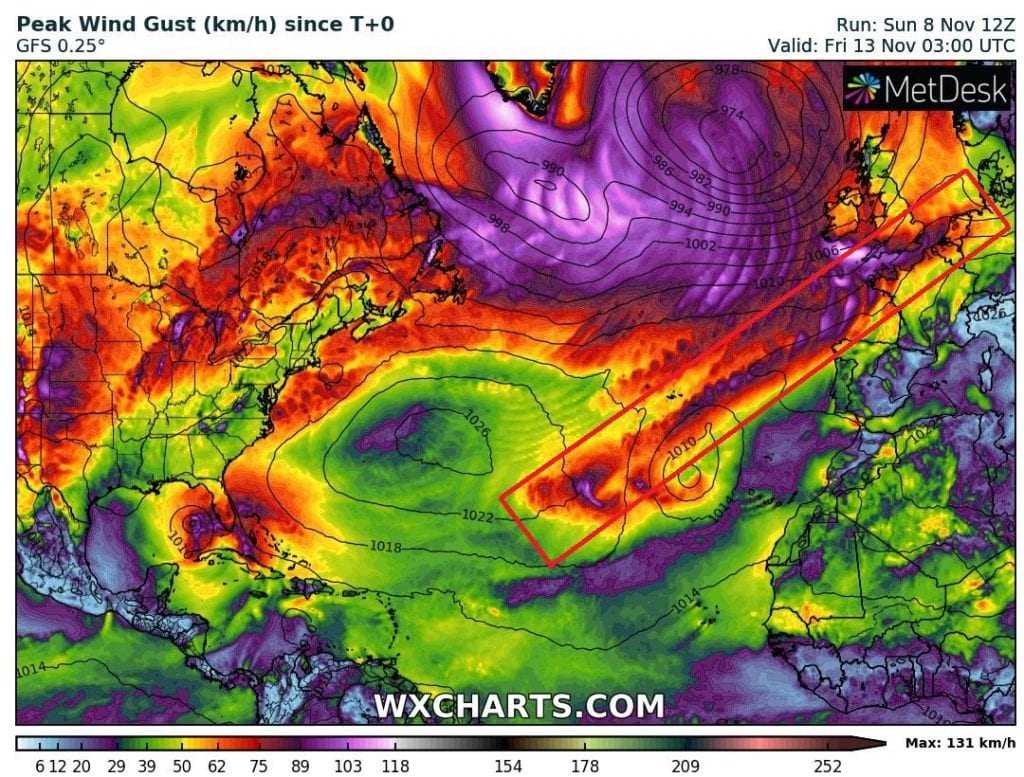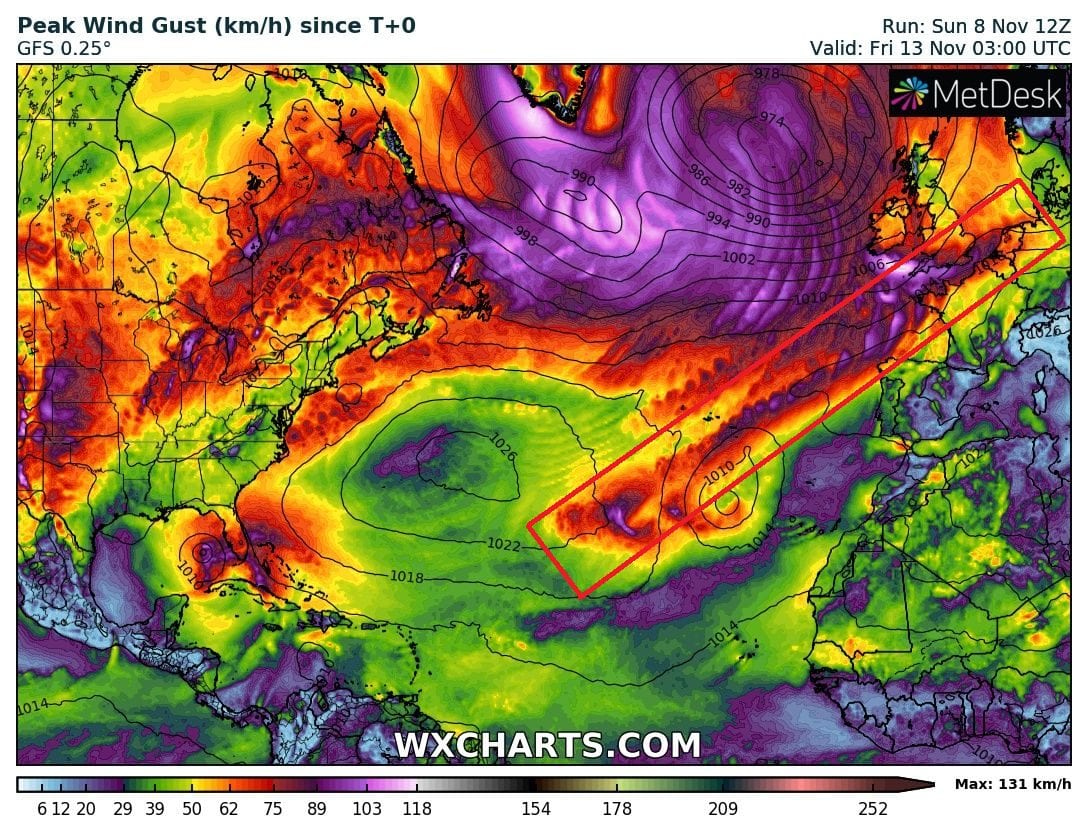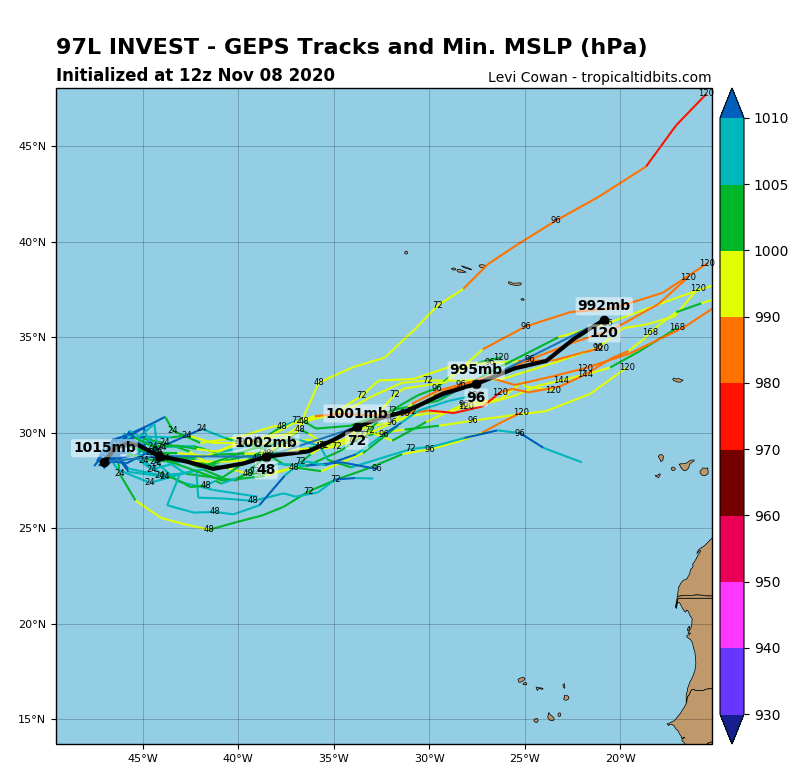 Read more: