France +37,9°C, Belgium +36,3°C, Netherlands +35,1°C, Germany +34,8°C, UK +31,3°C: The hottest September day ever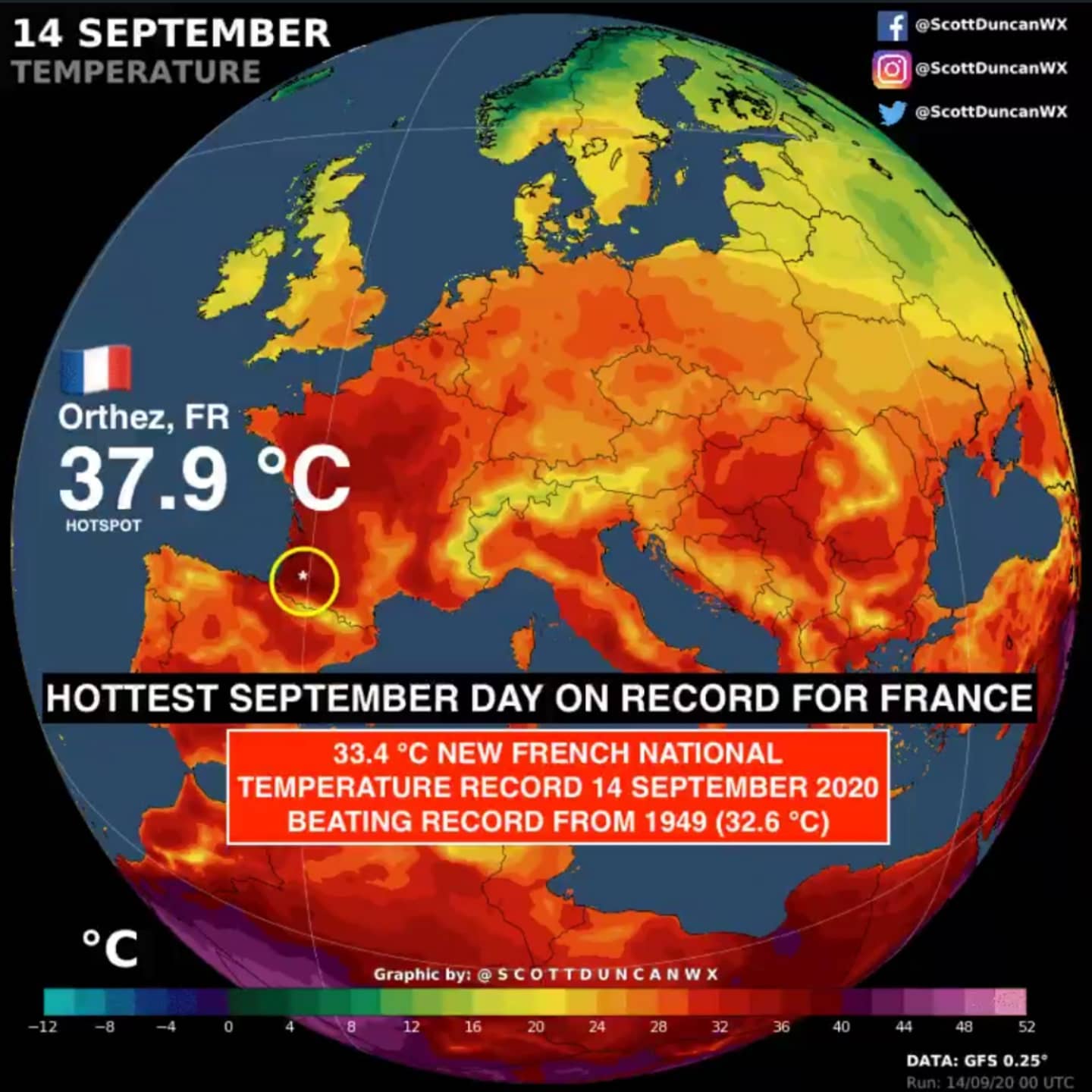 Anomalous heatwave over Western, Central and Southern Europe has continued on Monday and Tuesday, with expected peaks in France, Germany, Benelux and England.
In Orthez, southwestern France, maximum temperature has reached supertropical +37,9°C (100,0°F) on Monday– a temperature typical for summer heatwaves, only 6,5°C below all-time national record. This temperature maximum is almost 15°C above seasonal long-term average.
September record from the first September days for France is +40,0°C, but in average, 15. September 2020 was overall the hottest September day in France, with average maximum temperature in all stations +33,4°C – more than +32,6°C from the hottest day of the year 1949.
In Paris, temperature has reached +34,7°C and in London +30,1°C on Tuesday, therefore, our forecast from 8. September /https://mkweather.com/2020/09/07/paris-35c-95f-london-30c-86f-on-monday// was more than correct.
The hottest place in UK, however, has been located in Frittenden, +31,3°C and Manston, +31,0°C, southeastward from London, on Tuesday. Since digital records began in 1961, there had only been six previous years where temperatures of 30°C (86°F) or more were recorded in September in UK: 1961, 1973, 1999, 2006, 2013 and 2016 /leicestermercury.co.uk/.
In Benelux was so hot, that some years in the past haven´t had so high temperature in the summer. In Agimont, Belgium, was measured +36,3°C and in Gilze-Rijen, Netherlands +35,1°C on Tuesday. It is the highest all-time September temperatures ever. Luxembourg has reported +32,2°C.
In Trier-Petersberg, Germany, +34,8°C was reached.
Extremely hot was on Tuesday, 15. September 2020 in other European countries too. Tirana, Albania has reported +36,2°C, Serrain, Greece +35,2°C, Gevgelija, Macedonia, +34,9°C, Podgorica, Montenegro, +34,5°C, Tortosa, Spain, +34,5°C, Guidonia, Italy, +33,6°C, Baja, Hungary, +33,2°C, Sandanski, Bulgaria, +33,2°C, Mostar, Bosnia and Herzegovina, +33,2°C, Senj, Croatia, +33,0°C, Doksany, Czechia, +32,5°C, Sombor, Serbia, +32,5°C, Arad, Romania, +31,8°C, Hurbanovo, Slovakia, +31,6°C, Tiraspol, Moldova, +31,2°C, Mohyliv Podilskyi, Ukraine +31,1°C, Slubice, Poland, +31,1°C, Nova Gorica, Slovenia, +31,0°C.
Extremely hot air will shifter up to southern Scandinavia – Abed, Denmark, +28,2°C and Horby and Vaxjo, Sweden +27,0°C.
Until Friday, supertropical temperatures +35/+38°C are still possible in southern France, but from Thursday, Arctic air will shift over Central Europe, with possible frosts in Carpathian basins. Topic of frosts in East-Central Europe will be analysed in one from the next articles.
+37,9°C and the hottest September day ever in France on 15.9.2020 /Jurnal de Vreme, FB page: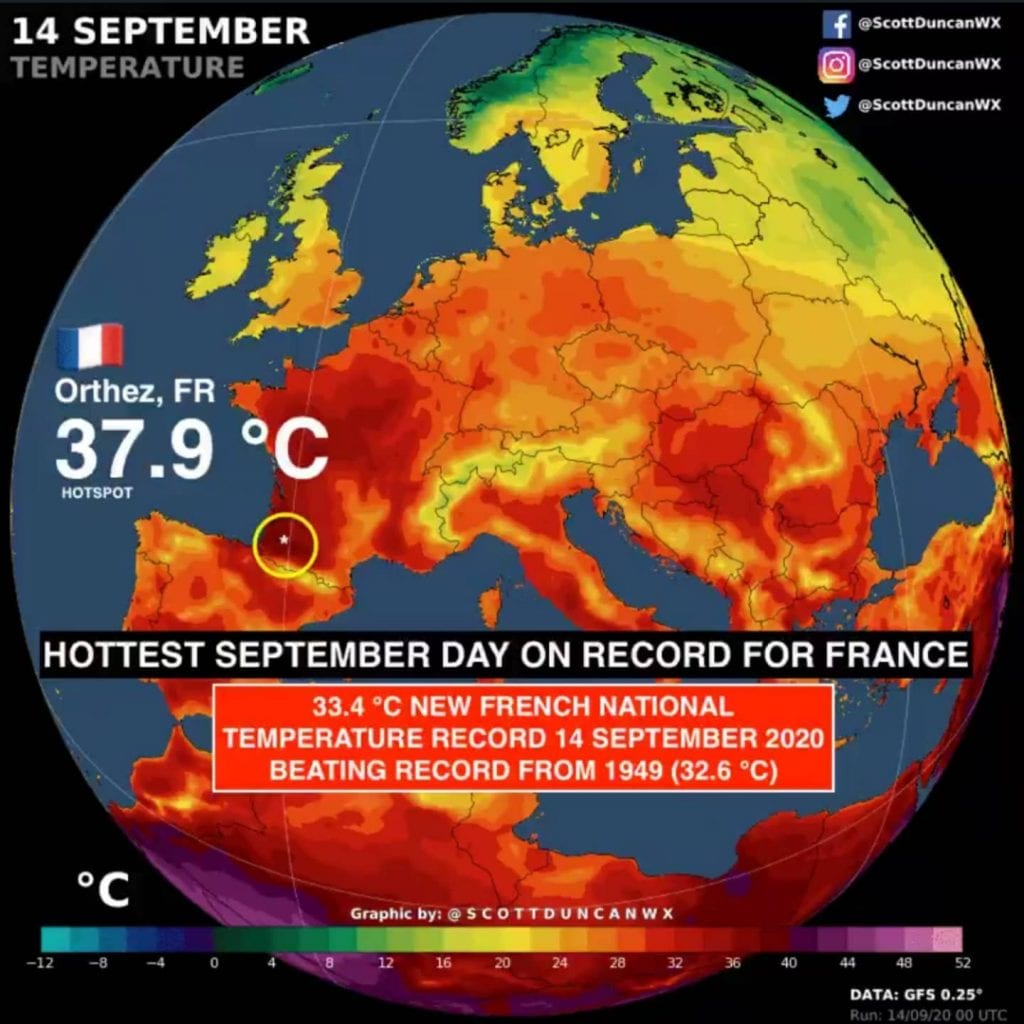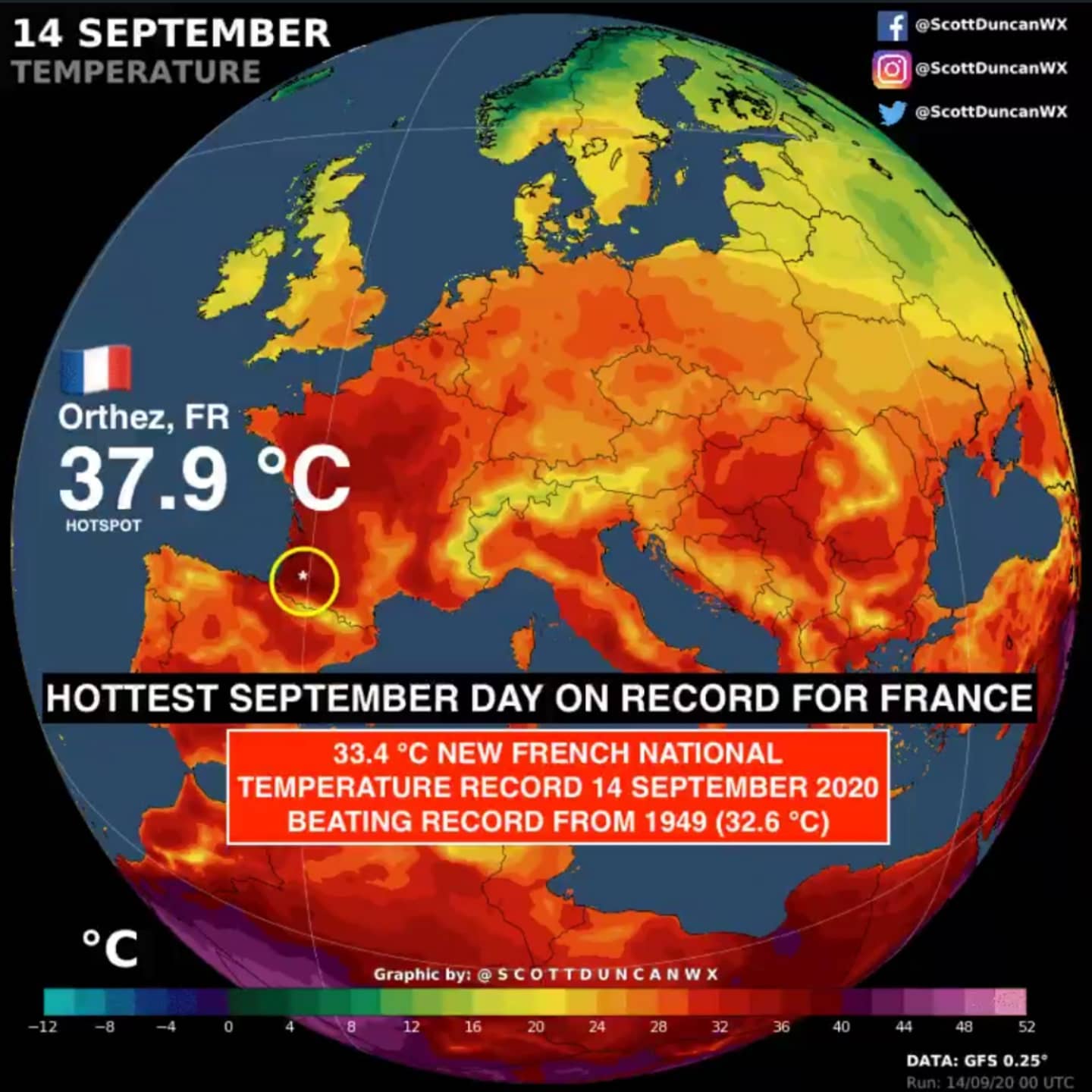 Predicted maximum temperatures from Tuesday 15. to Sunday 20. September 2020 according to GFS /wetterzentrale.de: