While lower situated regions in Germany expect at the weekend overcoming of a threshold -30,0°C, in mountainous Alpine frost valleys will be even colder – accroding to the newest forecasts up to -43°C! /https://www.rtl.de/cms/morgen-43-grad-warum-diese-deutsche-wetterstation-extremste-kaelte-vorhersagt-4697874.html/.
-43°C is forecasted for Funtensee, 1601 MASL. Absolute temperature record for Germany come from this station – in 2001, -45,9°C was here measured.
Lower situated parts of Germany reported extreme frosts already last 3 nights – on Wednesday, -27,1°C in Wetze/Northeim in Niedersachsen, on Thursday, -18,9°C in Grad Gollhofen (Mittelfranken) and on Friday, -24,5°C in Wetze (bei Northeim in Südniedersachsen) was measured.
In Funtensee, already temperature -39,1°C was during last mornings measured.
A big competitor of Funtensee should be Italian valley in Dolina di Campoulazzo, where -39,6°C in January 2021 was measure. Absolute Alpine record was measured in Busa Fradusta in Italy, 2607 MASL, in 2013 (-49,6°C).
In lower situated and densely populated regions in Germany (below 1000, max 1200 MASL), -30°C is expected to fall already in next mornings – it should fall in the Alps, but too in Central regions, which hit during last week extreme snow calamity and where, still up to 60 cm of snow is present.
Extreme frosts below -30°C at the weekend and during next workweek hit other parts of Central Europe too including Poland, Slovakia, Czechia or Austria.
Mkweather will properly watch the situation and will bring fresh news about measured TOP minimum temperatures from European countries during next days. Stay safe and warm.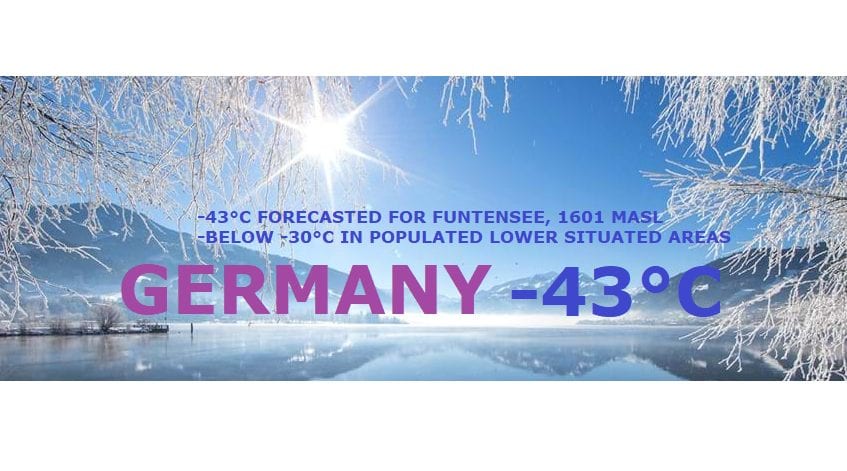 Read more:
(Visited 61 times, 1 visits today)