Hurricane Eta in Central America, Cuba and…Florida? Wet MJO until 15. November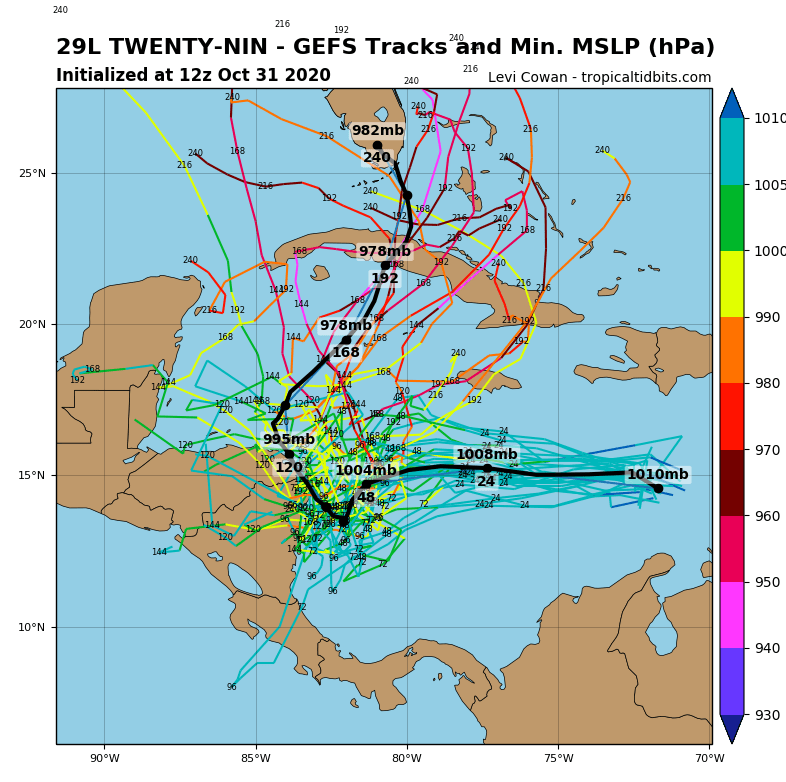 Next formation of a hurricane in Carribean is very possible during next days with the first hurricane with name Eta, ever.
The first Eta in all-time history of hurricane records will be firstly shifting above southern Caribbean towards Central America. The highest possible impact of Eta will be situated in Honduras and Nicaragua – hurricane will be above land weakening and should dramatically change a direction from westward to northward/northeastward.
After change of direction of move of hurricane, more tracks are possible – Belize, Yucatan, Cuba or Puerto Rico.
Current outputs of meteorological models and tools expect, that hurricane, tropical storm or only tropical depression Eta should hit in Florida and brings winds, but mainly heavy rains.
In Central America should be hurricane associated with landslides, on the coast are possible rough seas and rip currents.
40-day forecast of MJO from 31. October to 9. December 2020 predicts, that favorable conditions for hurricane development above Atlantic and North American sector will be minimally until 15. November 2020, with wet (green on the picture below) phase of MJO (Madden Julian Oscillation), with next possible tropical threats – tropical depressions, tropical storms, hurricanes or even major hurricanes.
After 15. November, MJO will shift to its dry phase and forming of hurricanes / tropical threats should have be very occasionally until 10. December.
Means it, that hurricane season 2020/2021 is close to its end?
Partly yes, partly not. Until 15. November, next serious threats are possible, but after 15. November 2020, tropical disturbances will make less damages and will be less dangerous for lives, property and ecosystems and mainly, thanks to colder water above Gulf Coast and dry MJO, will really appear only rarely.
It will be interesting to watch, which Greek letter in alphabet will be used for last tropical storm of Atlantic hurricane season. What do you think?
Infographics: tropicaltidbits.com, wxcharts.com, NOAA: