In Sahel has started season of drought, Senegal +46,0°C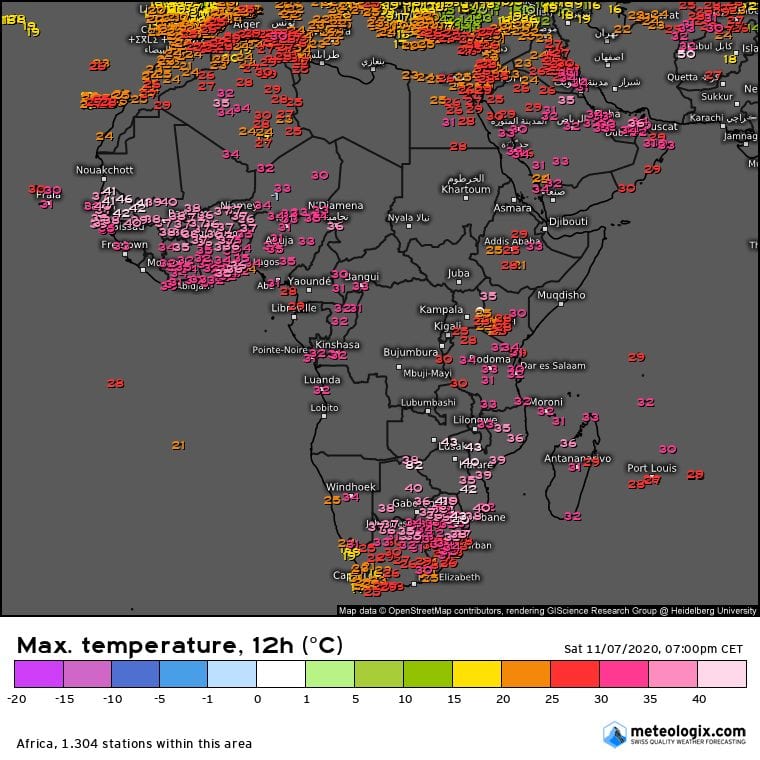 Colder air is shifting more southward, over northern, but partly too, southern parts of Sahara and extremely hot Saharan air is pushed above Sahel.
In parts of Sahel is now unseasonably hot, e.g. in western Sahel, with maximum temperatures +35/+45°C in parts of Senegal, Mauritania, Mali and Burkina Faso.
The hottest was on Saturday in Matam, northeastern Senegal, +46,0°C, what is almost 8°C above seasonal long-term temperature average.
Hot is too in eastern Sahel, but without available data. In Sudan and Southern Sudan, fortunately has ended humanitarian crisis linked with severe floods during the first half of Autumn 2020 /https://mkweather.com/2020/10/05/floods-in-africa-half-of-south-sudan-needs-humanitarian-assistance-sudan-with-south-sudan-15-million-affected-nigeria-40-dead-benin-30-dead-and-dr-congo-11-dead/; https://mkweather.com/2020/09/26/almost-million-affected-and-124-dead-during-historic-nile-river-floods-in-sudan//. Rains fortunately has shifted above many southern regions with fires /https://mkweather.com/2020/10/17/kilimanjaro-in-fires//, but many countries in equatorial Africa reports severe floods in October 2020 /https://mkweather.com/2020/10/31/october-2020-floods-in-africa-mozambique-kenya-nigeria-togo-tanzania-uganda-ghana-dr-congo-and-benin//. In November 2020, floods in Uganda and Chad were documented, least.
Interesting should appear differences of maximum and minimum temperatures in South Africa and Algeria during this season – while northern parts of South Africa alive extremely hot weather with temperatures up to +43°C (similar in southern Algeria), in the south are still rarely reported frosts in lower situated areas (in northern Algeria, too).
Lot of rain in summer season – season of rains in Sahel in 2020 according to many professionals should increase climatic vulnerability in the region. After decades of severe drought linked with famines is coming more humidity and rainfall, what has positive and negative effects, both (negative linked with agriculture, floods and material damages...).
Saturday´s, 8. November 2020 maximum temperatures in Africa /meteologix.com: