Sumatra's highly active Sinabung Volcano has exploded again on Monday, Aug 10, firing volcanic ash into the atmosphere.
The Volcanic Ash Advisory Center (VAAC) Darwin is warning of a thick ash plume rising to at least 30,000 feet (9.1 km) — particulates ejected to around these levels –and so into the stratosphere– can have a direct cooling effect on our planet.
"It was very dark, it felt like the night was due to dust, until now the house lights are still on," saind a resifent of close village. "Plumes of ash are "insanely massive". Just before the volcano erupted locals said that it "rained dust".
Monday's eruption follows the moderate phreatic explosion which occurred on Aug 8. Alerts before volcanic bombs and pyroclastic flows could impact an area up to 5km from the volcano were valid.
Sinabung woke in 2010 after 4 centuries of quiescence, according to, with it's eruptive phase that year registering as a 2 on the Volcanic Explosivity Index (VEI). It was just a precursor to the long, powerful episode which began on Sept 5, 2013 and didn't end until Jul 15, 2018 — qualifying as a VEI 4.
Mount Sinabung re-exploded back into life in early May, 2019, with this latest eruption ranking as the largest in years, and coming just 2 weeks after the previous 50,000+ feet ejection, on May 25.
According electroverse.net "It appears more than capable of producing a powerful VEI 6, which would result in a dramatic cooling of the planet, almost overnight."
The coronavirus pandemic complicated matters as scared residents violated safety rules.
"Locals were gathering after the eruption without using face masks because they were all panicking," said local disaster agency chief Natanael Perangin-angin.
Sinabung had roared back to life in 2010 for the first time in 400 years. In 2016, seven people died in one of the eruptions, while another in 2014 killed 16. In late 2018, a volcano in the strait between Java and Sumatra islands erupted, causing an underwater landslide and tsunami which killed more than 400 people.
BACKGROUND
Stratovolcano: 2460 m / 8,071 ft
Sumatra, Indonesia: 3.17°N / 98.39°E
Current status: ERUPTION WARNING
Eruption list: 0810 ± 70 years, 2010, 2013-2018, 2019-ongoing
Sinabung Volcano Volcanic Ash Advisory: HIGH LEVEL ERUPTION TO FL300 OBS VA DTG: 10/0337Z to 30000 ft (9100 m)
Volcanic Ash Advisory Center (VAAC) Darwin warned about a volcanic ash plume that rose up to estimated 30000 ft (9100 m) altitude or flight level 300 and is moving at 25 kts in W direction on Monday.
Tambora, 1815, VEI 7: "Year without summer", Mt. Pinatubo, 1991, VEI6 global cooling down -0,5°C, Mt. Sinabung 1964-65, -0,4°C, VEI4 events with possible -0,2°C effect
Eruption Mt. Sinabung in 1964-1965 belong to 12 the most strongest eruptions in 20. century, with power VEI5-VEI6 and global cooling effect -0,4°C.
Bigger cooling down of planet was after 1964-1965 Mt. Sinabung event registered only once – Mt. Pinatubo in 1991, with power VEI6 and global cooling effect -0,5°C.
After 2000, only one eruption with power VEI5 has occurred – Pueyhuey Cordón Caulle in Chile, 2011. In 2010, Icelandic Eyjafjallajökul with power VEI 4 scared Europe.
From the year 1800 was measured 61 eruptions of volcanoes with power VEI4, 22 with power VEI5 and 6 eruptions with power VEI6 and bigger. The biggest eruption in modern era –VEI 7, Tambora in 1815 caused "an year without summer" worldwide.
The most pessimistic scenarios count with VEI6 during 2020, 2021, 2022 and the next years, with possible cooling planetary effect around -0,5°C, but, VEI4-VEI5 – more realistic explosions can cool down planet around -0,1/-0,2°C.
Location of Mt. Agung in Indonesia:
Sumatran village after Monday´s eruption of Mt. Sinabung during the day:
Measured global cooling effect of volcanoes since 1871 and scale of eruptions according to VEI (vulcanic eruption index):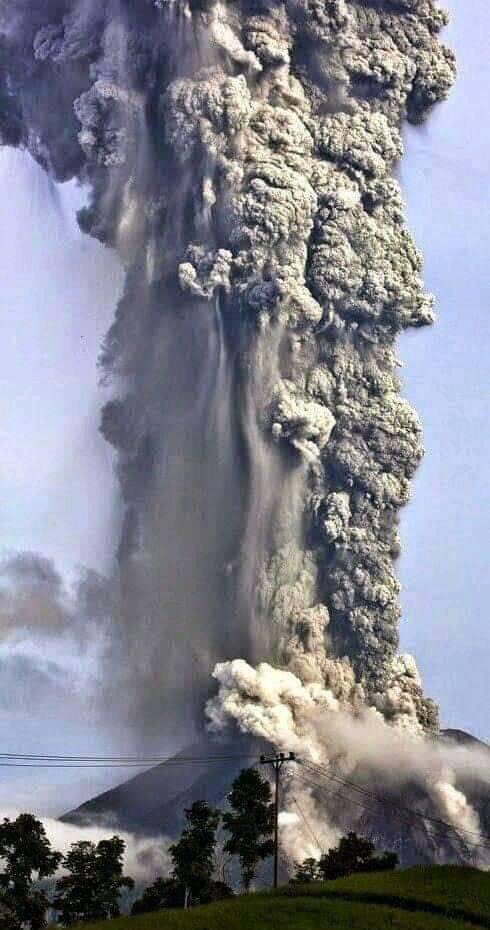 Global cooling down after Mt. Sinabung event 1964-65 and Mt. Pinatubo event in 1991:
And finally – big eruptions from Monday, 10. August 2020 (Mt. Sinabung):
https://phys.org/news/2020-08-indonesia-mt-sinabung-blasts-tower.html
https://www.volcanodiscovery.com/sinabung/news/108051/Sinabung-Volcano-Volcanic-Ash-Advisory-HIGH-LEVEL-ERUPTION-TO-FL300-OBS-VA-DTG-100337Z-to-30000-ft-9.html
(Visited 59 times, 1 visits today)