Iraq (+49,0°C), Kuwait (+48,5°C) with new September records, Syria +47,0°C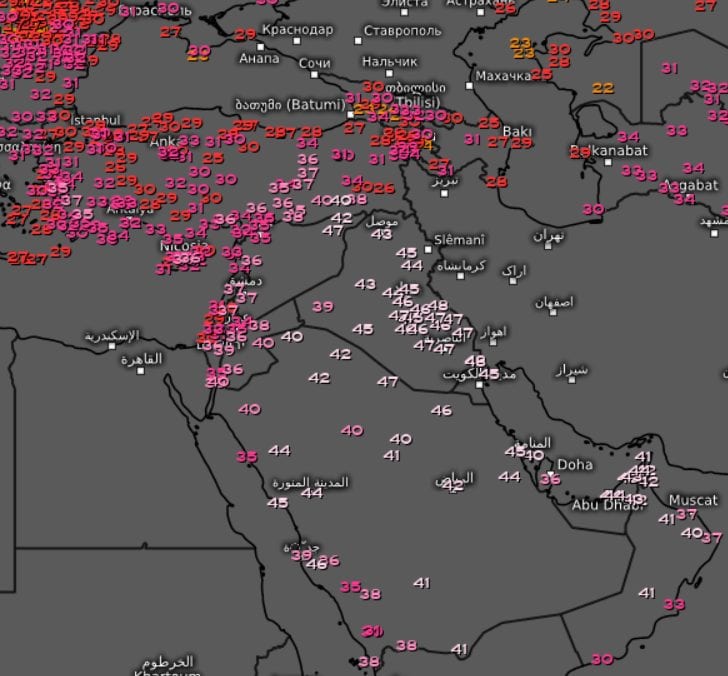 According to Climate-Data.org/wundergroud/wikipedia, absolute September maximum temperature record for Kuwait City is only +47,7°C (117,9 °F), but during September 2020, last week – on Wednesday, 9. September, according to ogimet.com, +47,9°C (118,2°F) was measured in the city.
On Monday, 14.9. 2020, +48,5°C was observed in Abdaly, Kuwait, +48,3°C in Basrah, Iraq +48,3°C and in Hassakah, Syria +47,0°C.
In Basrah, northern Iraq, +49,4°C was measured on Sunday, 13. September 2020, what is more than September absolute record of maximum temperature from Climate-Data.org / wikipedia (+49,0°C) for the city.
Extremely hot weather in northwestern parts of Middle East is persisting more than 3 weeks, after strong Atlantic hurricane season has sent above Europe August windstorms (ex-tropical storms) and then has caused powerful heatwaves with new national temperature record in Cyprus /https://mkweather.com/2020/09/05/cyprus-with-new-absolute-national-record-462c-115f// and September records in Turkey /https://mkweather.com/2020/09/04/turkey-hits-abnormal-heatwave-484c-119f-only-06c-from-absolute-national-record-from-27-august-1961//.
Strong cyclonic activity over Europe pushed tropical air from Sahara and Mediterranean eastward and northwestern Middle East now experiencing with really powerful heatwave.
According to GFS, extremely got weather holds in region till 20. September, then will be Eastern Mediterranean and northern parts of Middle East influenced by powerful coldwave above Europe, and mainly Black sea region /https://mkweather.com/2020/09/14/10-day-coldwave-hits-parts-of-scandinavia-baltic-region-eastern-europe-east-central-europe-balkan-russia-and-turkey-between-17-26-september//.
Maximum temperature and relative humidity over Middle East on Monday, 14. September 2020 /meteologix.com: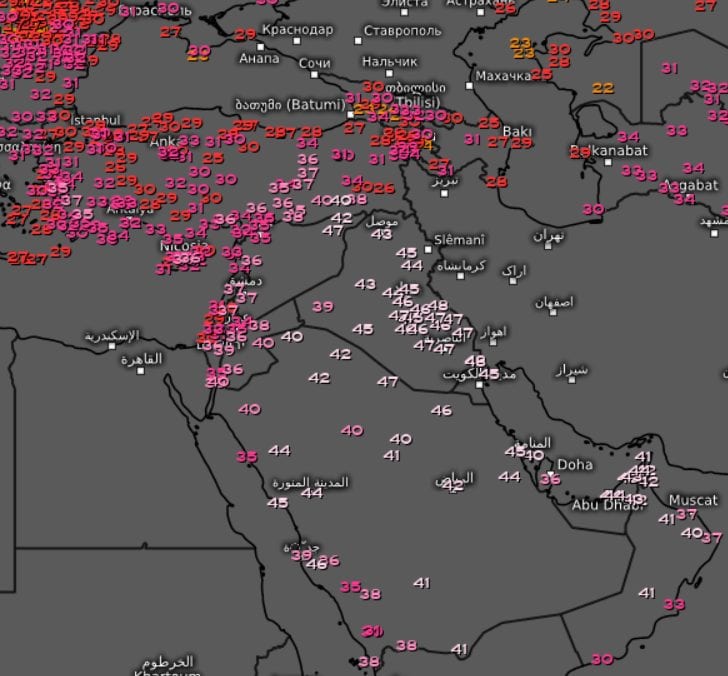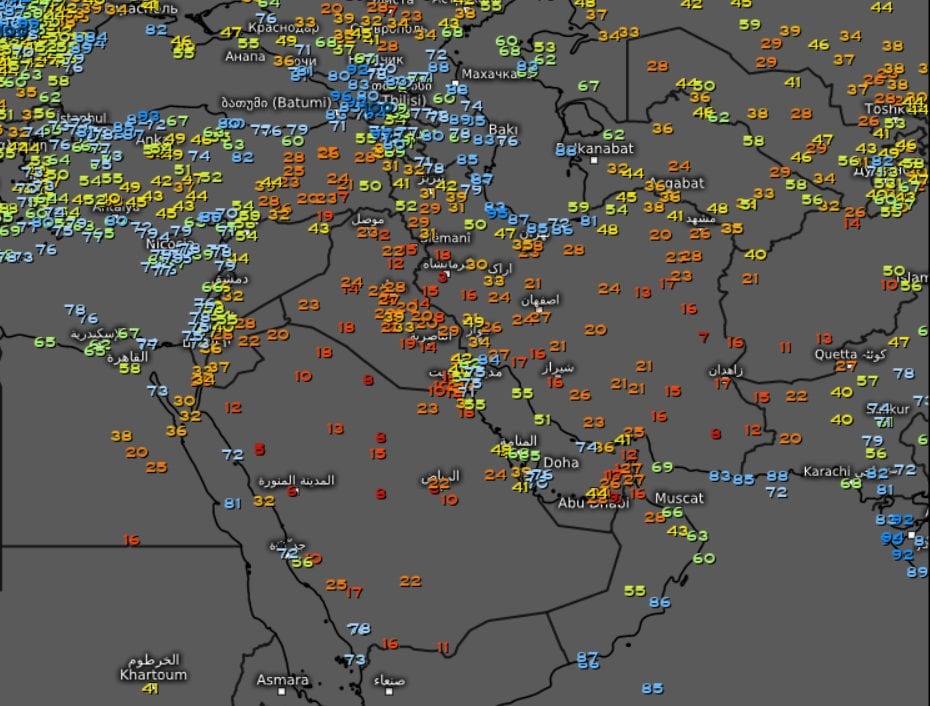 Mkweather warnings – World for Monday, 14. September 2020: