Norway is experiencing with weather crisis in December 2020.
Only few days before a Christmas, the highest December temperature in Scandinavia was measured in central Norway, +18,6°C /https://mkweather.com/2020/12/21/almost-a-new-winter-temperature-record-for-scandinavia-norway-186c// during an extreme warm spell.
Wide Christmas period was accompanied by extreme rainfall in the region, heavy rains shifted above Norway from Iceland, where have been reported after the highest 5-day rainfall event in history, monstrous landslide, too /https://mkweather.com/2020/12/23/iceland-with-the-highest-rainfall-ever-570-mm-5-days-with-result-of-landslide-disaster-seydisfjordur//.
Only a week after extreme high temperatures, in northern Norway was measured record -43,3°C /https://mkweather.com/2020/12/29/siberian-blocking-extreme-cold-air-in-norway-433c-finland-411c-only-week-after-all-time-december-scandinavian-record-18c// – possible lowest temperature in Norway since 2001.
Finally, landslide disaster arrived after period of extreme temperature changes in the country. Southern Norway, Gjerdrum near Oslo reported the worst landslide in Norway for last 30 years (since 1990). The landslide left a 700-meter long crater in the town of Ask (40 km north of Oslo).
According to information from 30. December 2020, 26 people has been reported such as dead or missing, during 31.12. 2020, gradually number of missing persons was declining and number of rescued persons was raising.
But what is shocking an unprecedented is a scale of Gjerdrum landslide – before an ongoing landslide event in municipality in Norway was immediately evacuated around 1500 people.
While large parts of Scandinavia have reported severe blizzard, thanks to transition of storm Bella from British Islands eastward, above area with extreme frosts, southernmost parts of Scandinavian peninsula have reported precipitation in form of heavy rainfall, therefore risk of next landslides near hit line was extremely high.
During the next period, severe coldwaves and drier weather is in outlook, but after 20. January thanks to transition to early spring conditions /https://mkweather.com/2020/12/29/in-2021-spring-come-earlier//, should appear next landslides thanks to heavy rains linked with expected NAO+ phase and snow melting.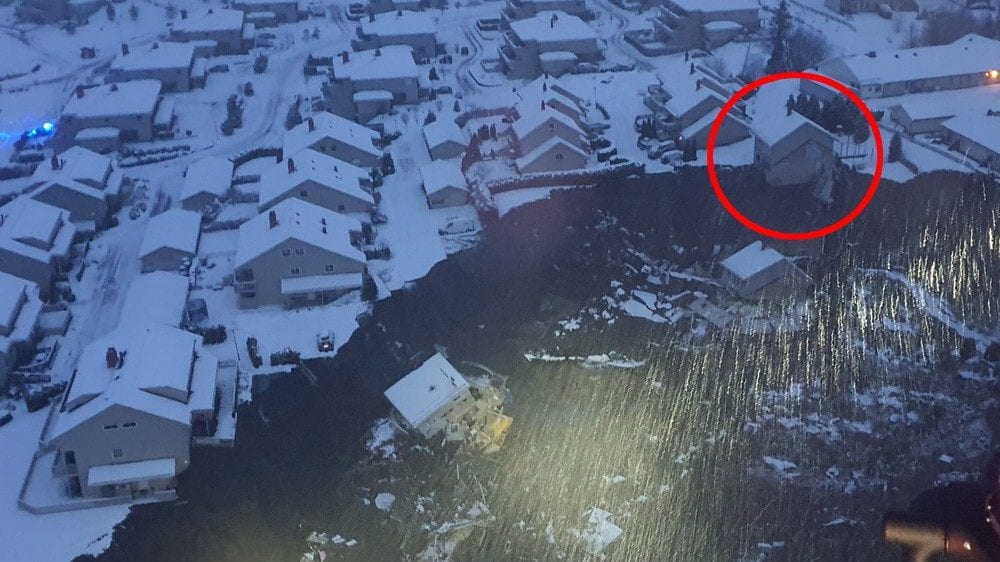 Read more:
(Visited 115 times, 1 visits today)