Extremely cold ad drier Siberian air on Friday, 12. February 2021 already started to flow over eastern parts of Central Europe, with reached -30,2°C in Czechia /https://mkweather.com/2021/02/12/czechia-302c-forecast-for-the-weekend-35c//.
In Poland, for now, -25,4°C was measured in Kasprowy Wierch, 1987 MASL, Lomnický štít in Slovakia reports almost -30°C in Friday evening, but lower situated areas for the strongest frosts are still waiting.
From the west, even more extreme frosts are coming – in Saturday morning, -43°C is in mountainous valleys expected and below -30°C in densely populated regions /https://mkweather.com/2021/02/12/funtensee-germany-43c-at-the-weekend-populated-regions-below-30c//. On Friday, the lowest February temperature in history was measured in England /https://mkweather.com/2021/02/12/england-153c-a-new-february-all-time-record-thames-frozen-first-time-since-1963//.
During the weekend, below -20°C is expected in Netherlands, therefore, the codlest air over eastern parts of Central Europe will only come, yet.
Extremely cold morning is in Slovakia and Poland expected already on Saturday, 13. February, when rarely temperature should drop closely to -30,0°C, the strongest frosts in Poland, however, are planned for Thursday and Friday, 18.-19. February, according to the newest GFS outputs, with returned values up to -25°C for lowlands on eastern broder and possible temperatures below -30°C in Polish lowlands. -24°C on GFS outputs in southeastern Poland should mean frosts rarely deeper below -30°C for Polish Carpathian basins.
It appears, that January temperature from Biebrzy /https://mkweather.com/2021/01/19/surprising-night-in-poland-biebrzy-297c// should be overcame.
Series of extremely cold mornings, however, are expected during all next 7 days, and then, in the 3rd February decade, is still forecasted return of extreme Siberian frosts (around 25.-26.2., for now).
As we mentioned before, extreme frosts should returning during the March 2021, too /https://mkweather.com/2021/02/09/neverending-winter-siberian-blasts-until-late-march-2021//.
Important factors for declining of temperatures are mainly extremely low relative humidity and high snow cover /https://mkweather.com/2021/02/11/1048-hpa-pressure-high-above-central-europe-at-the-weekend-then-extremely-dry-siberian-air-and/; https://mkweather.com/2021/02/11/updated-estimates-of-expected-national-minimum-temperatures-ine-europe-during-ongoing-siberian-wave-2021-mk// and important circulation factors are mainly peaking La nina /https://mkweather.com/2021/02/05/the-coldest-earth-for-7-years-strong-impact-of-la-nina-is-here// and extreme strong negative phase of Arctic Oscillation /https://mkweather.com/2021/02/06/ao-index-7-this-looks-like-historic-cicrulation-conditions-next-week//.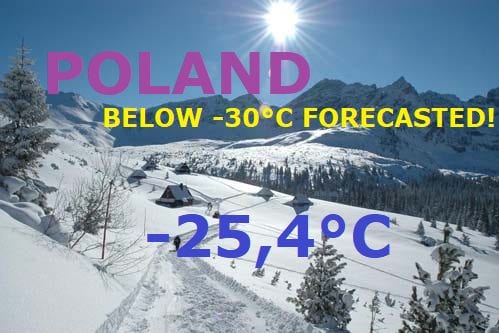 Wetterzantrale forecasts for Saturday, Thursday and Friday, 13., 18. and 19. February 2021 /wetterzentrale.de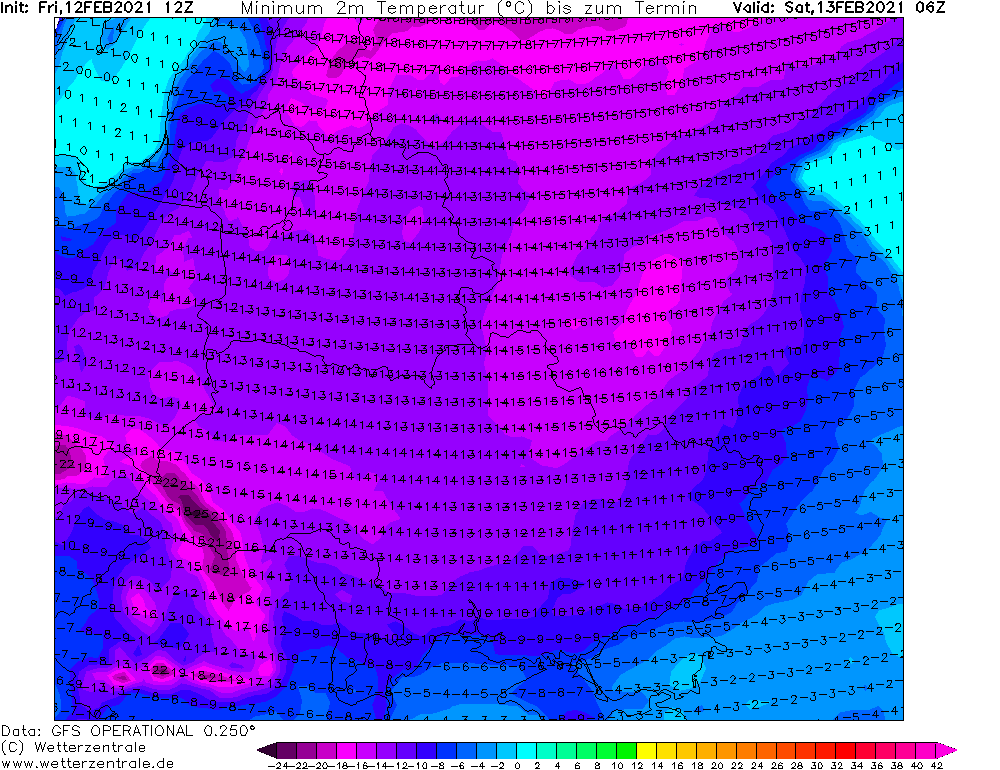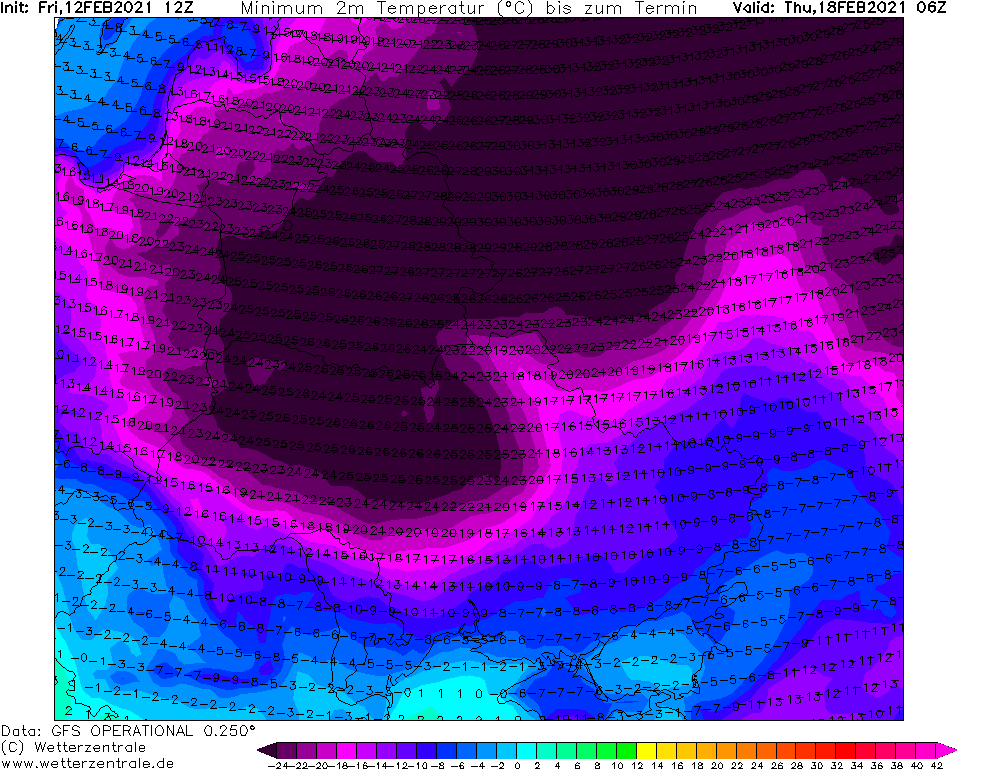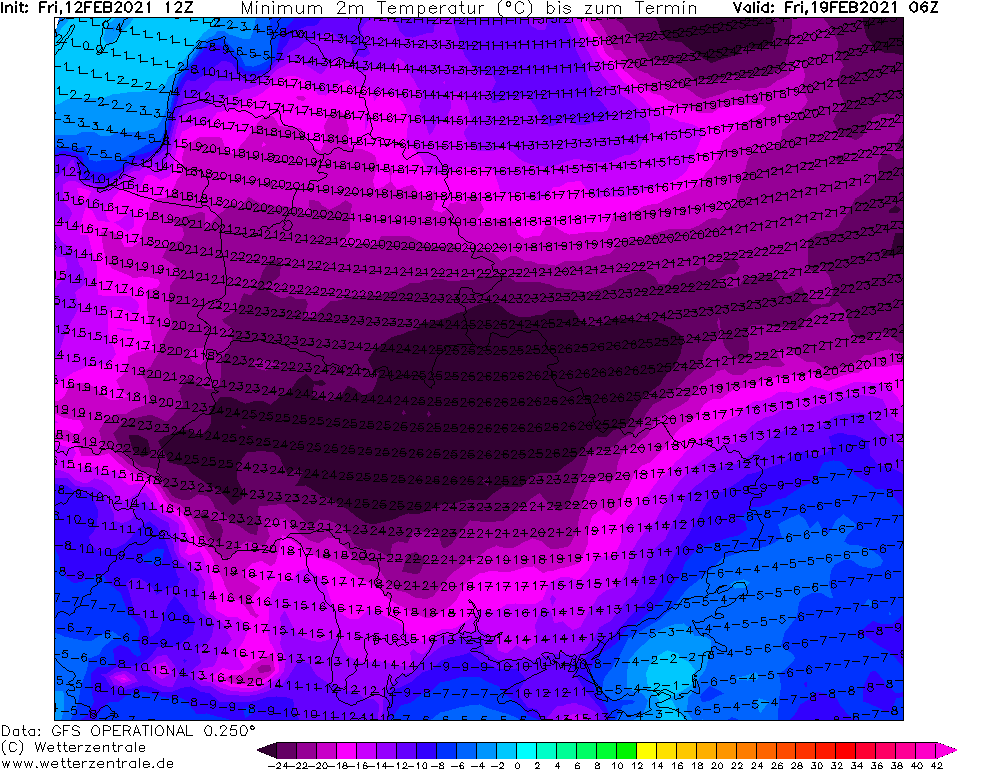 Read more:
(Visited 52 times, 1 visits today)