Already on Sunday, 2. August 2020, after big heatwaves in region, occured severe T-storms above Germany, Switzerland, Austria, northern Italy and eastern France, with wind gusts up to 106 km/h, 3cm hails and rainfall up to 66 mm. On Monday, 3. August, tornadoes were reported from Germany, France, Belgium, Netherlands and Switzerland.
https:/mkweather.com/2020/08/02/red-alerts-severe-storms-bothers-germany-italy-and-alpine-region-106-km-h-wind-gusts-3-cm-hails-and-heavy-rain-66-mm/;
https://mkweather.com/2020/08/01/spain-448c-italy-420c-greece-416c-in-italy-the-highest-real-feel-in-record-52c/;
https://mkweather.com/2020/07/31/london-369c-paris-392c-12-degrees-celsius-above-average-on-friday/
On Monday, cold front shifted more eastward and heavy rain meteorologists from Salzburg, Austria (63,3mm); Gersau, Switzerland (60,7 mm) and Prague, Czechia (60,2 mm) was reported. More southeasterly, however, a new storm area was created and during Monday´s evening and Tuesday, severe storms are excepted over northern Italy, Austria, Slovenia, Croatia, Bosnia and Herzegovina, Serbia and partly Slovakia, Czechia and Poland.
In southern Germany and Italy, red warnings before storms, heavy rain and floods are valid in Monday evening and many countries are with warnings of 2. level on Meteoalarm.eu.
Gradually, storm line will shift to the east, over west, later central and southern Balkan and Greece, and Baltic states too, with heavy storms and rain.
Cumulative precipitation amounts this week will reach 100 mm over Alpine region and western Balkan, 150 mm over parst of Greece and 50 mm over Hungary / Poland, with regional flooding effect or intense lighting. Regionally, gusty storms can appear, too. Therefore, mainly during Tuesday and Wednesday over Alpine region / Central Europe / NW Balkan and during rest of week in rest of Balkan and Greece, will be careful and watch current meteorological warnings in affected regions.
Current screens from sat24.com – cloudiness / cloudiness height and precipitation over Europe in Monday´s evening
Warnings on meteoalarm.eu for Monday / Tuesday, 3.-4. August 2020




Mkweather warnings for MON – TUE – WED 3.-5. August 2020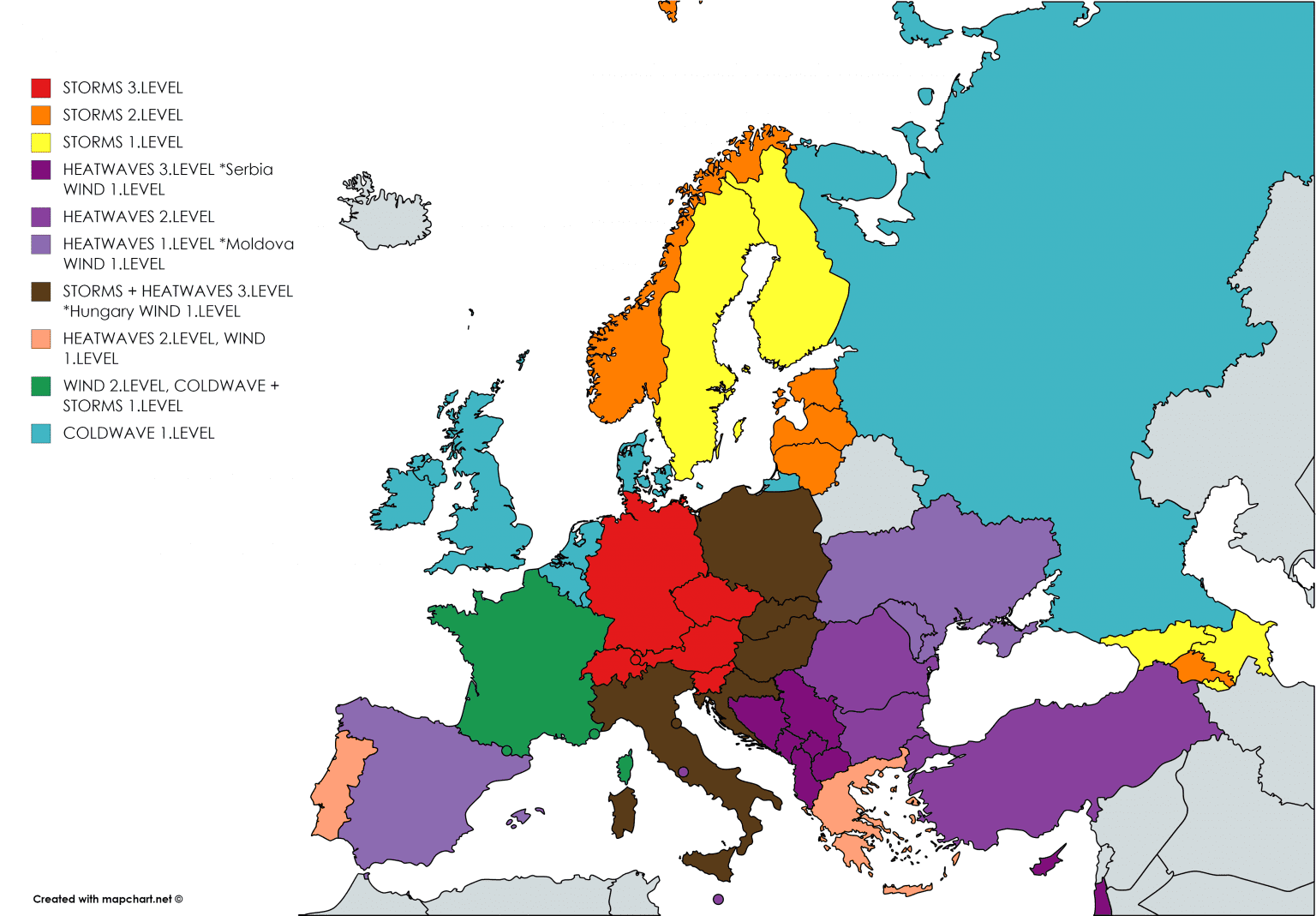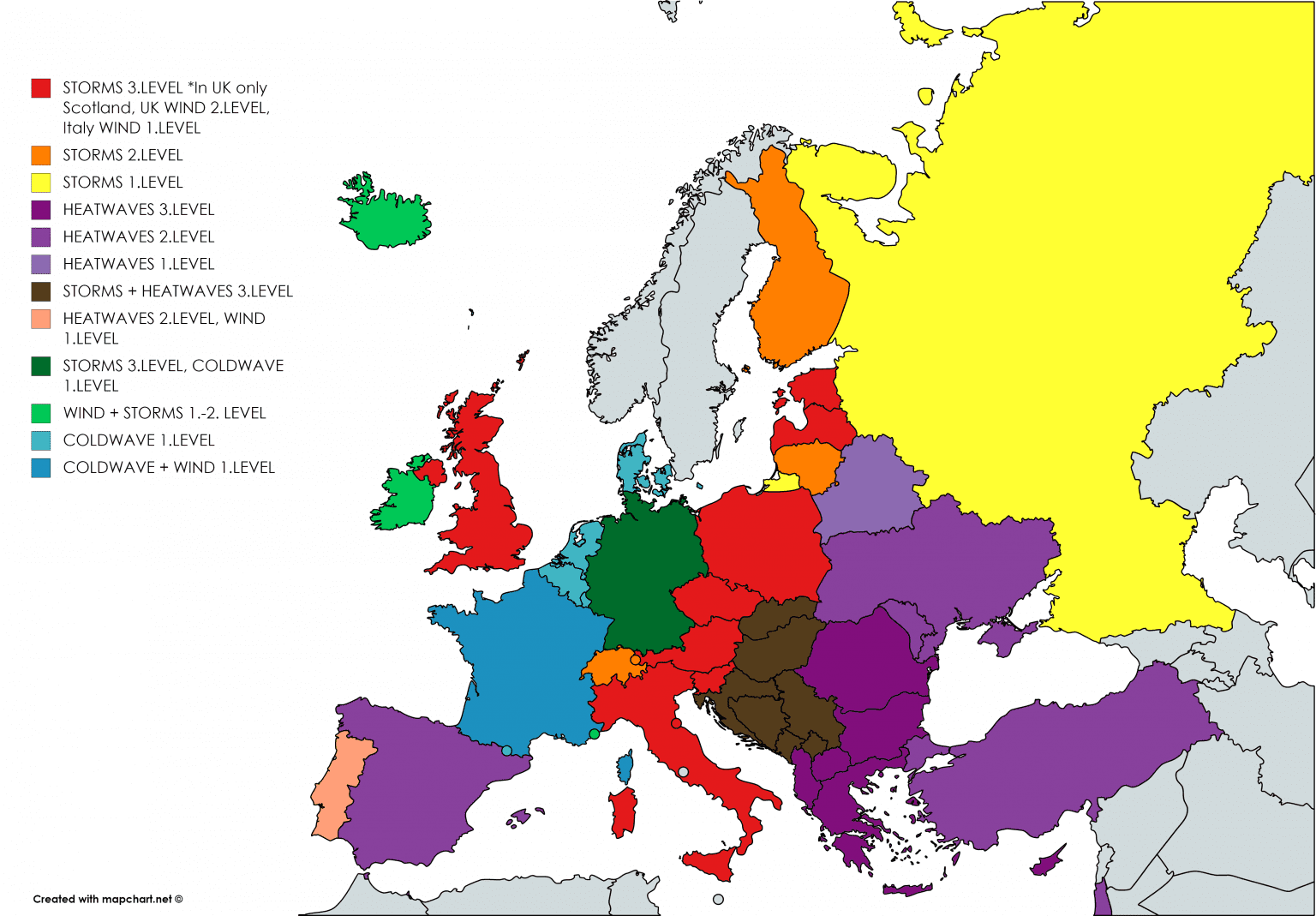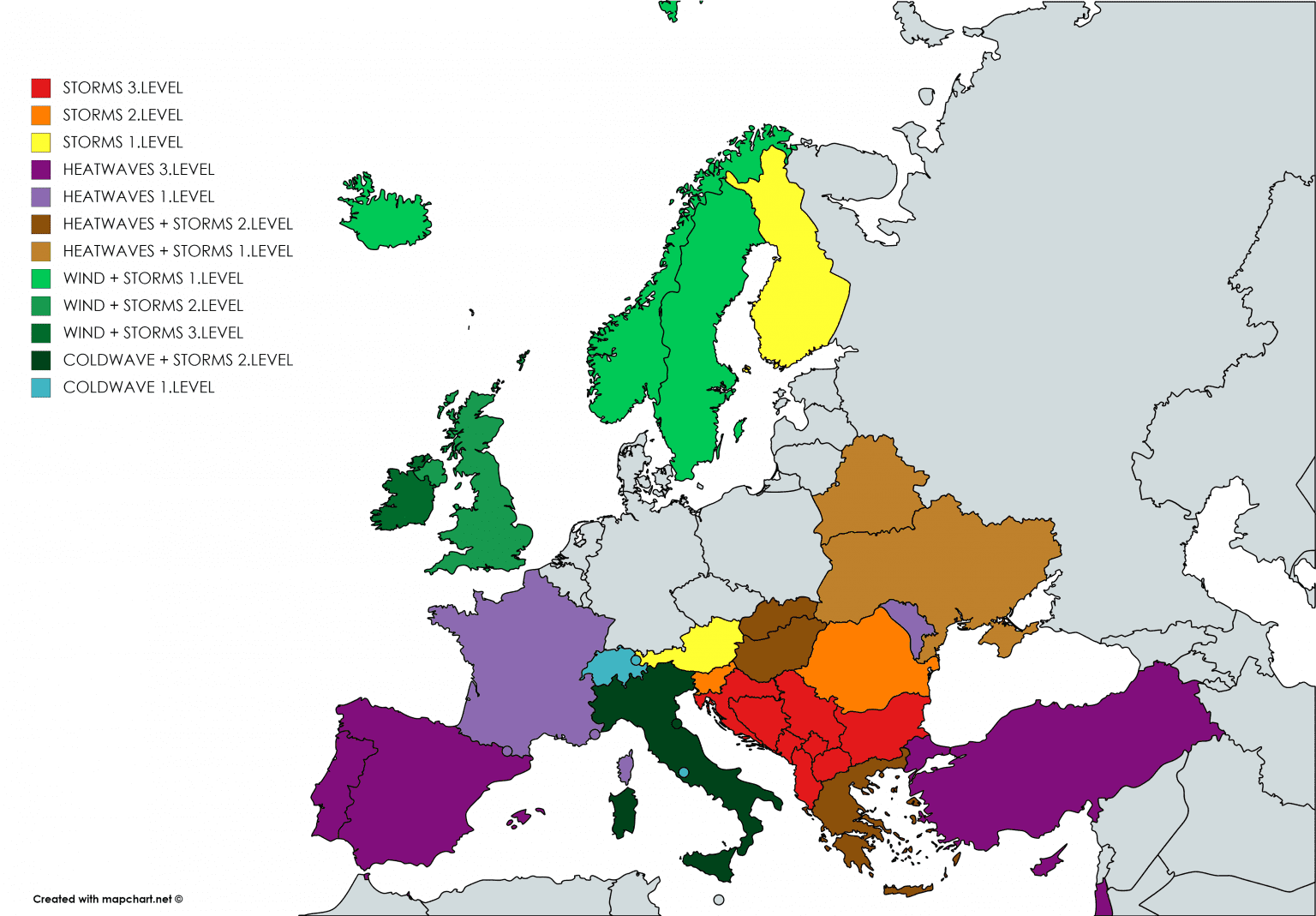 Outputs GFS from https://www.weatheronline.co.uk/cgi-bin/expertcharts – cumulative precipitation amounts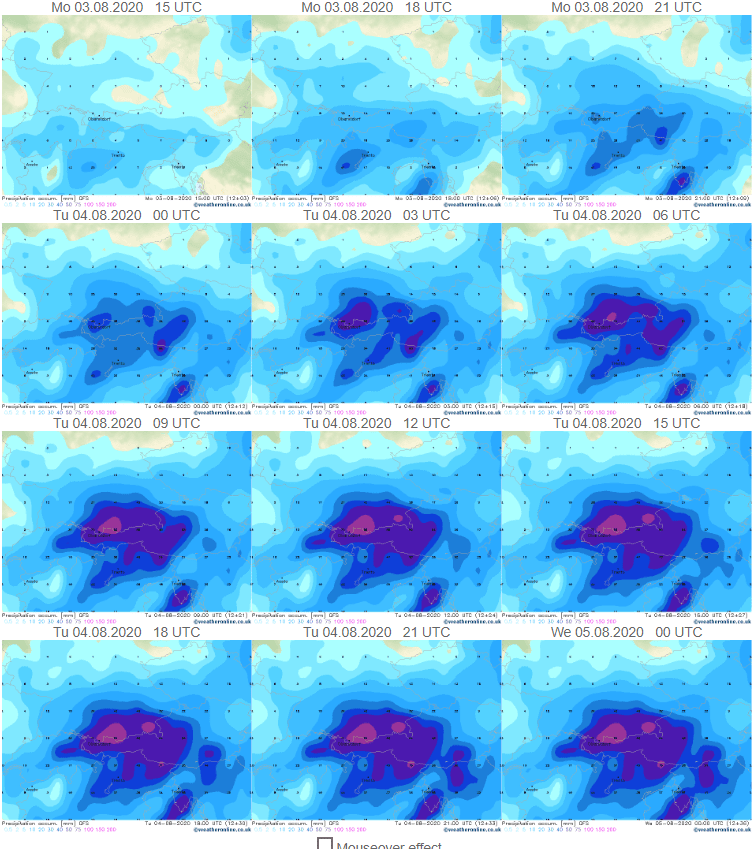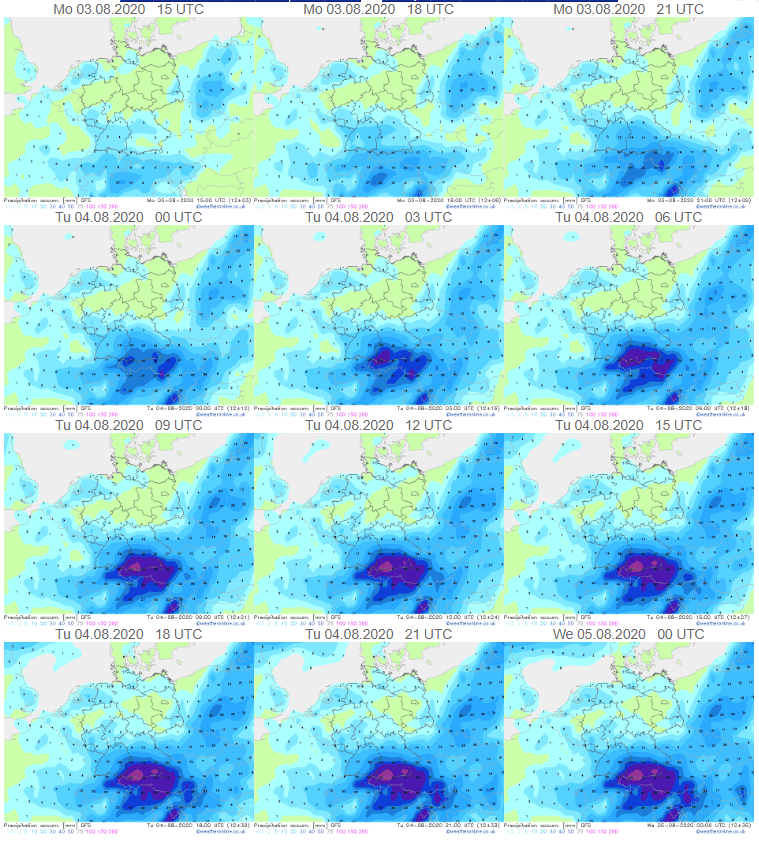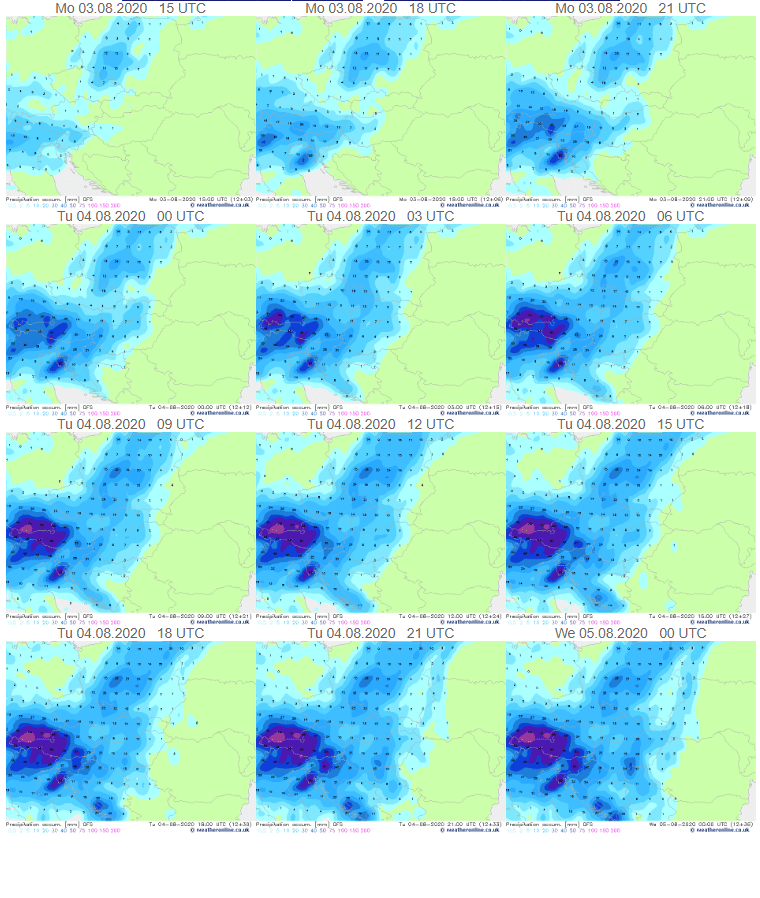 Cumulative precipitation amounts till end of week from wxcharts.com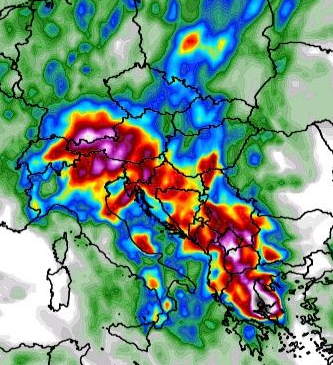 (Visited 56 times, 1 visits today)