Siracusa, Italy: +48,8°C !!! European all-time temperature record was broken!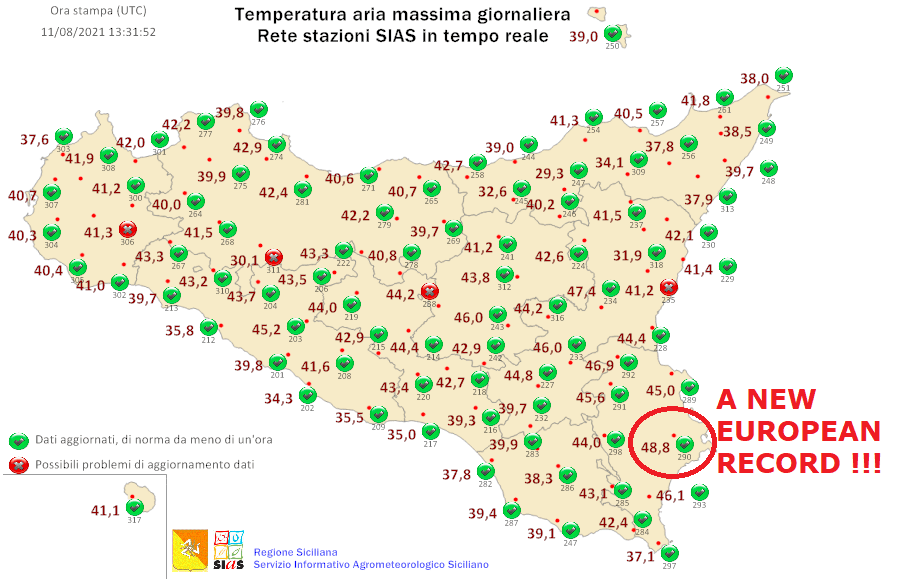 Only in the last article, we predicted an abnormal European heatwave, with the expectation, that all-time European temperature will be in a big danger /https://mkweather.com/the-strongest-heatwave-in-europe-in-history-italy-with-a-new-temperature-record-470c-and-the-worst-is-only-coming//.
It´s 11. August 2021 and forecasts came true – one of the biggest cities in Sicily, Siracusa surprised with maximum temperature +48,8°C, which is the highest temperature measured in European continent ever!
The previous record for Italy from Foggia has a value of +47,0°C (2007), or +48,5°C (1999) in Catenanuova, Sicily.
The station is currently a big interest of meteorologists around the world and according to updated information, measured maximum temperature should be recognized such as verified.
Extremely hot was on Wednesday in other Sicilian stations, too – Paternó reported +47,4°C, Lentini +46,9°C, Noto +46,1°C or Mineo +46,0°C.
On Tuesday, 10. August 2021, +47,0°C was measured in Lentini, +46,7°C in Paternó, +46,2°C in Mieno, +45,6°C in Francofonte, and +45,3°C in Caltagirone and Enna.
All-time temperature records are falling in Tunisia and Algeria, too, and continuous wildfires in Algeria caused already 65 deaths /the next Mkweather articles/.
Extreme heatwave is forecasted to flood all Mediterranean, Balkan and continental Europe in the next period, with temperatures up to +47/+49°C in Portugal, Spain, Italy, Greece, Turkey, +46°C in Balkan, +44°C in Hungary, +42°C in France and Ukraine, +40°C in Alpine and Carpathian region or +38°C in Germany and Poland. Only in the northern half of Europe, it will be fresher – with summer (above +25°C), rarely tropical (above +30°C) days.
A peak of heatwave will appear in parts of Europe until the end of the second August 2021 decade, the firstly in Iberia and Italy, gradually in France, continental Europe and Balkan and lastly in Ukraine, Eastern Europe, Turkey and Caucasian / Caspian region.
Many national temperature records will be in a danger, therefore watch current weather news, forecasts, warnings and advisories.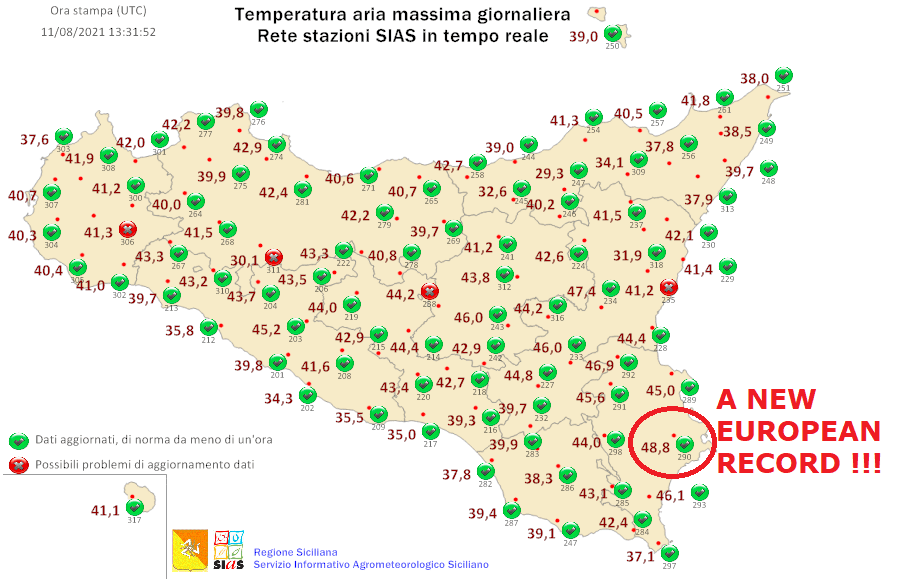 Source: wxcharts.com