The 3rd level of warnings in Europe! After 40°C heatwaves are coming severe storms!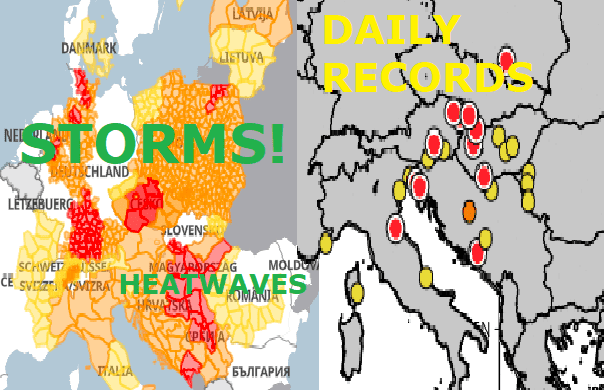 While eastern parts of Central Europe experienced a heatwave, with TOP maximum temperature in Hungary (+40,2°C) /https://mkweather.com/record-402c-in-adony-hungary-july-2021/; https://mkweather.com/the-hottest-day-in-austria-in-2-years-bad-deutsch-altenburg-375c/; https://mkweather.com/straznice-czechia-365c-3rd-warnings-before-storms-2021//, in western parts has already started an expected severe storm round /https://mkweather.com/severe-storms-hit-de-ch-au-it-cz-pl-sk-hu-si-hr-rs-after-the-strongest-windstorm-in-france-since-1969// on Thursday, 8. July 2021.
While in northern Italy and Switzerland, large hail with a diameter of 3 – 7 cm is reported and in northern Italy, 2 tornadoes appeared, Germany and Poland report already a big problem with heavy rain.
In some parts of Poland already dropped up to 80 mm of rainfall and according to fresh news, regional flash floods hit already parts of western Germany.
In large areas of Central Europe, Balkan, Baltic countries, and eastern Scandinavia, serious warnings before extreme storms or heatwaves are currently valid.
The 3rd level of warnings before storms is valid for parts of Germany, Czechia, and Poland, while in Switzerland, Italy, and Austria, the 2nd level was published.
Severe storms, however, hit Slovakia, Hungary, Slovenia, Croatia, Serbia, or even southern Sweden, too, in the next 24 hours and warnings should be extended soon by the next countries.
Severe storms should be accompanied by rainfall above 100 mm / 24 hours, severe wind gusts up to circa 130 km/h, large hails up to 10 cm or hail accumulations, damaging lighting, or even tornadoes EF1+, therefore stay safe and watch current forecasts and warnings.