The coldest Christmas since 1995: Before / After – Key West +28,3°C (82.9°F) / International Falls -28,9°C (-20°F)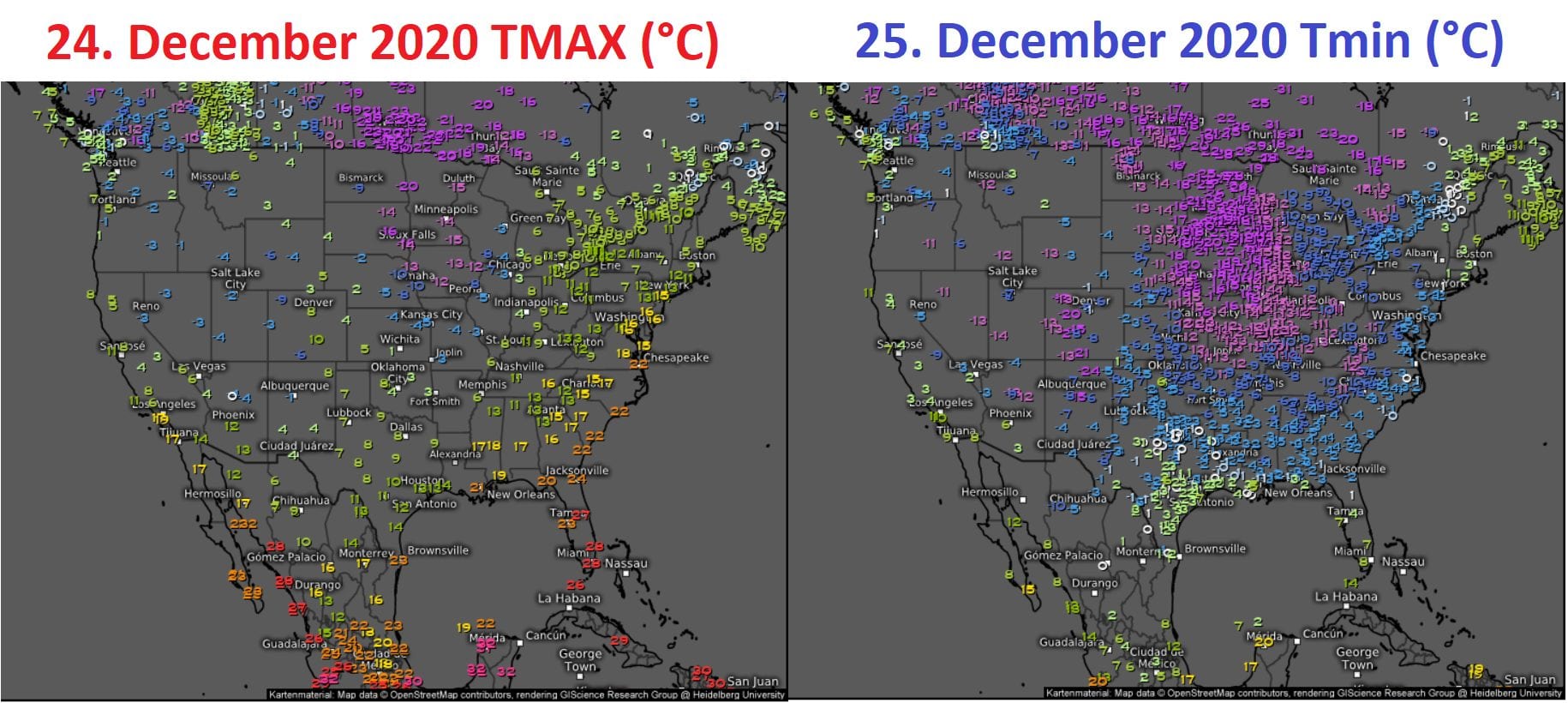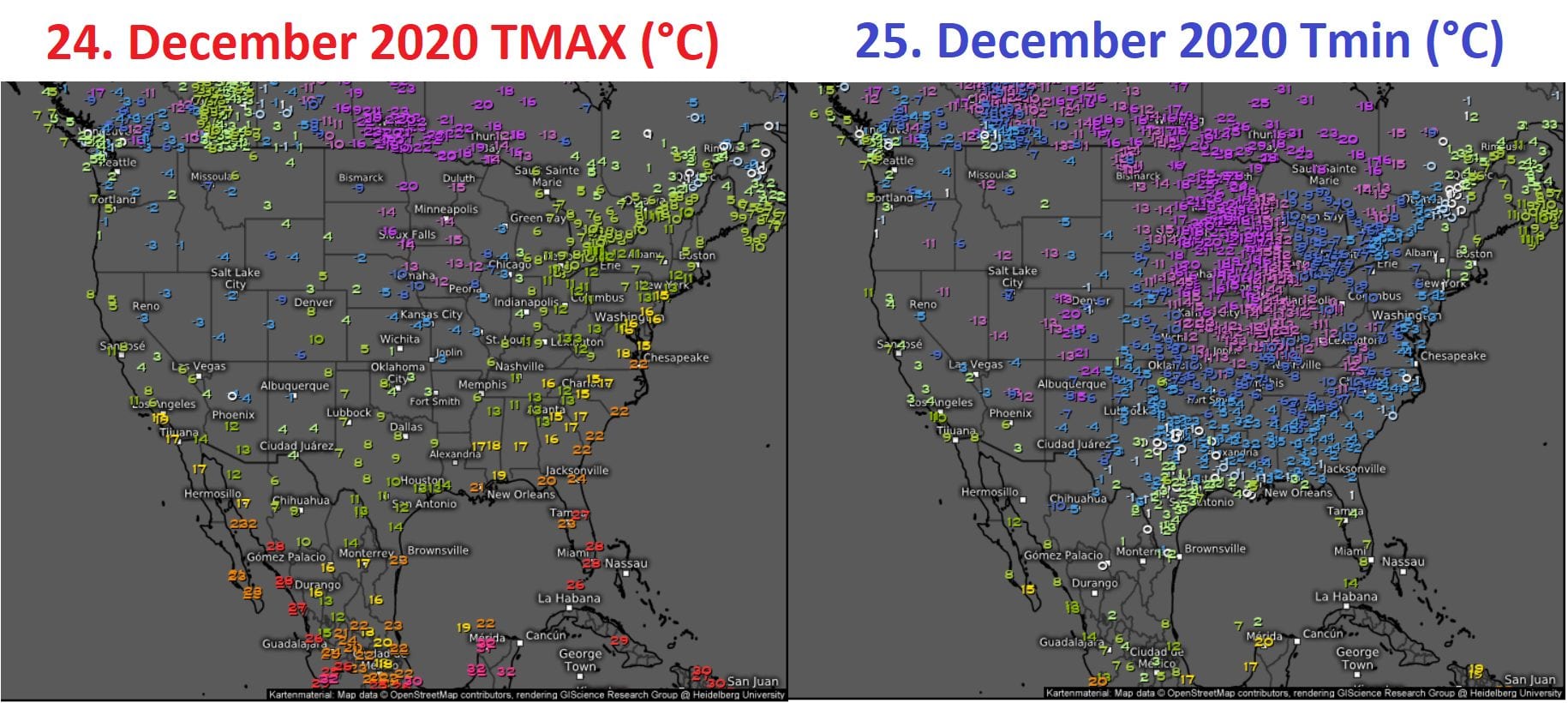 According to meteorological news from the USA, a Christmas cooldown with blizzard has brought regionally the coldest Christmas since 1995, including Florida, where appeared frosts.
The worst blizzard conditions have been observed mainly in Ohio, Kentucky, Tennessee and Vriginia – in South Euclid, Ohio, with Christmas snowfall up to 16.2 inches / 41.2 cm.
Interesting were differences of maximum and minimum temperatures before and during arrival of snowstorm – on 24. December was in Key West, Florida, summer +28,3°C / 82.9°F yet, but already on 25. December, International Falls, Minnesota, reported -28,9°C / -20°F.
It´s very probable, than in many stations in Northern Plains, temperatures dropped into interval -30/-35°C / -22/-31°F and windchill below -40/-45°C / -40/-49°F during the Christmas 2020, such as meteorological models forecasted.
In Cleveland, it has been measured -33°F change / 24 hours according to Accuweather.
Parts of Mid-Atlantic and Northeast have reported severe storms with rain, in South risk of tornadoes has been forecasted.
In some states, power outages have been observed during the Christmas.
Not everywhere was extremely cold or snowy – Caribou, Maine, on the front side of frontal system, maximum temperature reached 57°F / 13.9°C, what is a new Christmas Day temperature record for Maine city. Average high for Caribou on 25. December is only 23°F / -5°C.
In many western, central and eastern states it was a white Christmas, but with significant limit of latitude. Surprise were mainly without snow Christmas in parts of Montana or Wyoming, but too snowy conditions in mentioned Kentucky, Tennessee or Virginia.
Between 30.12. 2020 – 1.1. 2021, next, extreme superstorm is forecasted for similar parts of the USA, with really bad conditions in parts of eastern half of the USA – with blizzard, heavy frosts, severe T-storms or rare tornadoes.
Forecast for Silvester and New Year 2020-2021 will be a topic of the next Mweather article.
Infographics: wxcharts.com, meteologix.com: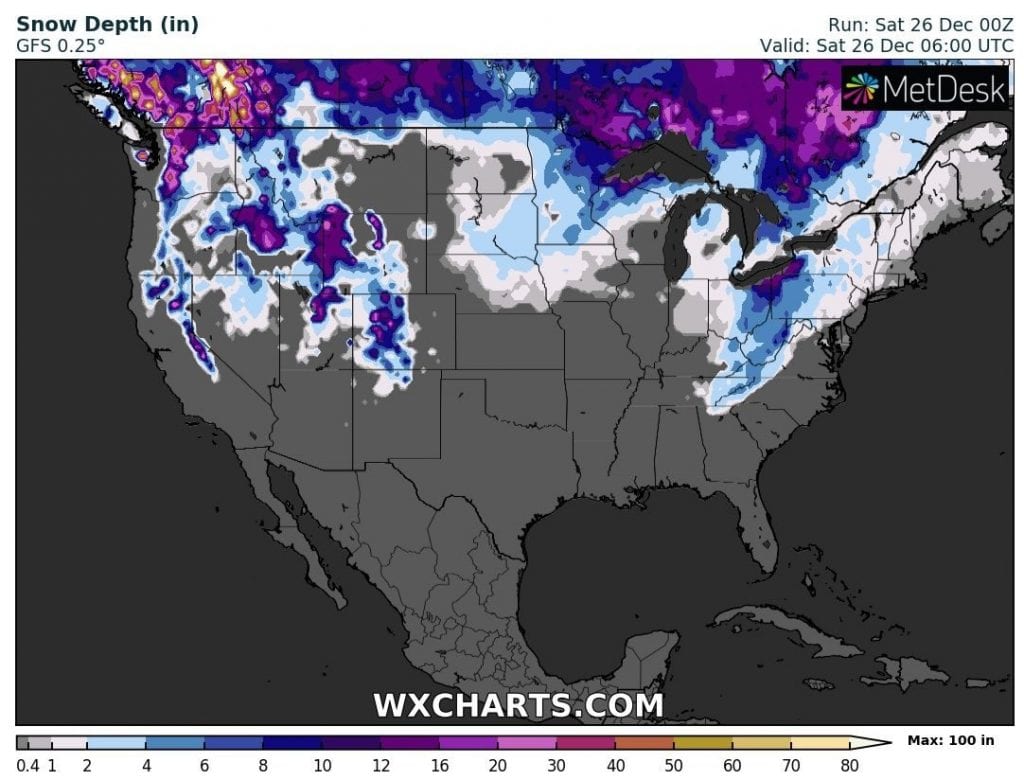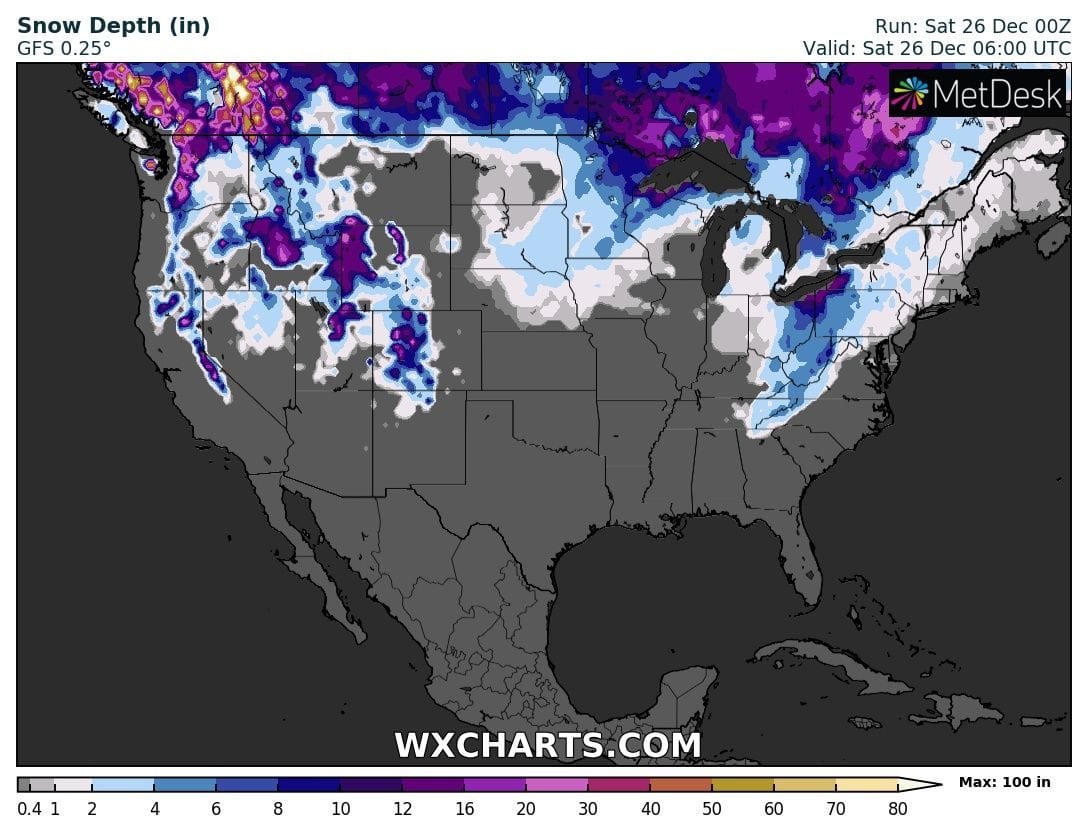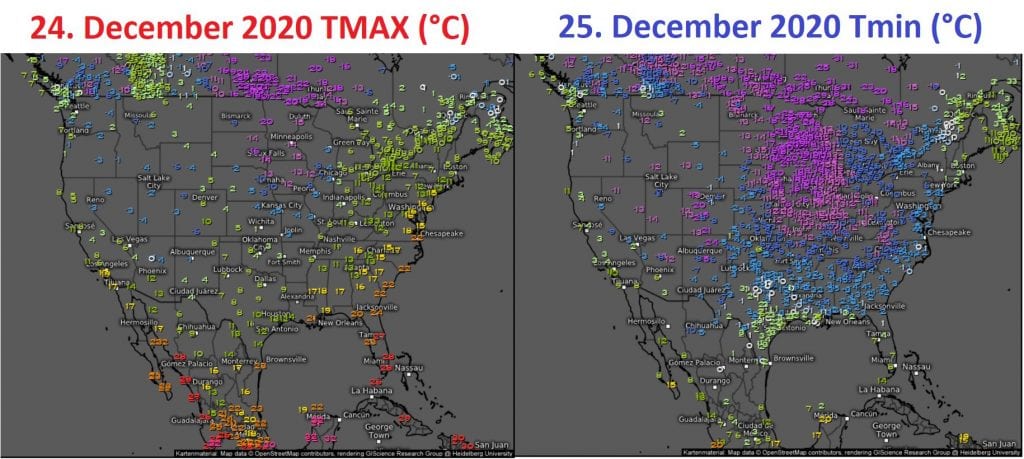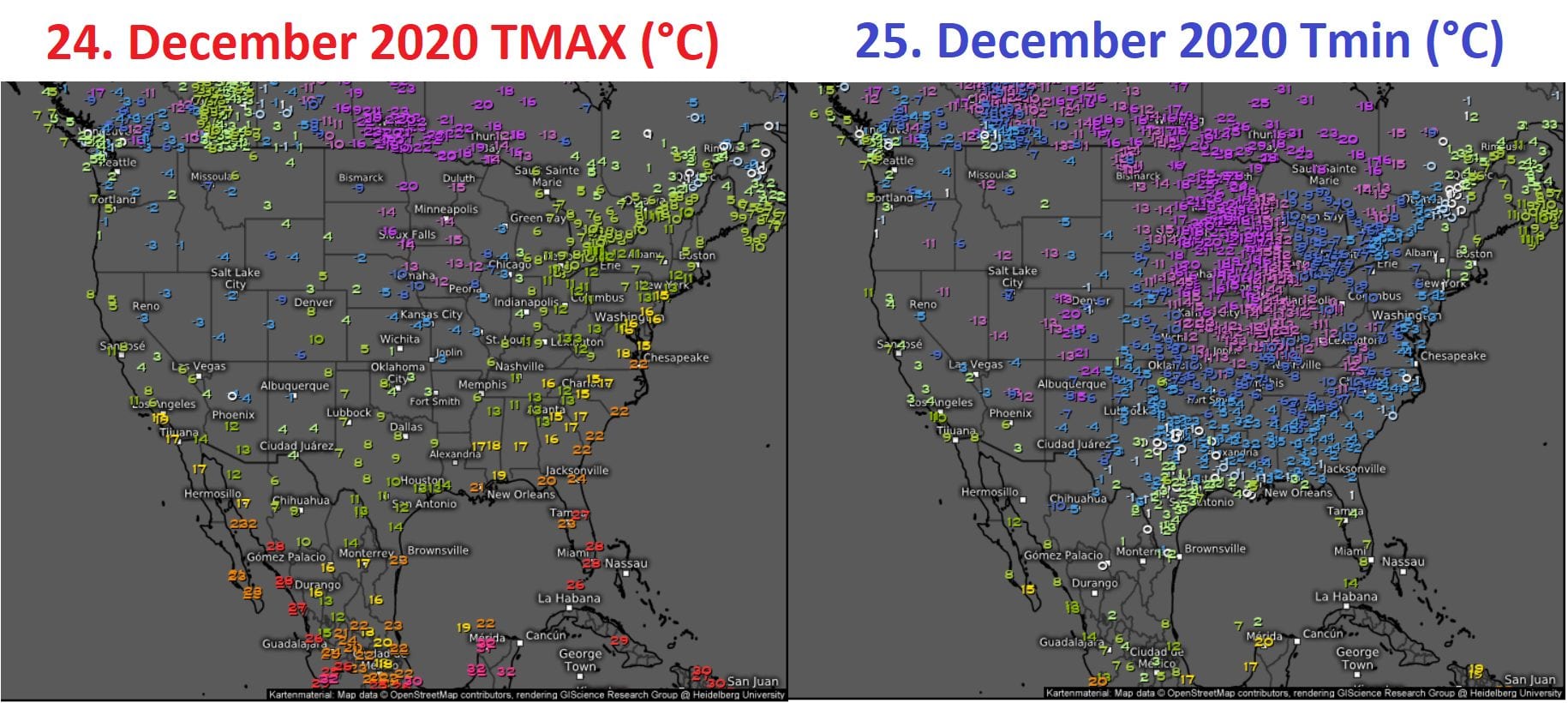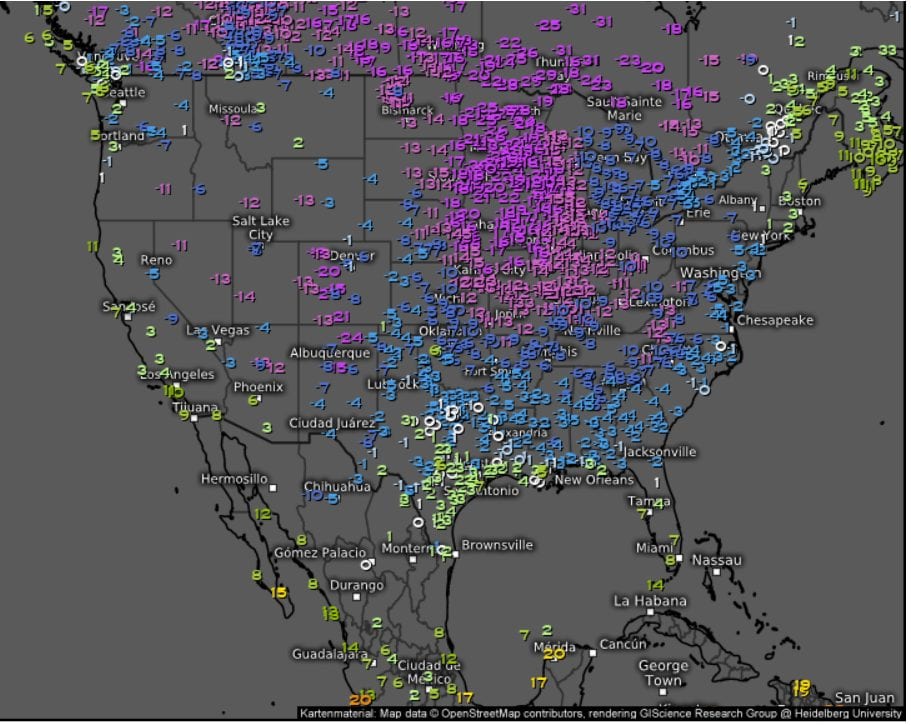 Read more: