It´s 19. August 2021 and while Europe for the first autumn-like cooldown is only waiting /https://mkweather.com/autumn-in-europe-is-coming-the-last-august-days-brings-the-arctic-blast-temperatures-rarely-should-drop-to-3c-and-the-first-ground-frosts-are-possible//, in the USA and Canada, the first snow cover of a season 2021/2022 just covered mountainous parts on the west of the continent.
While in the first half of August 2021, +40°C / 104°F heatwaves were suffering the western USA and Canada and e.g. in Alberta temperatures during a heatwave before the cooldown reached +40°C, after the arrival of Arctic air, higher elevated mountainous ski centres and settlements reported snow showers or snow cover started to create.
The first snow is reported from Alaska, Yukon, Northwestern Territories, British Columbia and Nunavut, too – in northern provinces with the relatively widespread snowing.
E.g. in Aniak, Alaska, the temperature dropped to -0,6°C, in King Salmon to 0,0°C and in Bettles to +0,6°C, while in early August, tropical days around +30°C were from these regions reported.
A similar situation is in Canada, with cooldown in Resolute, Nunavut and NWT to -4,2°C, or in Willow Creek, Saskatchewan to -3,0°C (only 14. August here +30,2°C, 1402 MASL), or -2,4°C in Evanburg, Alberta (+32,0°C here 14. August, only 819 MASL).
In the USA, the snow covered parts of the Rocky Mountains in Montana, Wyoming, Colorado and Utah, with temperatures below zero in high-countries.
Cold weather is in large parts of the Rocky Mountains and Canadian Prairies expected to stay until the end of August 2021 – mainly in the northern Rocky Mountains and neighboring Canada.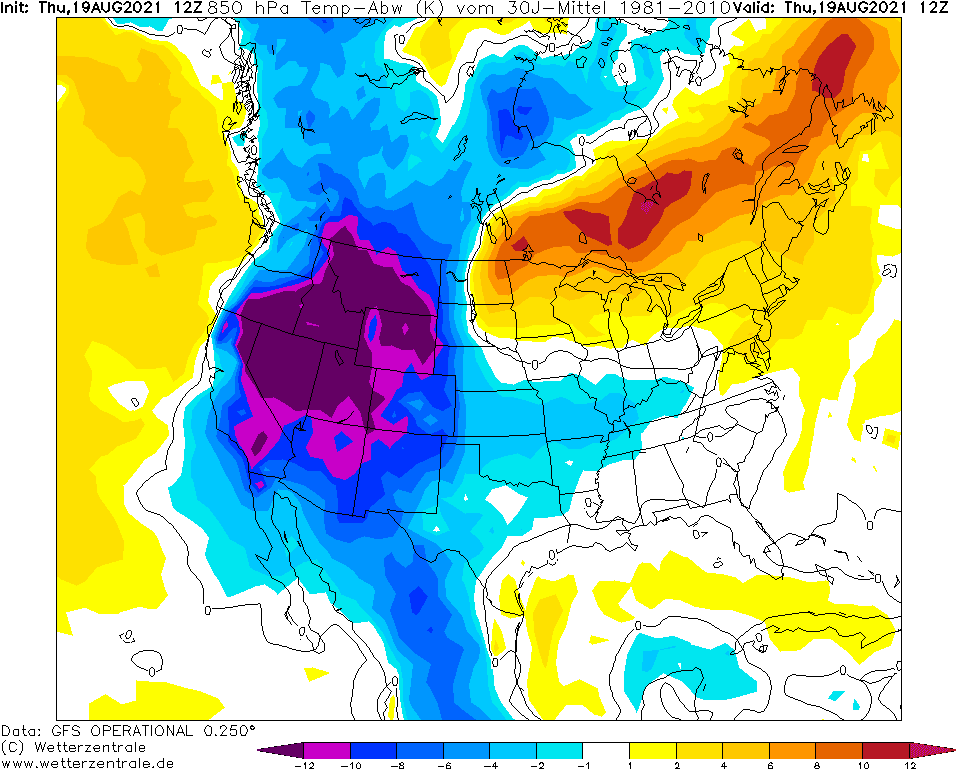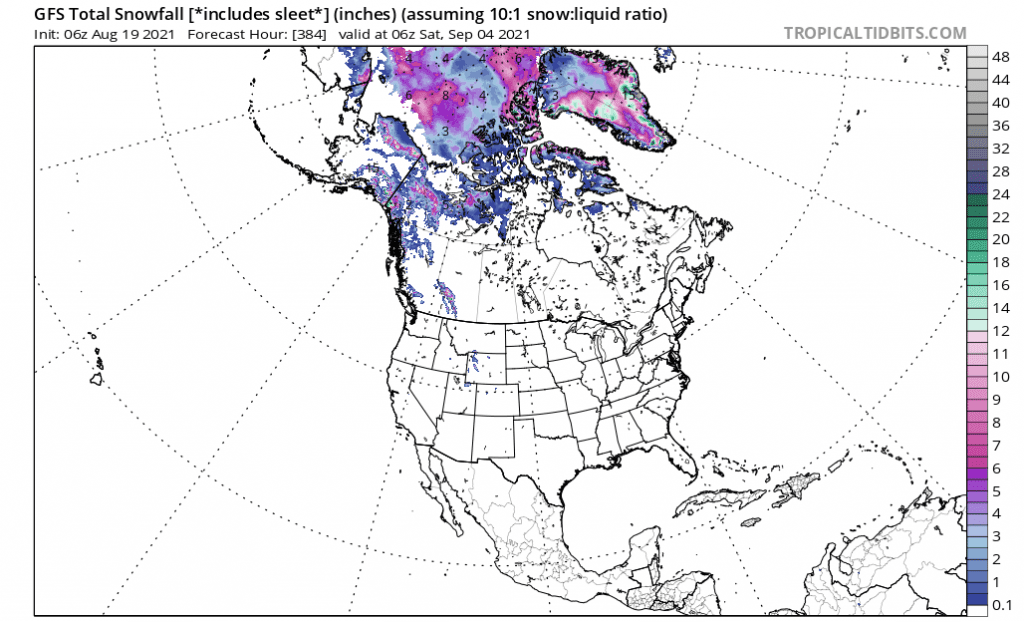 Source: tropicaltidbits.com
(Visited 139 times, 1 visits today)