Windstorm Ellen, or ex-tropical storm Kyle has made a fuss in the UK and Ireland, where during Thursday and Friday, hurricane-force winds was measured.
It is only 11th windstorm in British Isles in history in August, but wind gusts were really strong – above the ocean according to buoys data up to 180 km/h!
In UK, 152 km/h was measured in Great Dun Fell on Friday, 151 km/h in Cairngorm on Thursday and in Ireland 144 km/h in Roche´s point on Thursday.
Windstorm continue northeastward direction above Scandinavia and Baltic area, where are valid few of warnings from ESTOFEX, Severe Weather Europe, Meteoalarm and Mkweather, too, before severe winds and storms on cold front.
The most severe winds are expected in Norway, Sweden, Finland, Denmark, Estonia, Lithuania and Latvia, but still in British Isles, Benelux and Germany´s and Poland´s northern coast during Saturday and in eastern parts of region on Sunday.
In warm sector of windstorm, short, but powerful heatwave is ongoing over Central Europe, where hot weather will be during the weekend quickly replaced with severe storms on the cold front.
Peak gusts measured in UK and Ireland during the night from Thursday to Friday 20.-21.8.2020- Severe Weather Europe report:
Peak gusts measured along the southern Irish coast and on the oceanic buoys ahead of the coast last night:
180 km/h at the Buoy #62023, Ireland
144 km/h at the Roche's Point, Ireland
113 km/h at the Shannon Airport, Ireland
108 km/h at the Cork airport, Ireland
108 km/h at the Malin Head, Ireland
108 km/h at the Mace Head, Ireland
104 km/h at the Sherkin Island, Ireland
Peak gusts reports across Scotland:
151 km/h at the Cairngorm, Scotland
119 km/h at the Cairnwell, Scotland
115 km/h at the Bealach Na Ba No2, Scotland
112 km/h at the Glen Ogle, Scotland
Peak gusts reports across Wales:
128 km/h at the Capel Curig, Wales
105 km/h at the Pembrey Sands, Wales
100 km/h at the Aberdaron, Wales
Peak gusts reports across southwestern England:
109 km/h at the Buoy #62107, England
89 km/h at the Cult Rose, England
87 km/h at the Camborne, England
Peak gusts reports across Northern Ireland:
115 km/h at the Glenanne, Northern Ireland
100 km/h at the Thomastown, Northern Ireland
93 km/h at the Portuglenone, Northern Ireland
Documentation of windstorm: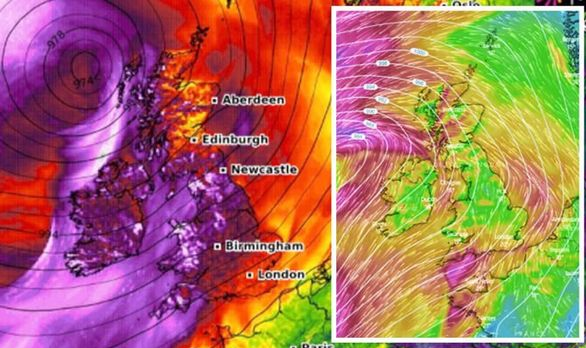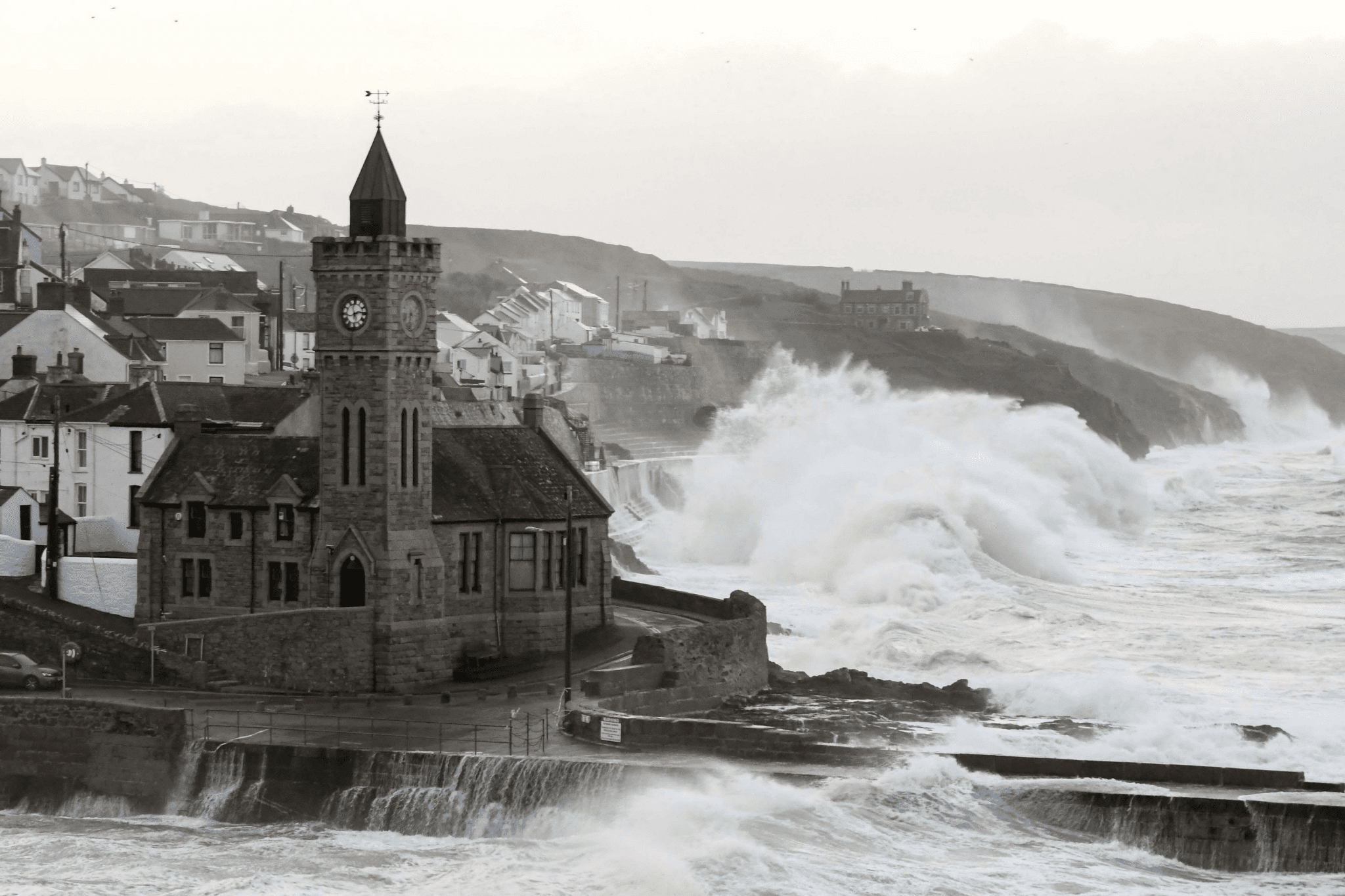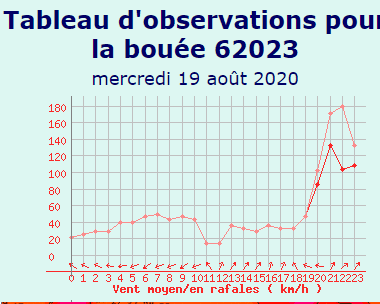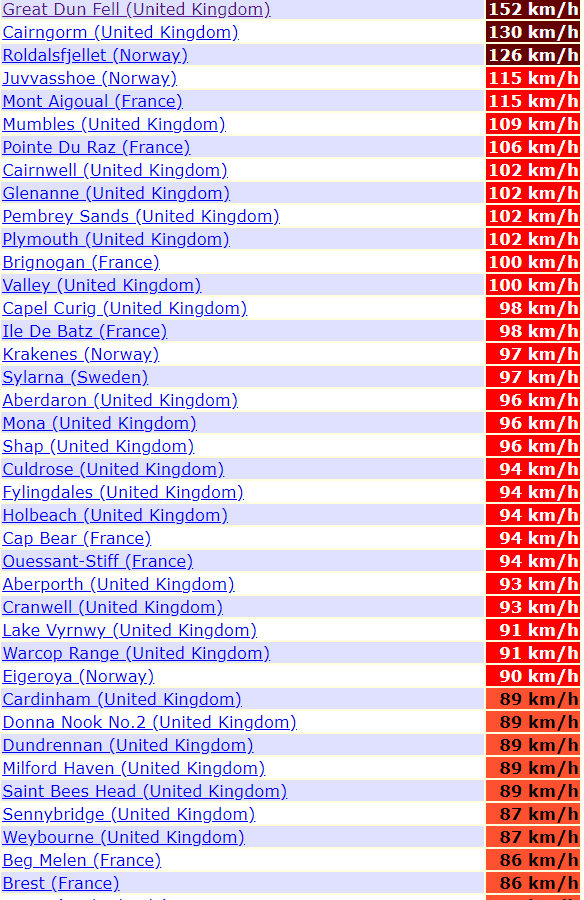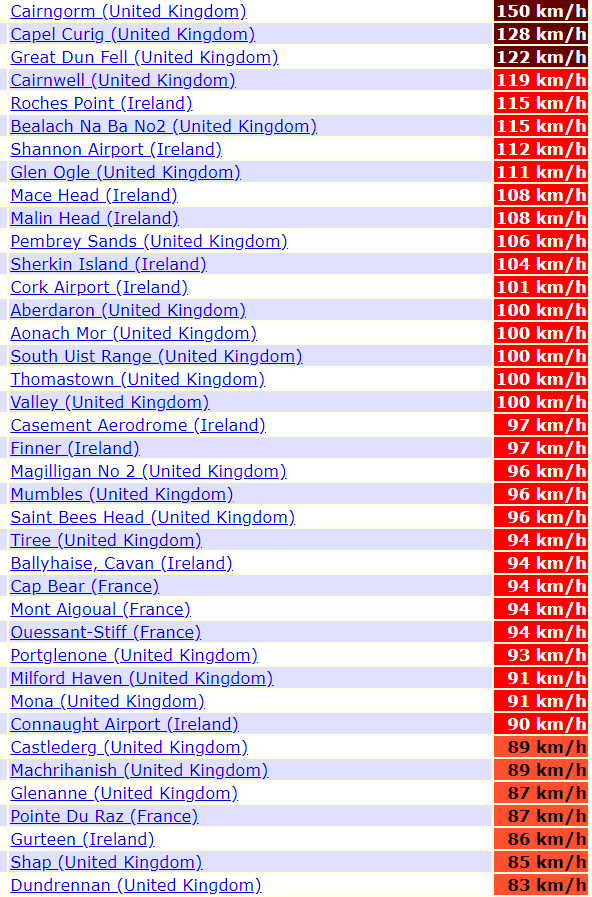 Sources:
https://onrede.com/storm-ellen-flood-warnings-as-severe-weather-brings-disruption
https://www.thesun.co.uk/news/12440028/storm-ellen-weather-warning-where/
https://www.express.co.uk/news/weather/1324635/storm-ellen-tracker-map-where-is-storm-ellen-now-latest-charts-met-office-weather-warnings
Read more:
(Visited 56 times, 1 visits today)