A big windstrom hit parts of southeastern Australia, with expected the coldest day of winter season in New South Wales and parts of Victoria, severe winds, rain and snow, regionally under 500 MASL.
Heavy snowfall appears in northern New South Wales, too. In the northernmost latitudes, where the snow has seen lastly before 15 years. Temperature in 850hPa drops below 0°C in southern Queensland too!
Winter 2020 is in many parts of Southern Hemisphere the strongest from the nineties (for last minimally 20 years). According to Australian meteorological services, snow cover is expected in the northernmost latitudes of continent since winter 2005. After all-time temperature record from Tasmania /https://mkweather.com/2020/08/12/confirmed-tasmania-with-the-coldest-temperature-ever-142c-6f//, 24-years record breaking period in Melbourne /https://mkweather.com/2020/08/04/antarctic-blast-hit-australia-snowing-in-melbourne-and-hobart-105c-13f-and-the-coldest-4-days-for-last-24-years// from the beginning of August 2020 and powerful coldwaves in South America /https://mkweather.com/2020/08/21/extreme-coldwave-already-in-brazil-88c-16f-and-snowing-after-decades/; https://mkweather.com/2020/08/12/patagonia-with-one-of-the-cruelest-winter-for-last-20-years/; https://mkweather.com/2020/08/13/brasil-is-waiting-a-historic-coldwave-temperatures-will-drop-30c-below-average-around-20-august-2020// and too cold spells in South Africa /https://mkweather.com/2020/08/17/tunisia-502c-south-africa-146c-sahara-with-the-hottest-day-of-the-summer-2020-south-africa-the-strongest-antarctic-blast-of-the-season/; https://mkweather.com/2020/08/06/snowing-in-south-africa-antarctic-air-dropped-temperatures-15c-below-average// it is the next good news about strength of winter 2020 in Southern Hemisphere.
"NSW is set for the coldest day of the year on Saturday, 22. August 2020 with temperatures plummeting to well below average. A series of strong cold fronts and troughs will bring a cold blast to the south-east, with temperatures 2 to 8 degrees below average," according Australian Bureau of Meteorology.
"Saturday will be particularly cold for NSW and the ACT, likely the coldest day of the year – with strong winds making it feel even colder, NSW's snow level could drop under 500 metres this weekend with the state's ski resorts taking on up to 15 centimetres of new snowfall on Friday night.
Heavy snow and strong winds may lead to blizzards and white-out conditions, while avalanches are also a risk. Emergency crews have issued a warning for a rare and hazardous weather event in New South Wales.
Snow was expected to fall across the weekend in Orange, Lithgow, Goulburn, Oberon, Jenolan Caves, the Blue Mountains and the high areas around Bathurst. Snowfall was likely to occur in places above an altitude of 500 MASL. Drivers have cautioned to avoid roads where possible with conditions not expected to ease until Monday.
Australia's east coast is being hit by what meteorologists are calling an "Antarctic blob", a powerful weather system that will bring damaging winds to many regions and drop snow over elevated areas stretching from Tasmania to northern NSW. Heavy snow and strong winds may lead to blizzards and white-out conditions, while avalanches are also a risk. There has been 49 cm in Thresbo and 46 cm in Perisher during last week. Now, the next snowfall is expected.
The conditions could prompt the collapse of trees, branches and power lines in some places, and black ice was likely to form on roads.
A severe weather warnings are still in place for the Hunter, Illawarra and parts of Mid-North Coast, South Coast, Central Tablelands and Southern Tablelands districts.
Residents at St Georges Basin at Sussex Inlet who had just cleaned up from recent floods could be flooded again by high tides. Heavy rain bothers a New Zealand too, with 185 mm / 96 hours precipitation amount in Hokitika, Southern Island. According to current forecast, up to 313 mm had to fall during next 16 days in Southern Island.
Documentation of current coldwave in Australia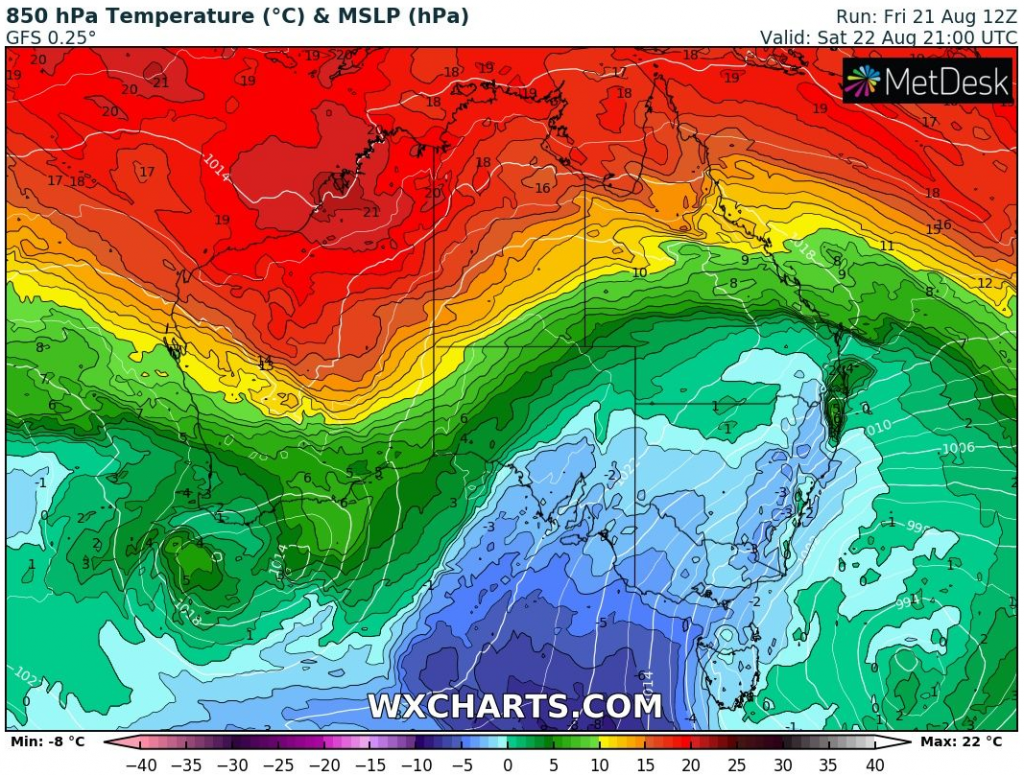 Expected accumulated precipitation in New Zealand till 6. Septemper 2020: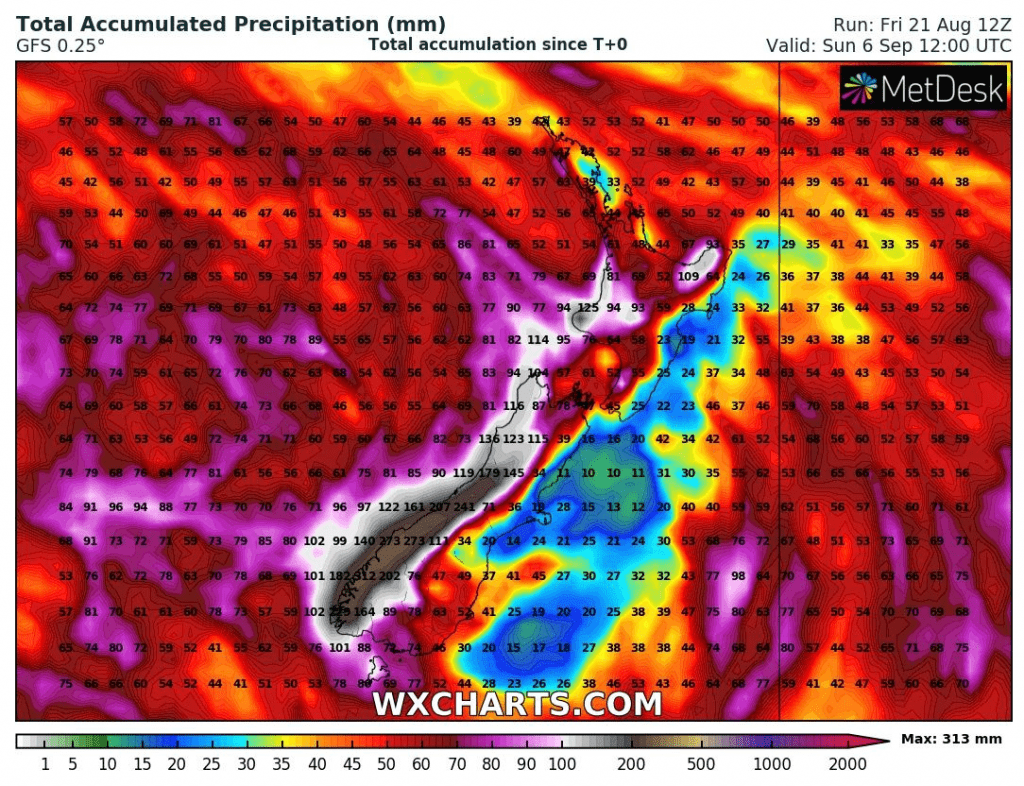 Sources:
https://www.nambuccaguardian.com.au/story/6889220/one-in-15-year-snow-event-hits-nsw/
https://www.msn.com/en-au/news/australia/warning-issued-for-rare-nsw-snow-event/ar-BB18cefM
https://www.smh.com.au/environment/weather/cold-blasts-and-winds-could-bring-coldest-day-of-the-year-for-nsw-20200821-p55nxz.html
https://www.skynews.com.au/details/_6183047885001
https://headtopics.com/au/cold-blasts-and-winds-could-bring-coldest-day-of-the-year-for-nsw-15125385
(Visited 83 times, 1 visits today)