The warmest New Year in London in history: +16,3°C! Frosts between 4.-9. and warm between 13.-18. January are forecast
In the last articles, we were informed about extreme winter heatwave in Spain, Portugal, France (+26,4°C), Italy (+21,2°C in almost 1400 MASL) /https://mkweather.com/portugal-and-spain-264c-both-portugal-with-a-new-monthly-record-spain-reports-winter-wildfires/; https://mkweather.com/france-264c-in-january-212c-in-the-alps-in-italy-1381-masl// and Croatia (new national January record, +21,6°C: https://mkweather.com/croatia-with-a-new-all-time-january-record-knin-216c-extremely-warm-all-balkan/) and now we can shift into British Islands.
In parts of the UK, anomalously warm weather surprised on New Year 2022, with the warmest New Year on record in London (+16,3°C, St. James Park) and high temperatures in England, Wales and Scotland.
In Bala, Wales, +16,5°C was measured, while Achnagart, Scotland, reported +15,9°C.
Moreover, the warmest January night in history for the UK appeared in Chivenor, southeastern England, +13,2°C, beating record from 2016.
In the next days, extremely warm weather will be replaced by frosts, in Scotland possibly in the interval -10/-15°C for the coldest valleys, in England and even Ireland mostly 0/-5°C, rarely lower.
Frost round is forecast for the period 4.-9. January 2022 according to GFS, with a peak around 5.-7. January 2022.
The next very warm period is forecast for the period 13.-18. January 2022, so far, with temperatures up of to +15°C, again.
Western parts of the UK and Ireland should surprise mainly between 7.-12. January, but in the half of the month, too, severe storms, with heavy rains and local / regional floods or in early mentioned period snowfall, mainly in the mountainous areas.
Source: Met Office Twitter
Source: wxcharts.com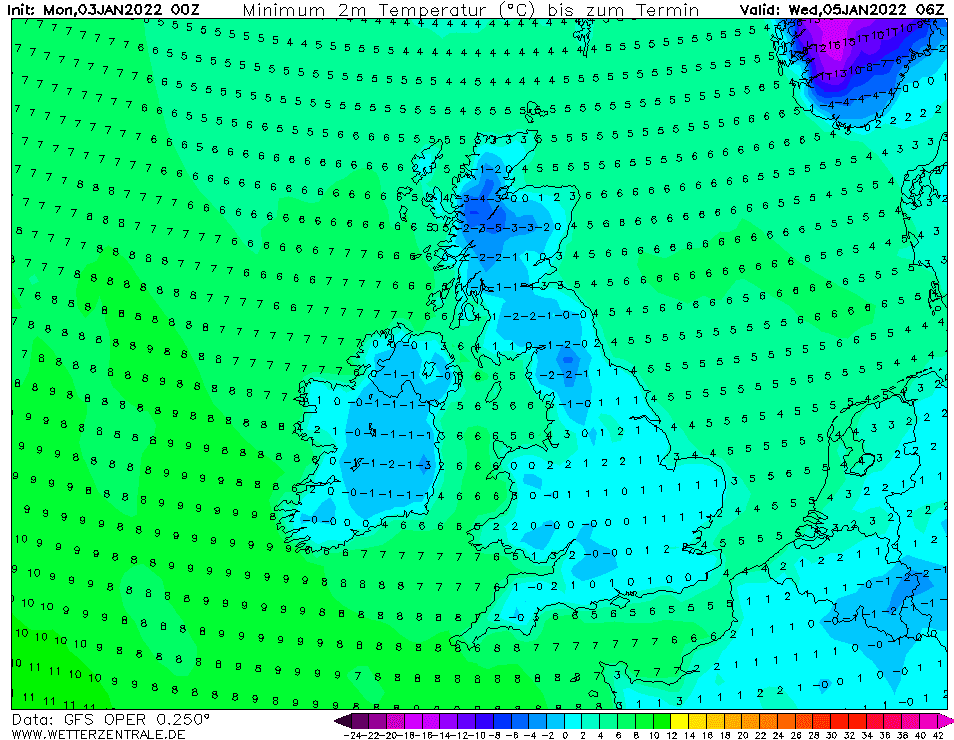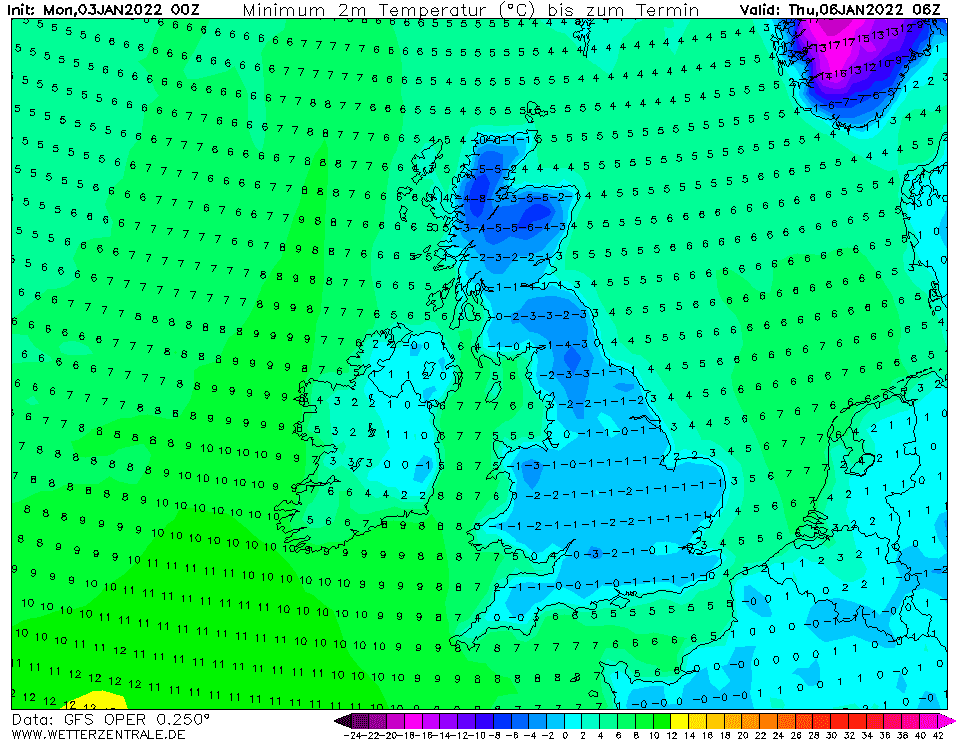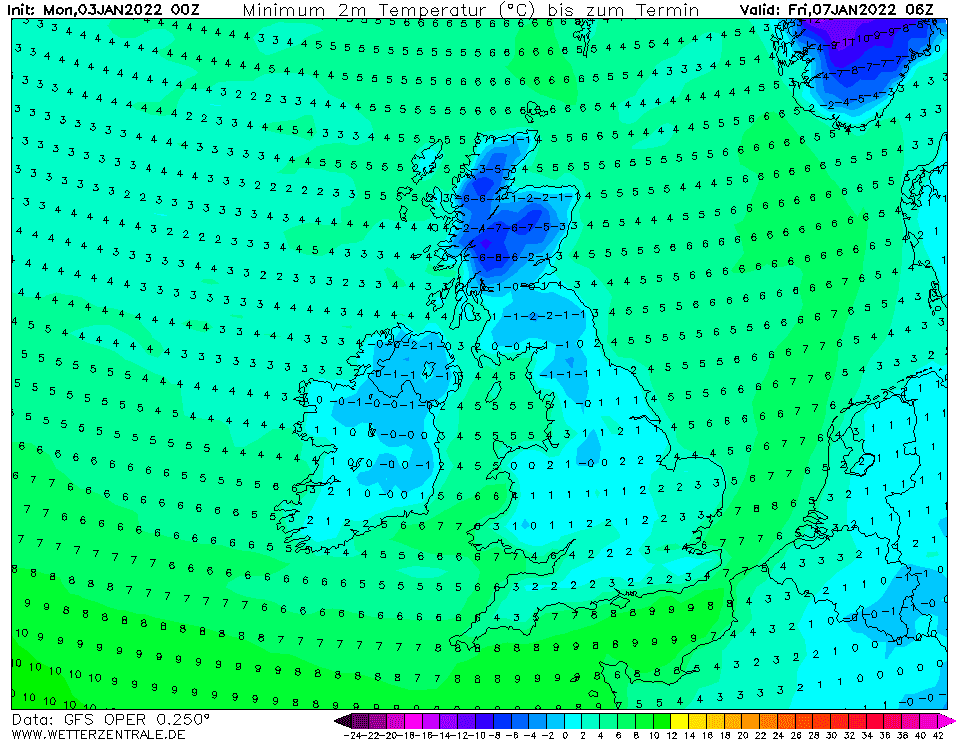 Source: wetterzentrale.de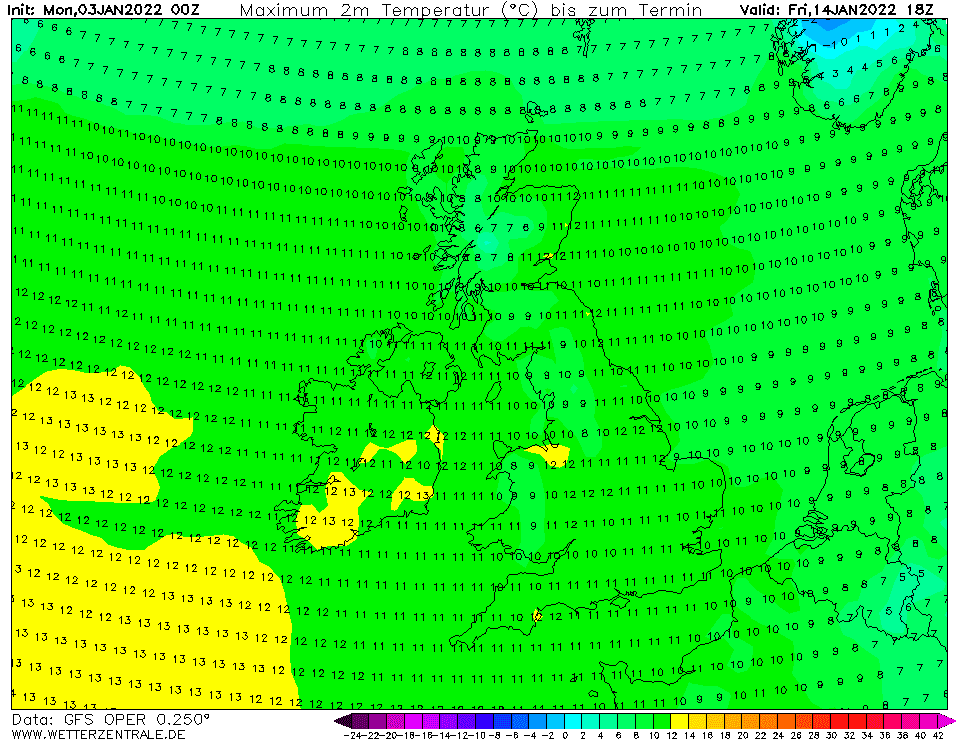 Source: wetterzentrale.de