After tropical storm Higos, a new tropical system is causing damages over East Asia.
On Saturday morning, East Asian time, Tropical Storm Bavi (known as Igme in the Philippines) formed eastward of Taiwan, according to the Japan Meteorological Agency (JMA).
System over Philippine sea strengthened and it passes east of Taiwan and Ryukyu Islands at the weekend.
Before this system strengthened to tropical storm, it brought rounds of heavy rain to the Philippines to end the week.
In Taiwan will rainfall totals to reach 50-100 mm (2-4 inches) along the eastern coast of the island. Rainfall totals across the Ryukyu Islands are forecast to reach 100-200 mm (4-8 inches), rarely 250 mm (10 inches), with possible flash flooding, damaging winds, rough sea waves and mudslides.
Rough seas will also be possible across parts of the East China Sea.
From Sunday to Tuesday, tropical system is forecast stall and slow down ahead of reaching southwestern Japan or the Korean Peninsula.
"The track of the tropical system will be heavily influenced by a front moving through northeastern China into southeastern Russia." according AccuWeather.
Tropical storm from the south as well as the rain with the front will make for a wet first half of the week from eastern China through North Korea, South Korea and southwestern Japan.
Bavi in Taiwan
Taiwan's Central Weather Burea (CWB) issued a marine warning for Tropical Storm Bavi at 10:30 am Saturday morning, and a heavy rain advisory for areas in the north, center, and south of Taiwan.
Tropical Storm Bavi was situated around 140 kilometers southeast of Hualien at 8:00 am this morning, August 22, moving north-northeast.
The CWB heavy rain advisory lists the following areas as at risk of heavy rain from, through Saturday, August 22: Keelung North Coast, Taipei City Mountain Area, New Taipei City Mountain Area, Nantou County, Yunlin County Mountain Area, Chiayi County Mountain Area, Tainan City, Kaohsiung City, Pingtung County, Hengchun Peninsula, Yilan County, and Hualien County.
Ferry services between Orchid Island, Fugang Harbor in Taitung, and Houbihu in Pingtung County have been cancelled from Saturday´s noon. Ferry services to Green Island have not been affected.
A market at Caoli fishing port planned for Saturday and an open-air movie show in the district of Ruifang scheduled for Sunday (Aug. 23) have also been canceled, CNA reported.
Taipei City said it would consider rescheduling the Dadaocheng fireworks to a later date, depending on the circumstances.
Yilan County Fire Department initiated a level 2 disaster response alert, expecting heavy rain, and has requested police, civil affairs, water resources, and transport bureau personnel to be assigned to the disaster response center as a precaution.
Tropical Storm Bavi is expected to continue moving north-northeast on a trajectory for landfall in Korea. Bavi is the 8th named tropical storm of the 2020 typhoon season.
Possible impact in Korea
Typhoon Bavi is expected to hit the Korean Peninsula on Thursday, the national weather agency said Saturday.
The Korea Meteorological Administration said the season's 8th tropical storm is moving northwest towards the peninsula at a speed of 28 kilometers per hour and forecast to make landfall on Thursday after passing through the southern island of Jeju.
The typhoon is likely to become stronger while moving over warm waters off Jeju island.
Although the typhoon's course and size can change, it will come with strong winds and heavy rains, the agency said, advising safety measures be put in place before it arrives.
Documentation of tropical storm Bavi /Accuweather, Tropicaltidbits, Sources down: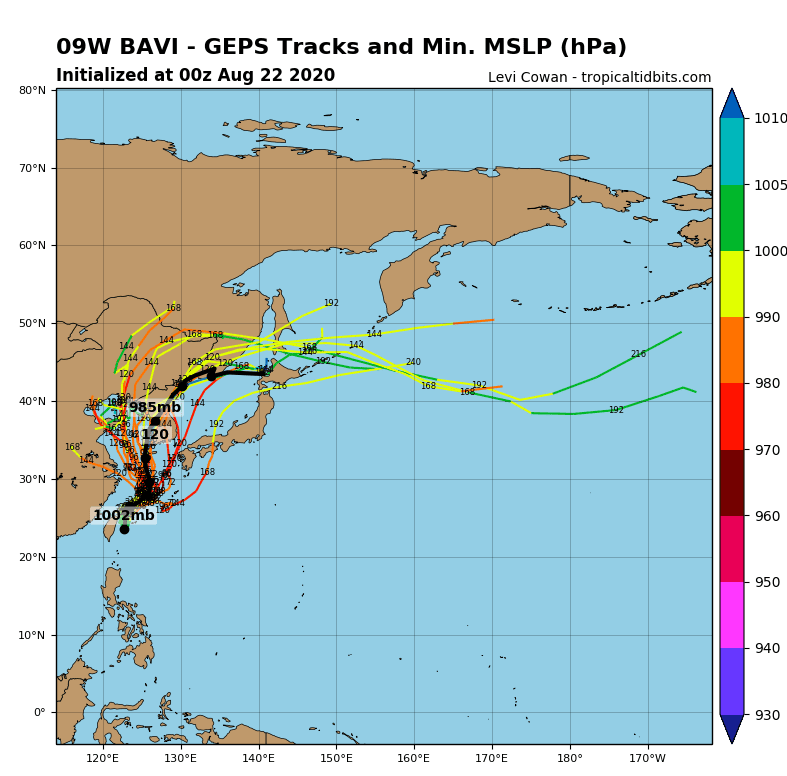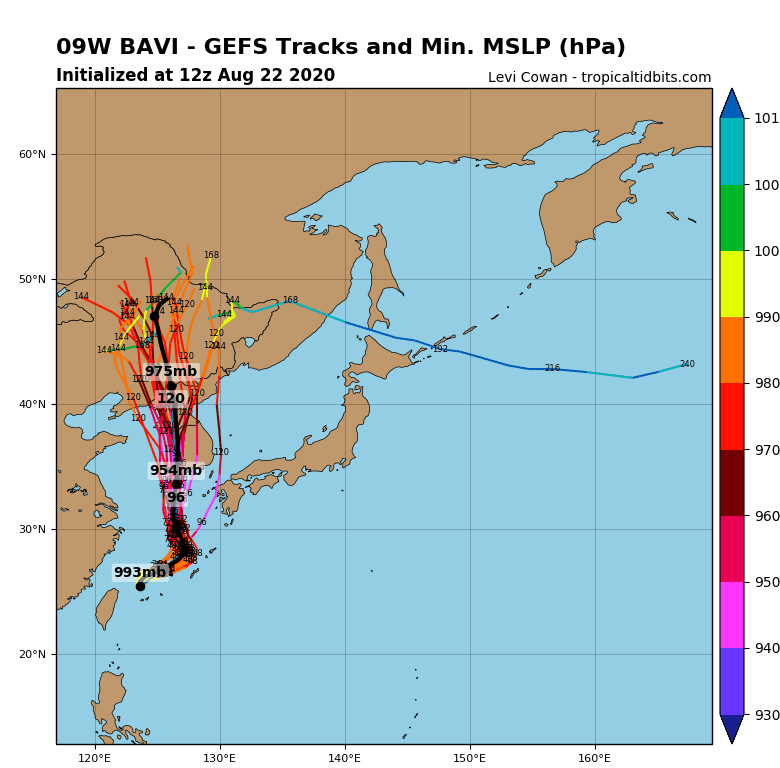 Accumulated precipitation in region during the next 16 days /Wxcharts.com: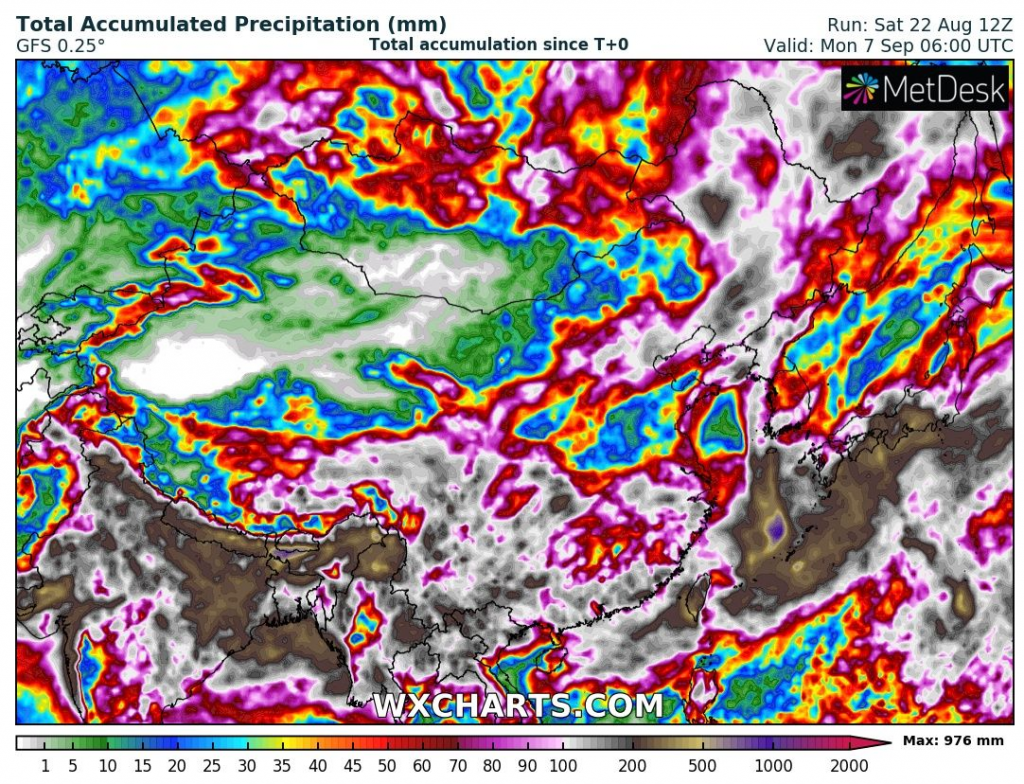 https://www.taiwannews.com.tw/en/news/3992663
https://www.taiwannews.com.tw/en/news/3992776
https://en.yna.co.kr/view/AEN20200822002200315
https://www.accuweather.com/en/hurricane/the-next-west-pacific-tropical-threat-is-brewing-in-the-philippine-sea/797957
Read more:
(Visited 94 times, 1 visits today)