Indian monsoon currently almost 50% more stronger as usual: Highest monsoon rain of the season recorded last week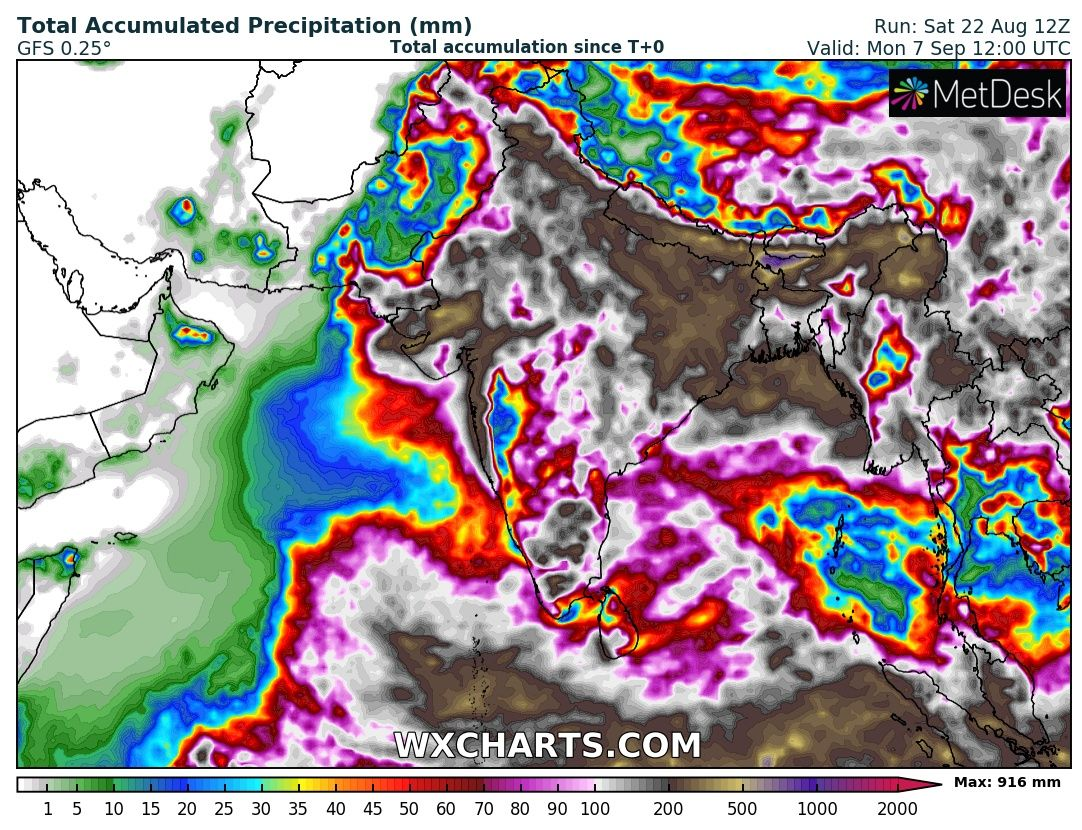 The week of August 13 to 19 recorded 42% excess rain compared to the long period average (LPA) for the week, according to India Meteorological Department data. This is the highest rainfall received in a week during this monsoon.
The average rainfall recorded during the August 13 to 19 week is 60.2mm, but the country recorded 85.7mm last week, with 93% excess rain over central India; 56% excess rain over south peninsula; 12% excess rain over northwest India and 23% deficiency over east and northeast India. LPA is the average monsoon rain recorded between 1951 and 2000.
"All the classical monsoon components were being met. A low pressure area had formed over Bay of Bengal. The monsoon trough (line of low pressure) was south of its normal position (Ganganagar to Bay of Bengal). There were moist, strong southwesterly winds blowing over the northwestern region. In fact, within a week, we had two low pressure systems—one on August 13 and another on August 19. Monsoon conditions are very active now," according IMD.
This also shows that we may have an extended monsoon season this year. "Normally by the last week of August, rainfall reduces very gradually. But this time, the monsoon in July was very weak. It picked up in August, and as of today no monsoon model is showing any likelihood of a reduction in rainfall. A fresh low pressure area is forming over the Bay of Bengal around August 23, which will bring another round of excess rainfall,"
IMD had issued a data sheet titled "New Normal Dates of Onset/Progress and Withdrawal of Southwest Monsoon over India" based on the analysis of monsoon data from 1961 to 2019 and dates of withdrawal of monsoon based on data from 1971 to 2019 by scientists in IMD. As per the new normal, monsoon withdraws from northwest India around September 17, which is a delay of over two weeks compared to the earlier normal date of September 1. Monsoon withdrawal is much faster now. By September 20, it withdraws from most parts of Rajasthan and some parts of north Gujarat and some western areas of Punjab and Haryana with a delay of only around five days compared to earlier. /hindustantimes.com
Mumbai with 64% more rain in August than usual
Mumbai has recorded 944.8 mm rain between August 1 and 21, which is 404 mm more than the average rainfall for the month at 540.8 mm. So far this season i.e. from June 1 to August 21 Mumbai recorded 64% excess rain.
Meanwhile, the present water stock in the seven lakes that provide drinking water to the city has reached 90,88 % of total capacity. Last year it was 94.19 per cent. Currently, 10 per cent cut in the supply is in effect from Friday.
Due to these favourable conditions, widespread and very heavy rain is likely over Gujarat, Maharashtra, Goa, Madhya Pradesh, Chhattisgarh, Jharkhand, Odisha and Vidarbha during the next days.
Monsoon bothers both the east and west coasts of India, Bangladesh and Pakistan
Heavy rain is forecast for both the east and west coasts of India into early next week, threatening more flooding for communities.
As showers and thunderstorms spread across much of India and southeastern Asia this weekend into early next week, two separate lows will target the coasts of India with widespread heavy rainfall.
"This monsoon low is forecast to stay rather stationary in the northern part of the bay, bringing round after round of heavy, tropical rainfall to parts of eastern India, Bangladesh and western Myanmar," according Accuweather.
Rainfall amounts into Tuesday are likely to reach 50-100 mm (2-4 inches), with isolated rainfall amounts as high as 200 mm (8 inches).
India is waiting downpours several days in a row, making flash flooding a large concern into early next week, including in Odisha, Jharhand, West Bengal and through Bangladesh.
Parts of Bangladesh have already had widespread flooding issues so far this monsoon season, including one wave of moisture that forced 200,000 people to evacuate.
Downpours will continue to slowly move into southeast Pakistan through Tuesday, including Karachi.
Across all of India and southern Pakistan, travel will be significantly disrupted during these downpours. Cities like Indore, Jaipur, Ahmedabad and Kolkata are some major cities that could notice these impacts.
Expected accumulated precipitation and maximal wind gust during the next 16 days over Southern Asia /wxcharts.com: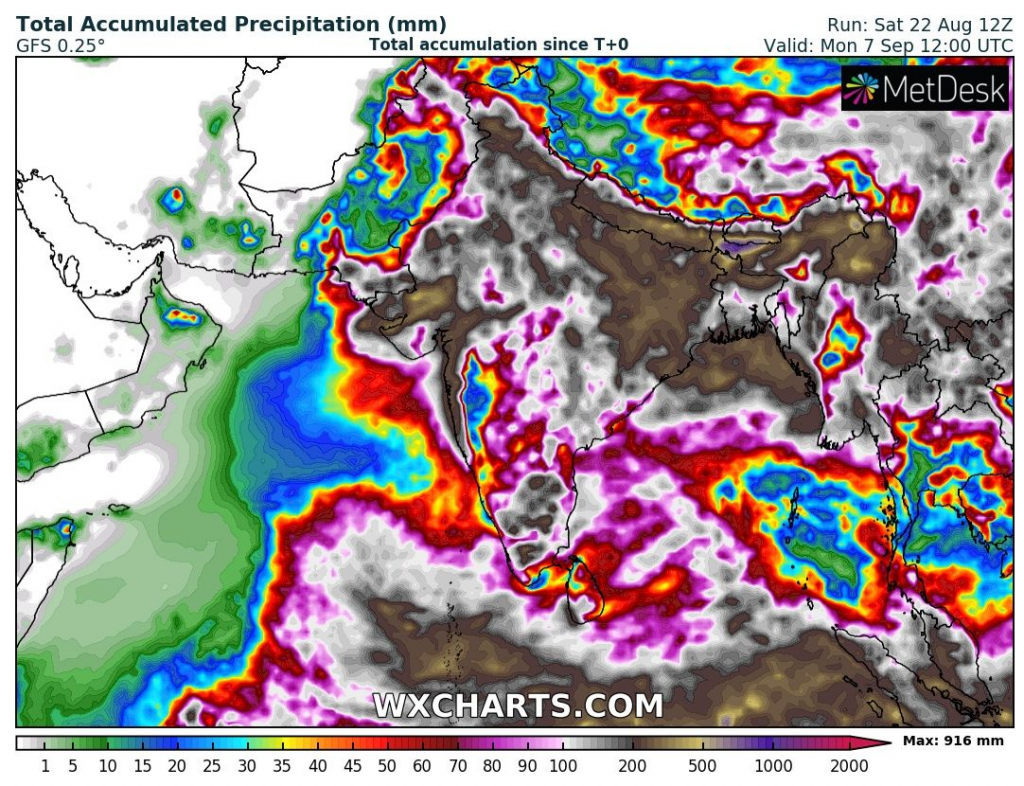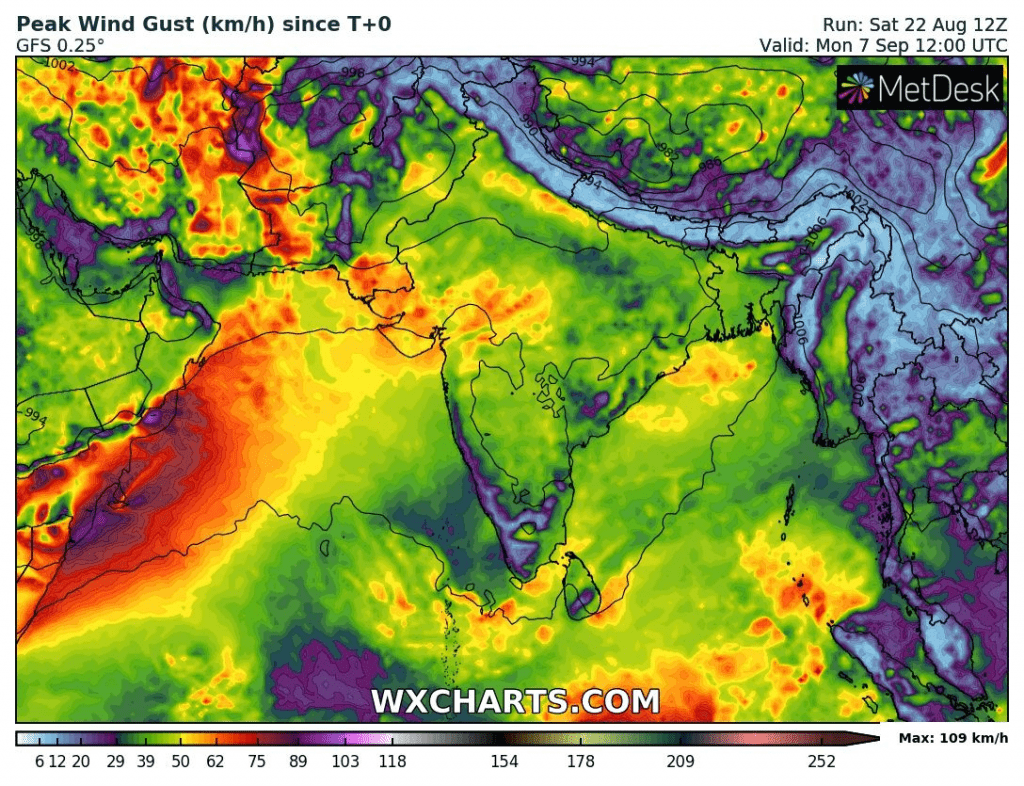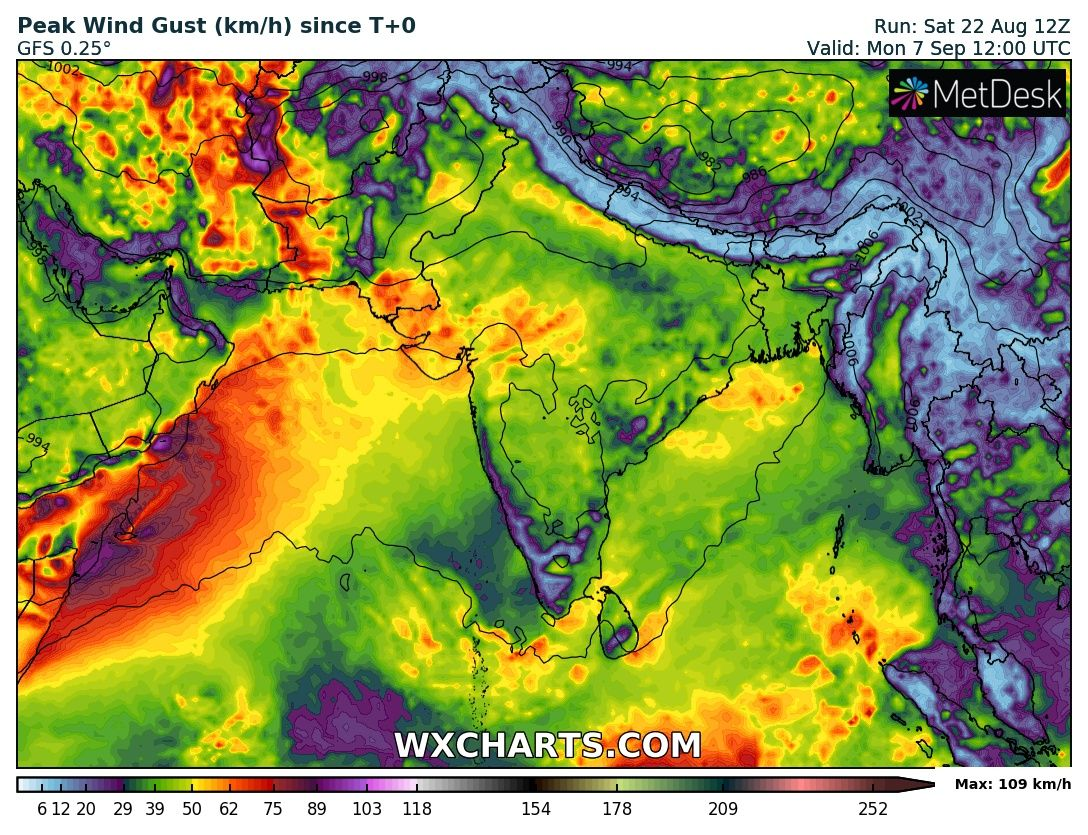 Accuweather monsoon forecast:
Sources:
https://indianexpress.com/article/cities/mumbai/imd-predicts-heavy-to-very-heavy-rain-in-mumbai-neighbouring-districts-6564901/
https://www.hindustantimes.com/india-news/highest-monsoon-rain-of-the-season-recorded-last-week-imd/story-mqA2ADL1PZrSFveXoKiySI.html
https://indianexpress.com/article/cities/mumbai/imd-predicts-heavy-to-very-heavy-rain-in-mumbai-neighbouring-districts-6564901/
https://www.accuweather.com/en/severe-weather/monsoon-rains-to-impact-india-from-coast-to-coast-into-next-week/798510
Read more: