Very long coldwave (until 20. November) in the western half of the USA? Predicted blizzard contidions are shifting westward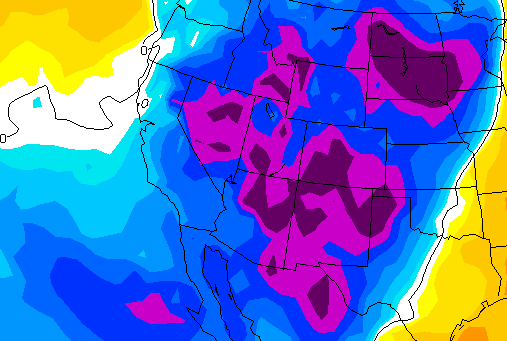 Forecasts of decrease AO and NAO index until 20. November are not fully convincing, because AO and NAO are expected to decline only few decimals under 0, but it appears, that this broke circulation will be linked with severe cold blasts in Europe /https://mkweather.com/2020/11/03/extreme-coldwave-in-europe-from-siberia-in-long-term-outlook-20c-in-continental-europe-possible// and in North America /https://mkweather.com/2020/11/01/wisconsin-with-30-inches-3-4-m-missouri-with-20-inches-1-2-m-snowfall-around-10-november-joke-or-serious-winter-blizzard/; https://mkweather.com/2020/11/02/before-next-coldwave-warm-almost-in-all-usa// after long Indian summer period in some parts of continents /https://mkweather.com/2020/11/03/indian-summer-austria-242c-hungary-211c-slovakia-202c-czechia-193c/; https://mkweather.com/2020/11/02/germany-240c-only-02c-below-all-time-november-record-ever-201c-in-977-masl/; https://mkweather.com/2020/11/03/indian-summer-in-northeast-almost-until-15-november-canada-and-rocky-mountains-with-summer-temperatures-almost-80f-27c//.
Whereas in Northeast, according to new runs of forecast models, Indian summer should continue until 14. November, blizzard conditions mentioned in one from previous articles in Wisconsin and Missouri has shifted above Iowa, Kansas and Oklahoma in current runs of GFS, with possibly 20-28 inches (50-70 cm) of snowfall in hit regions.
Strong persistence of pressure systems should be linked with long-term very to extreme cold conditions above western and central parts of the USA, probably minimally until 20. November 2020.
Coldwave will bring after historic October cold blast, with measured historic lowest temperature in the USA ever (-33°C / -29.2°F, Potowac, Montana) /https://mkweather.com/2020/10/29/historic-coldwave-in-the-usa-the-lowest-october-temperature-ever-292c-20-2f-oklahoma-with-dangerous-ice-storm// very similar conditions with severe frosts and regional blizzards not only in Rocky Mountains, but too in neighboring low situated regions.
In Rockies, again frosts under -20°C / -4°F are expected in densely populated areas. Cold spell hit southernmost states such as California, Nevada, Arizona or New Mexico too and extremely cold air will shift even to Mexico for shorter period.
Meanwhile the West will be bothered by extreme early winter conditions, Northeast should alive only short-term coldwave around / after 15. November, according to current runs of forecast models.
Until the start of expected coldwave (7. November 2020), Mkweather will update forecasts.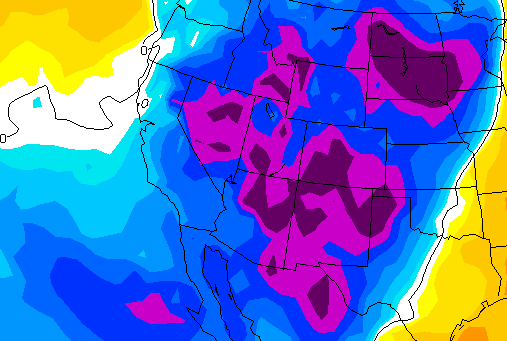 Expected snow cover accumulation until 19. November 2020 /tropicaltidbits.com: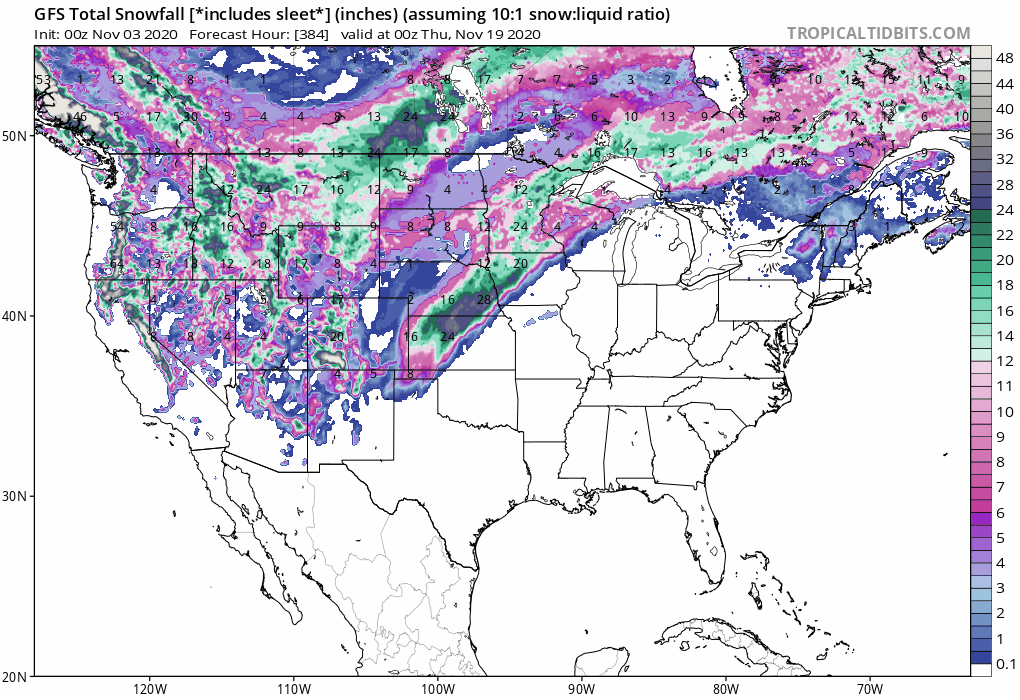 Temperature in 850 hPa anomaly over Northern America between 7.-19. November 2020 (during the persisting coldwave in western USA) /wetterzentrale.de: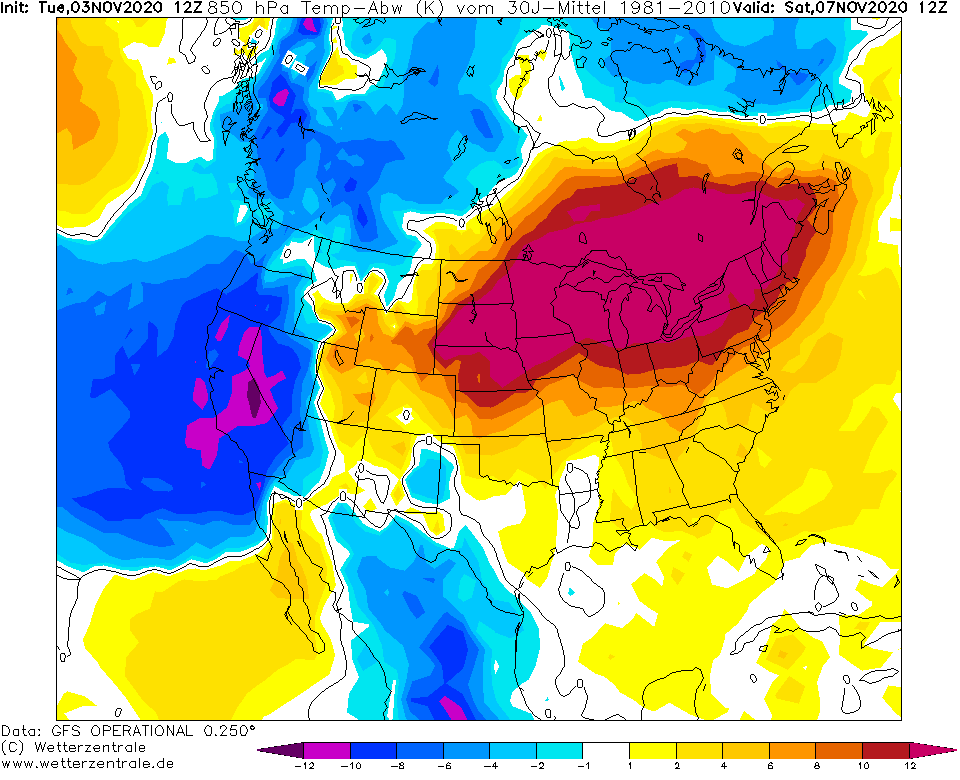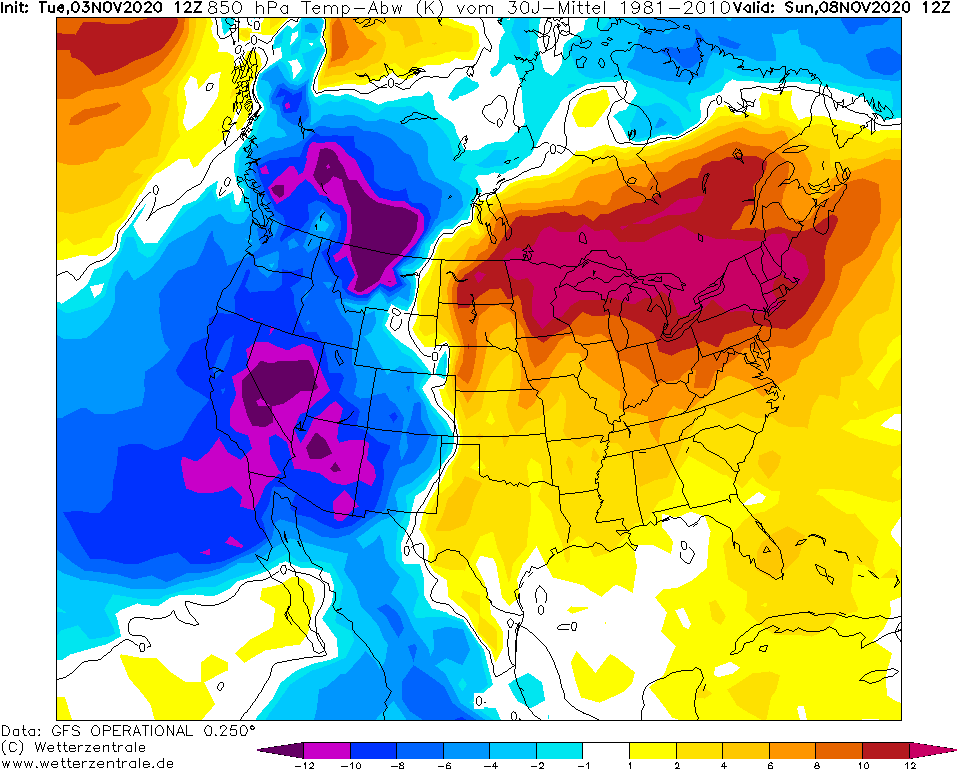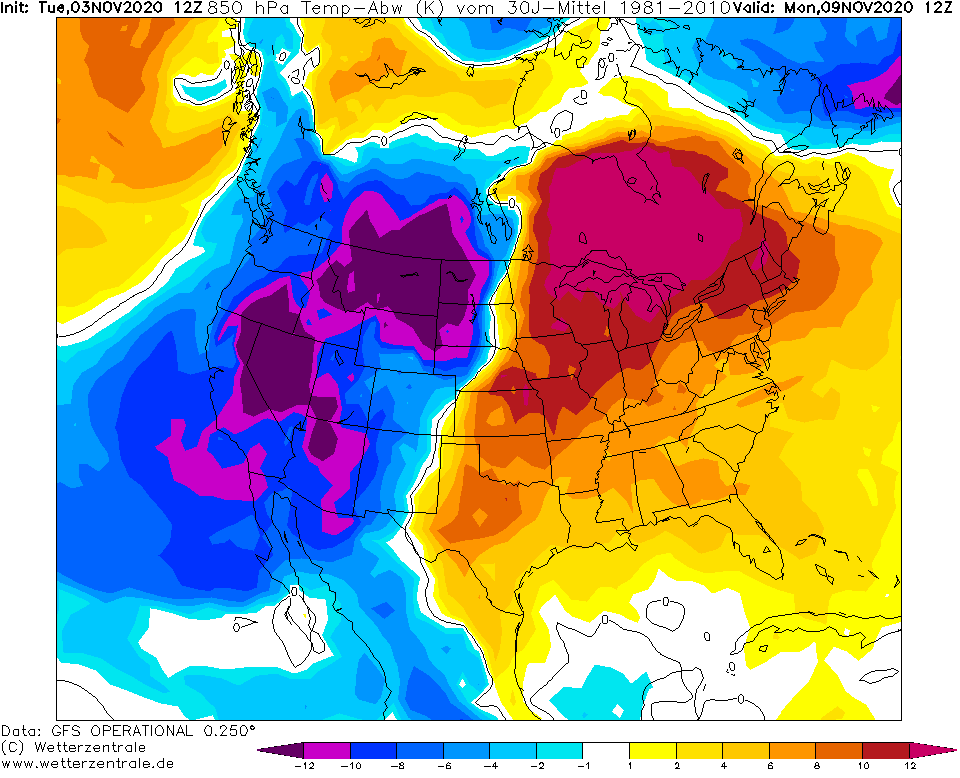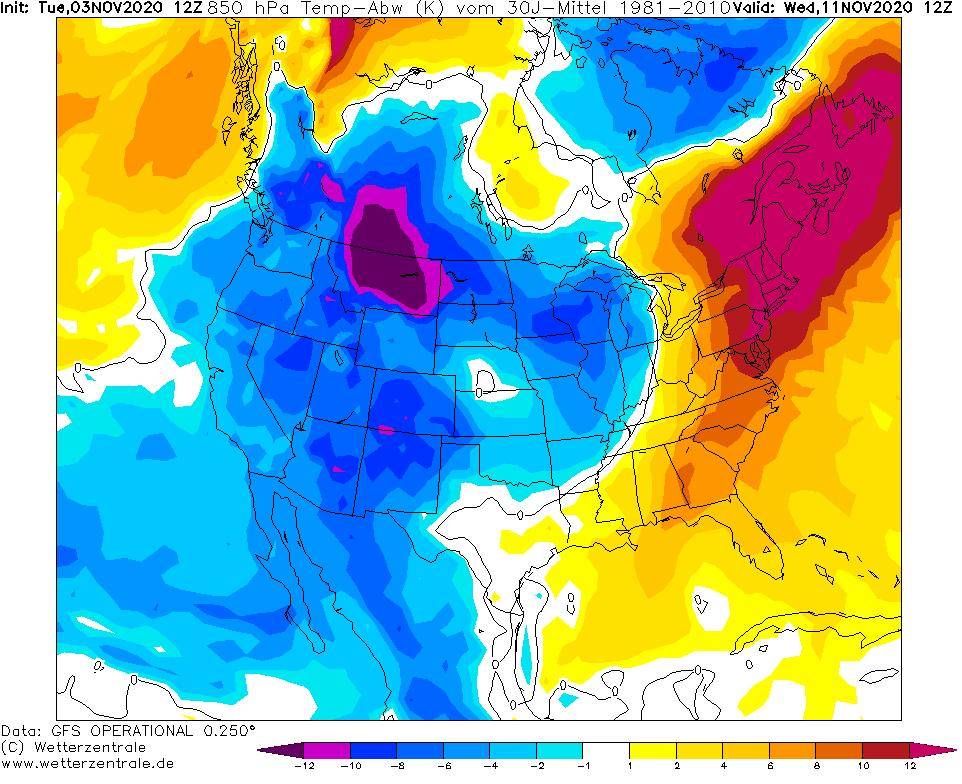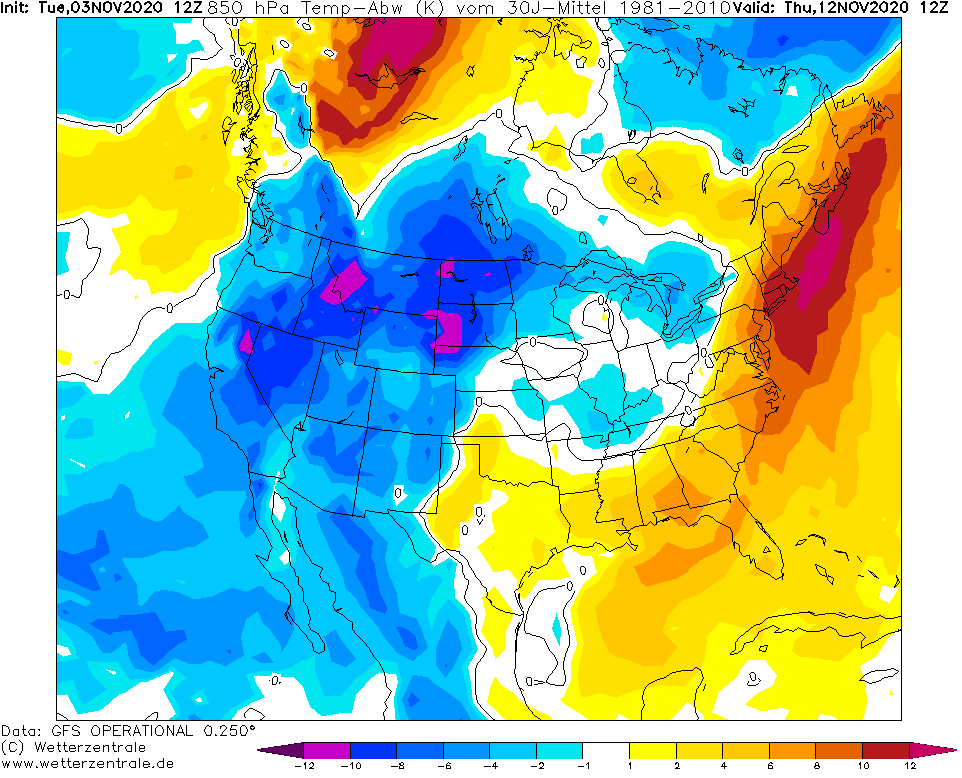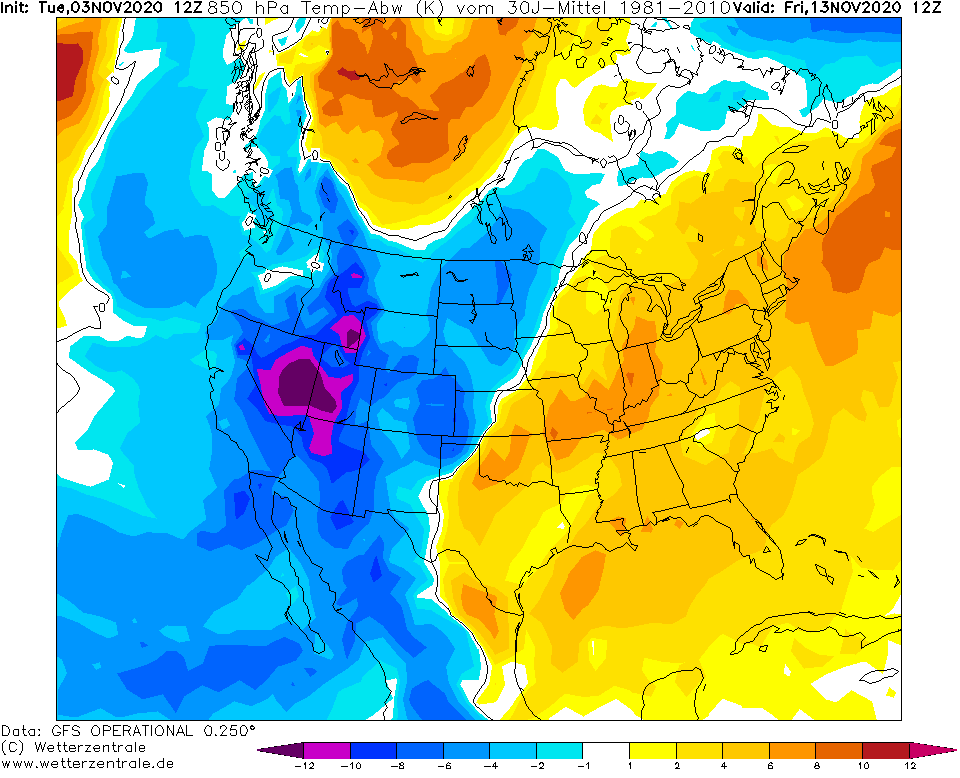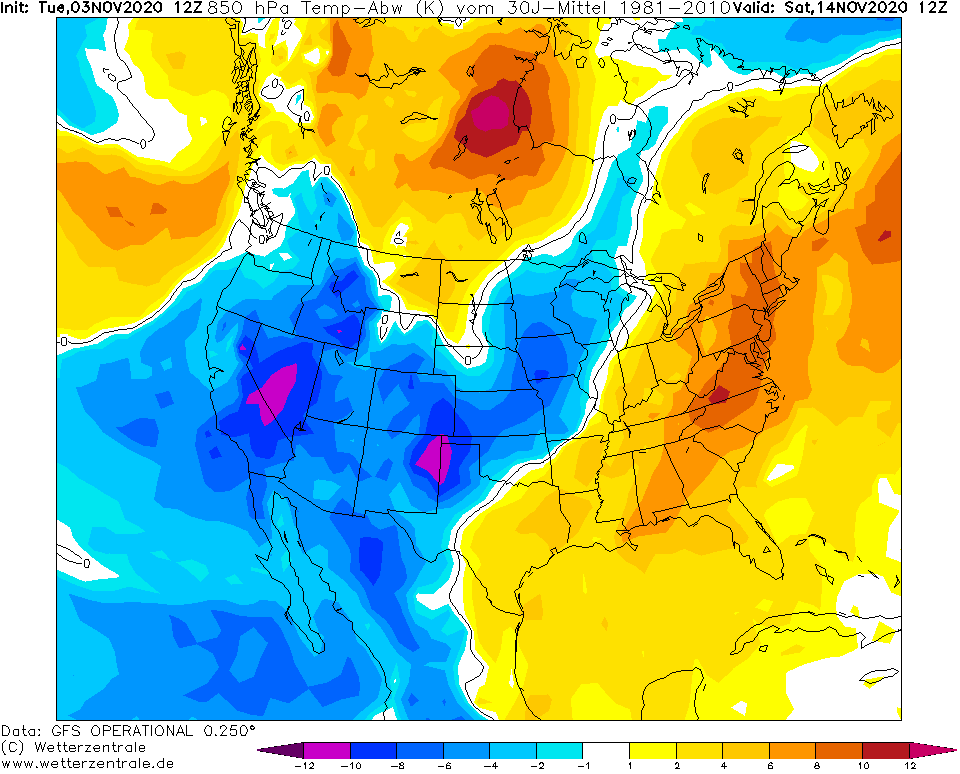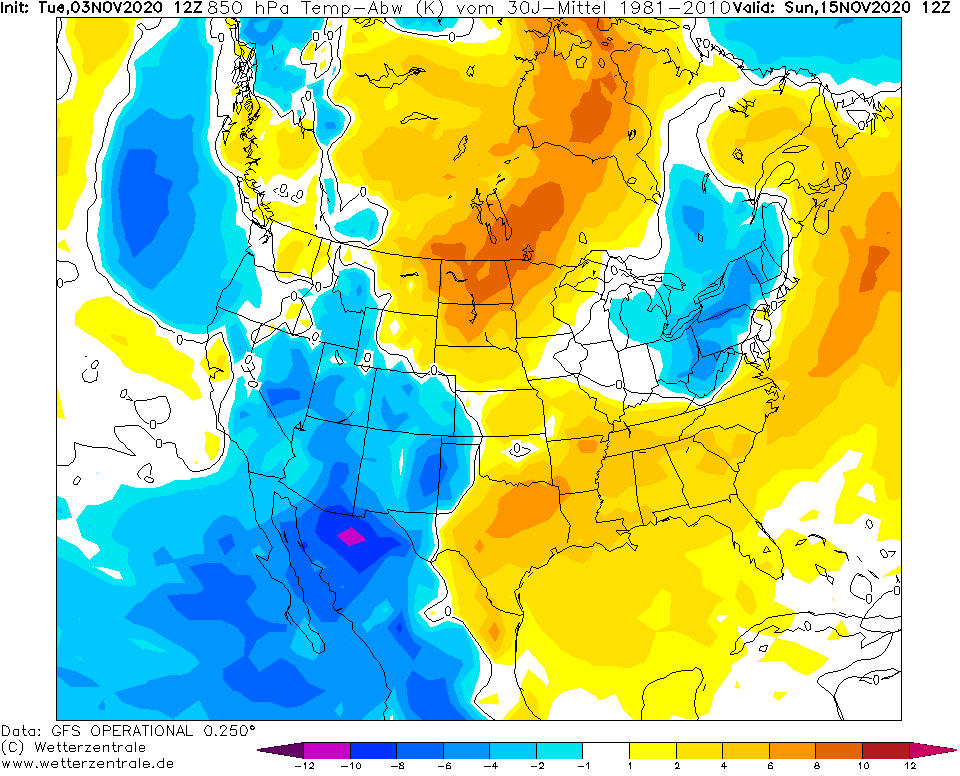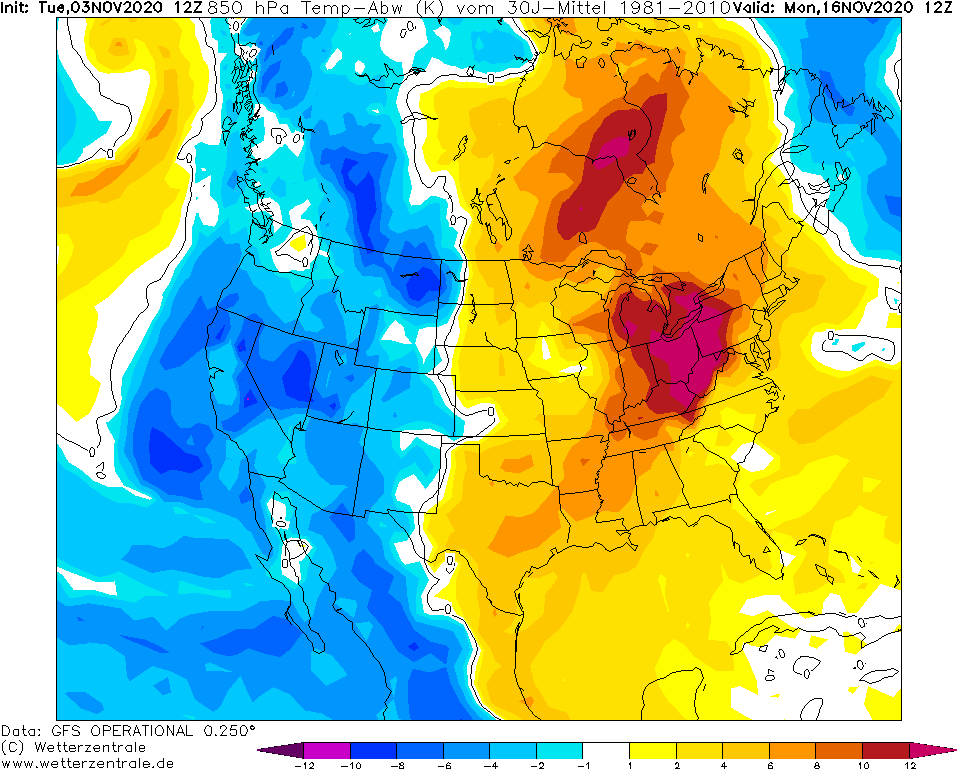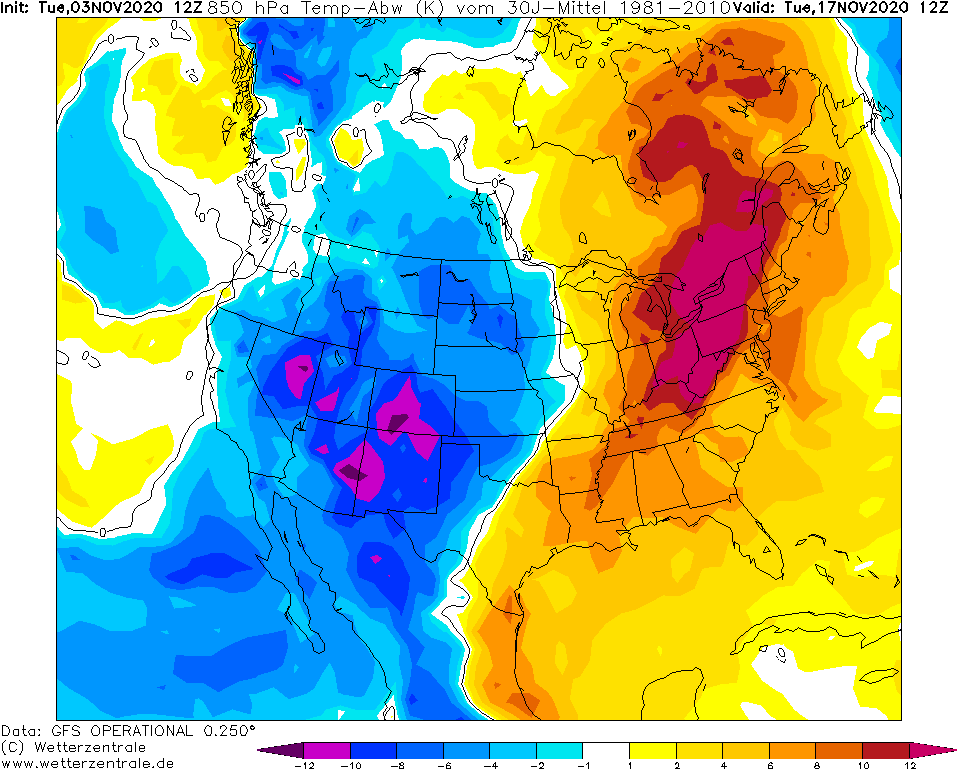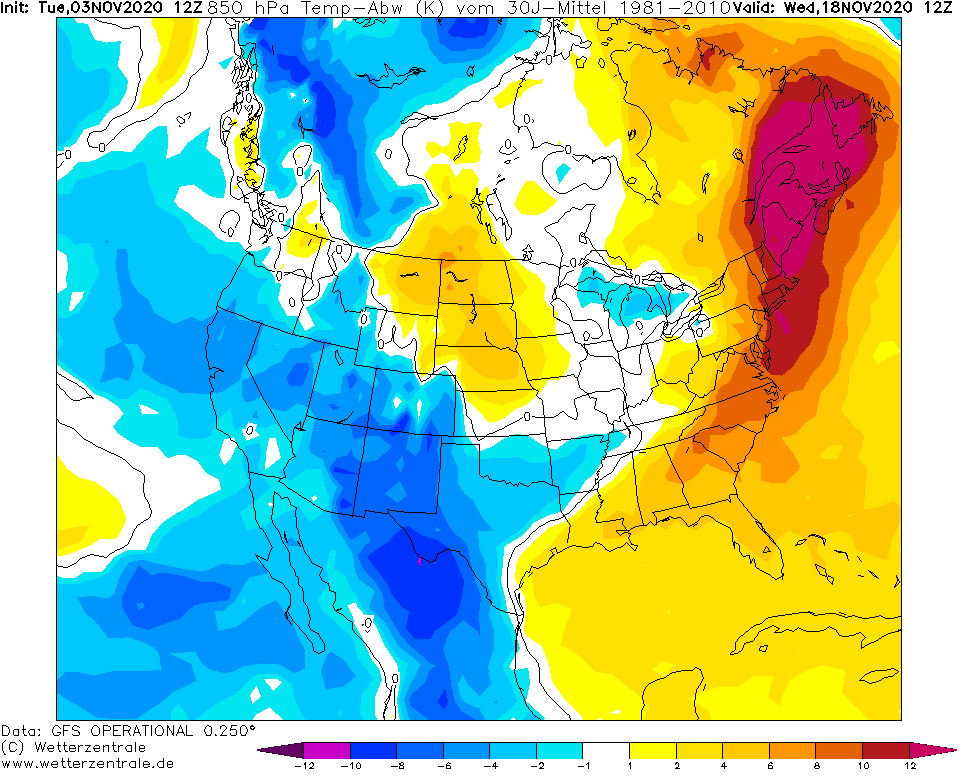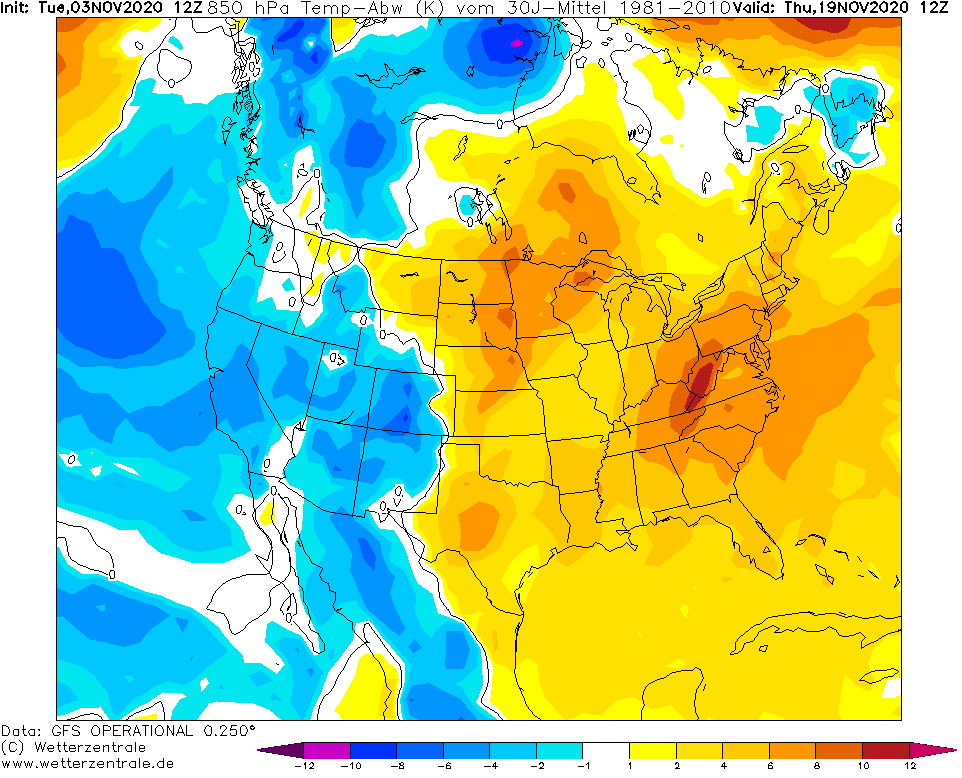 Read more: