Waterspout outbreak in Poland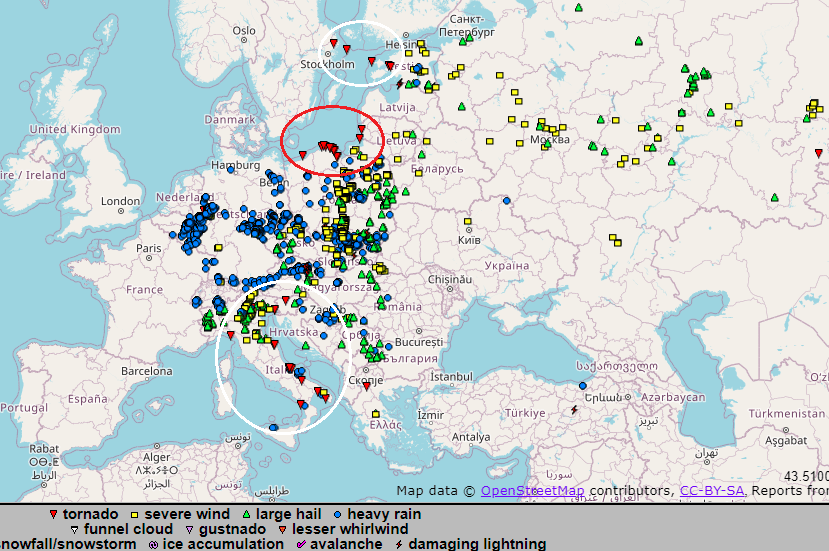 Waterspout outbreak has appeared in Poland along the Baltic coast (Gdansk, Gdynia, Sopot, Mechelinki, Wladyslawowo, Jastarnia, Chalupy, Unieście, Jantar) on 19.-20. July 2021.
High moisture and relatively high temperatures with a combination of arrival of cold air masses from the Atlantic caused 11 reports of waterspouts in ESWD database /https://eswd.eu// on Monday and Tuesday, 19.-20. July 2021.
The next waterspouts appeared in Sweden, Lithuania, and Estonia, and the second outbreak appeared in Italy, where are however similar outbreaks are more frequent such as in the Baltic region.
Vortexes had a lot of sources of moisture from the air, which was bringing severe downpours in Central Europe in the last period /https://mkweather.com/floods-have-shifted-into-poland-and-austria-the-danube-in-slovakia-and-hungary-overflowed-balkan-with-severe-storms-too/; https://mkweather.com/disastrous-balance-of-cataclysmic-floods-in-germany-162-dead-2000-still-missing//
People along beaches captured a lot of materials and the outbreak was interesting for Skywarn, too thanks to its untraditional intensity and number of twisters.
From 1. January 2021 to 20. July 2021, 333 tornado reports were documented within ESWD database, from them 19 in Poland. 11 / 19 reports in Poland in 2021 came just from the current outbreak.