Windstorm Alex: 186 km/h winds in France, 120 mm of rain and floods in UK at the weekend!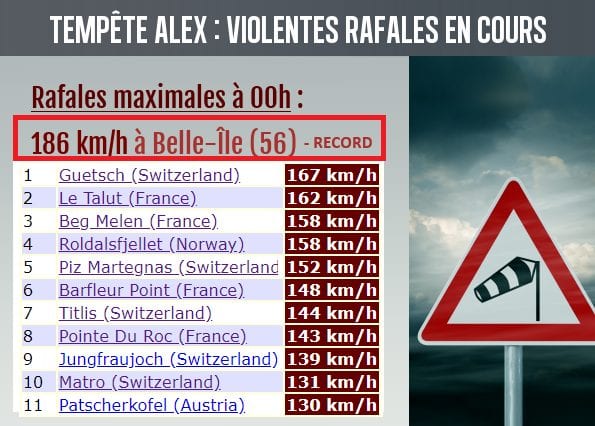 Windstorm Alex is bringing recorded wind gusts in northwestern France and bothers many other European countires. On early Friday, 2. October 2020, in Belle-Ile was measured wind gusts up to 186 km/h and in series next cities in densely populated area has flown wind with speed 100 – 160 km/h.
According to updated data from ogimet.com, during Friday afternoon was measured in France next extreme wind gusts – Le Talut (37 MASL) has reported 162 km/h, in Beg Melen (46 MASL) 158 km/h, in Barfleur Point (7 MASL) 148 MASL, in Pointe du Roc (37 MASL) 143 km/h, in Carteret (61 MASL) 124 km/h, in Ouessant-Stiff (68 MASL) 123 km/h, in Brignogan (20 MASL), 121 km/h, in Chemoulin (20 MASL) 121 km/h and in Pointe du Raz (72 MASL), 121 km/h.
In Spain, 123 km/h wind gusts were measured on the Biskay bay coast (Estaca de Bares, 100 MASL) and in England, 98 km/h wind gusts in Fair Isle, 57 MASL and in Norway, 97 km/h winds in Kvamskogen-Jonshogdi, 452 MASL.
From interesting locations…Cap Bear (Corsica, 82 MASL), 112 km/h, Brest (99 MASL), 108 km/h, Jersey (UK, 84 MASL), 96 km/h, Xátiva (Spain, 88 MASL), 94 km/h or Toledo (Spain, 515 MASL), 91 km/h.
Extreme winds are reported from mountainous areas too, in Guetsch, Switzerland, 2287 MASL, 167 km/h, in Roldalsfjellet, Norway, 1010 MASL, 158 km/h, in Mont Aigoual, France, 1567 MASL, 126 km/h, in Alpinzentrum Rudolfshuette, Austria, 2304 MASL, 115 km/h, in Alto De Los Leones, Spain, 1532 MASL, 115 km/h, in Kraderica, Slovenia, 2514 MASL, 115 km/h, in Kasprowy Wierch, Poland, 1991 MASL, 104 km/h and in Monte Cimone, Italy, 2165 MASL, 100 km/h.
In Scotland, temperature on the back side of the system dropped to -2,4°C (Shap, 249 MASL).
During the weekend, the strong winds expand in Europe and they occur not only in the UK, Ireland, Spain and France, but too in Italy, West Balkan, Austria, Czechia or southern Scandinavia.
System is bringing heavy rains to France, Spain and Switzerland on Friday, but at the weekend, downpours will shift over British Isles, southern Scandinavia, Corsica, Sardegna, Italy, Austria, Slovenia, Croatia, Bosnia and Herzegovina and Montenegro, with 40 – 120 mm of rain across large parts of the UK and Ireland (with severe flood risk!) and possible severe storms in southern East-Central Europe and Adriatic.
Before an arrival of severe storms to Central Europe and Balkan, we expect extreme high temperatures from Italy to Poland – in southern Italy of up to +36°C, over Balkan up to +32°C (Serbia, Croatia, Bosnia, Albania, but tropical +30°C in Romania, Bulgaria, Greece, too) and up to +28°C in Slovakia, +27°C in Austria, +26°C in Poland and Czechia and +24/+25°C in eastern Germany.
We will furthermore monitor the situation and will bring the fresh news during the weekend.
Infographics: Météo France, MetOffice (expressandstar.com), wetterzentrale.de, wxcharts.com, ogimet.com