Winter 2020/2021 forecast for Asia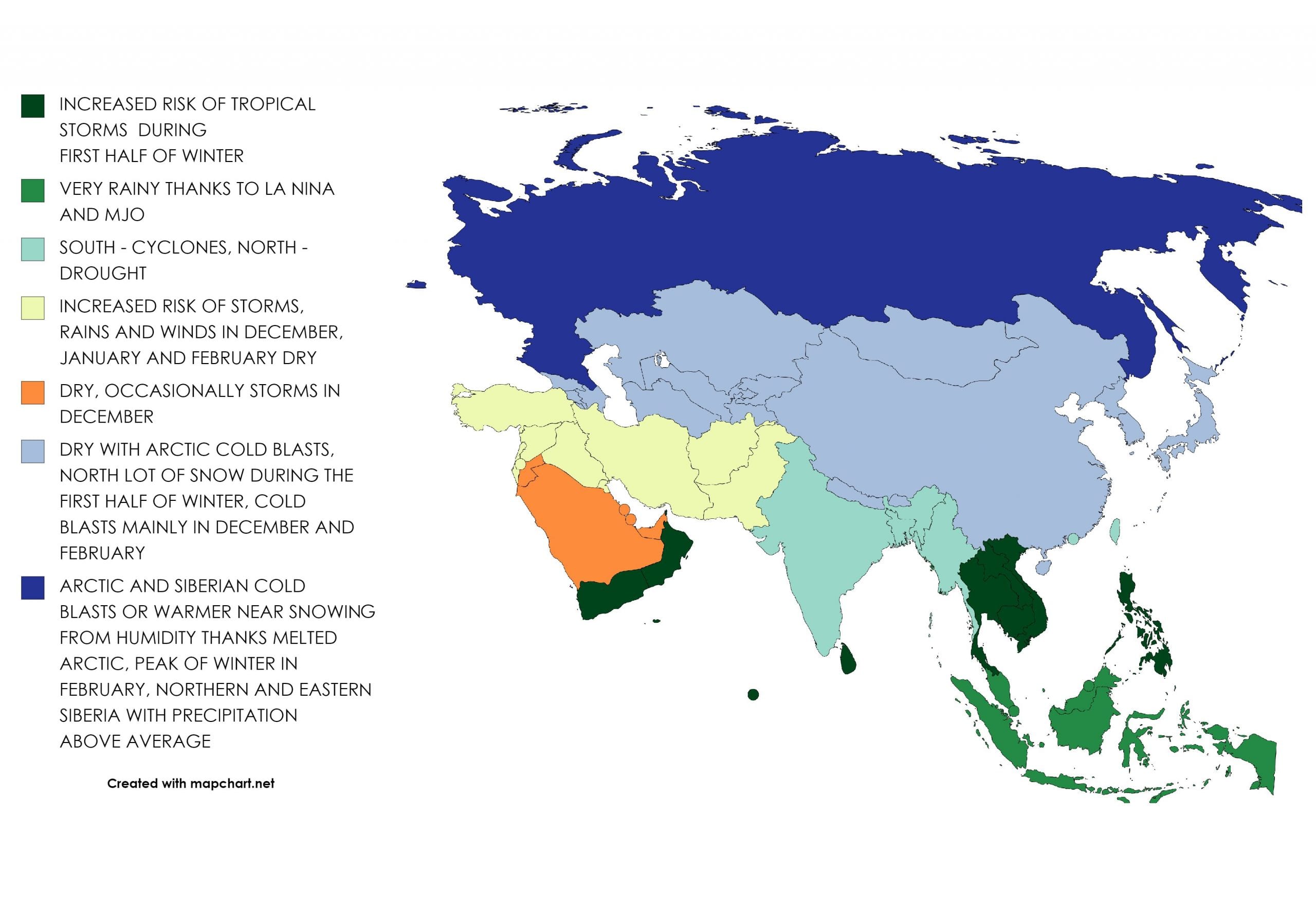 Its 1. December 2020 and we should look in next series of articles at Winter 2020/2021 forecasts for Asia, South America and Australia.
After Mkweather Winter 2020/2021 Final Outlook or Europe, USA and Canada, with some outputs valid for world, too /https://mkweather.com/2020/11/24/winter-forecast-2020-2021-final-outlook// and ENSO Winter 2020/2021 (and Summer 2021) forecast /https://mkweather.com/2020/11/14/forecast-for-world-winter-2020-21-and-summer-2021-according-to-enso-predictions-strong-la-nina-winter-neutral-summer// we should look firstly at expected circulation patterns in the most populated continent – Asia.
During Winter 2020/2021, a strong La nina phase is expected, with peak around January 2021, what ill have significant impact to precipitation and temperature regimes not only in monsoon Asia, but in many parts of the World.
La nina in combination with wet MJO phase (40 day forecast MJO until 10. January below) brings very rainy and stormy weather into southern monsoon Asia, mainly in its southern part, from Philippines up to Yemen and Oman coast.
Last typhoon and tropical storm threats are expected during the first half of Winter 2020/2021 in Vietnam, Laos, Cambodia, Thailand and Philippines, while Malaysia and Indonesia experiences with calmer, but 20-40% above rainfall average weather conditions during next 3 months. It should be linked with continuing severe floods and landslides in the region.
Very active cyclone season is forecasted in southern parts of southern Asia – mainly Sri Lanka, Maldives and southern part of India. Coasts of Yemen and Oman should be hit by cyclones too during next months.
Northern parts of Southern Asia experiences with dry winter monsoon, but in the region of highest mountains of the world, a lot of snowfall is expected.
Middle East expect dry Winter 2020/2021, however, with NAO- conditions in December and maybe shortly in February 2021, mainly in December with risk of storms, heavy rains, sandstorms and floods. The strongest drought is expected in Saudi Arabia and United Arab Emirates.
In Caucasus, Central Asia, China, Korean Peninsula and Japan are expected drier conditions – mainly due to expected NAO+ in January and February, in Eastern Asia thanks to winter monsoon partially, too. Arctic cold blasts are the most possible in December and February, January should be warmer.
In Russia, traditionally cold weather is expected, however, in northern and eastern Siberia with amounts of snow thanks to melting Arctic and Arctic Amplification. Snowfall will be bringing warm and humid periods, cold conditions are possible already in December 2020, but peak of winter should come in February 2021, mainly in western and southern parts (thanks to expected Eurasian blocking patterns above borders of Europe and Asia in late winter).
Mkweather Asia Winter 2020/2021 forecast: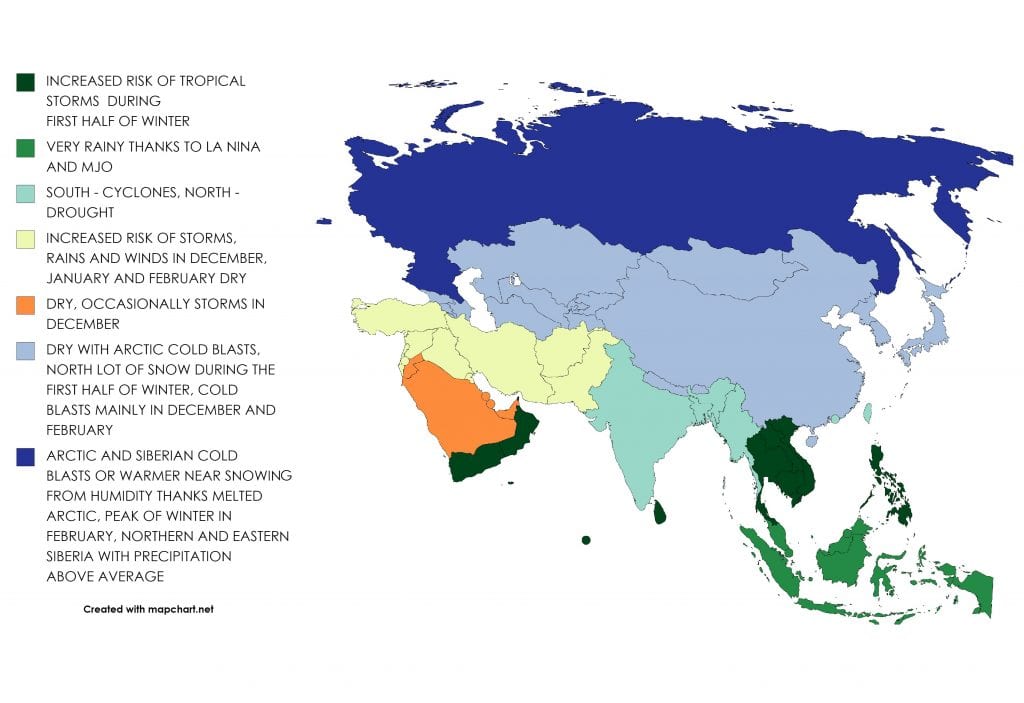 Accuweather Asia Winter 2020/2021 forecast: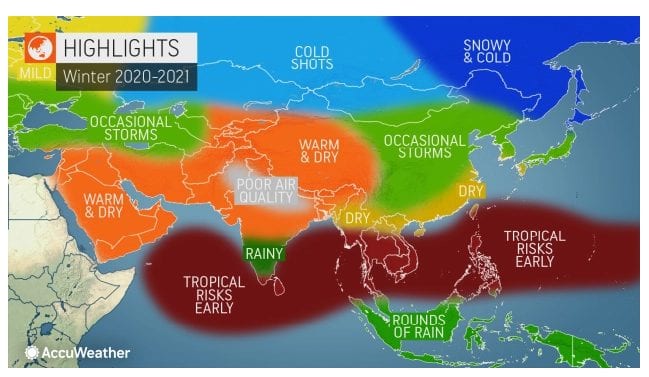 ECMWF forecast of temperature, precipitation and geopotential (pressure) for Winter 2020/2021: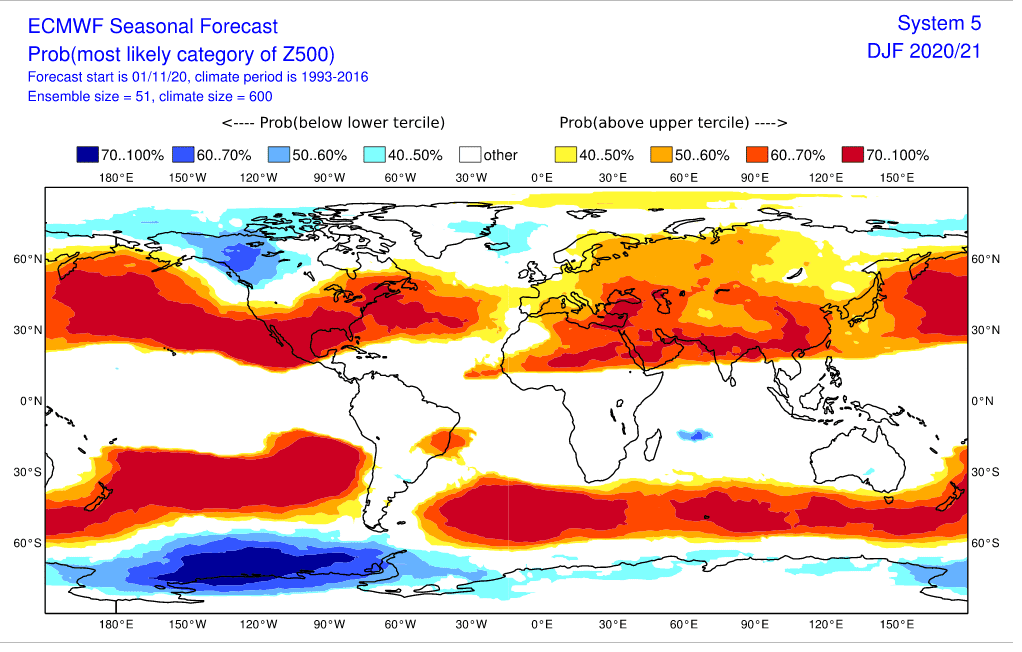 La nina forecast for Winter 2020/2021 from NOAA: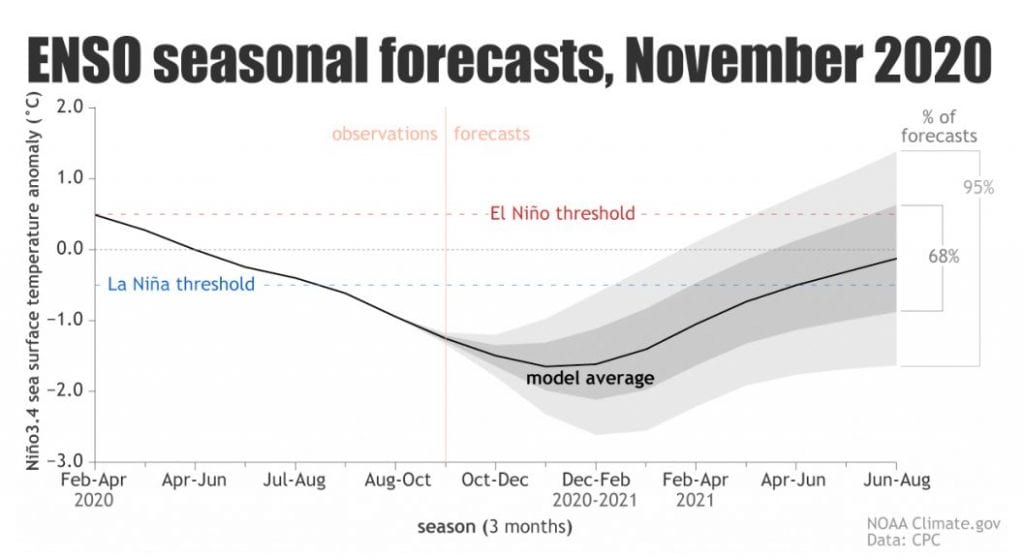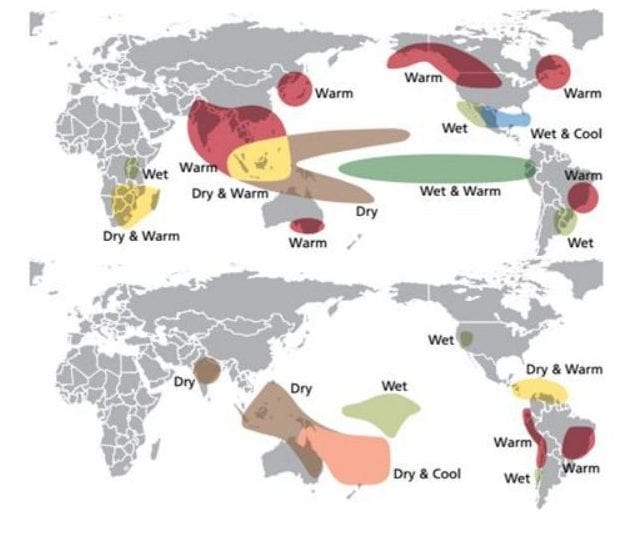 Above average NH snow cover on 30. November 2020 /RUTGERS GLOBAL SNOW LAB: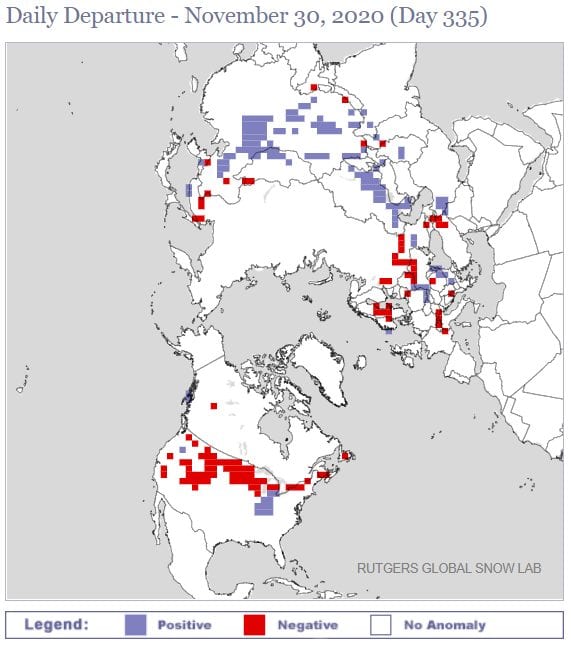 40 day MJO forecast until 10. January 2020 from NOAA: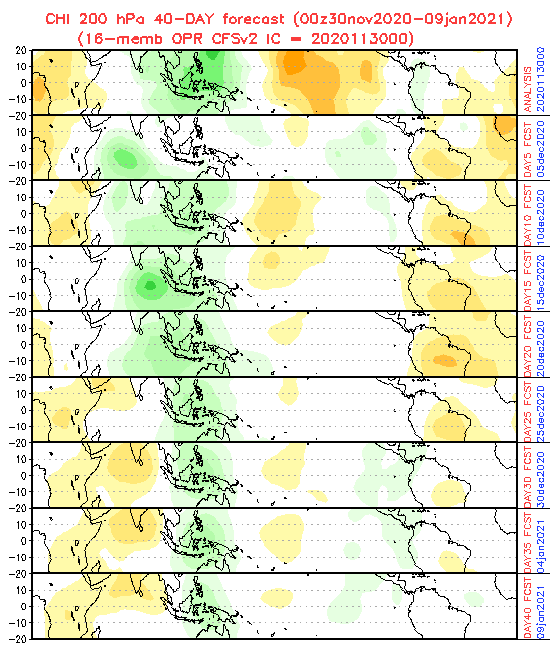 NAO index forecast from ECMWF: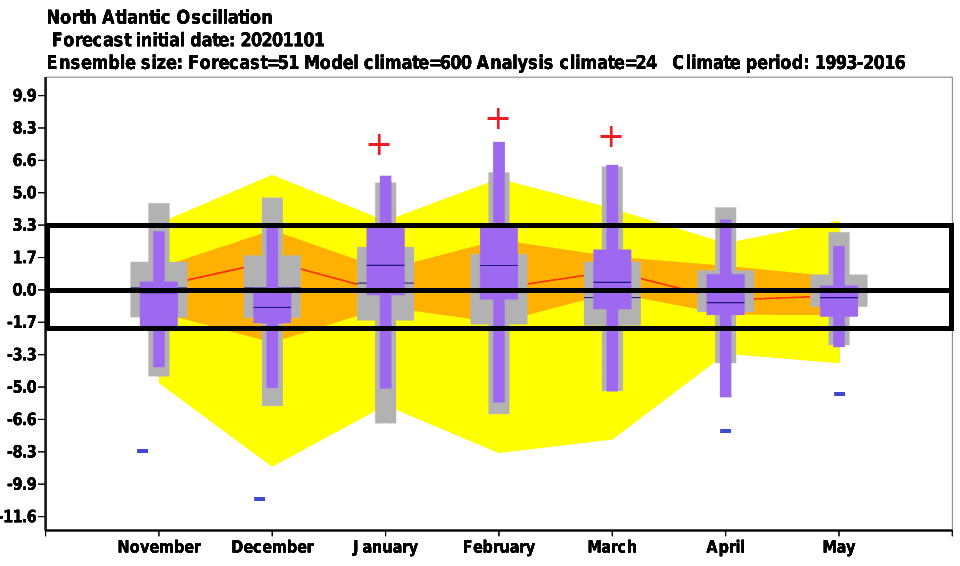 Read more: