Winter holidays 2021-2022 in the USA and Canada: Frosts and snow in the north, sun and warm in the south
MK
December 4, 2021
1 min read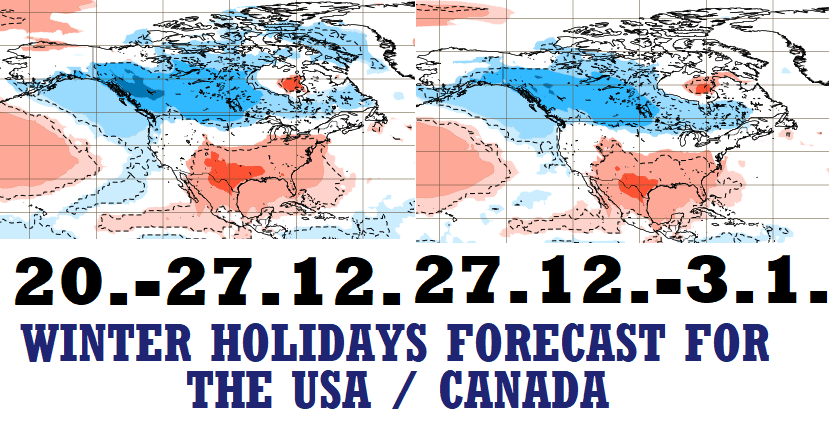 In the last article, we brought Christmas 2021 and New Year 2022 forecast for Europe /https://mkweather.com/winter-holidays-2021-2022-in-europe-cold-christmas-and-new-year-in-these-parts-of-europe-ecmwf-forecast//, now we should look to the USA and Canada (and too Mexico).
Temperature forecast for Winter holidays 2021-2022 for North America is relatively easy.
Most of the USA is forecasted to be very warm during the Christmas and New Year 2021-22 and colder weather is possible only along the Pacific coast or along the Canadian border.
On the other side, Canada is forecasted to be very cold, or at least neutral, with a lot of snow and severe frosts. Similarly, Alaska will be cold or neutral.
Mexico, the Caribbean, and Central America are forecasted to be very hot during the holidays.
Unseasonably hot weather should surprise mainly Texas and neighboring states, where tropical temperatures above +30°C / 86°F are possible.
The coldest will be probably British Columbia, but too Canadian Prairies, including cities such as Vancouver, Edmonton, or Calgary.
In Canadian Arctic should appear at very low temperatures.
It hasn't to be a clear NAO- pattern because eastern Canada will be colder than during typical strong NAO- phases, on the other side, in Europe, coldwaves, typical for NAO- are forecasted.
This circulation pattern very probably will contribute La Nina pattern.
After a white Christmas therefore many Americans will be traveling to the northern states or the Rocky Mountains.