Winter tropical heatwave hits the USA! Unseasonably hot from the South to the North!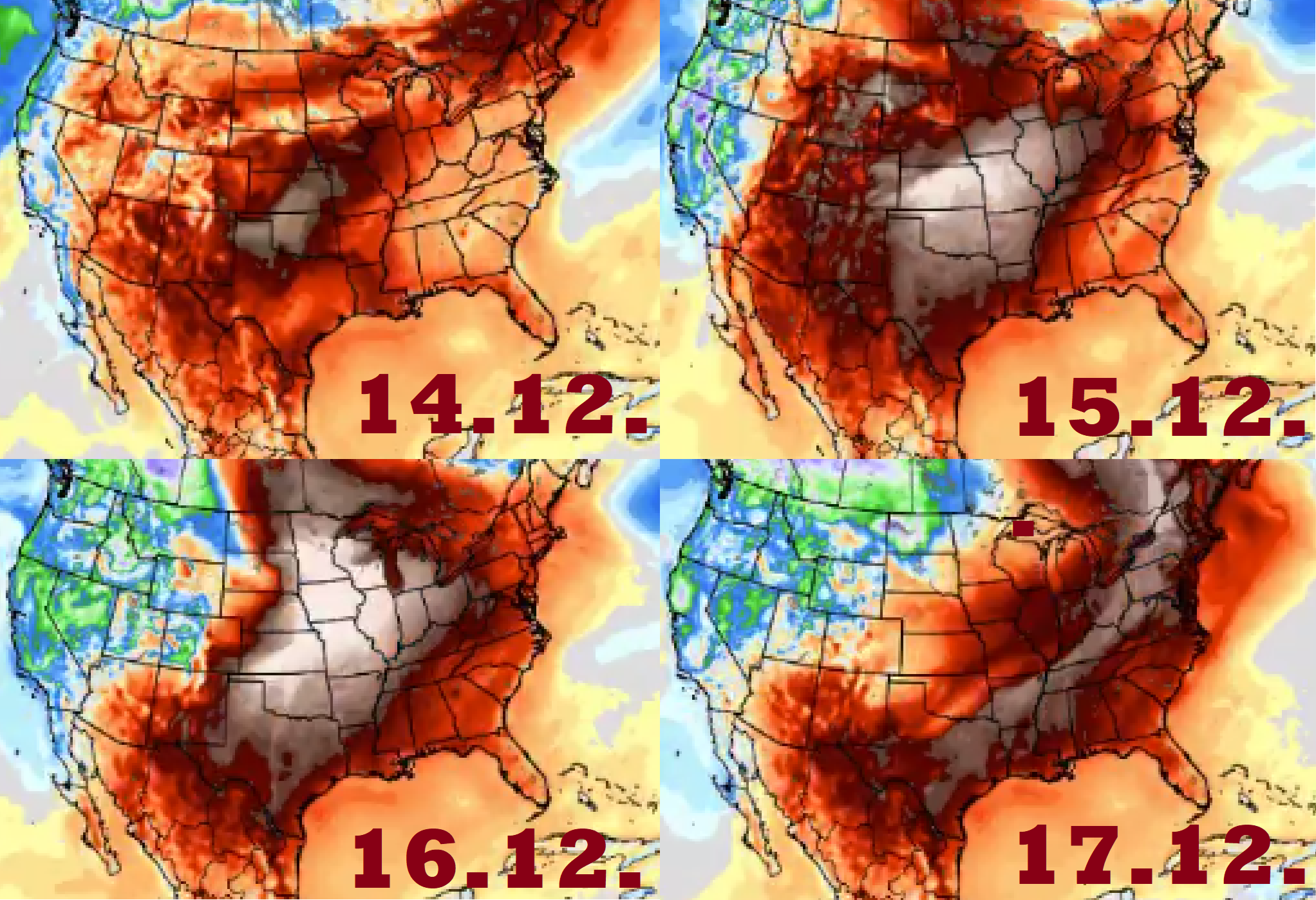 Summer in the winter!
While other continents are suffering historic early-season coldwaves /look our homepage/, in parts of the USA is around 10. December still extremely hot, and around 15. December will be even hotter!
Texas expects in the next period tropical temperatures up to 95°F / +35°C and monthly December temperature record has already appeared in Houston, where 85°F / +29,4°C was on Thursday, 9. December measured.
Anomalously high temperatures were on Friday, 10. December measured in Dallas, 83°F / +28,3°C, New Orleans, 80°F / +26,7°C, Oklahoma City, 76°F / +24,4°C or Kansas City, 69°F / +18,9°C.
In Denver, 232 days since late April hasn´t created a snow cover, which is the longest time without the snow in Colorado´s capital in all-time history! /https://mkweather.com/333c-near-la-denver-still-without-snow-and-41-year-december-record-and-canada-225c-the-highest-national-december-temperature-in-history//.
Even, severe, "summer-like" storms have appeared above parts of the Midwest and even, rare winter tornadoes were observed /the next Mkweather article about EF1 tornado in Kentucky/.
Moreover, the next, even more extreme "winter heatwave" is forecasted until Christmas 2021 – mainly around 14.-17. December 2021, when exceptionally high-temperature anomalies hit more than half of the territory of the country.
While in southern states, tropical or supertropical temperatures above 86°F / 95°F = +30°C / +35°C are possible, in Midwest or parts of Mid-Atlantic, or even rarely in Northern Plains, summer temperatures above 77°F / +25°C are possible!
Unusual winter heatwaves in the USA should be associated with the previous NAO- phase, which has brought severe winter conditions into Eurasia and North Africa, while airflow above North America changed into southern or western, with a bringing of desert air masses from Southwest, the USA, and Mexico above the continent.
Partially, even, by unseasonable warmth, should be hit southern Canada, too.
Mkweather will be furthermore watching the situation and soon we will bring fresh news.