+33,3°C near LA, Denver still without snow (and 41-year December record) and Canada +22,5°C – the highest national December temperature in history!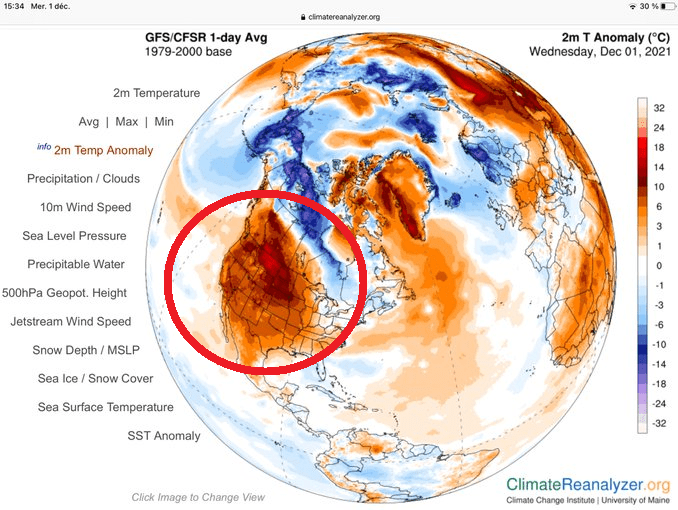 While in northern Canada, the lowest early-winter season temperatures (Eureka -43,1°C) since 2004 were in the last days measured /https://mkweather.com/eureka-431c-the-lowest-temperatures-in-canadian-arctic-in-early-winter-since-2004// and Northeast, Great Lakes region and Upper Midwest were hit by a blizzard and cooldown /https://mkweather.com/hudson-valley-new-york-with-30-cm-of-snow-west-with-winter-heatwave//, the western half of the USA and neighboring Canada were hit by extreme winter heatwave.
According to the latest information from the region, +33,3°C / 92°C was measured in Chino, near Los Angeles, California, the USA on 1. December 2021.
Extremely warm Autumn is reported from Denver, Colorado /https://mkweather.com/colorado-is-suffering-a-lack-of-autumn-snow-212-days-without-snow-cover-means-5th-place-in-historical-tables// – the snow hasn´t appeared in the high elevated city until 2. December 2021, which has never appeared before.
Moreover, above +23°C / almost 74°F was in Denver measured on 2. December 2021, which are the hottest December temperatures in the city in the last 41 years.
Extremely warm air has shifted already above southern Canada – in Penticton, British Columbia, extreme +22,5°C was measured.
The mentioned temperature in Canada is the highest national December temperature ever, 3°C higher than the previous temperature record.
Outlook until 18. December for the USA is saying about chances for snowflakes in the northern half of the country, but significant blizzards are forecasted only along a Canadian border in the Great Lakes region and Northeast and in higher elevated parts of the Rocky Mountains.
The warmer character of early Winter 2021/2022 should be a result of NAO- / AO- phases, such as other circulation parameters described in our Winter 2021/2022 forecast for continents of the Northern Hemisphere /https://mkweather.com/winter-2021-2022-forecast-for-northern-hemisphere//.