+48°C in Italy, +47°C in Greece and +45°C in Balkan possible after 9 European countries reached +40/+43°C at the start of heatwave
A peak of Summer 2021 in Europe is here and meteorological news mainly from Italy and Balkan, but too from Hungary or Ukraine are flooded by extremely hot measured values and the next expected temperature records.
The hottest should be in southern Italy near sirocco, where the well-tried American model expects maximum values near sirocco rarely between +47/+48°C /https://www.meteogiornale.it/27216/meteo-notizia/cambiamenti-climatici/meteo-italia-caldo-peggiore-del-previsto-temperature-record//.
GFS outputs on wetterzentrale are offering the next surprising value for Greece for 2. August 2021, where +47°C thanks to anomalously hot air in 850 hPa and Mediterranean winds is forecasted.
The temperature should reach up to +45°C above Balkan Peninsula, too – an already the start of heatwave on Wednesday, 28. July 2021 brought extremely hot temperatures to many countries.
The hottest was on Wednesday in Gjirokastra, Albania, +42,8°C, Danilovgrad, Montenegro, +42,7°C, stations in Greece /screen below/, +42,6°C, Demir Kapija, North Macedonia, +42,2°C, Amendola, Italy, +41,8°C (real national maximum should be around +44°C, this is only from International Exchange Database record), Mostar, Bosnia and Herzegovina, +41,1°C, Valjevo, Serbia, +40,1°C, Baile Herculane, Romania, +40,1°C, Mljet, Croatia, +40,1°C, Sandanski, Bulgaria, +39,0°C or Szeged, Hungary, +38,1°C.
Together 9 European countries in southern and southeastern Europe reported on Wednesday +40/+43°C (or +44°C after collecting all data) and it´s only the beginning!
High temperatures will be traditionally associated with an effect to sensitive people – inhabitants of countries, but too people on vacations – drinking regime (mainly for elders), sun protection, and quick help for people with heat-related illnesses are the most important.
Heatwaves in Balkan should regenerate later, in the second August pentade, too, while Europe will be sinked into the long-term cold period, in some parts of Central Europe until cca 20. August 2021.
Summer 2021 in Europe is recognizably peaking and in you live in the region or spend your free time on vacation here, we recommend you to watch current weather news, warnings, forecasts and advisories.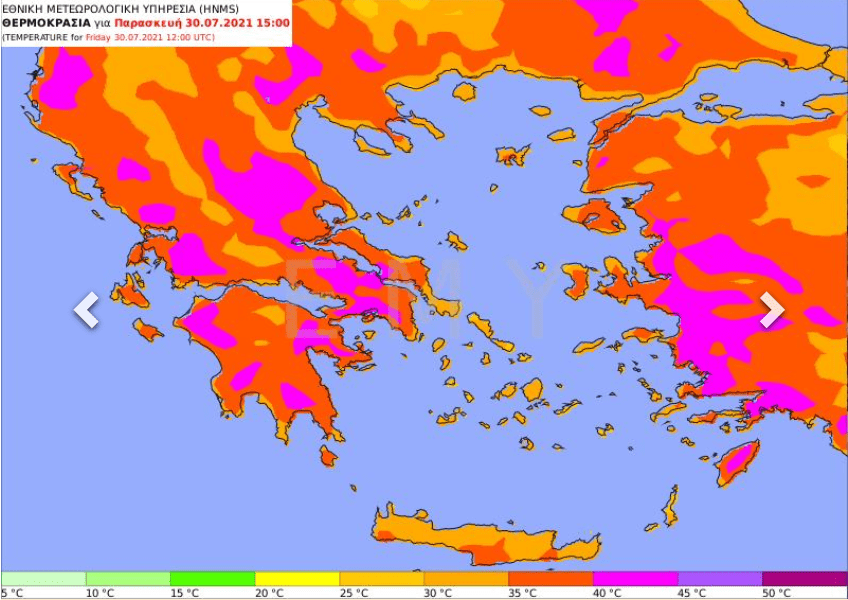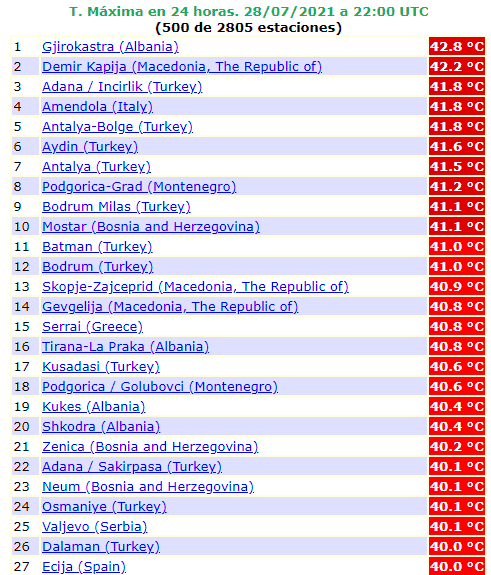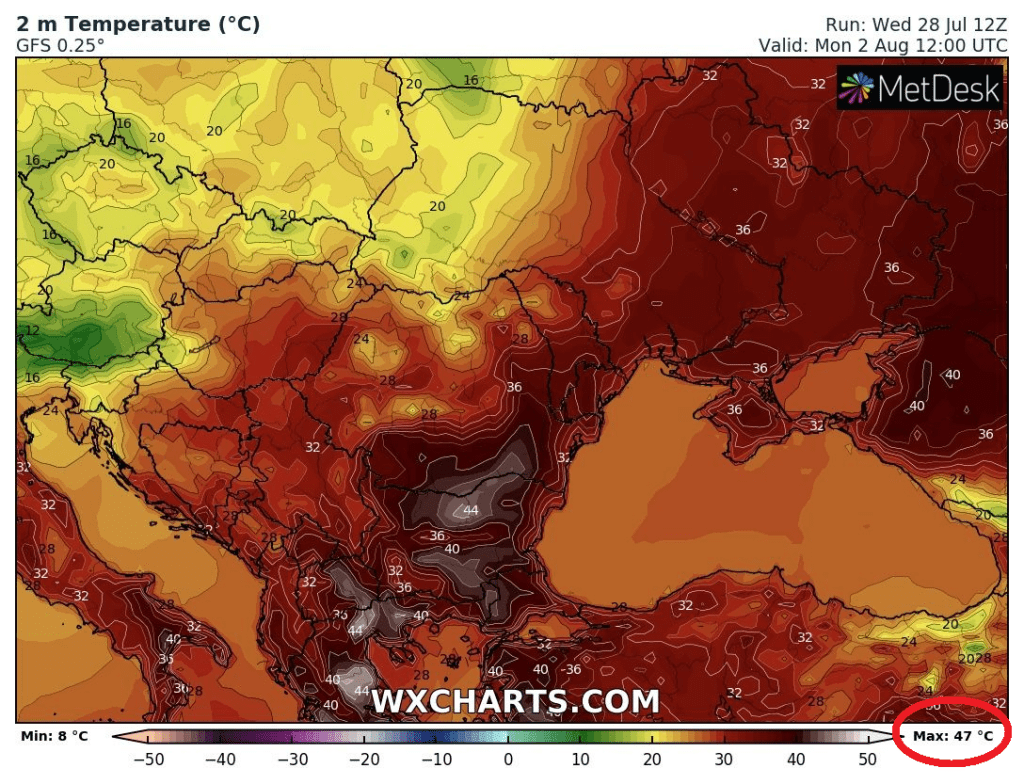 Source: wxcharts.com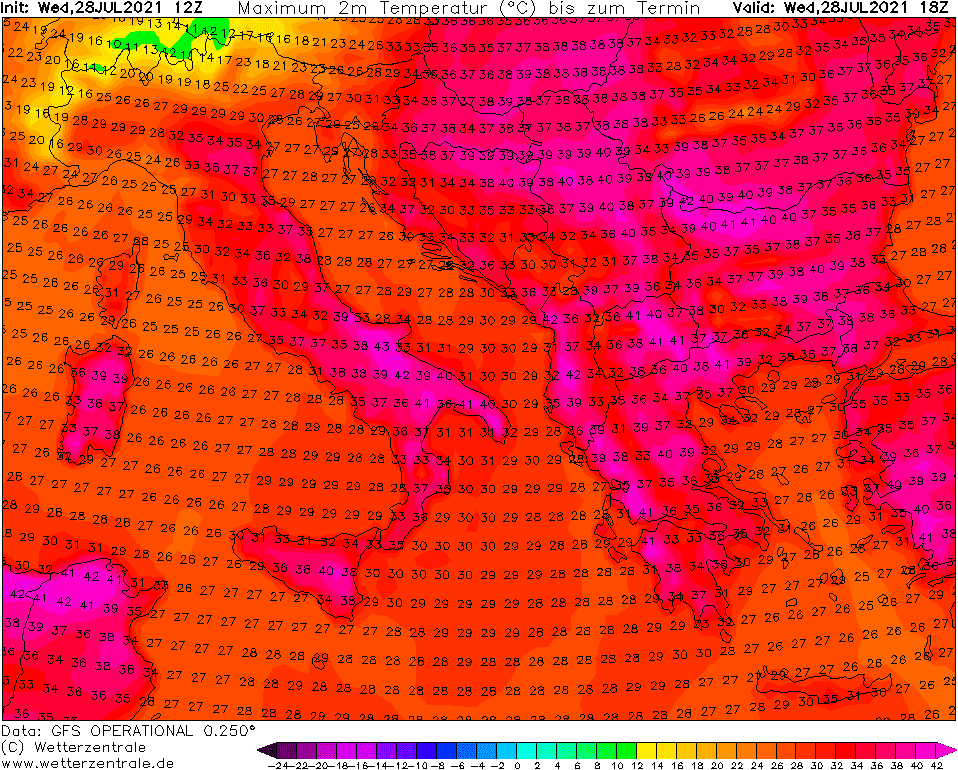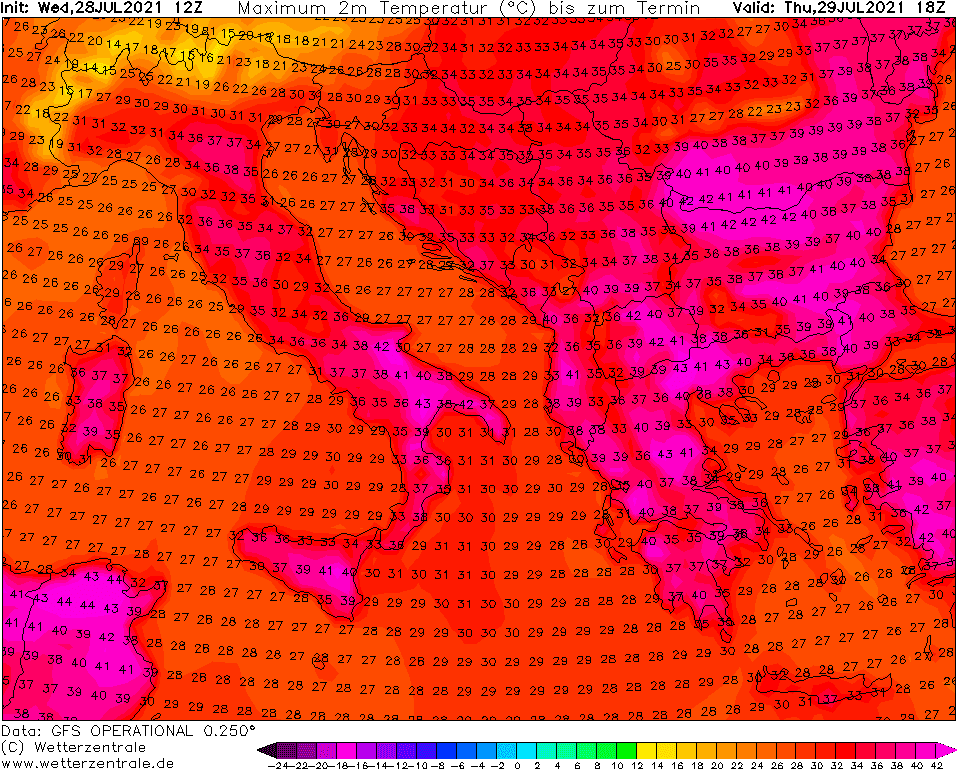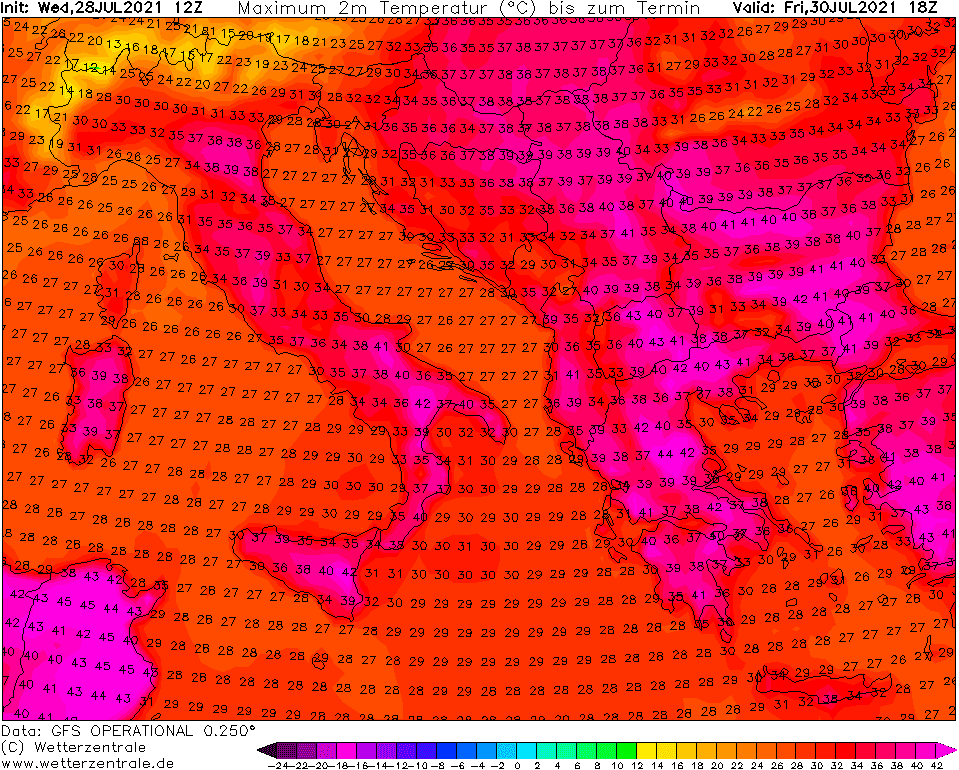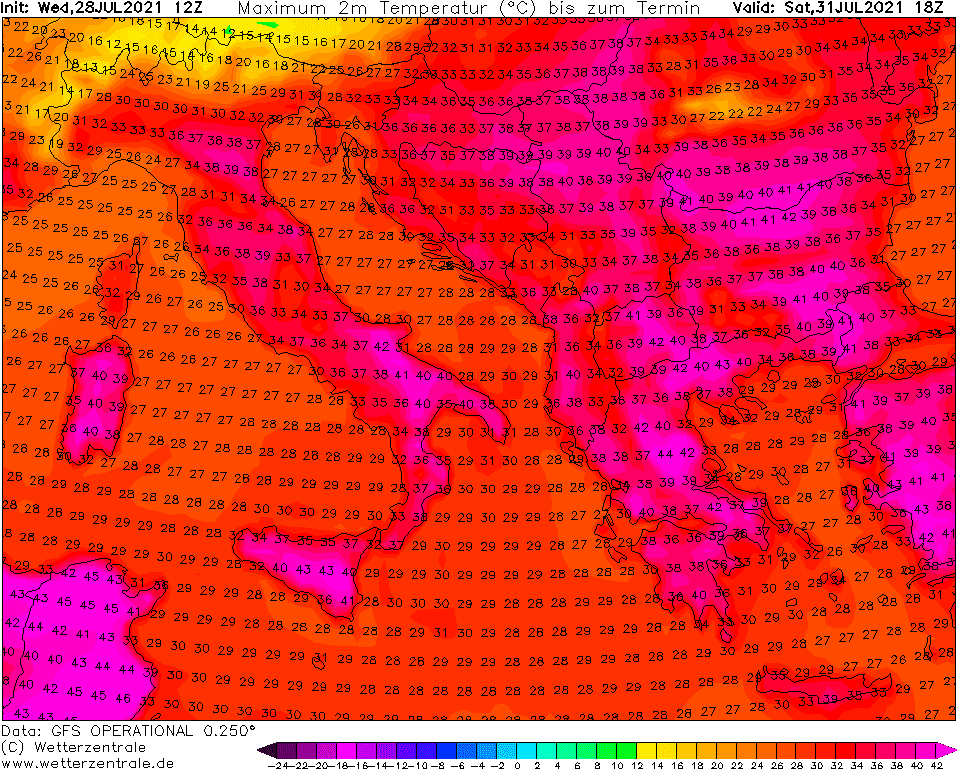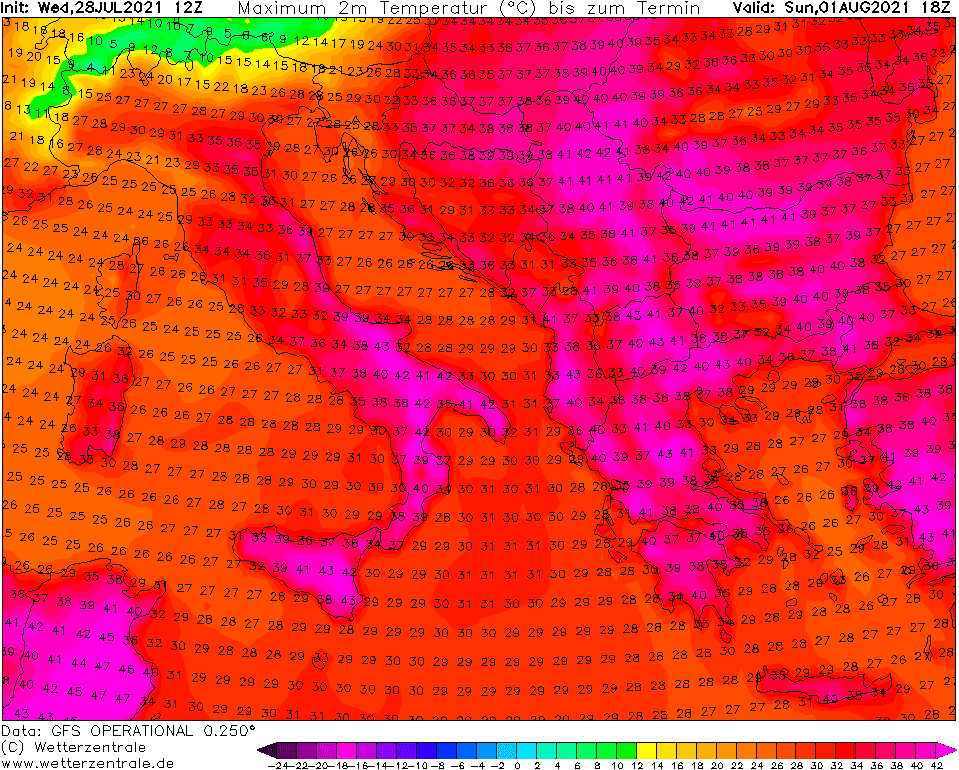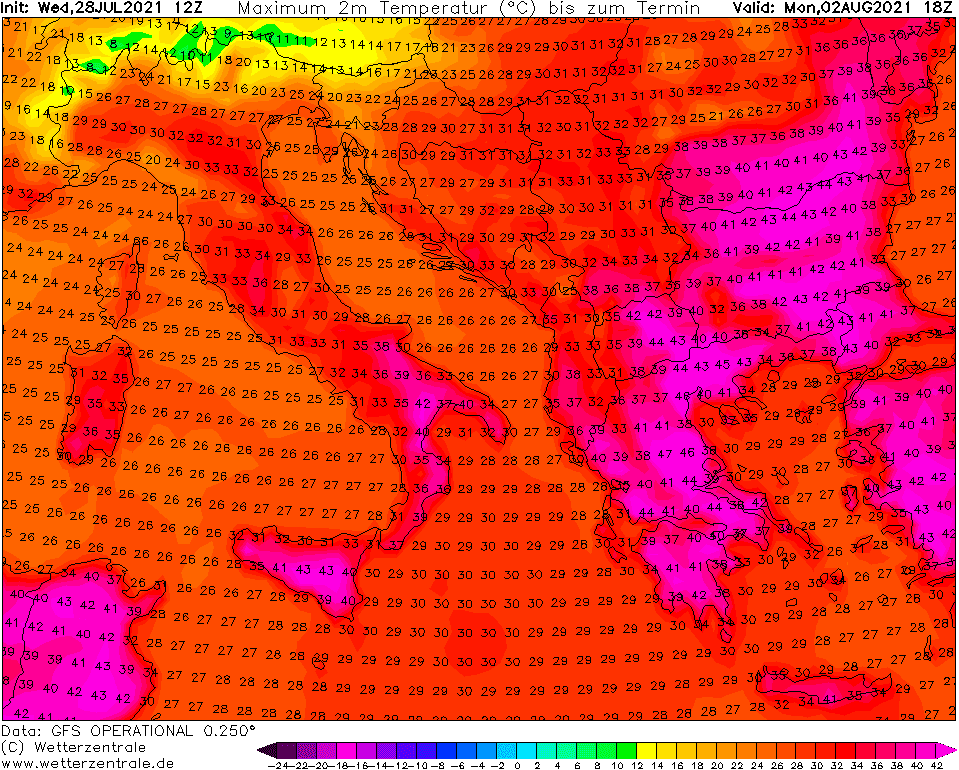 Source: wetterzentrale.de