After record temperatures in California (Death Valley +54,0°C, Palm Springs +50,6°C; Deadly heatwave in California! Death Valley +54°C / 130°F, Palm Springs (populated area) +50,6°C / 123°F – all-time records! – mkweather), announced and historic +47°C in Vancouver region, Canada (Abnormal heatwave for Canada, too, +47°C! (record +45,0°C from 1937), while other parts hits snowing! – mkweather) and alarming information – drought in western USA should be according to studies the worst in 1200 years, there are the next extremes from North America.
On our trip across North American continent we will stop in Mexico, in this article, with really interesting weather extremes across country.
While in northern parts, neighboring with California, the hottest temperature in June ever was measured in Mexicali, +51,4°C, what is more than +50,6°C in populated Palm Springs, California, more southward brought severe floods and strong winds Tropical storm Dolores.
In Oaxaca, 440 mm of rain / 48 hours fell during the transition of almost hurricane, Dolores, while many states in Mexico were experiencing with really unfavorable weather conditions with heavy downpours and severe storms.
400 mm of rain fell near Tecomán, the resulting floods damaging banana crops and threatening aquaculture (60% of them were destroyed).
Regions Oaxaca, Guerrero, Michoacán, Colima, Jalisco, Nayarit, Sinaloa were hit the most.
Dolores was accompanied with 115 km/h maximum sustained winds and 140 km/h wind gusts, while pressure in the middle of the system dropped to 990 hPa.
3 fatalities were reported from Mexico and remnants of the system, currently (from Tuesday to Wednesday, 22.-23. June 2021) are shifting above Southern California, with bringing a moisture into abnormally hot areas.
It appears, that hot Summer 2021 will be after this event in Mexico continue – for now, until 7. July, any hurricane is forecasted for the area, although, forecasts mainly for July 2021 should change and some next tropical storm, or maybe weak hurricane is still possible.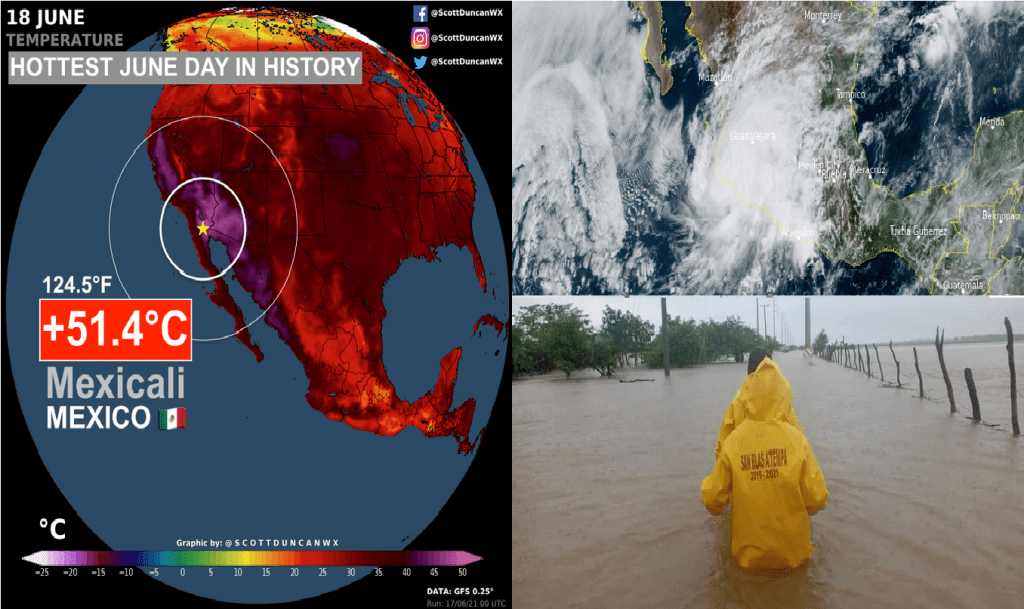 (Visited 12 times, 1 visits today)