60 dead and total destruction. New York after ex-Hurricane Ida experienced the worst flash floods in history (80 mm / 1 h), Northeast after a natural disaster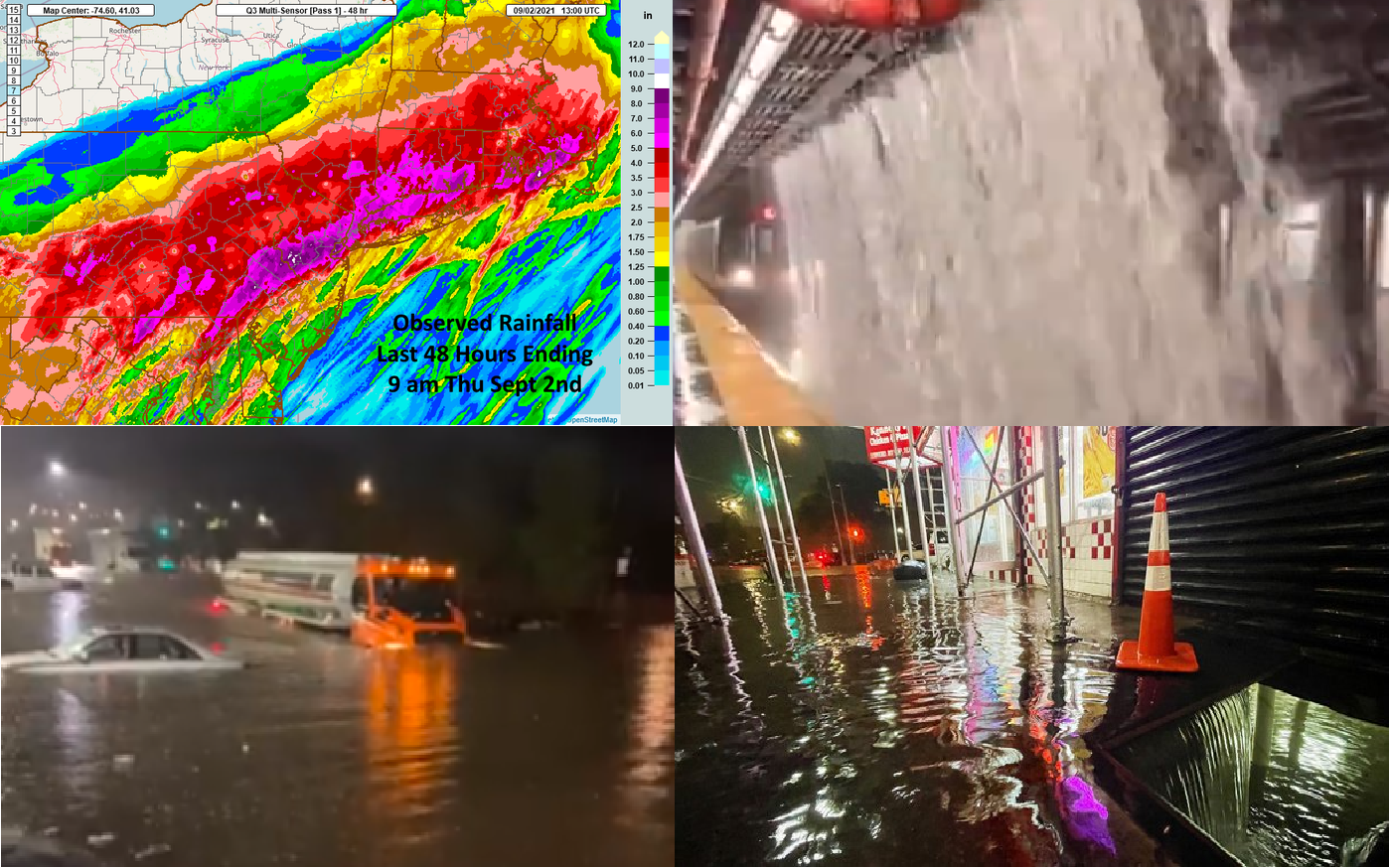 Hurricane Ida hasn't been the most deadly surprisingly in the Gulf Coast (where hit land almost such as a Category 5 Hurricane and such as one of TOP 10 strongest hurricanes making landfall in the US history), but its remnants brought extreme rainfall and the most deadly balance directly in New York and winder neighboring region in Northeast.
After unexpectedly strong remnants of the system, 60 dead from the Northeast (8 states) is reported, with historic floods in New York City.
New York Gov. Kathy Hochul told CNN the rain was "far more than anyone really expected".
In New York, 80 mm (3,15 inches) of rain fell only in 1 hour, which is almost twice more than a previous record from the last days due to Hurricane Henri (49 mm, https://mkweather.com/floods-in-the-usa-new-york-after-hurricane-henri-with-1-hour-rainfall-record-194-inches-493-mm-floods-in-tennessee-caused-22-dead-and-monsoon-flooded-flagstaff-el-paso/).
Newark, New Jersey, received 82,2mm (3,24 inches) in an hour, too all-time hourly record. State of emergency was declared in both New York City and New Jersey.
A flood emergency, as opposed to weather warnings, is issued in "exceedingly rare situations when a severe threat to human life and catastrophic damage from a flash flood is happening".
Streets of New York City flooded 1 – 1,5 meters high floodwater and while some people were fighting for lives and property, other were making captures, videos and documentation of unusual weather event.
7 tornadoes in New Jersey, Maryland, and Pennsylvania including the Philadelphia region, were confirmed and large areas in many states in the Northeast were disastrously flooded.
A level of the destruction of described floods can be observed on Tweets and Youtube videos in the content below.
According to scientists, the Northeast has seen a 71% increase in heavy precipitation since the 1950s /Tweet below/.
After Ida, the next possible hurricane, Larry, with a possible Category 5 strength should hit Newfoundland, Nova Scotia, British Islands, and maybe the northeasternmost USA already in the next week after its way from West-African Coast through a classic parabolic stormtrack /https://mkweather.com/hurricane-larry-possible-category-5-stormtrack-direct-impact-in-british-islands//.
Simultaneously, the next 2 tropical threats appeared in the Atlantic – one near Central America and one near West Africa, and 2 tropical threats in the Pacific Ocean (in the case of the significant impact we will inform you about them soon).
Unprecedented climate events such as deadly floods, extreme heatwaves, drought, windstorms, tornadoes, landslides, and even early and extreme frosts caused by changes in atmospheric circulation are becoming more and more extreme – Mkweather will furthermore watch the situation and will be bringing the next detailed analysis, forecasts, news, and warnings on a daily basis.