Winter 2020/2021 is extreme in Europe, Asia and too North America!
While in Europe, extreme, regionally historic Siberian coldwave is bringing many temperature records and Siberia, China, Korea, Japan or parts of Middle East have reported since late December 2020 regionally all-time temperature records, too, Canada and USA is experiencing with a peak of the Wintr 2020/2021 right now.
The USA is under attack of unprecedented coast-to-coast snowstorm (with one of the biggest impact to population and infrastructure in history) /https://mkweather.com/2021/02/13/the-usa-record-temperatures-50f-47c-coast-to-coast-snowstorm-affect-190-millions-of-people/; https://mkweather.com/2021/02/10/2-massive-snowstorms-hit-the-usa-2021// and all-time temperature records – in Minnesota and North Dakota temperatures dropped during last days up to -50/-51°F / -45/-46°C /https://mkweather.com/2021/02/15/historic-winter-in-the-usa-51f-461c-in-bottineau-north-dakota-128-year-record-broken/; https://mkweather.com/2021/02/14/ely-minnesota-the-usa-50f-456c-records-in-midwest-and-texas-expected//.
Extreme winter bothers Canada, too /https://mkweather.com/2021/02/13/canada-set-to-the-most-widespread-cold-of-the-century/; https://mkweather.com/2021/02/10/edmonton-canada-438c-only-01c-from-all-time-record-from-1994// and in the mountains, deadly avalanches scare tourists /https://mkweather.com/2021/02/10/deadliest-week-for-avalanches-in-the-us-in-more-than-100-years-2021//.
Accroding to the newest news, 70.4% territory of the USA is under the snow! The most of snow was over the USA on 12. January 2011, 70.9% /https://www.chicagotribune.com/weather/ct-wea-0324-asktom-20160323-column.html/, therefore we are really close to the snowiest winter ever! In the next days, additional snowfall is expected mainly in eastern parts of the USA and the snowiest record should be easily broken!
Moreover, extremely cold conditions are reported from the parts of the USA, with new all-time records in MN, NE, IA, SD, KS, MO, TX and OK. In Texas -20°F / -28.9°C was measured in Palo Duro, what is only 3°C warmer than all-time state recrod -23°F / -30.6°C.
Energy prices have increased during last days, extreme winter is associated with many traffic accidents, health problems /e.g. https://mkweather.com/2021/01/16/heart-attack-influenza-cancer-frostbites-hypothermia-covid-what-you-should-to-know-about-arctic-and-siberian-coldwaves// and many dead animals, too.
Extreme winter is forecasted until Friday, 19. February, on East Coast too at the weekend. After warmer period, the next extreme coldwave is forecasted for Canada and northern USA for the end of February and the beginning of March 2021.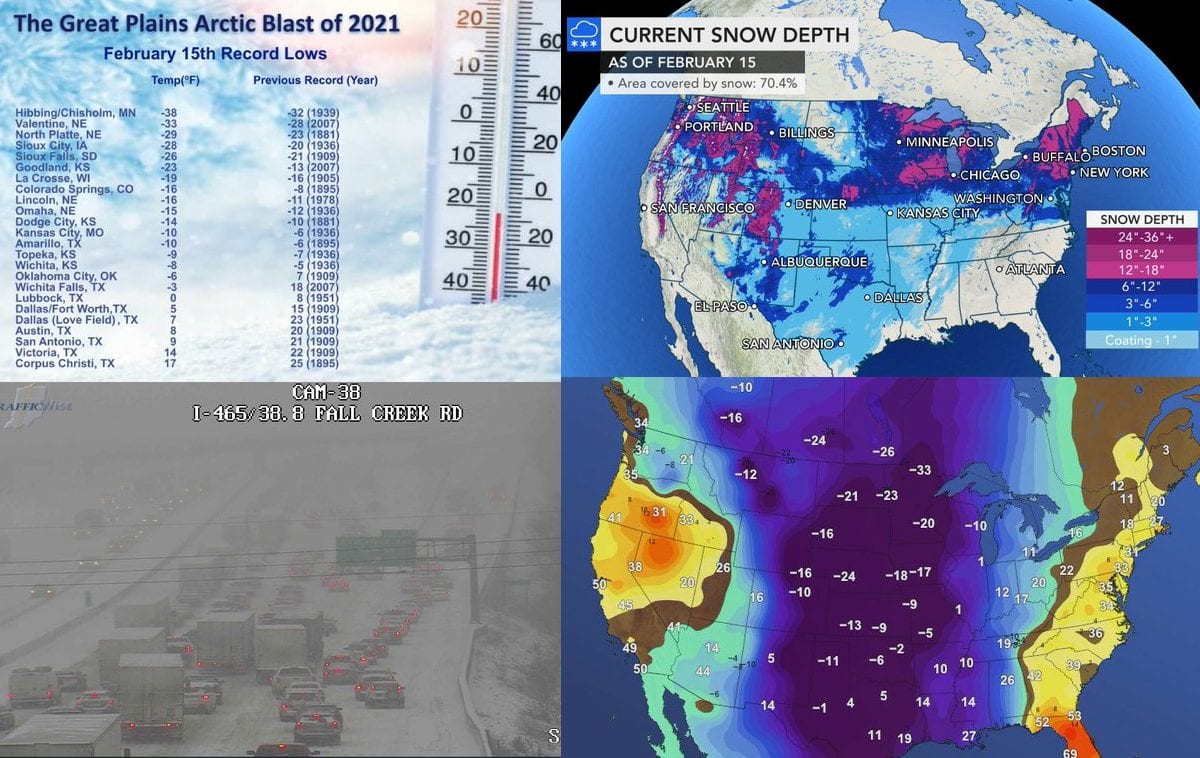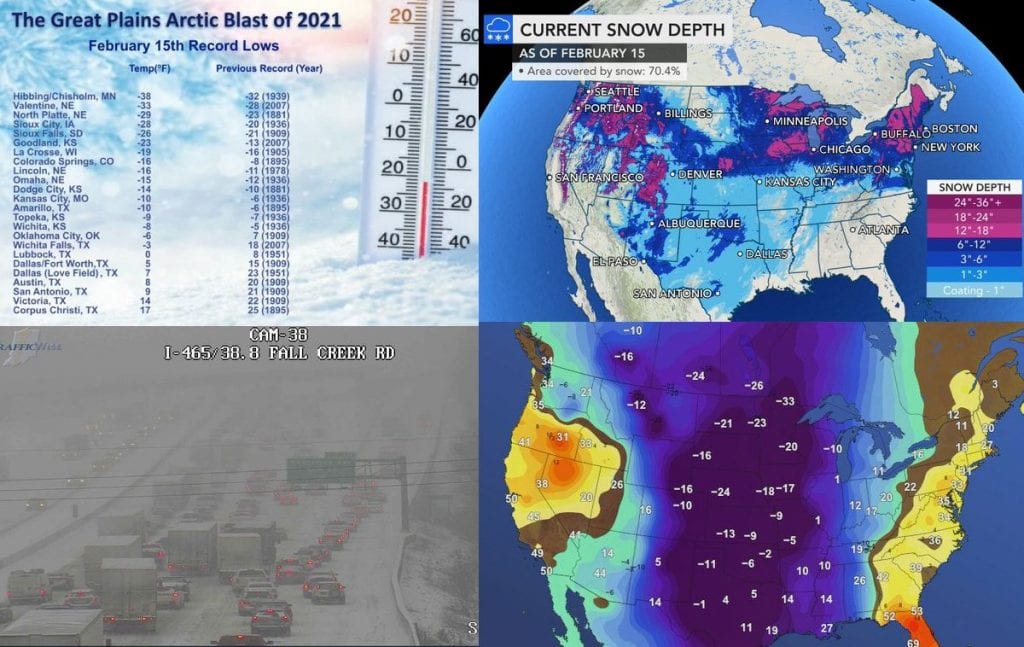 Read more:
(Visited 61 times, 1 visits today)