After the strongest snowstorm in 12 years, Greece reported even lower minimum temperatures, such was mentioned in previous article /https://mkweather.com/2021/02/16/mesovouno-greece-199c-snowstorm-medea-has-brought-the-highest-snowfall-in-12-years-2021//.
In New Caucasus, Florina region, minimum temperature on Tuesday, 16. February 2021 dropped only to -25,1°C /https://newssplinter.com/greeceeng/meteorology-record-the-temperature-at-25-c-in-the-new-caucasus-florina-hellas//.
It is only 4,5°C warmer than all-time cold temperature record for Greece -29.6°C (-21°F) registered in the city of Ptolemaida, Kozani on January 27, 1963.
In Florina was measured on Tuesday -19,4°C and all-time temperature record from 2019 has value -23,0°C.
Above Greece, very deep geopotential with a pressure low was shifting early this week, with result of unseasonably powrful blizzard conditions, before an extreme frosts.
Extreme snowfall was reported mainly in Kastoria region, but heavy snowfall blanketed large parts of the country, including coastal regions and Athens.
People immediately took many photos and videos from untraditional snow event.
Severe frosts were reported from Balkan too, e.g. Bitola, Northern Macedonia reported -22,6°C or Sjenica, Serbia, -20,5°C.
Currently, extreme winter is shifting above Turkey – in higher elevated mountainous basins above 1500 MASL, temperatures should drop into interval -35/-40°C again (record of this winter from Turkey is -39,0°C).
Extreme temperatures in Greece /Source: newssplinter.com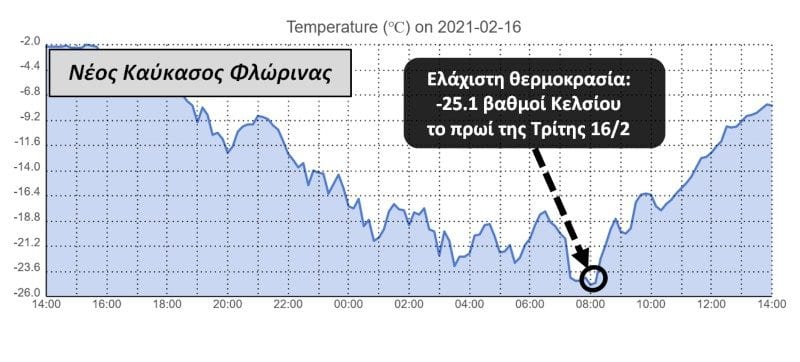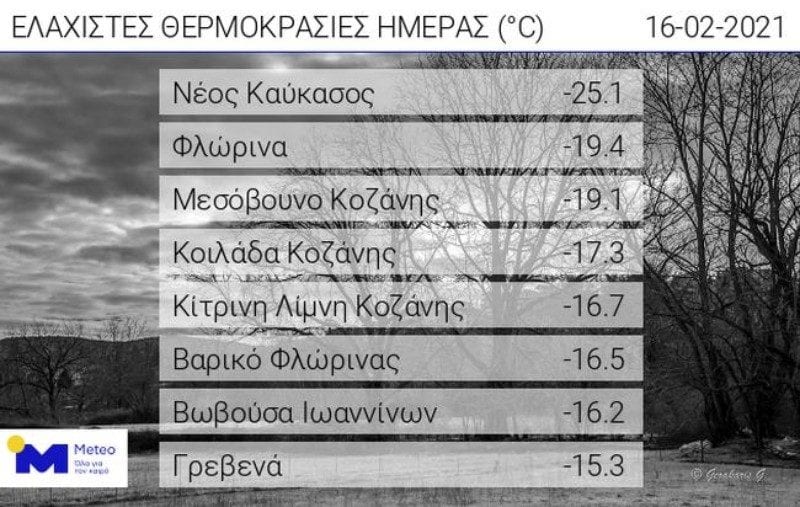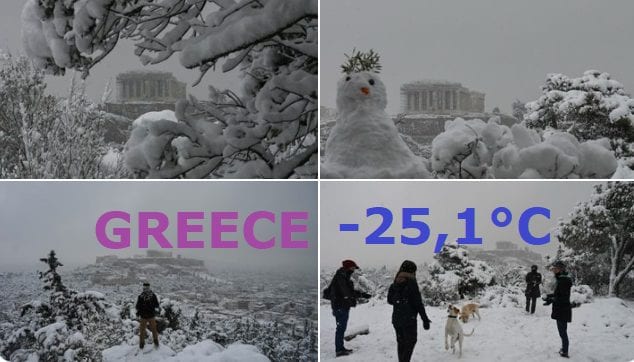 Read more:
(Visited 31 times, 1 visits today)