Extreme winter has already shifted above Balkan! In lower situated regions temperatures rarely dropped below -20°C and in Greece, 12-year blizzard event has occurred.
In Mesovouno, Kozani region, northern Greece, meteorologists measured on Monday, 15. February 2021, freezing -19,9°C. It´s the lowest temperature in populated regions in Greece of the winter /https://greekreporter.com/2021/02/15/snowfall-shuts-down-main-highway-as-freezing-temperatures-grip-greece//.
From many parts of Greece, including Athens, was reported before an arrival of extremely dry and cold air from the north, heavy snowing, with result of the strongest blizzard in some parts of Greece for 12 years.
In Paximada Karystou, on the island of Evia, 118 km/h wind gusts were during the blizzard observed.
Heavy snowfall surprised islands in Mediterranean, too, including Crete.
Wave of extreme Siberian winter is currently shifting from continental Europe into Finland, Baltic states, Belarus, Ukraine, Balkan, Greece and later it will shift into Turkey and Russia.
However, in some parts of Europe, cold weather should return at the start of the March 2021 /https://mkweather.com/2021/02/15/siberian-winter-should-return-in-early-march-2021//, but later, finally, summer days above +25°C are expected in Mediterranean /https://mkweather.com/2021/02/16/in-the-second-half-of-march-2021-very-warm-air-in-europe-forecasted-20c-maybe-25c-in-mid-latitudes//.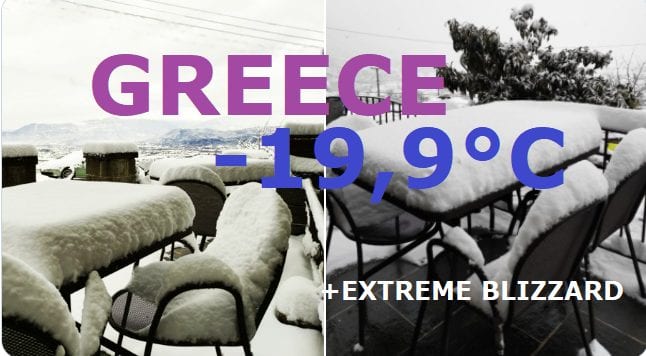 Read more:
(Visited 28 times, 1 visits today)