A medicane above the Black Sea so early in August?! Never seen before!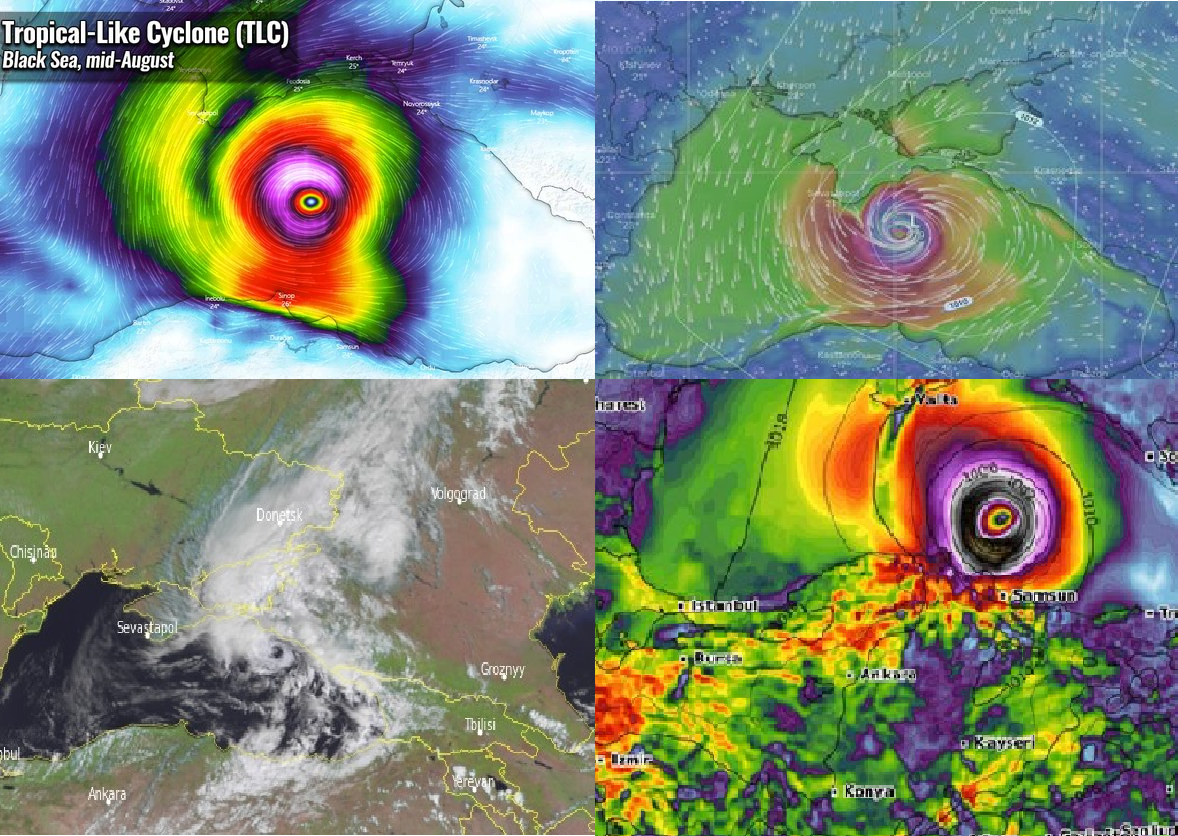 Extreme European heatwave, which brought all-time European temperature record /https://mkweather.com/siracusa-italy-488c-european-all-time-temperature-record-was-broken// in combination with cold airflow from the Arctic above Eastern Europe caused a very rare phenomenon – a Medicane Falchion, which in the next hours should reach parameters of a tropical cyclone or even a category 1 hurricane.
Over the last 20 years, only two medicines above the Black Sea region reached tropical storm or subtropical storm intensity – in August 2002 and in September 2005.
A storm is moving across all Black Sea region, from the coast of Romania, Bulgaria, and European Turkey towards Ukraine, Russia, Georgia, and Asian Turkey, with the result of severe winds and regional floods.
The storm brought in parts of northern Turkey already the 3rd floods in the same place in a few weeks, with the next 27 fatalities.
At the weekend, just the eastern coast of the Black sea will be hit by the system, including Eastern Ukraine, southwestern Russia, Georgia, and northeastern Turkey.
The Black Sea is a favorable location for the formation of "Mediterranean warm core cyclones", but it is probable, that it has never appeared so soon in so strong intensity, in the first half of August, in the past.
So soon medicine activity in the region should be linked with a general shifting of occurrence of hurricanes and tropical storms in the North Atlantic into the earlier season – Black Sea is already thanks to Summer 2021 very warm, mainly, it has a very warm SST – sea surface temperature, what is one of the main predictors of the occurrence of tropical and subtropical cyclones.
Simultaneously, a big temperature gradient in the lower layers of the atmosphere is needed for developing systems like this.
Only on Friday, 13. August, temperature anomalies in 2m in the front of the system reached less than -10°C, while above European Mediterranean and Western Balkan, temperature anomalies are reaching up to +15°C regionally.
Remnants of the system should be causing damages in the region until Monday, 16. August, yet, therefore if you live in the region (NE Turkey, Georgia, SW Russia, E Ukraine), watch current weather news, forecasts, warnings, and advisories.