AER predictions of a possible peak of Winter 2021/2022 around 20. January 2022
MK
January 9, 2022
2 min read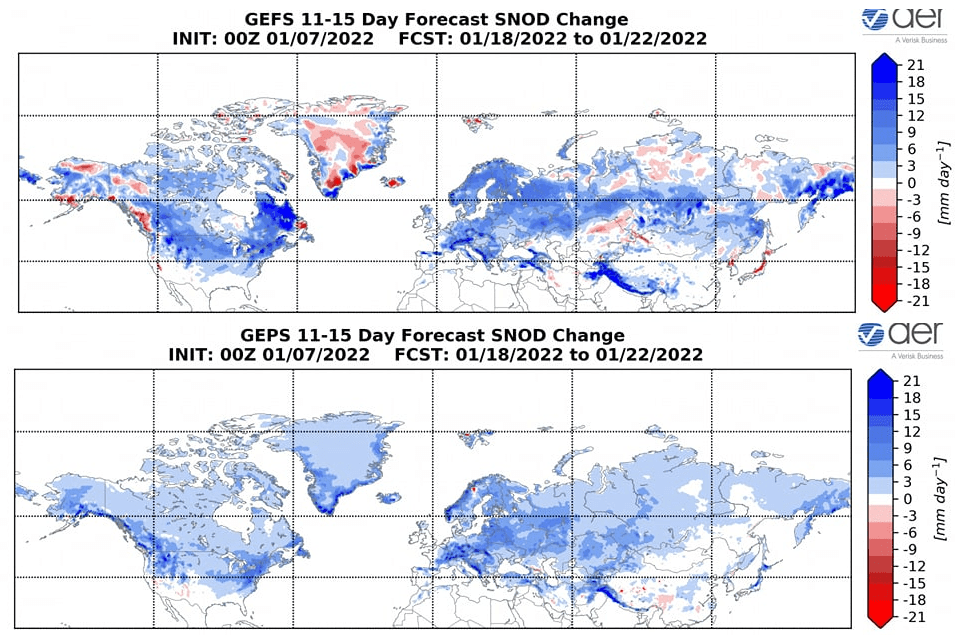 There is a possibility of a peak of Winter 2021/2022 around 20. January 2022 – not only in Europe but in many parts of Asia, North Africa, or North America, too.
According to outputs on AER Blog from 7. January 2022 /https://www.aer.com/science-research/climate-weather/arctic-oscillation//, there was a possibility of the peak of the winter around 20. January 2022 (or one of the main peaks of winter), with cold outbreaks in many parts of Canada, central and eastern USA, Europe, and northern Siberia, such as along the northern coast of Africa.
GFS runs from 12Z 8.1. to 06Z 9.1. 2022 were favorable for the upcoming winter blasts, too, although run from 12Z 9.1. 2022 is a little more pessimistic for Europe.
Very interesting are however AER maps expecting snow depth change between 18.-22. January 2022 into positive anomalies almost across all Northern Hemisphere during the period.
According to ECMWF, European Blocking and Atlantic Ridge are forecast in the European region until 25. January 2022 and then, a powerful NAO+ should be worsening the last month of Winter 2021/2022 (updated in the following article).
A mentioned pattern of weather across the Northern Hemisphere is very similar such as AO- phases, when extremely cold Arctic air is shifting into southern latitudes thanks to shallower sub-arctic lows and weaker subtropic highs.
Declining of the NAO index in the next period is forecast, too blocking pattern is a very good signal for winter in central and eastern thirds of Europe.
Mkweather will be carefully watching the next updates of weather models and in the case of the next extremely cold runs, we will inform you on our homepage.


Temperature anomalies and snow depth changes according to forecast models by AER Blog (Arctic Oscillation) for the period 18.-22. January 2022
Source: https://www.aer.com/; https://www.aer.com/science-research/climate-weather/arctic-oscillation/