Europe under the snow: Where is the biggest blizzard probability?
MK
January 9, 2022
2 min read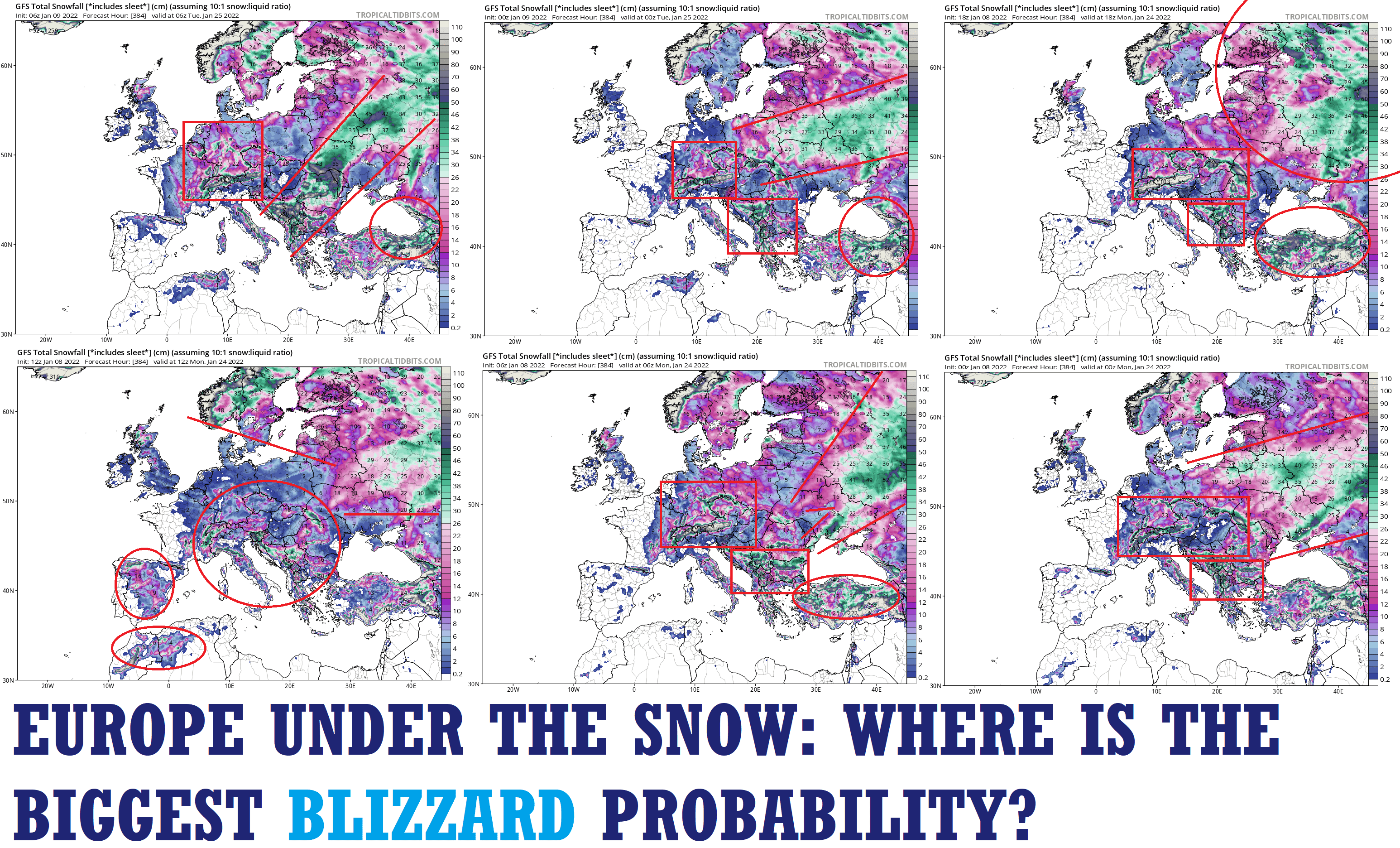 Europe is very probably before a peak of Winter 2021/2022 already around 17.-25. January 2022 /https://mkweather.com/estimated-possible-national-top-minimum-temperatures-during-an-upcoming-peak-of-winter-2021-2022-in-europe-between-17-25-january-2022-below-1000-masl/; https://mkweather.com/europe-an-absolute-peak-of-winter-2021-2022-will-come-between-17-25-january-2022-scandinavia-45c-continental-europe-balkan-turkey-eastern-europe-30c-france-25c-british-isla/; https://mkweather.com/a-peak-of-winter-for-central-europe-it-looks-like-an-interval-25-30c// and strong winter conditions won´t be associated only with frosts, but with snowy conditions, with possible regional blizzards, too.
Blizzard conditions should bring problems in travel, uprooted trees, and power outages, and snow calamity should paralyze all regions.
A week before the start of a severe coldwave, these regions are the most probable for high amounts of snowfall:
1.) Scandinavia – traditional region, mainly northern and central parts (souther parts appear calmer for now), in Lapland, regionally around 1 meter of snow in lower elevations.
2.) European Russia, Eastern Europe – forecast are changing, but for large parts of Eastern Europe (Russia, Ukraine, Belarus, or Baltic states), there is forecast 10-30, regionally maybe 30-70 cm of snowfall.
3.) Balkan – especially mountainous regions should receive 10-30, more rarely 30-70 cm of snowfall, maybe locally up to 1 meter.
4.) Alpine region, eastern France, southern Germany, Ardennes: in lowlands and lower situated basins regionally 10-30 cm of snowfall possible, in valleys in the Alps 30-70 cm.
5.) Carpathians – in basins and valleys above 500 MASL, 20-50 cm snowfall is regionally possible, in the southern Carpathians more.
6.) Eastern, northern Turkey, Caucasus – mountainous regions around 1500 MASL with 20-70 cm snowfall, in higher elevations more than 1 meter
7.) Poland: lowlands with 50% probability of snowfall 10-30 cm.
8.) Spain: little probability 10-30 cm for mountainous regions around 1000-1500 MASL.
9.) Atlas, northern Africa, northern Middle East – some runs expect 10-30 cm of snowfall above 1000 MASL.
10.) Scotland: 10-30 cm in basins possible.
11.) Greece: 10-30 cm around 1000 MASL.
On the other hand, the situation in many warm lowlands should be calmer than in basins and valleys, with only 1-10 cm snowfall, or even, in Western Europe, without snow cover and only with visible snowflakes.
However, regionally should the upcoming peak of Winter 2021/2022 surprise in metropolitan areas, too, which should bring a collapse of traffic in the city or canceled flights at the airports.
Therefore, stay in winter mode of weather watch (and safe and warm).
R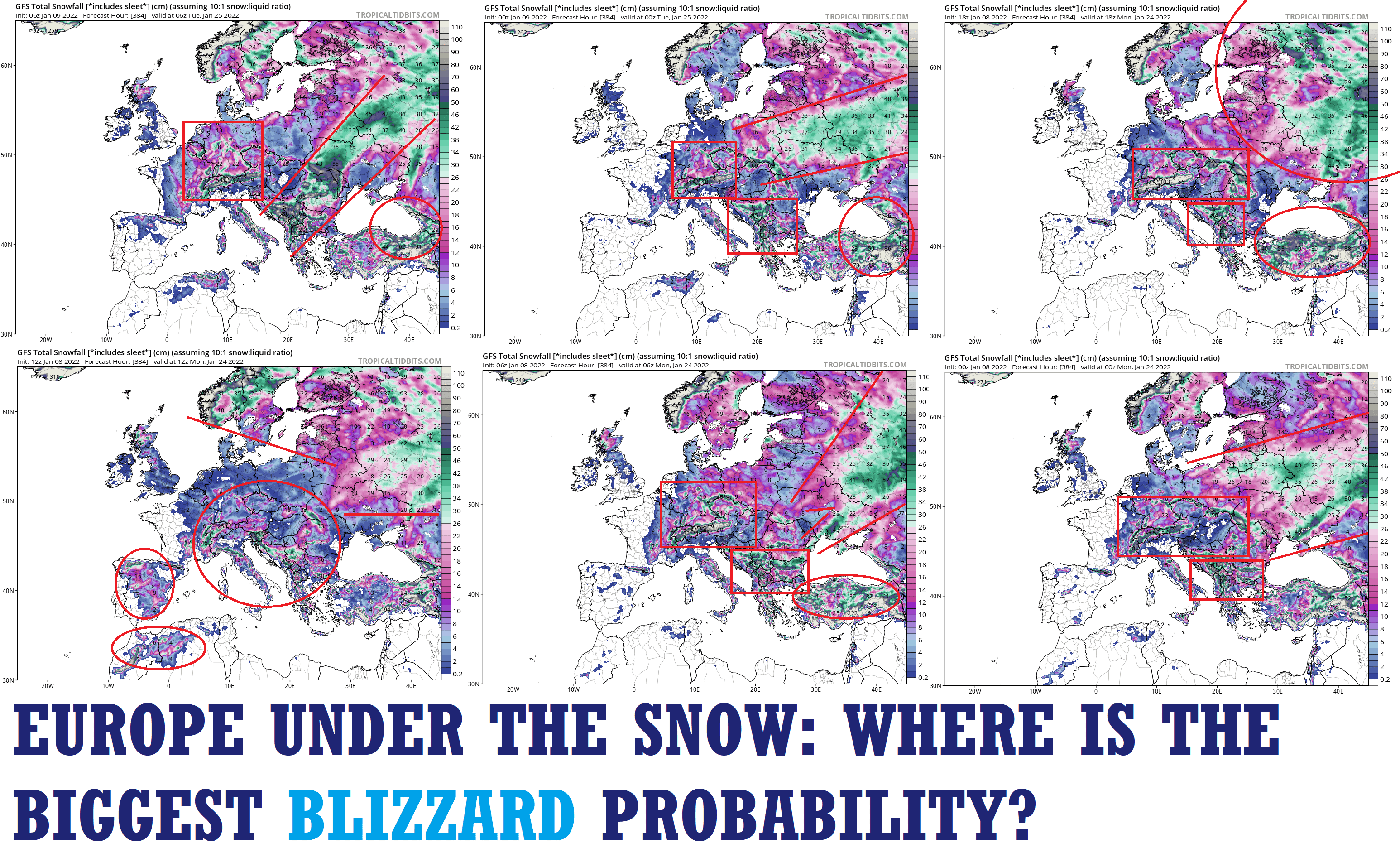 Source: tropicaltidbits.com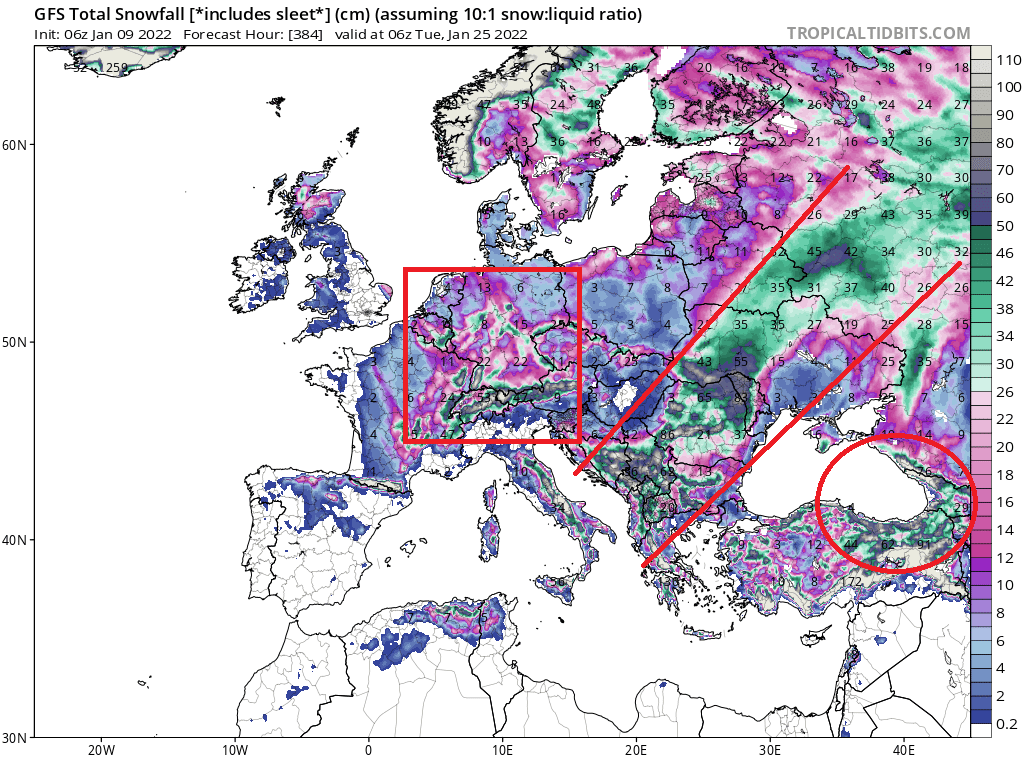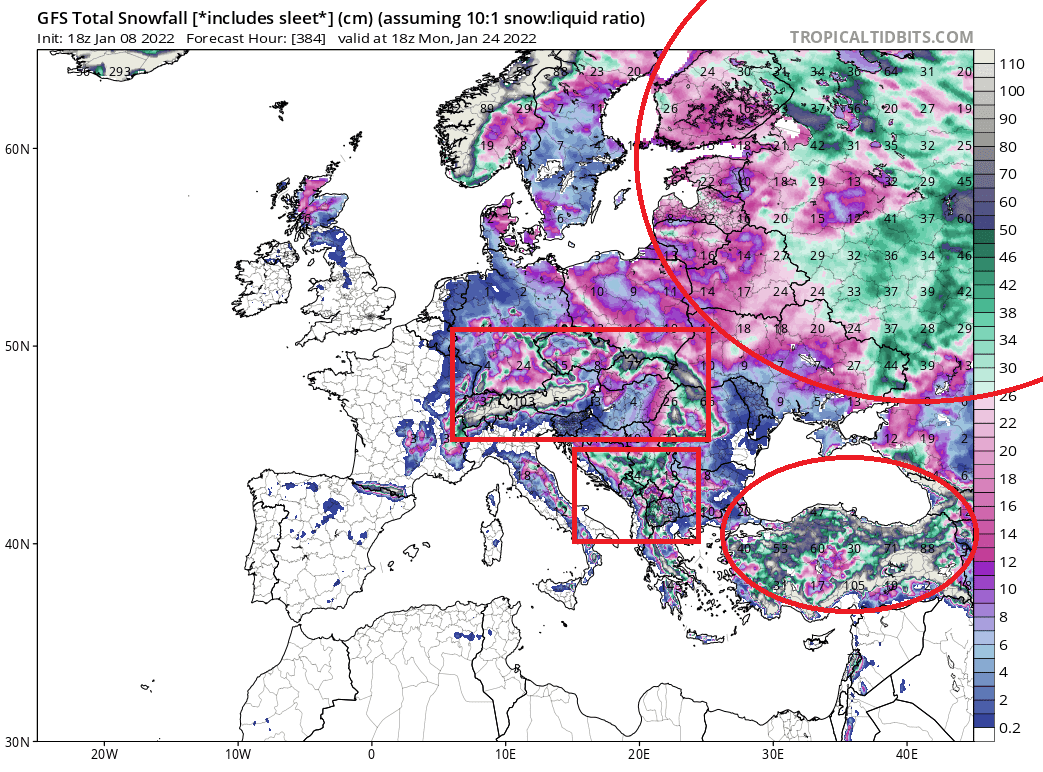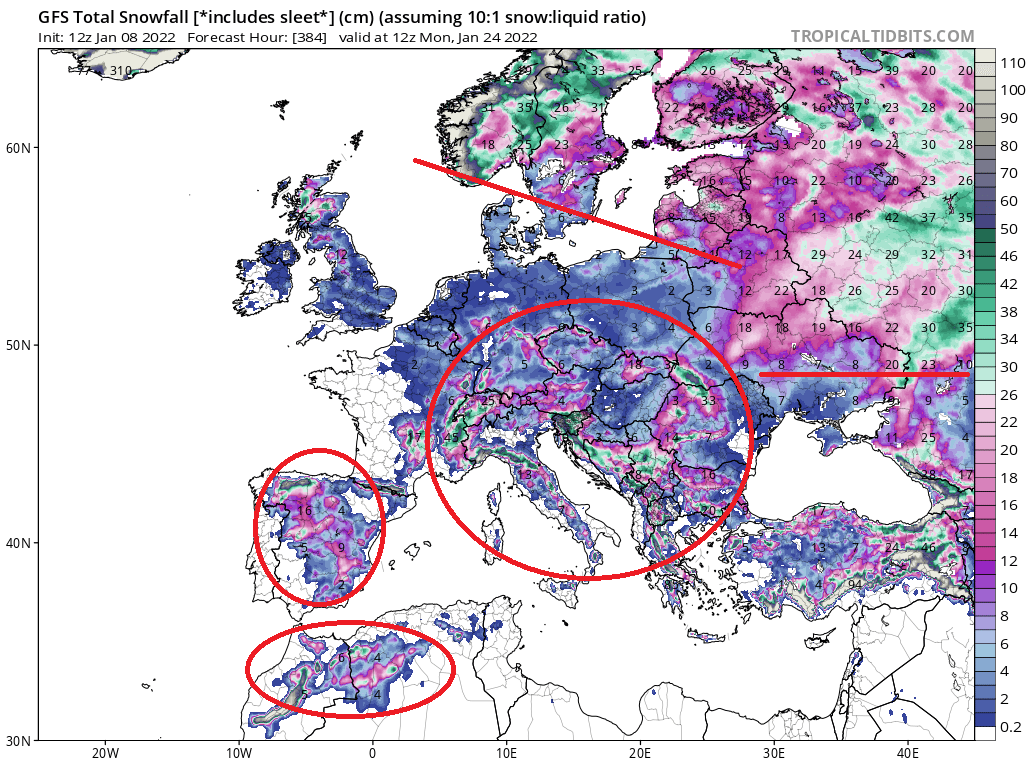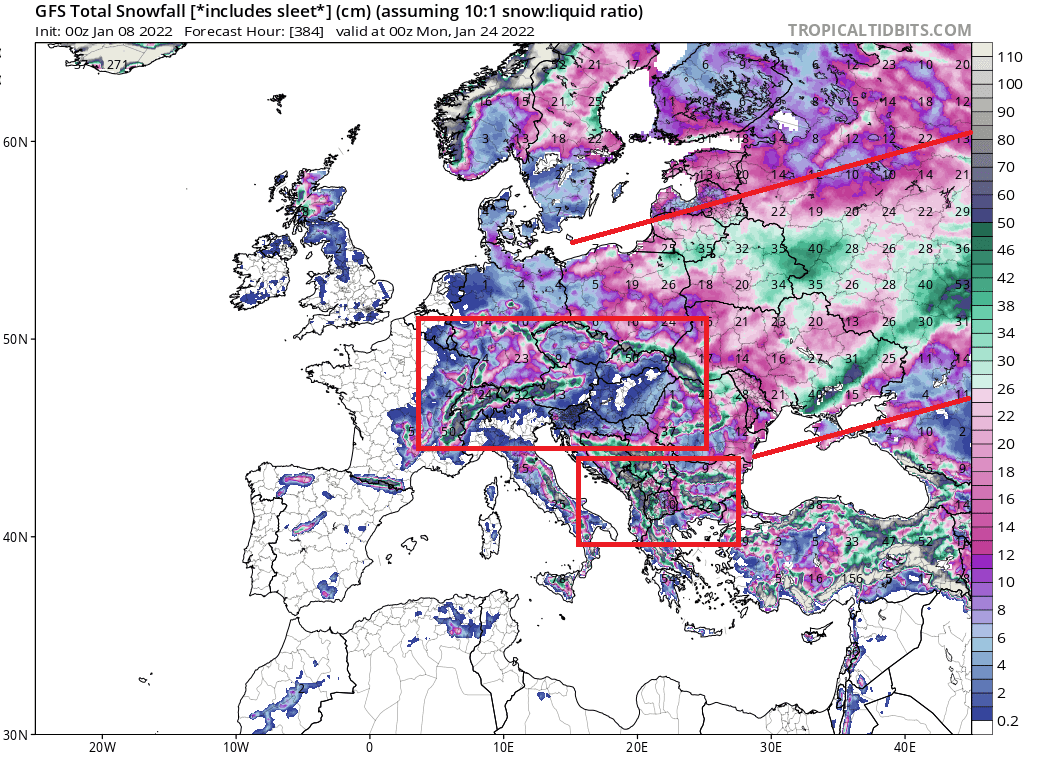 Source: tropicaltidbits.com