Early Spring in February 2022 is confirming, strong NAO+ is predicted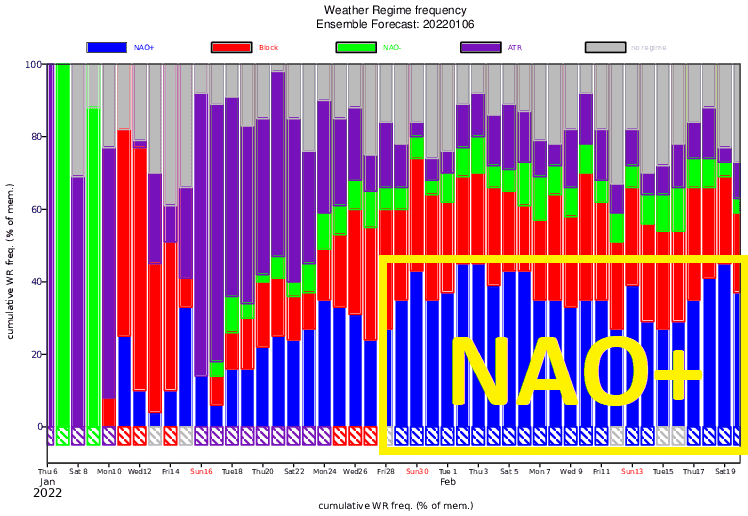 Already in the last articles, we were informed about very possible early spring conditions in Europe in February and March 2022, thanks to an expected NAO+ /https://mkweather.com/spring-2022-will-come-in-february-nao-and-extremely-warm-early-spring-conditions-in-february-and-march-2022-are-predicted-cfs-ecmwf/; https://mkweather.com/spring-2022-forecast-for-europe-early-dry-late-stormy-very-warm/; https://mkweather.com/ecmwf-6-week-forecast-for-europe-until-21-february-2022//
These predictions were currently confirmed by the Weather Regimes forecast from ECMWF, which expect a prolonged and strong NAO+ phase from the last January 2022 days, especially in the first 2 decades of February 2022.
17 from 20 days in the first 2 February decades are showing a strong NAO+ leading pattern in Europe, the rest 3 days are showing "no regime".
It means, a high pressure close to the British Islands, with a very strong warming effect into northern and western Europe, initially.
These conditions during the month should spread very quickly to other parts of Europe, in late February and March even into western Asia.
Mediterranean low activity during the NAO+ phase will be limited and southern and continental Europe will be gradually enjoying early-spring weather, with temperatures above +25°C in parts of the Mediterranean and up to +20°C in European mid-latitudes.
Scandinavia will become very stormy and warm during NAO+.
After a possible peak of winter around 20. January 2022 /https://mkweather.com/siberian-winter-in-europe-with-a-peak-around-20-1-2022-the-next-peak-of-winter-2021-2022-scandinavia-45c-eastern-europe-30c-continental-europe-turkey-25c-balkan-france-20//, therefore, we should expect early spring conditions already in around 20 days!
Mkweather will be furthermore watching upcoming trends and inform you about the newest outputs of long-term forecasts.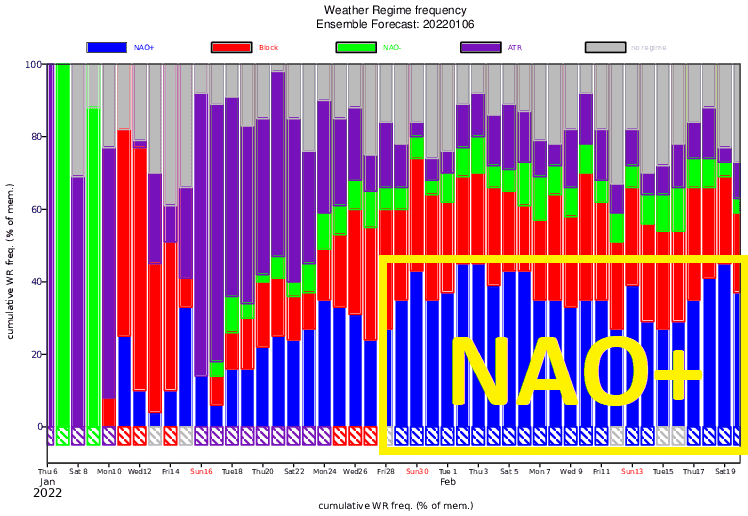 Source: https://apps.ecmwf.int/webapps/opencharts/products/extended-regime-probabilities?forecast_from=latest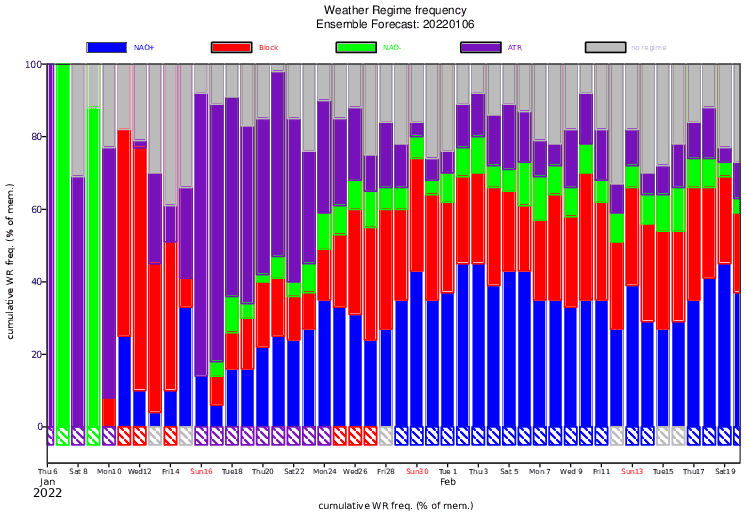 Source: https://apps.ecmwf.int/webapps/opencharts/products/extended-regime-probabilities?forecast_from=latest