American model returned for Italy for 8. August +50°C! Heatwave in Greece is the longest lasting since 1987, Croatia +42°C
An extreme heatwave hit at the end of July and at the start of August 2021 Italy, Greece, and Balkan, with extremely hot temperatures and deadly potential for sensitive groups of people. 
Moreover, extreme heat, drought, and wildfires are forecasted to continue minimally into mid-August 2021 (while the rest of Europe will sink into a coldwave) – the American model returned for Italy for 8. August before a few days unbelievable +50°C!
Current outputs are a little milder, with +47°C in parts of Greece, but heatwave is already considered as the strongest heatwave in key regions of the Mediterranean since 1987 (in 34 years!).
All-time temperature records from heatwave from hit countries will be in many cases revealed only later, but some information are available already now.
E.g. 87 stations in Greece reported in the last 24 hours (31. July 2021) maximum temperatures +40/+45°C (https://en.rua.gr/2021/08/01/unprecedented-heat-in-87-regions-of-greece-the-air-temperature-exceeded-40-%D1%81/) or in Croatia was in automated station Mljet measured during the last July´s days +42°C, which is only a few decimals of degree Celsius below the all-time national record. 
Extremely hot temperatures +40/+45°C were reported from the last days from all Balkan, e.g. in Messinia, Greece +44,6°C, Gevgelija, North Macedonia, +43,3°C, Danilovgrad, Montenegro, +42,7°C, Tirana, Albania +42,0°C, Mljet, Croatia, +42,0°C, Sandanski, Bulgaria, +41,8°C, Mostar, Bosnia and Herzegovina, +41,1°C, Valjevo, Serbia +40,4°C or Baile Herculane, Romania, +40,1°C. Estimates from Italy are saying about minimally +46/+47°C near sirocco and – the hottest observation are still not known because the first peak of heatwaves is forecasted on 1.-2. August 2021.
The second peak, during which, mentioned +50°C was forecasted before a few days, is still forecasted around 8.-10. August 2021. 
If you live in the region or you are on vacation, we recommend you to watch current weather news, forecasts, warnings and advisories (and not only before heat – from the north, extreme storms are coming). 
Source: meteologix.com, Tweet below
Ja solche Karten hab ich noch nicht gesehen & man kann nur für Süd-, Südosteuropa hoffen, dass es so nicht kommt. Für Italien werden für den 8.8.2021 nach dem US-Modell regional bis zu 50 Grad berechnet! Europarekord liegt bei 48 Grad (Athen). https://t.co/UlzoVhjrIf /CG

— Kachelmannwetter (@Kachelmannwettr) July 28, 2021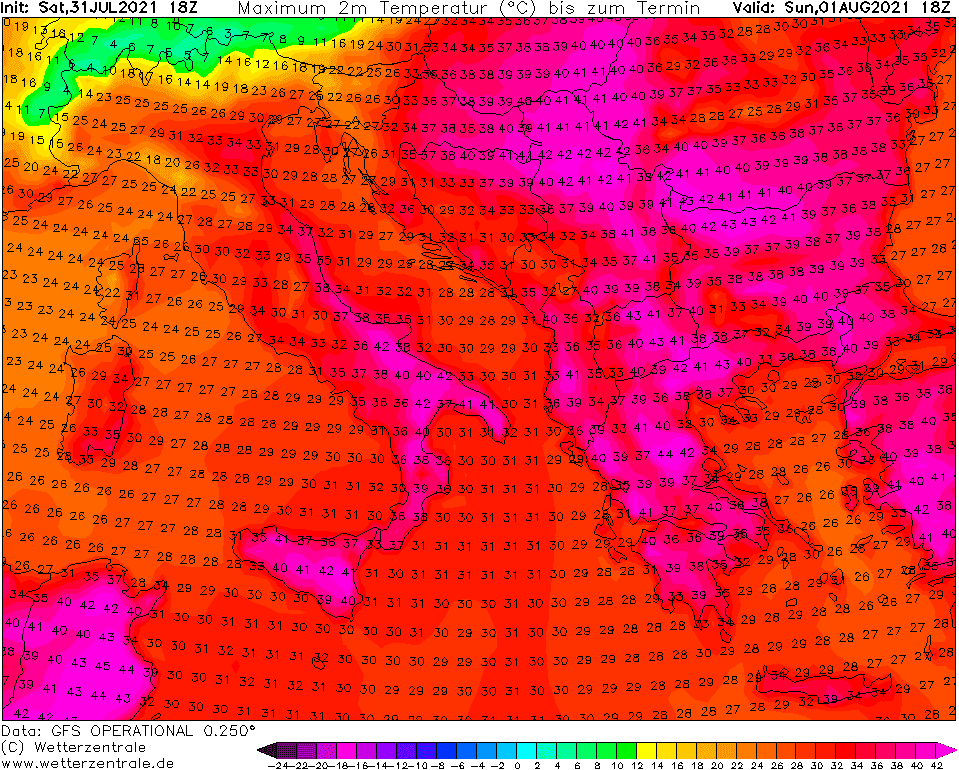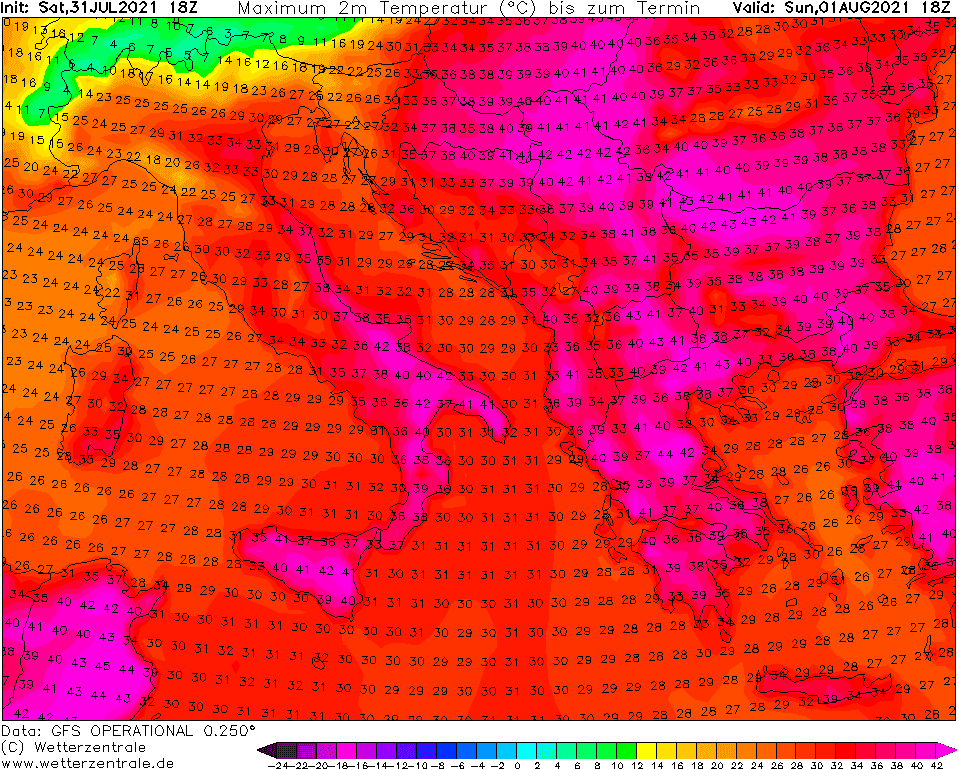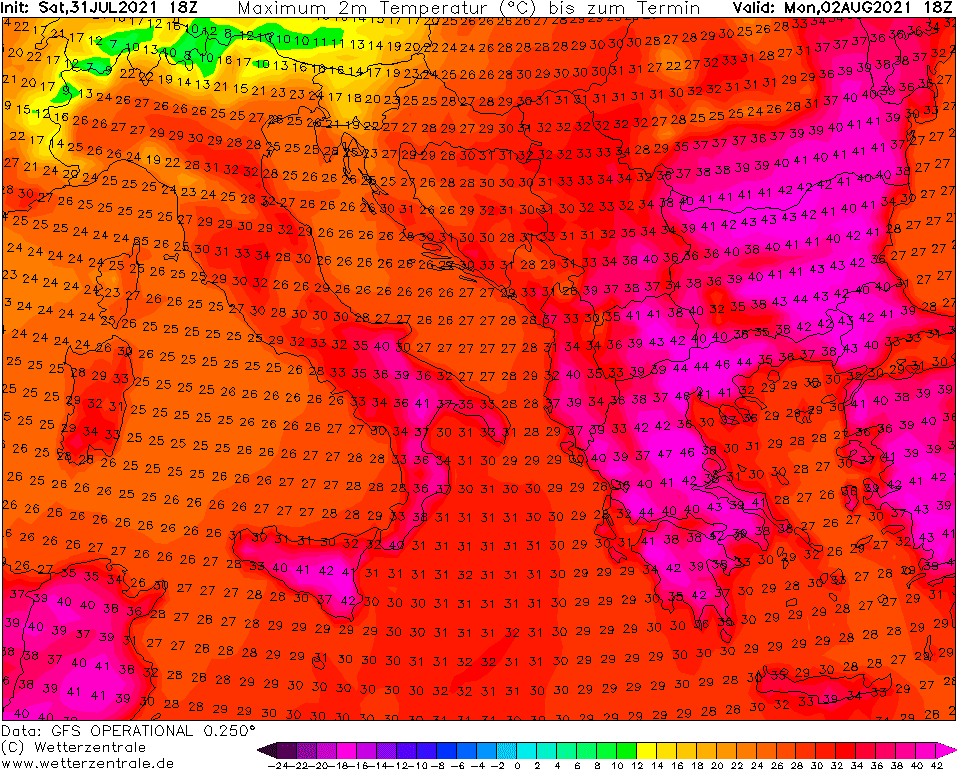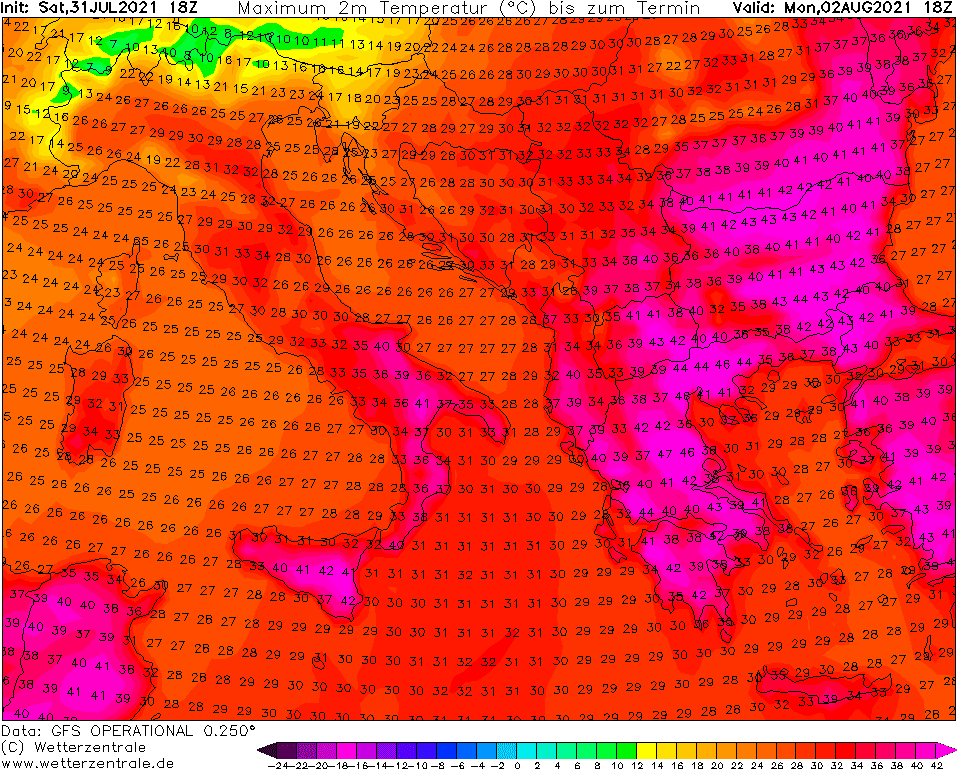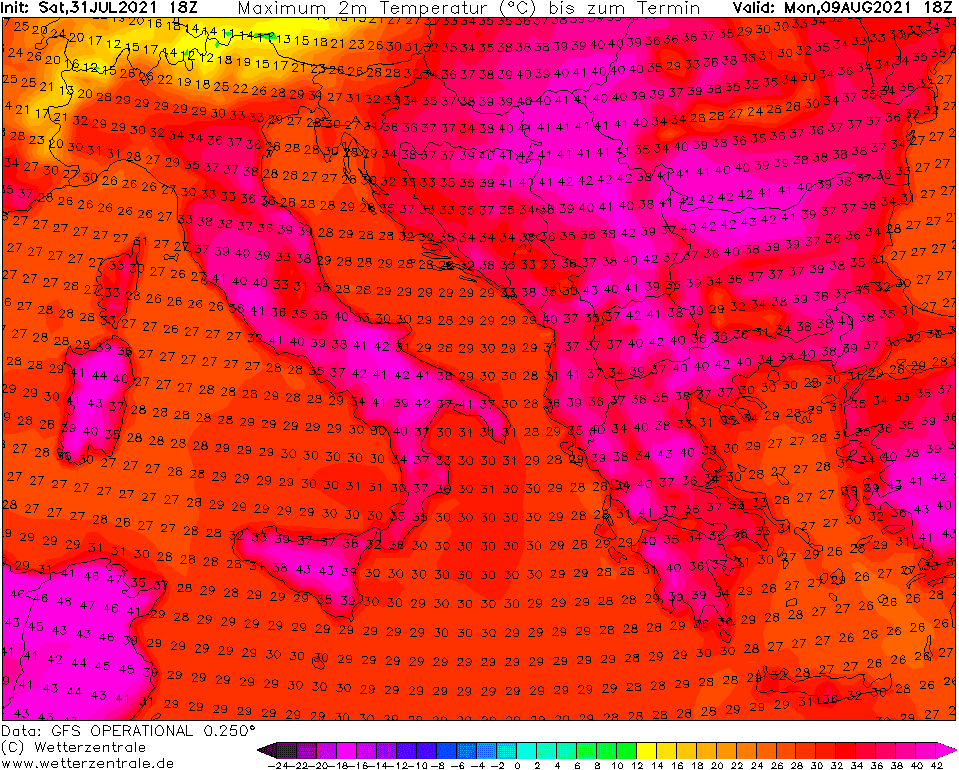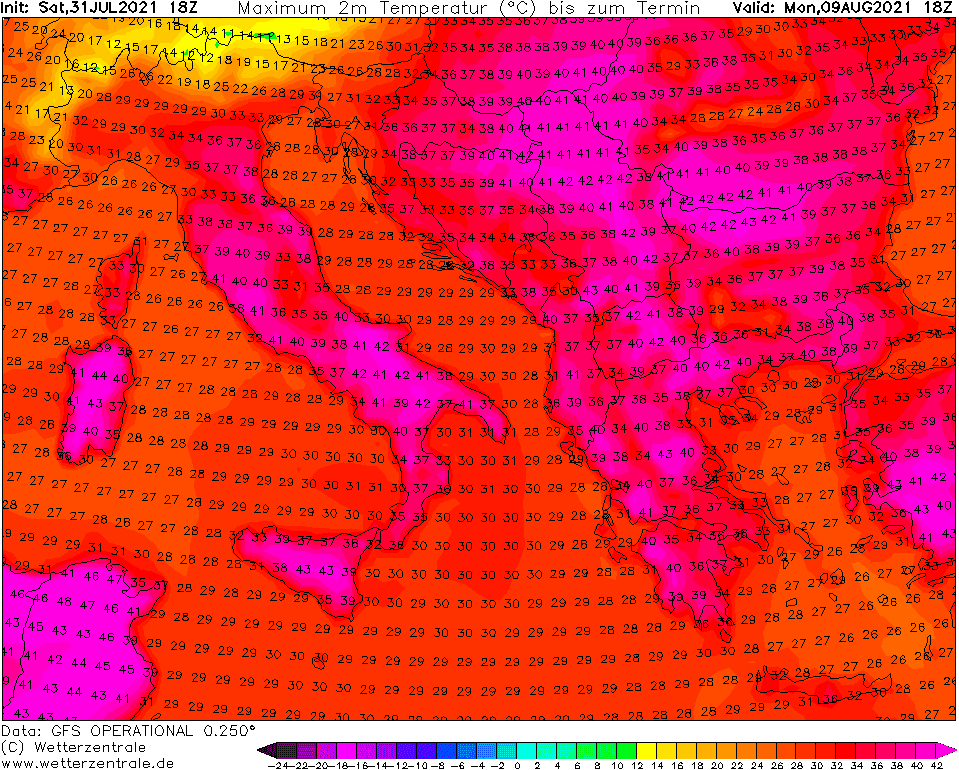 Source: wetterzentrale.de
🥵Record mensuel européen de température minimale quotidienne élevée pour un mois de juillet ce 31-7-2021 : pendant plus de 24h, la T° n'est pas descendue sous 🌡️34.3°C sur l'île #Kalymnos (#Grèce🇬🇷, station du National Observatory of Athens, est de la mer Egée) #Greece #heatwave https://t.co/8Gy3Av5Pdl pic.twitter.com/pJqM0XNvO8

— Etienne Kapikian (@EKMeteo) July 31, 2021
Intense #heatwave underway across southern Balkan peninsula today, peak temperatures were just shy below +44 °C! The hottest in Greece, North Macedonia, and western Turkey, as well as eastern Sicily. More heat in the coming days! @meteociel / https://t.co/mjX0iHhv3i / @ogimet pic.twitter.com/56BblDb0OE

— severe-weather.EU (@severeweatherEU) July 30, 2021
The most intense #heatwave of summer 2021 develops in Europe. The final days of July and early August brings peak temperatures well above 40 °C across the Balkan peninsula, possibly close to +45 °C in #Greece or #Turkey this week. Very hot also in #Italyhttps://t.co/3SUouHYApB

— Watchman (@Judmir3) July 29, 2021
Forecast for Sparta, Source: http://www.emy.gr/emy/en/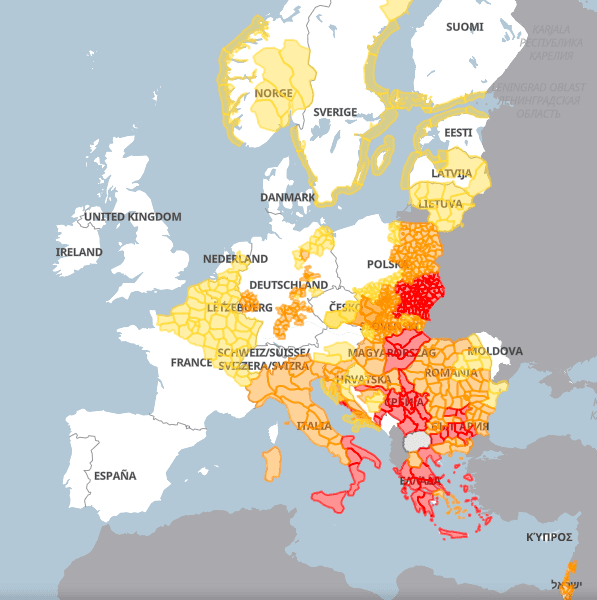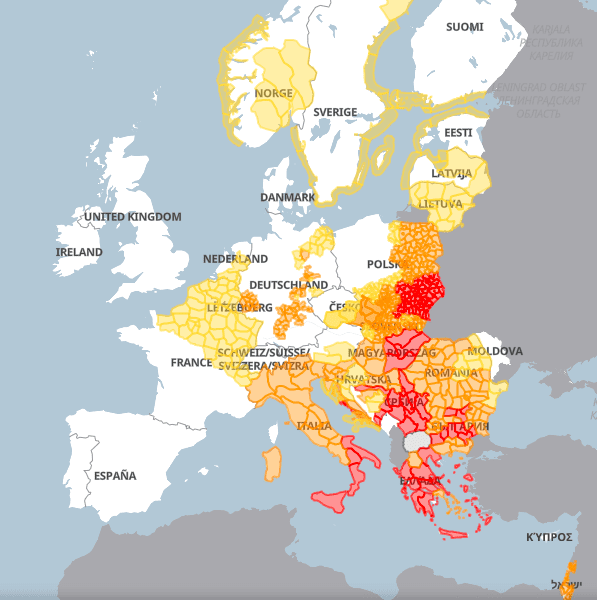 Source: meteoalarm.org
Source: https://twitter.com/LAPI_epfl/status/1421844902095249409/photo/4
The heatwave that has hit Greece in recent days has been described as one of the ten longest lasting in the last 35 years. "What we are experiencing this year may become the norm at the end of the century,". Climate Change, ringing the alarm bell.

— Valia Traka (@TrakaValia) August 1, 2021
Greece about to experience worst heatwave since 1987 when close to 1000 old people, without air conditioners in the concrete jungle of Athens, died and the morgues overflowed. This is the horrendous forecast for my dad's old hood in Thessaly. pic.twitter.com/T1yije85Wl

— Athas Zafiris (@ArtSapphire) July 31, 2021