AO index -7?! This looks like historic cicrulation conditions next week!
Only in last articles we have informed about extreme Siberian / Arctic blasts in Europe, USA and Canada /https://mkweather.com/2021/01/13/the-most-extreme-outputs-minimum-35celsius-and-maximum-20celsius-in-central-europe/; https://mkweather.com/2021/02/06/aggressive-coldwave-in-the-usa-will-be-longer-and-stronger// and it appears, that extreme outputs have their reasons in broken atmospheric circulation.
According to the newest ECMWF forecasts, AO index should around 9. February drop almost into -7, what is value, which is not seen very often – maybe only during the most extreme winters in history!
Air masses during circulation like this are flowing often, mainly above Europe from east to the west, Siberian and Arctic air is arranged into belt in mid-, sometimes up to subtropical latitudes and these regions are extremely cold with possible historic frosts.
During negative phase of Arctic oscillation, cold weather should persist in one region very long, because circulation is almost "frozen", traditionally zonal circulation is collapsed and Siberian and Arctic air have over continent a lot of time for creating extremely cold high pressure conditions.
Reversely, during AO+ (positive phase of Arctic Oscillation), zonal flow is very strong and stormtrack is shifted to northern regions – in Europe British Islands, Scandinavia and Baltic region, in the USA mainly western Canada and Alaska and mid-latitudes in the winter persist in warm and dry air, far away from tracks of cyclones. Only subtropical regions, thanks to cold anticyclonic nights, should be during AO+ colder.
Now, during expected strong AO- phase, next extreme (with "historical" meaning) outputs of meteorological models were returned, what will be a topic of the next articles on Mkweather.
Infographics: ECMWF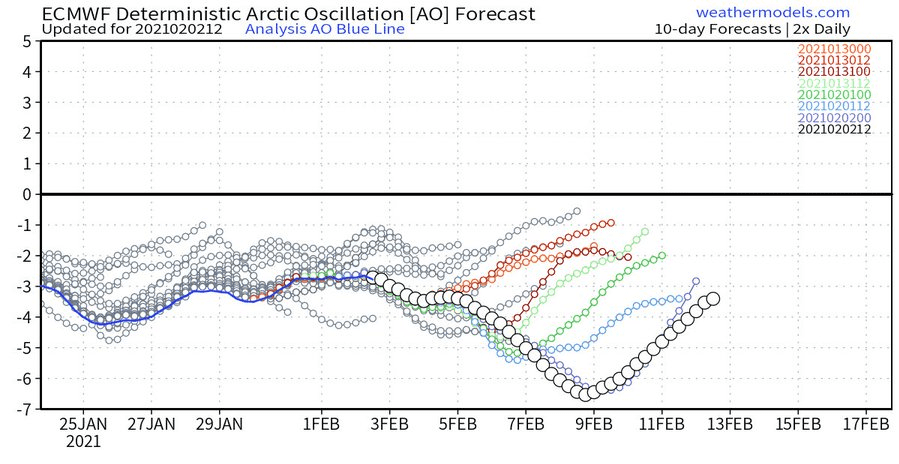 Read more: