On Friday has started series of extremely cold days in the USA, with gradual snowing up to southern regions.
Snow forecasts hasn´t been changed very lot, with expected snow in Montana, Wyoming, Colorado, North Dakota, South Dakota, Nebraska, Kansas, Oklahoma, Minnesota, Wisconsin, Iowa and Missouri and New Mexico in almost whole territory, but too in parts of Washington, Oregon Idaho, Utah, Arizona, Texas, in Great Lakes area and Northeast.
Arctic air, which will be flowing over US territory with extremely cold Canada with freezing -16.2F / -26,8°C in Saskatchewan, lower areas (Val Marie, 785 MASL) and Greenland (Summit, -17.5°F / -27,5°C, Danmarkshavn, -19.3°F / -28,5°C).
Extremely cold air mass from Central Canada will shift over Central and eastern part of Western USA to Mexico during next days, with Arctic conditions in several American cities, including capitals of states.
In Cheyenne should fall all-time October record of the lowest measured temperature, -5°F / -20,6°C (measures are available since 1800!, electroverse.net), therefore it should be the strongest early winter coldwave for more than 200 years. In Cheyenne, Denver, Helena and maybe too in Rapid City, it will be measured Arctic day with maximum temperature under -10°C / 14°F, all days frosts surprise cities far away in the south, e.g. Amarillo, Texas.
Moreover, parts of the USA report record October snowfall, e.g. Twin Cities, Minnesota, with 115-years old record 7.9 inches (20 cm), Des Moines, Iowa, with 10 inches (25 cm) or St. Cloud, Minnesota, 7 inches (18 cm). Record heavy snowfall has appeared in Prince Eduard Island, Canada or Alexandria, Minnesota /accuweather.com, electroverse.net/.
On the West and in Central US, the coming of Arctic blast is associated with extremely strong winds 40-80 mph, rarely over 100 mph in lower areas (64-129, rarely over 161 km/h). Strong winds will strengthen a wildfires in Colorado and in California according to American meteorologists. In Colorado, 3/5 largest wildfires appeared in 2020 and 2 are still ongoing (Accuweather).
Mentioned facts has showed, that early coldwave in October 2020 will be extreme, regionally with more than 200-year records. Therefore, be careful on roads and dress warm. Mkweather will update current situation during next days.
Expected snow until 8. November / tropicaltidbits.com: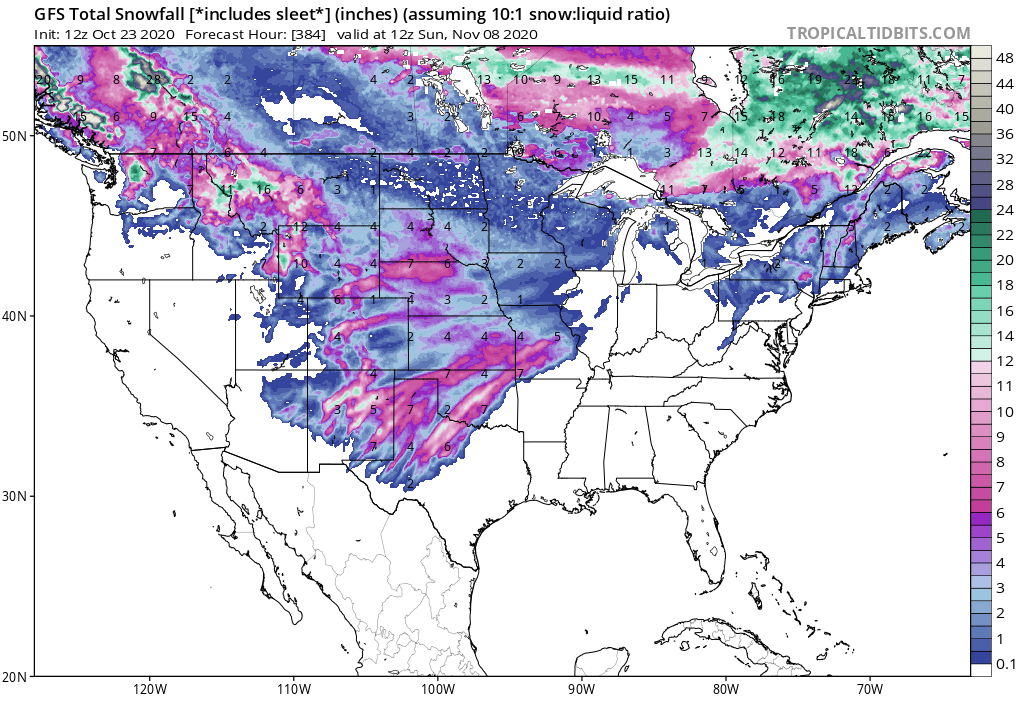 10-day forecasts for chosen cities /foreca.com:
Cheyenne, Wyoming capital: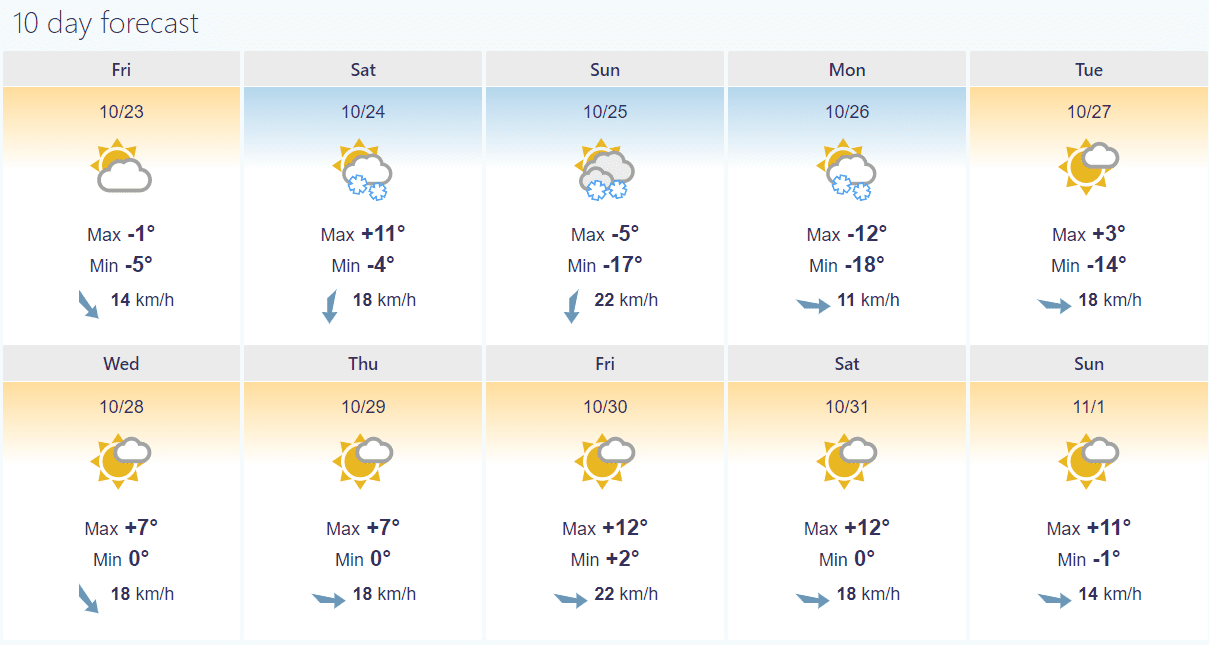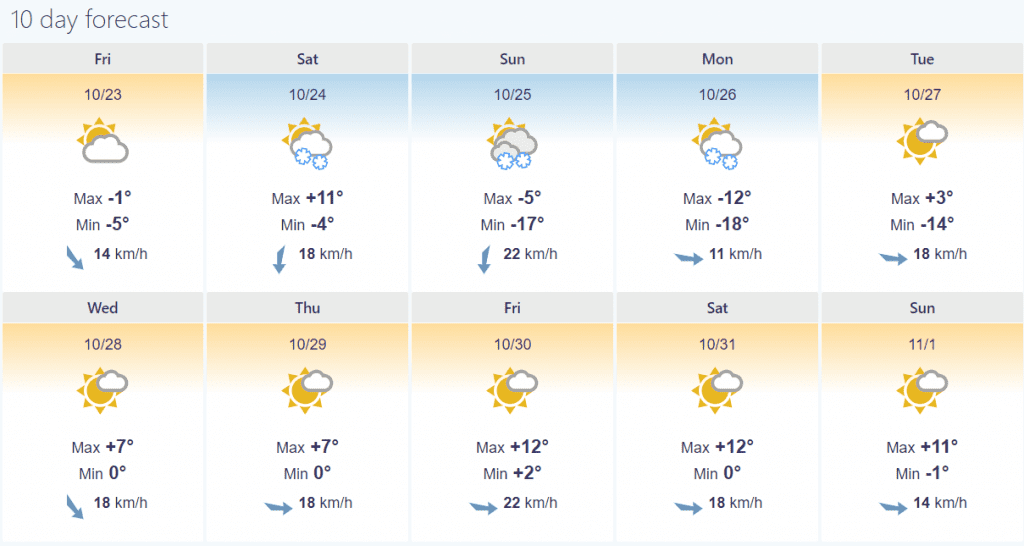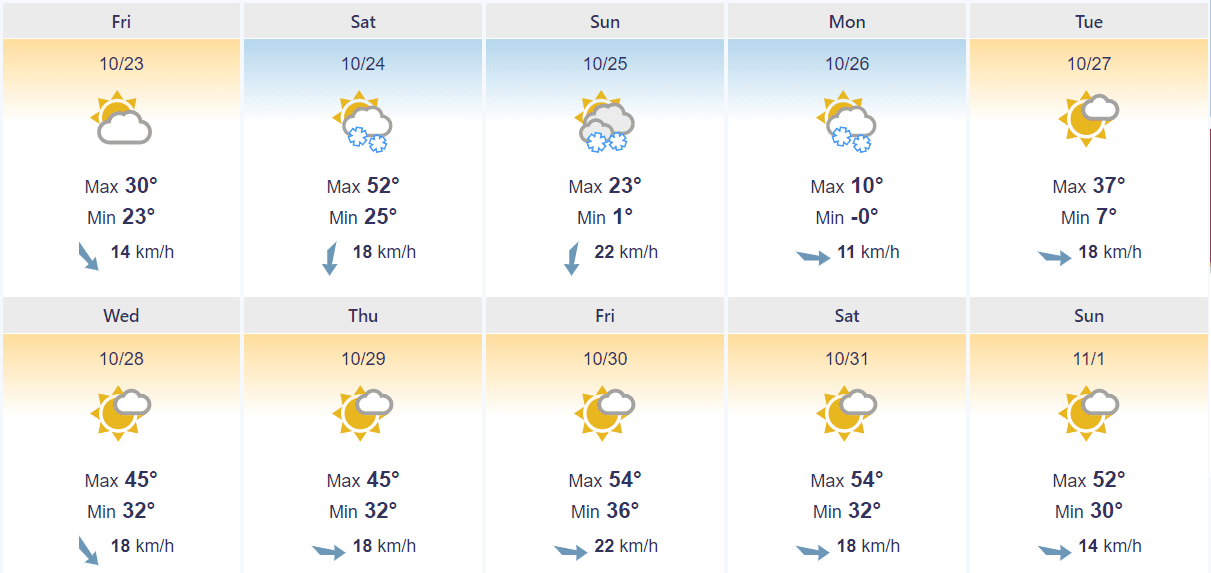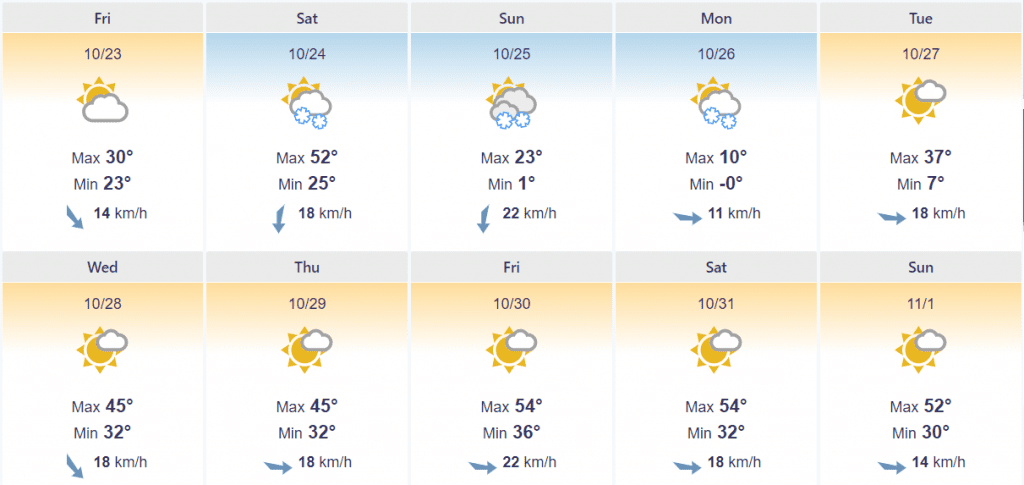 Denver, Colorado capital: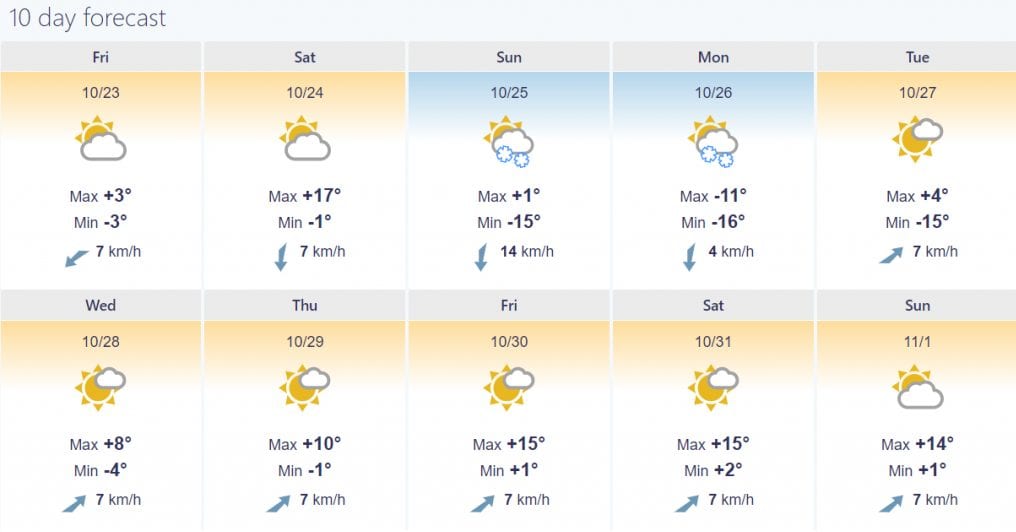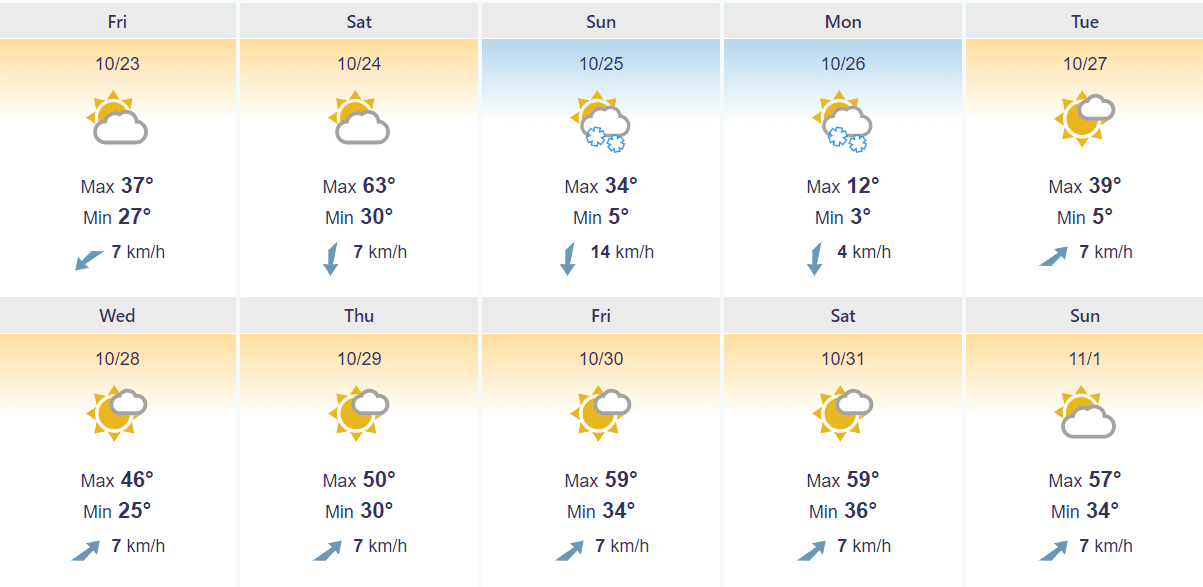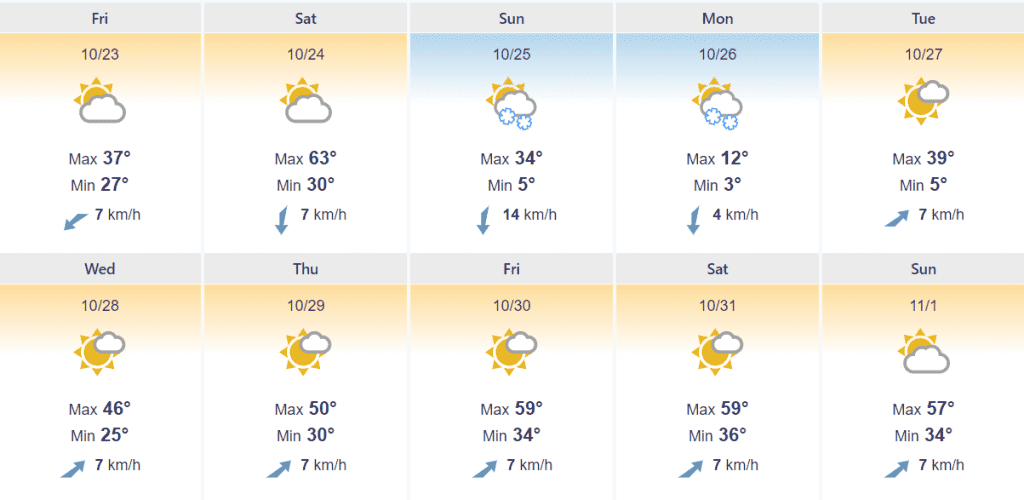 Helena, Montana capital: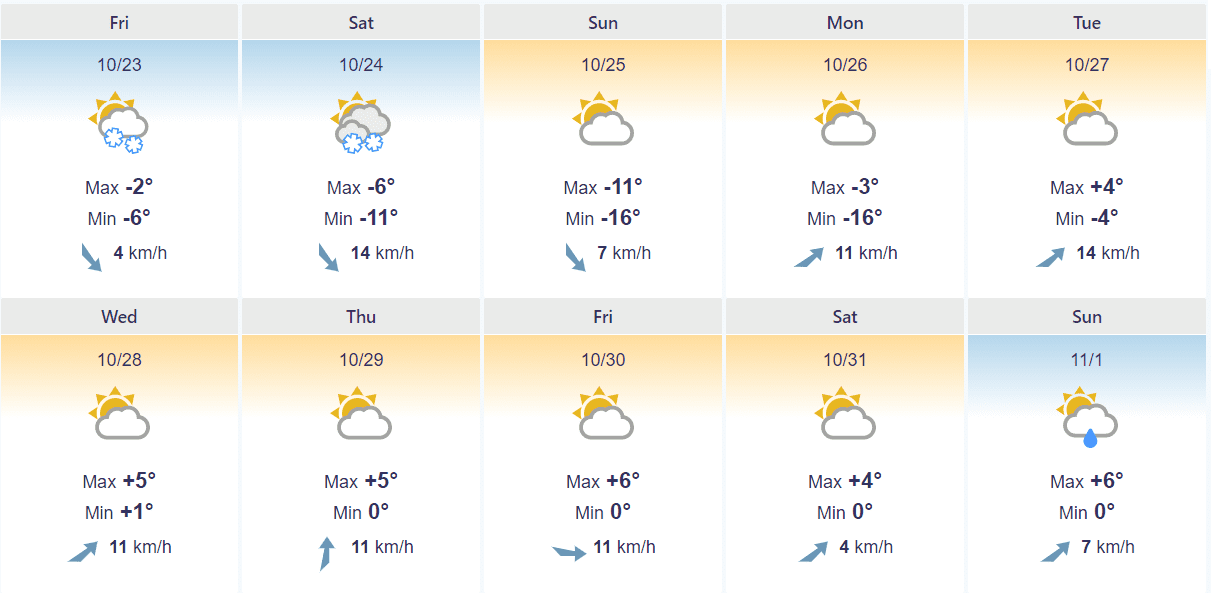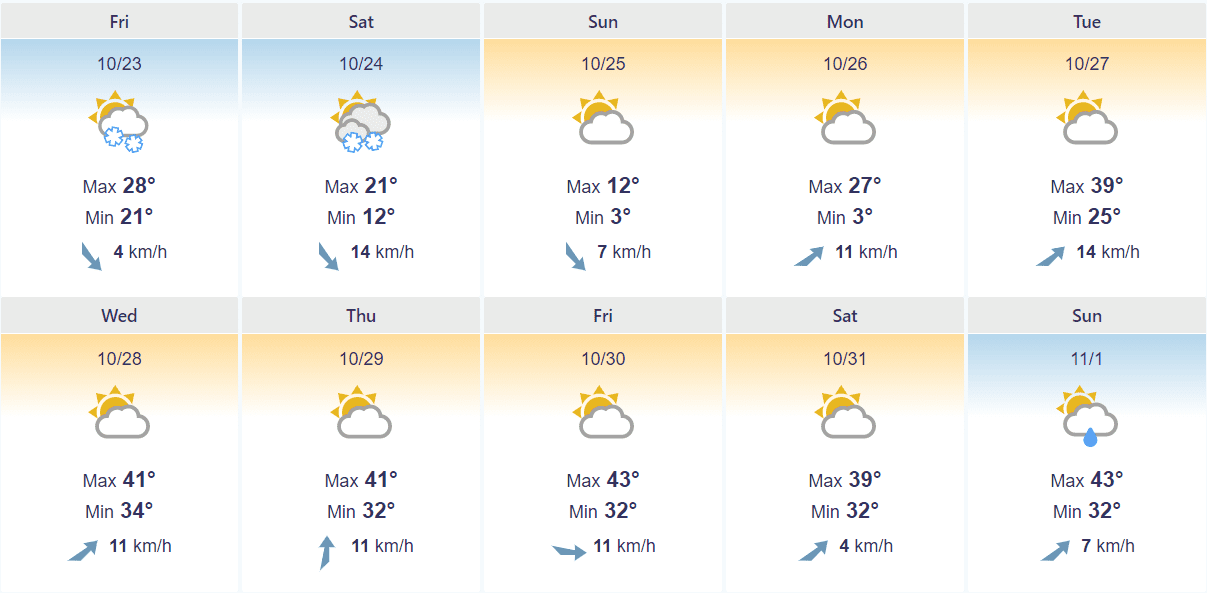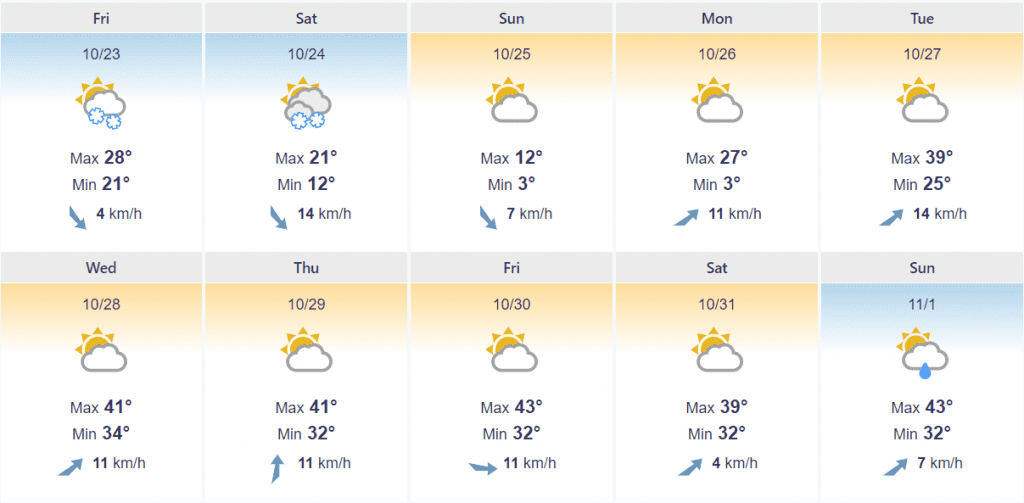 Rapid City, South Dakota capital: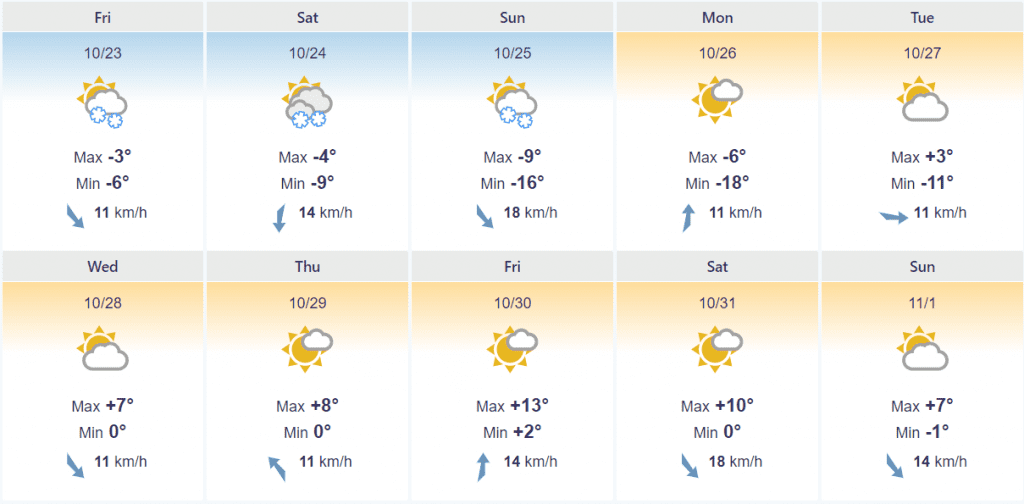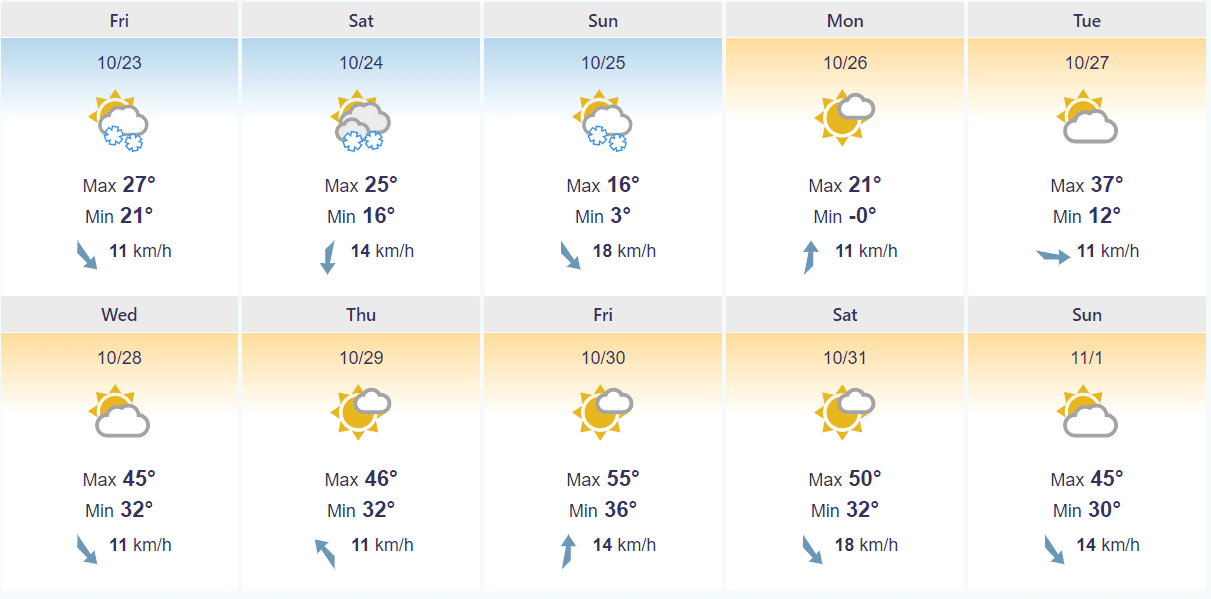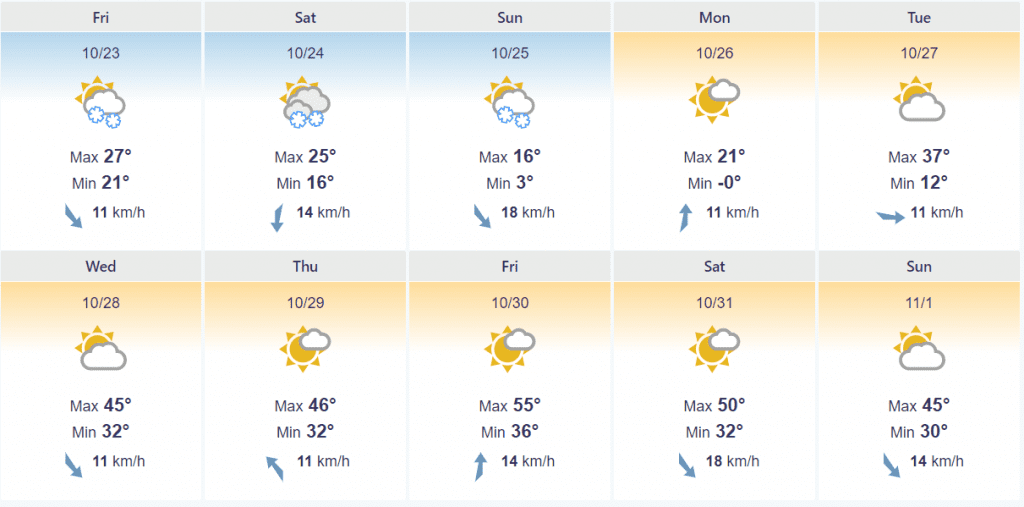 Minneapolis, Minnesota: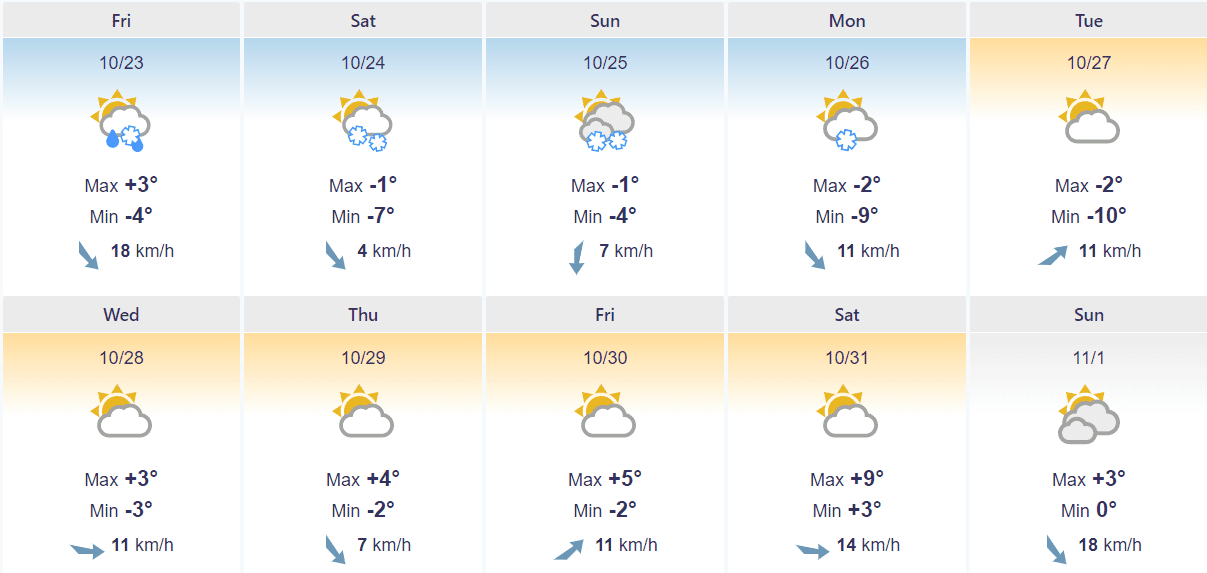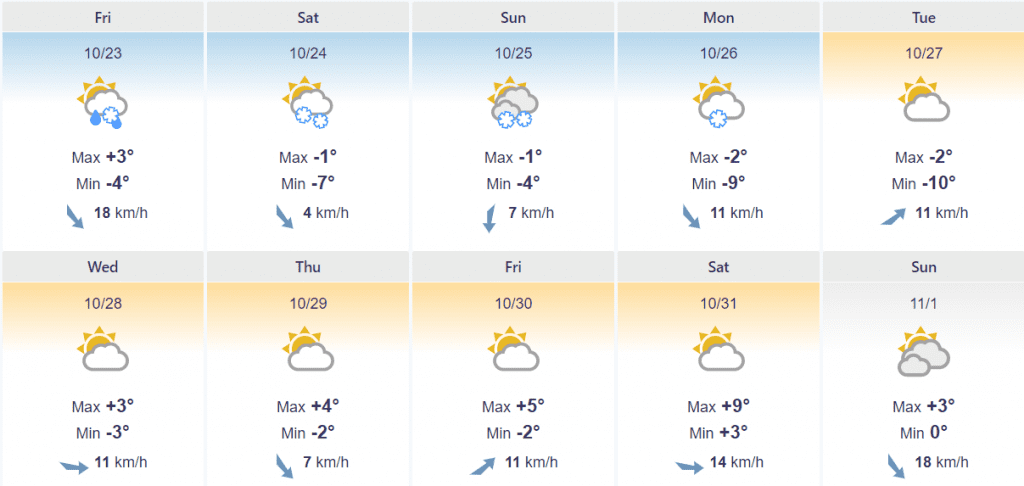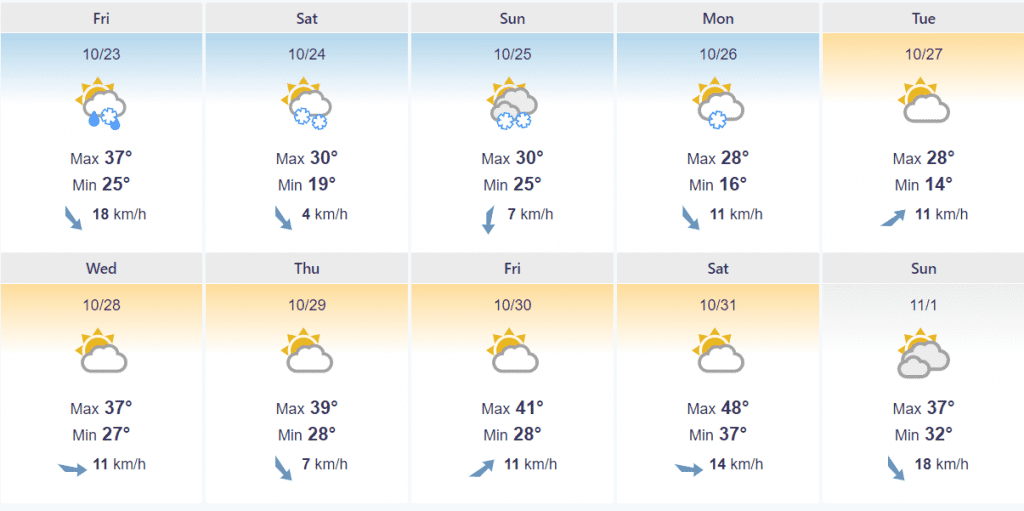 Amarillo, Texas: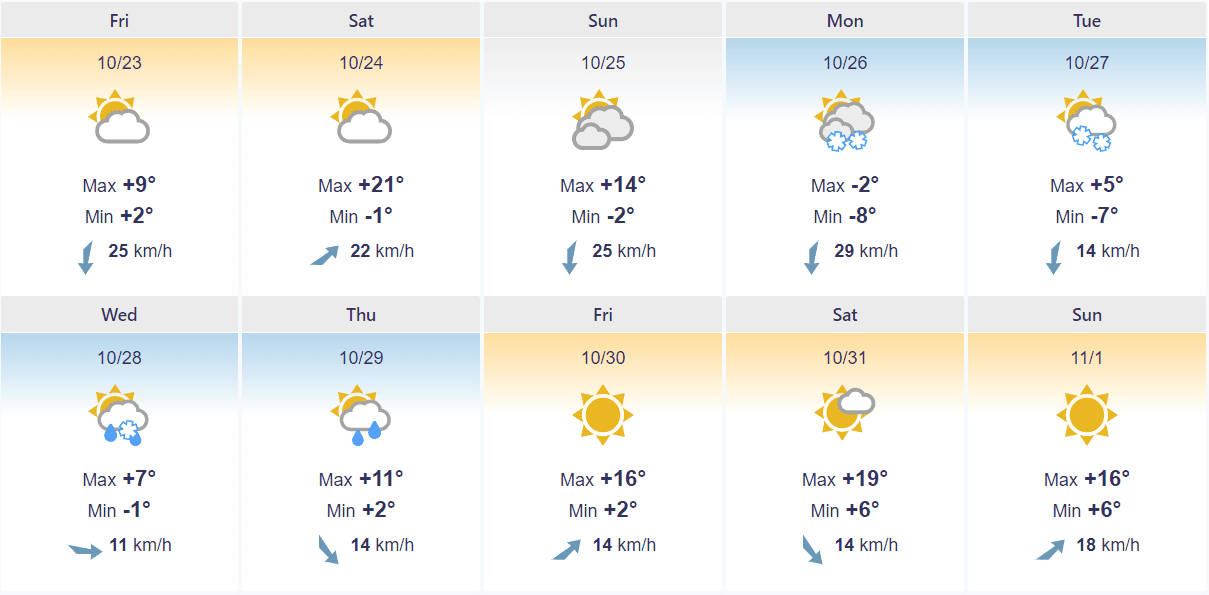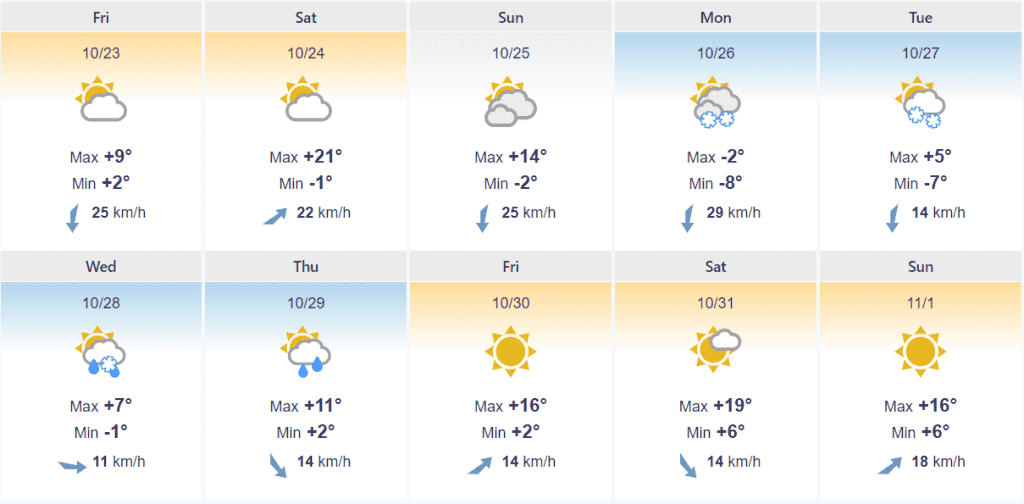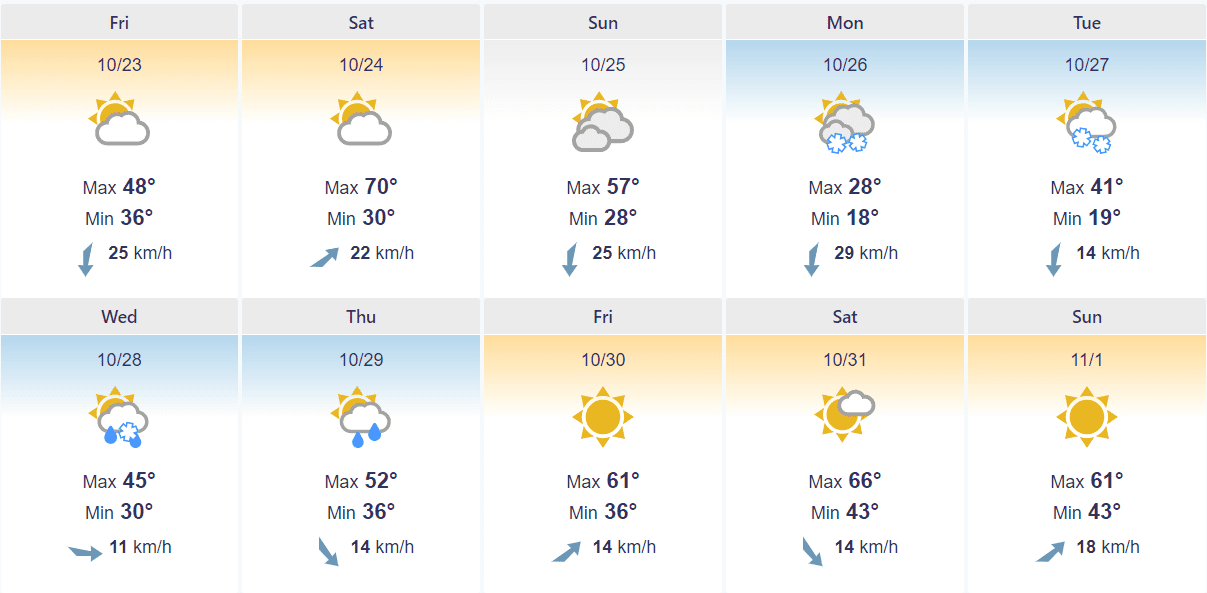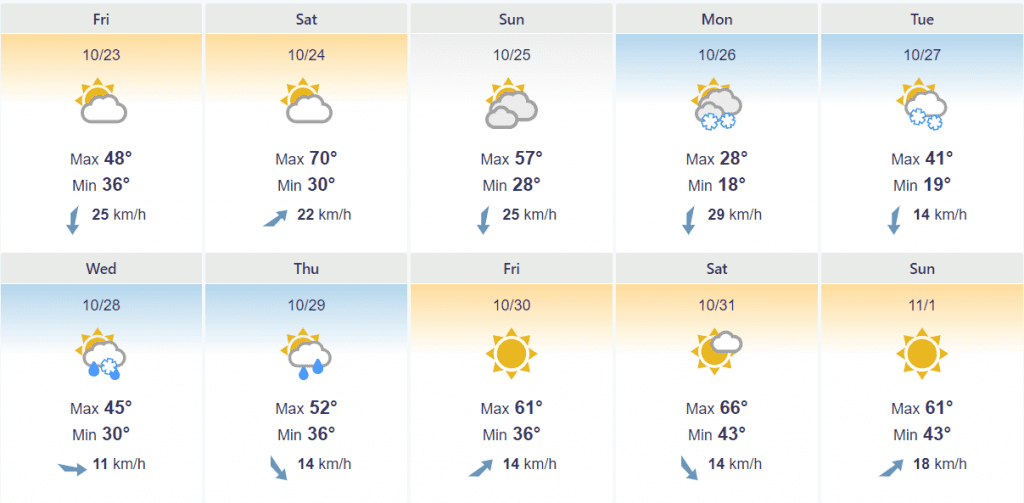 T850 hPa anomaly forecast until 3. November 2020 /wxcharts.com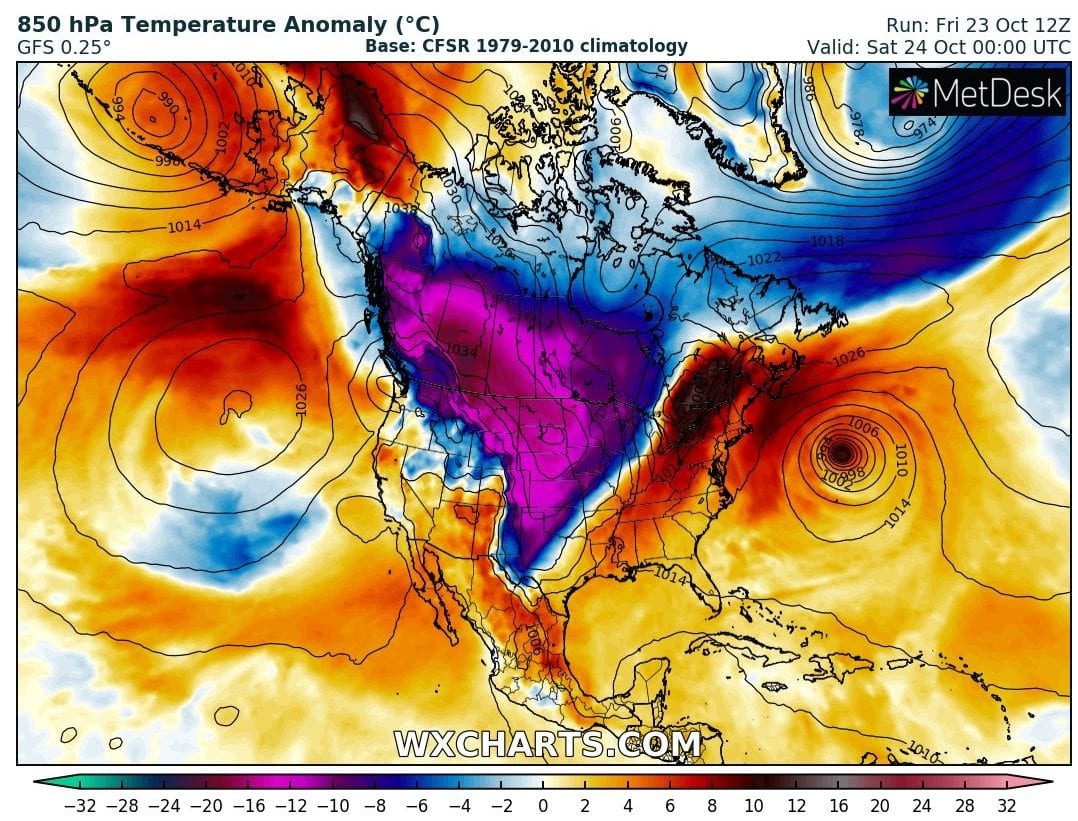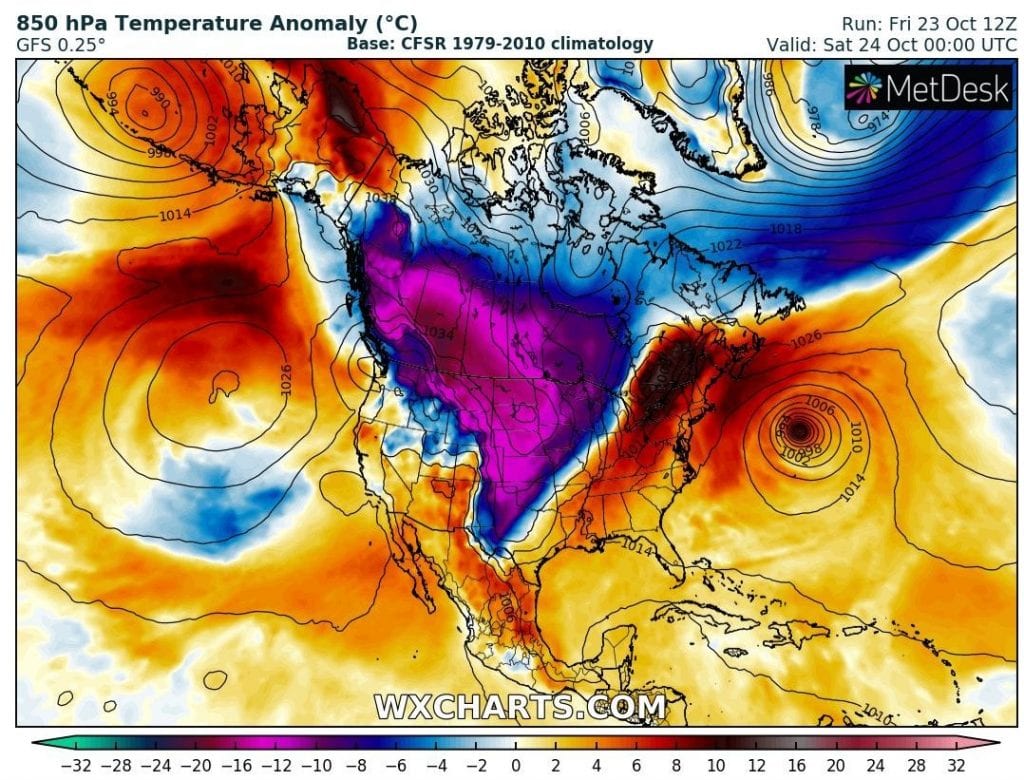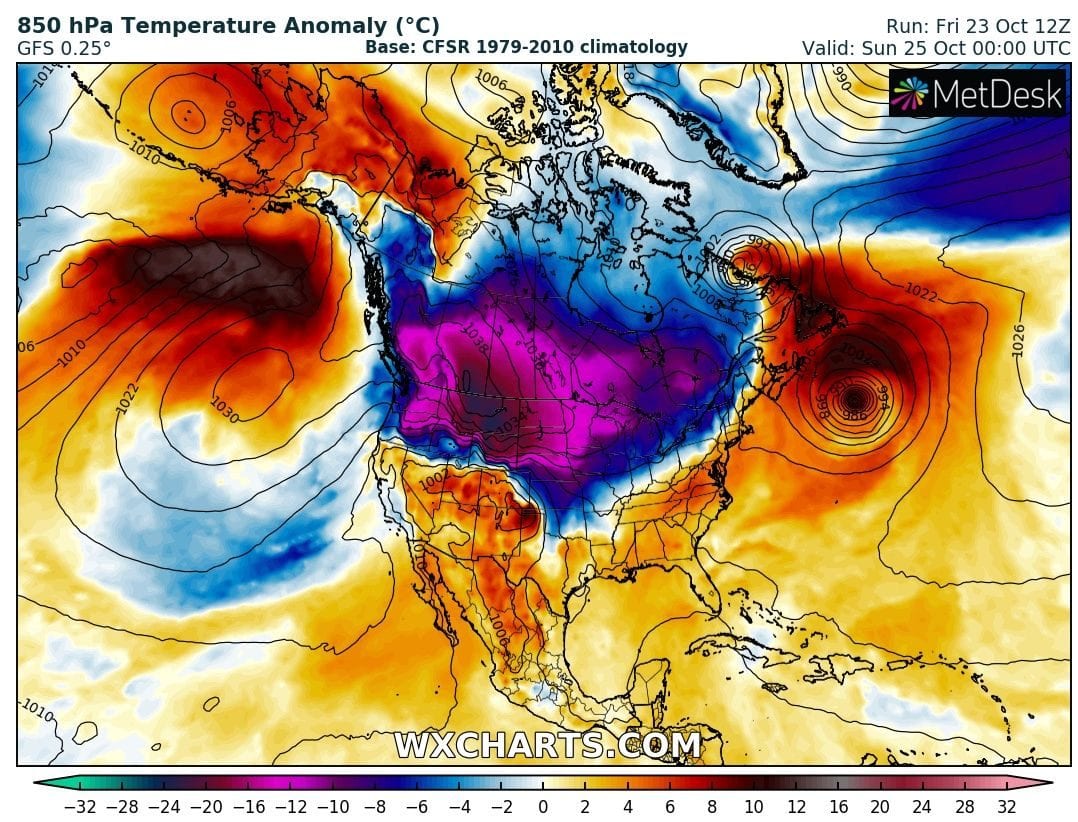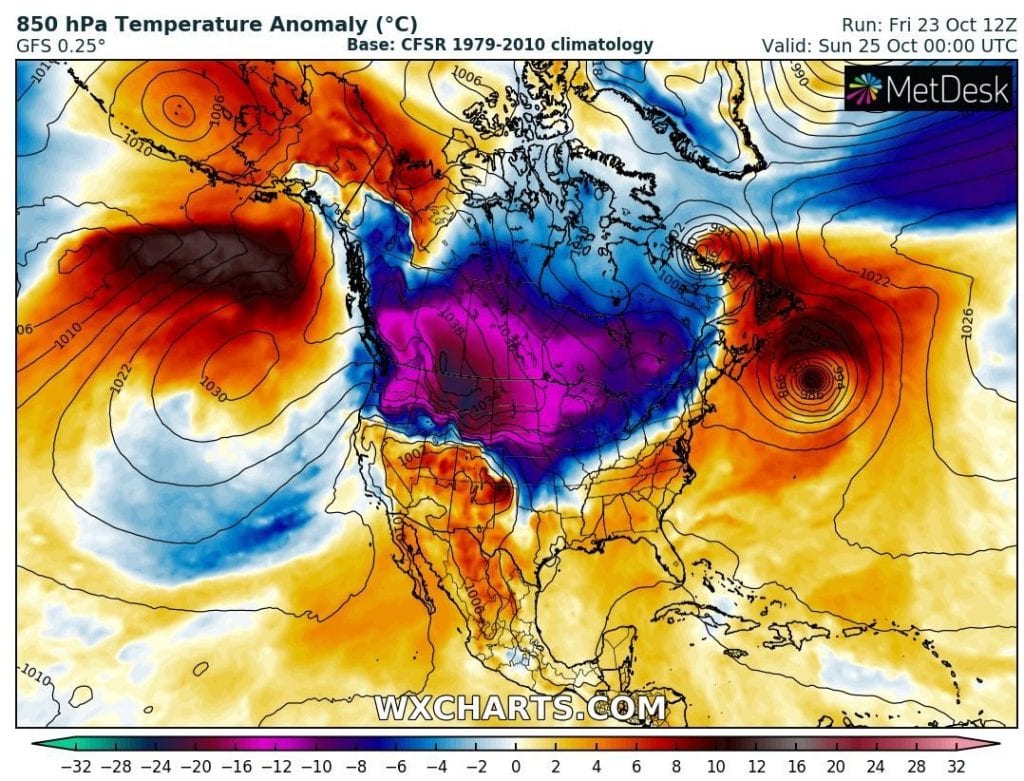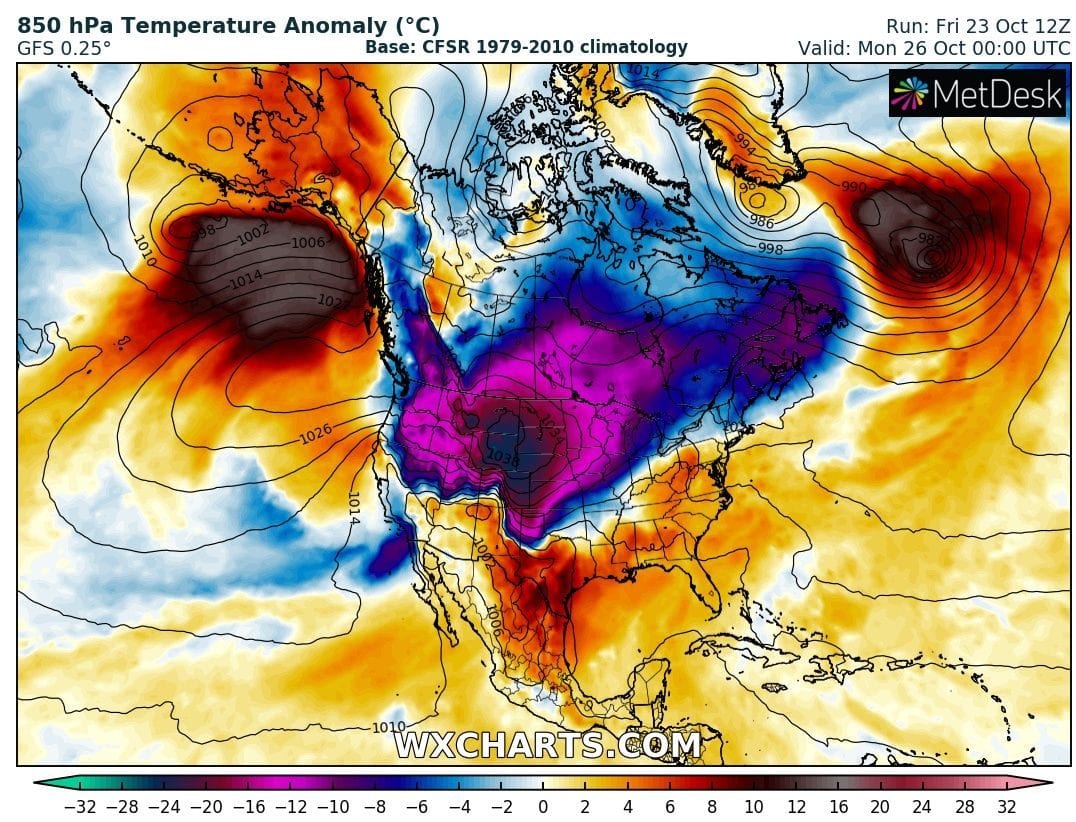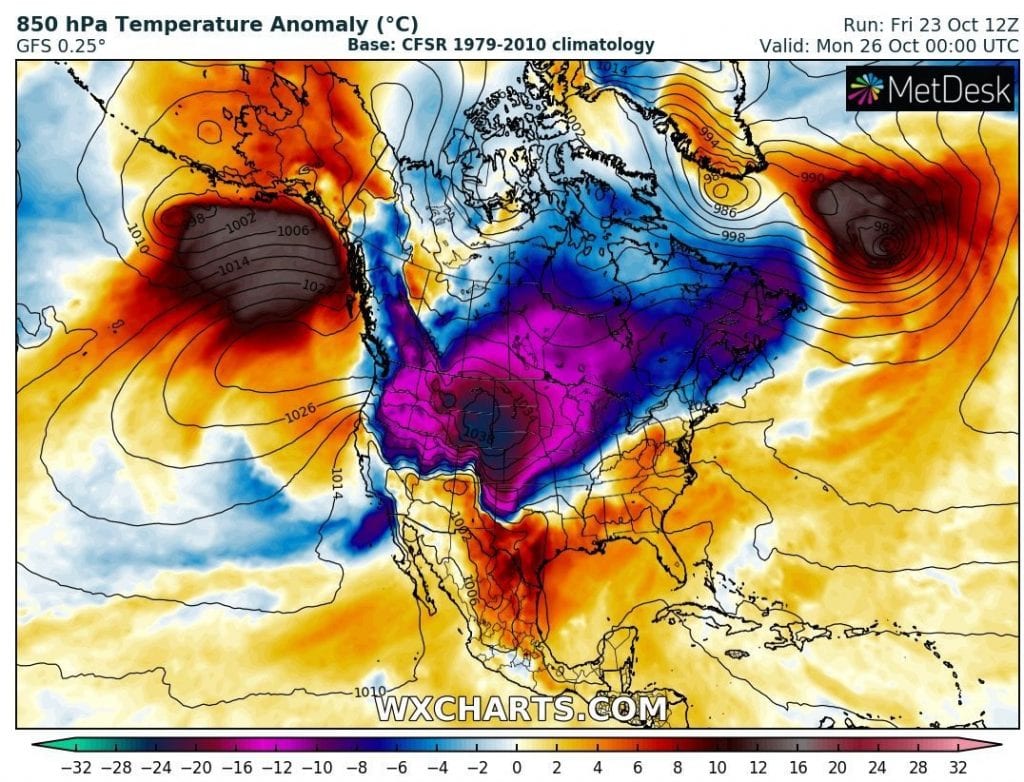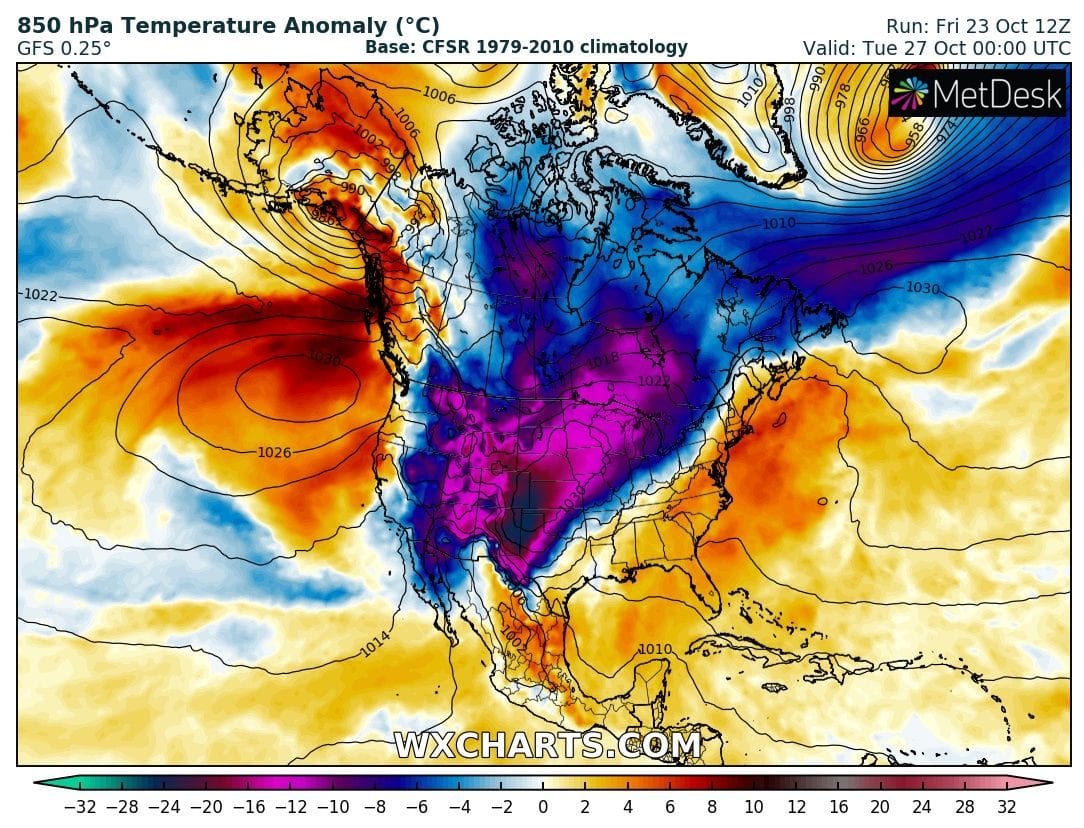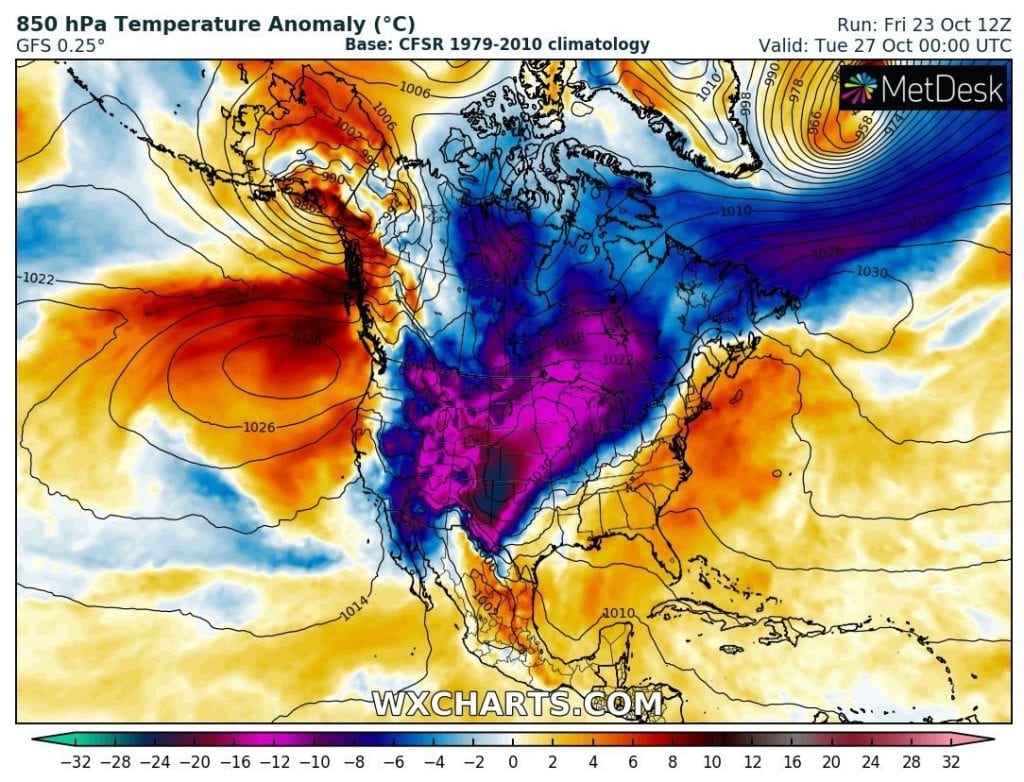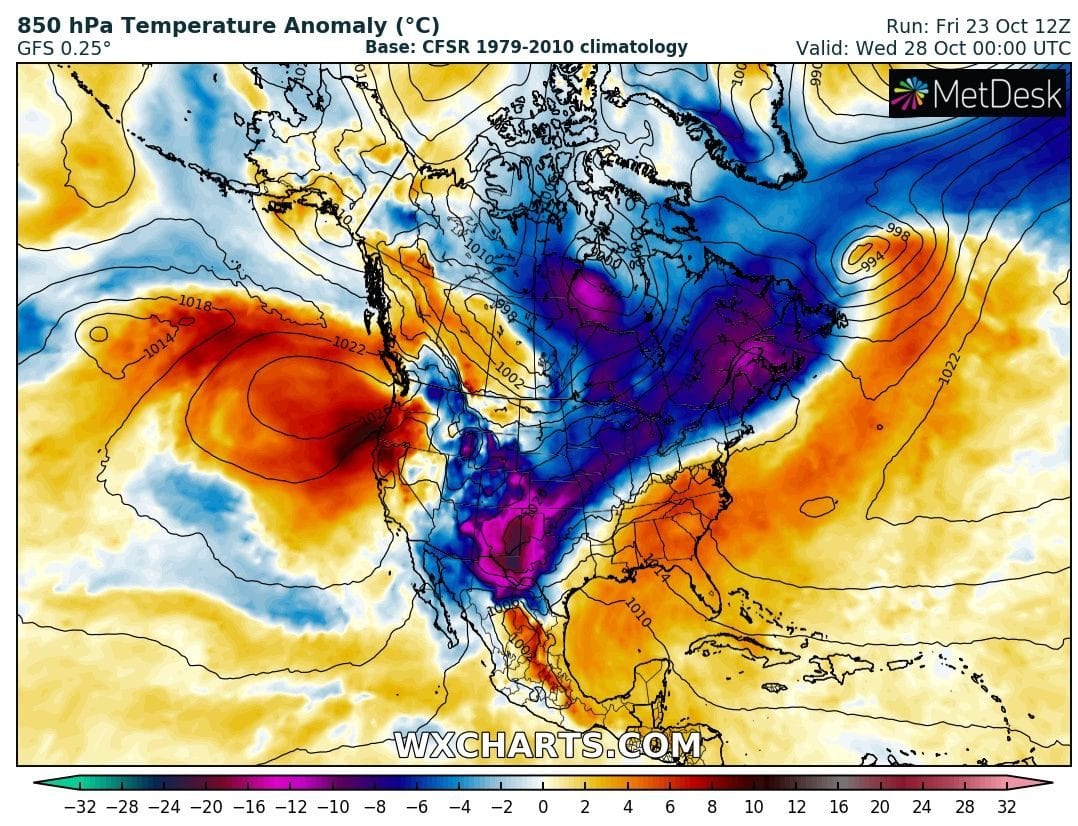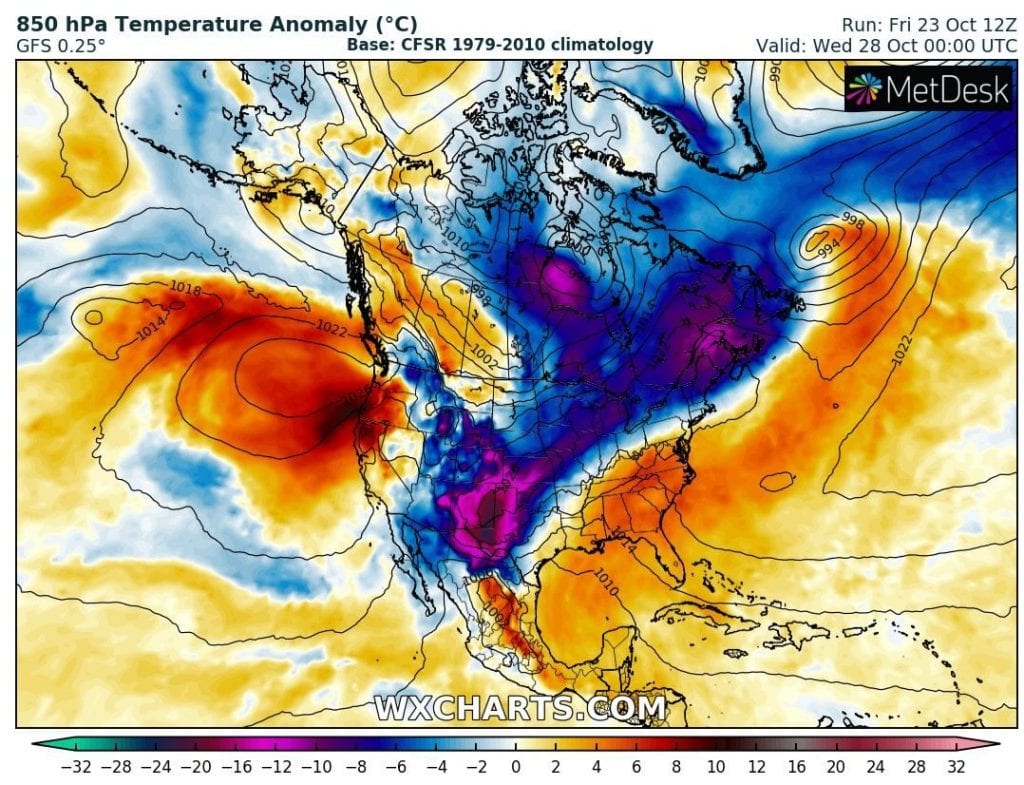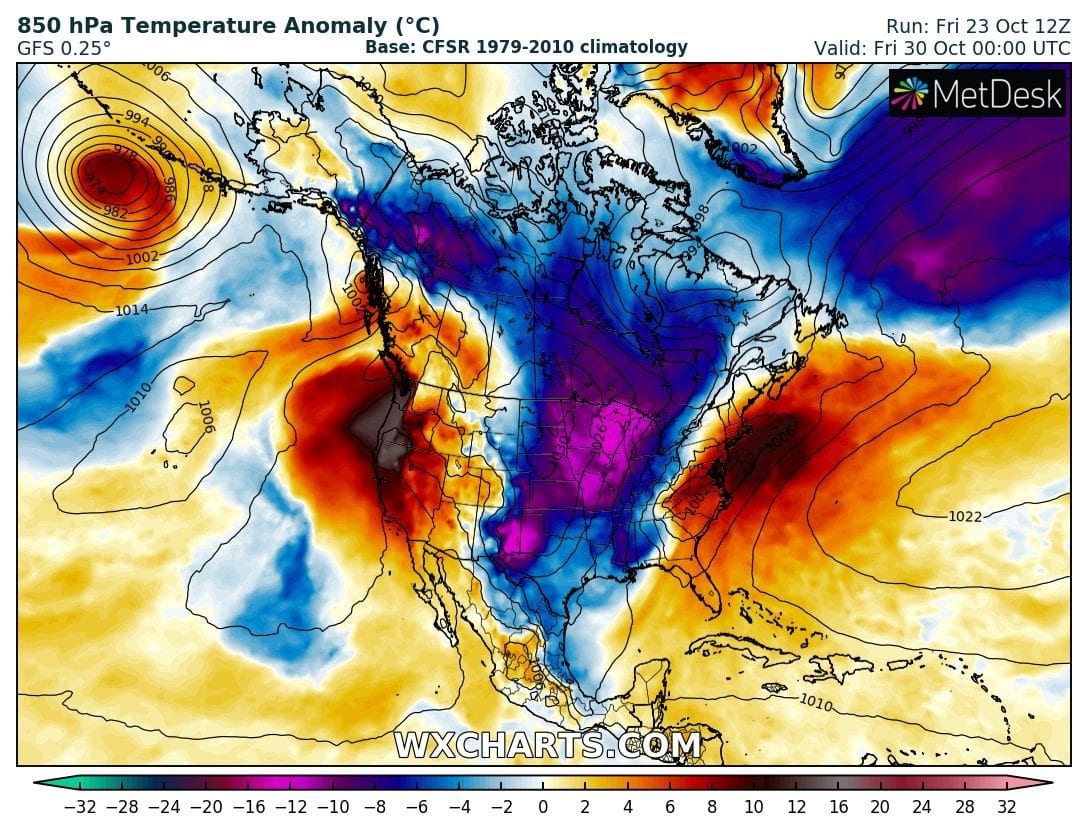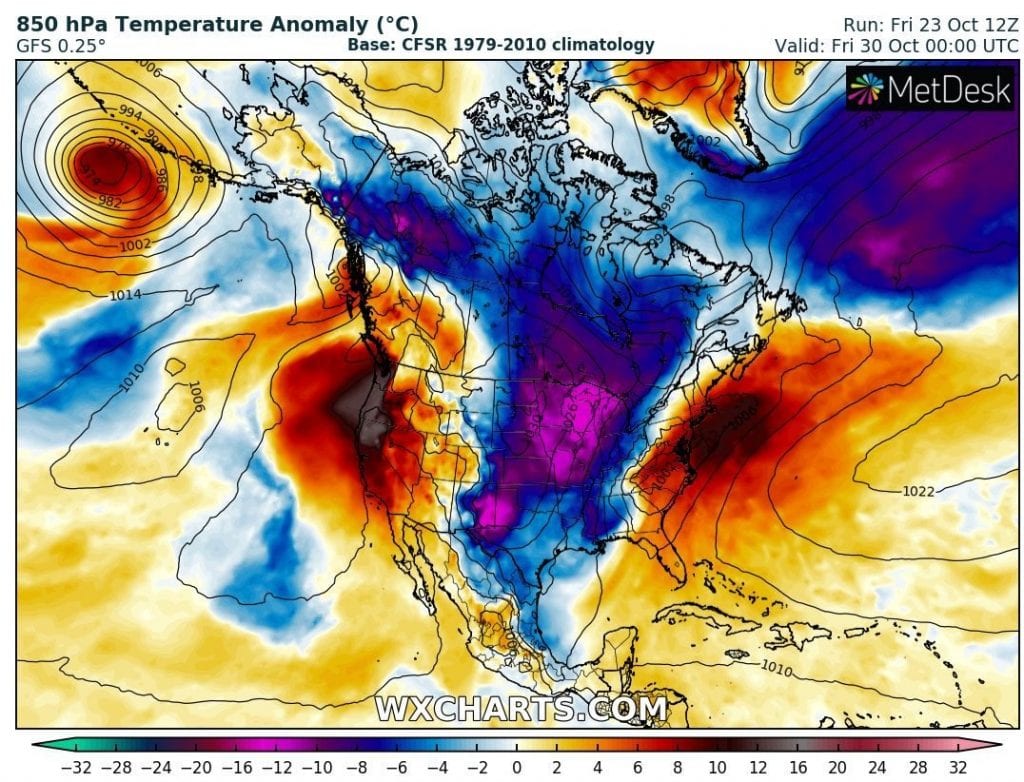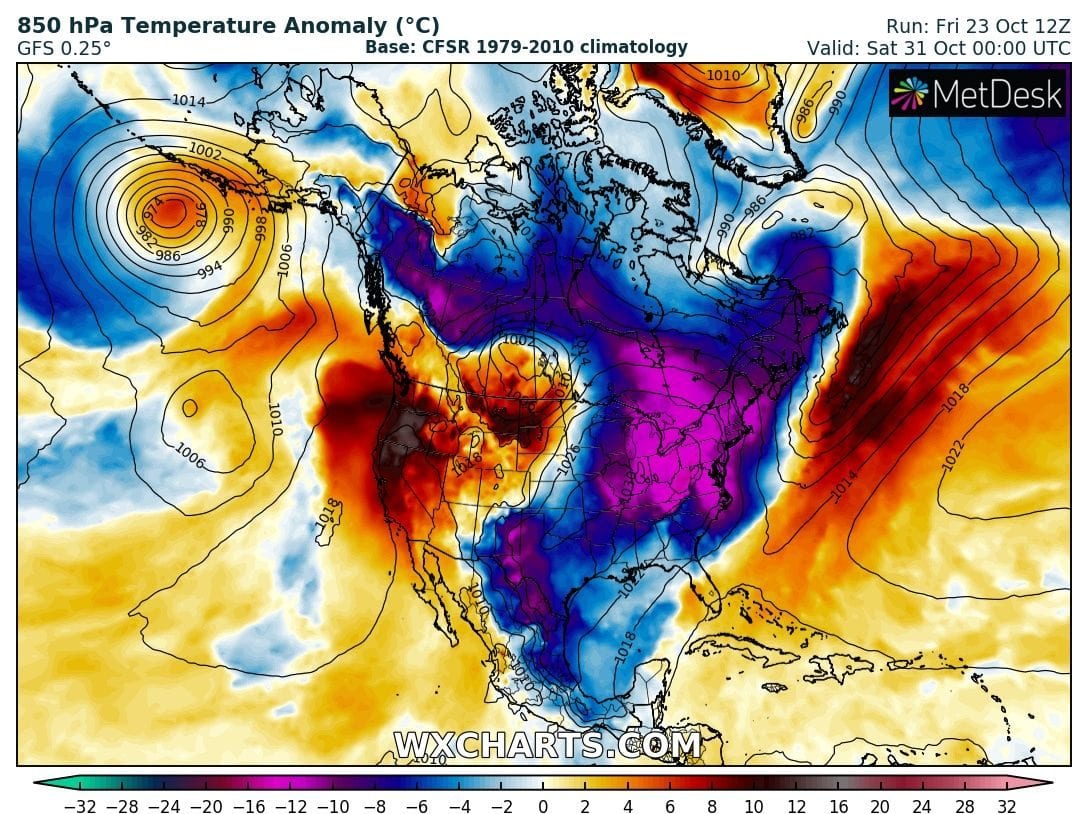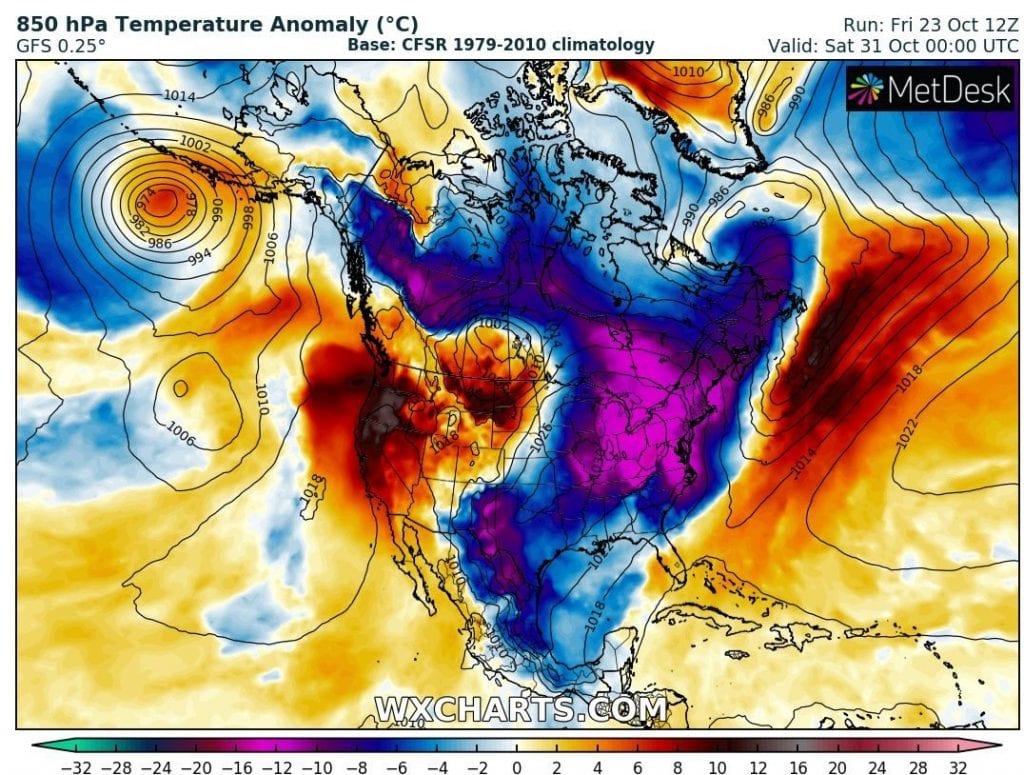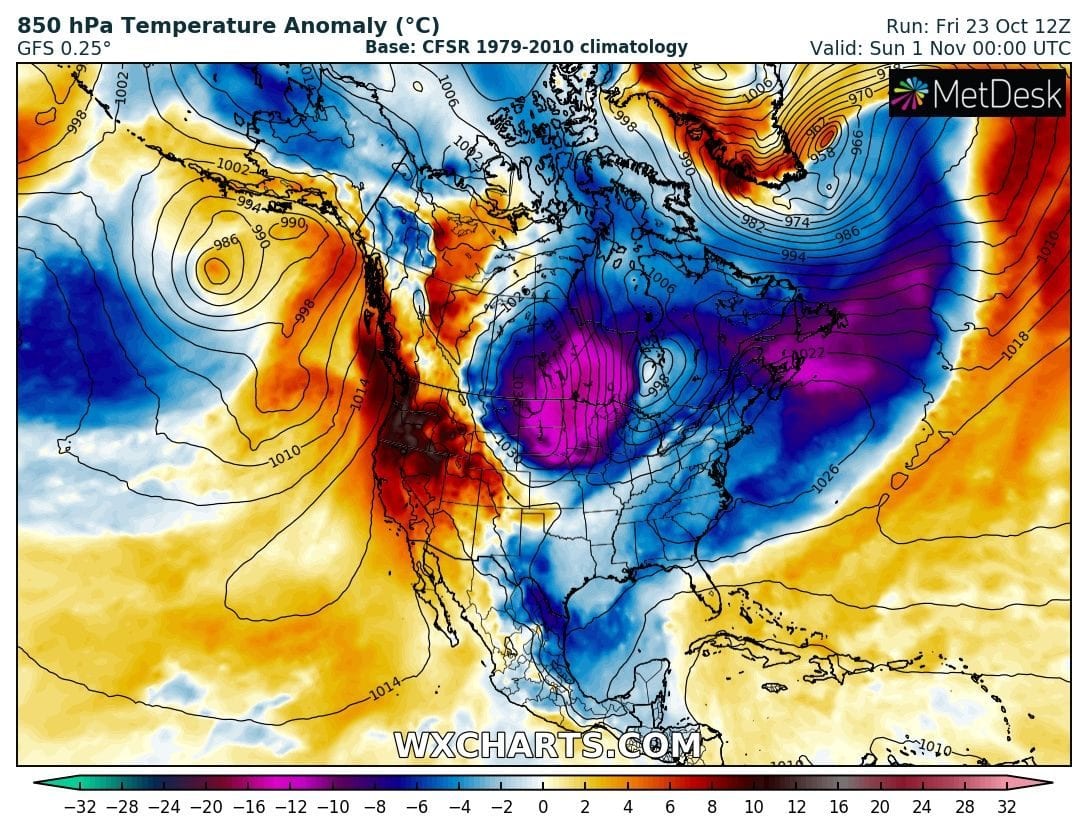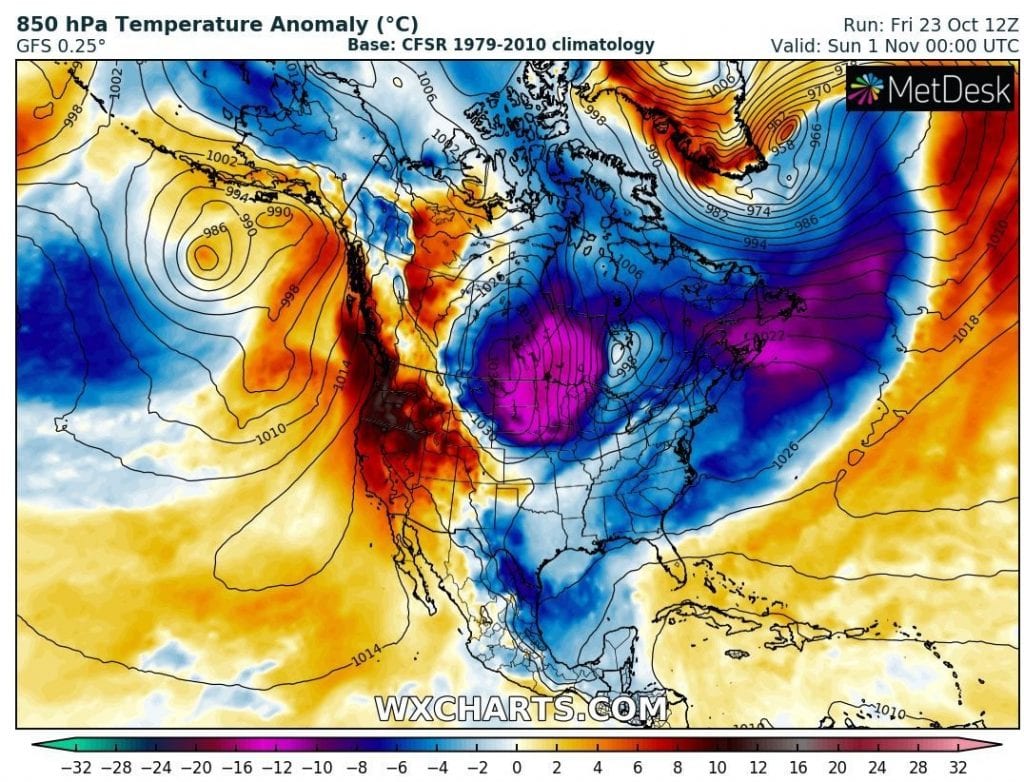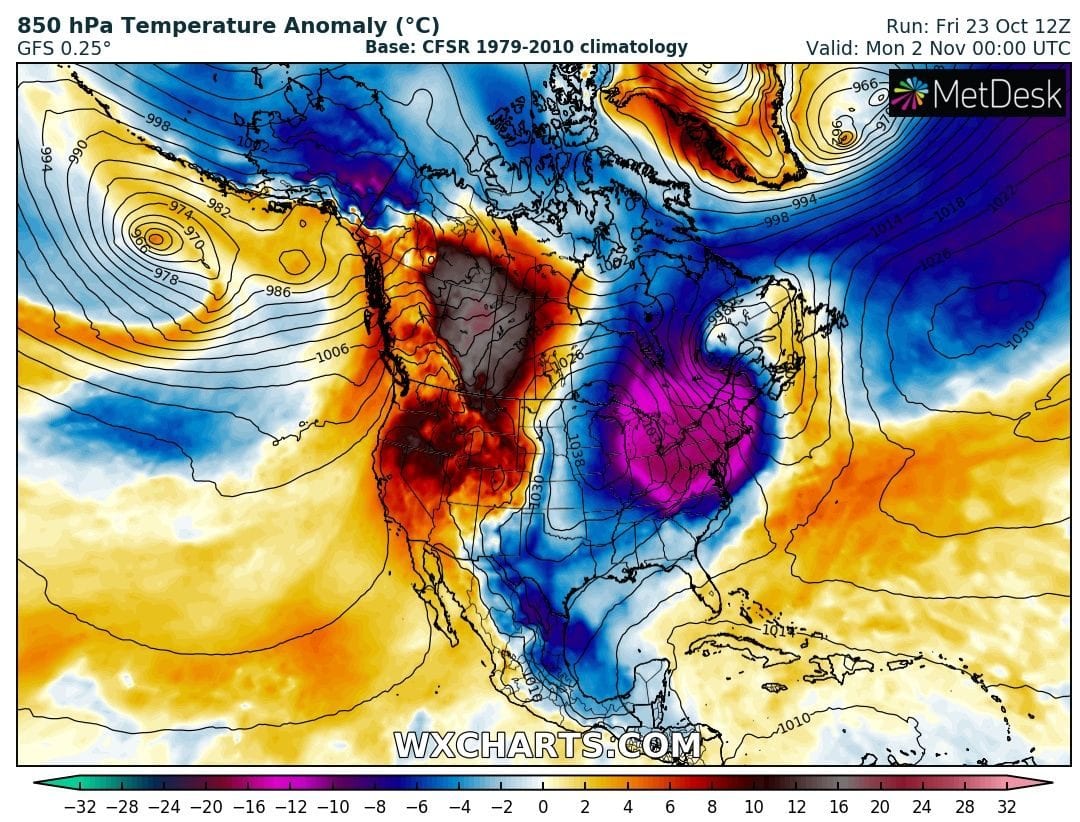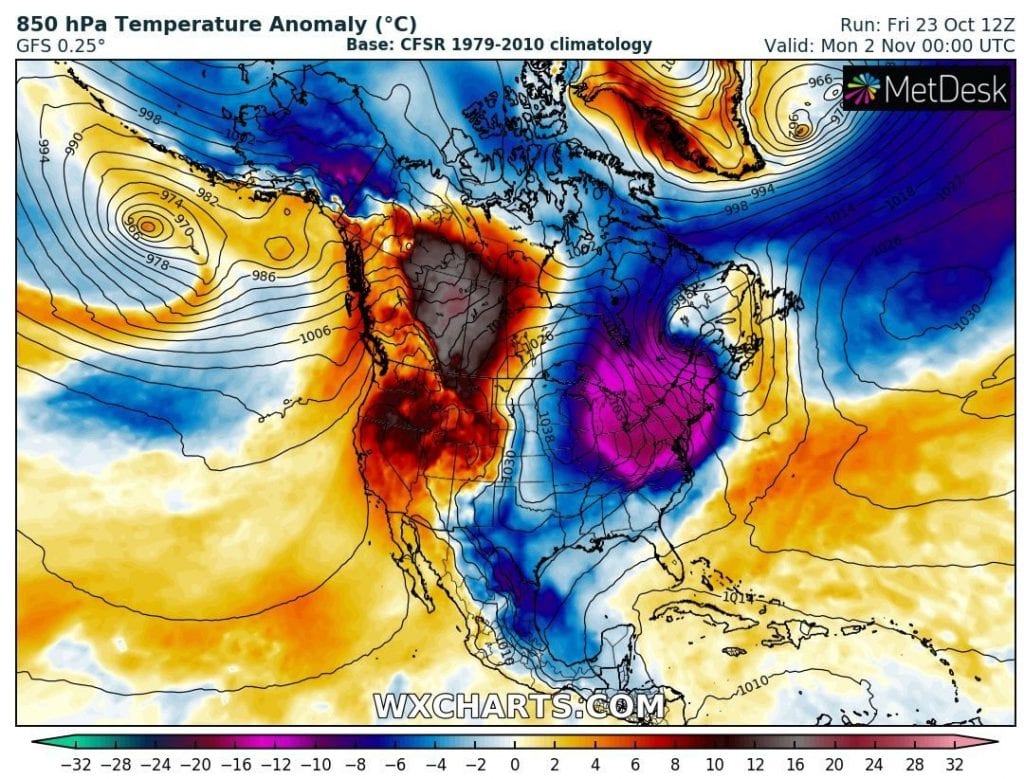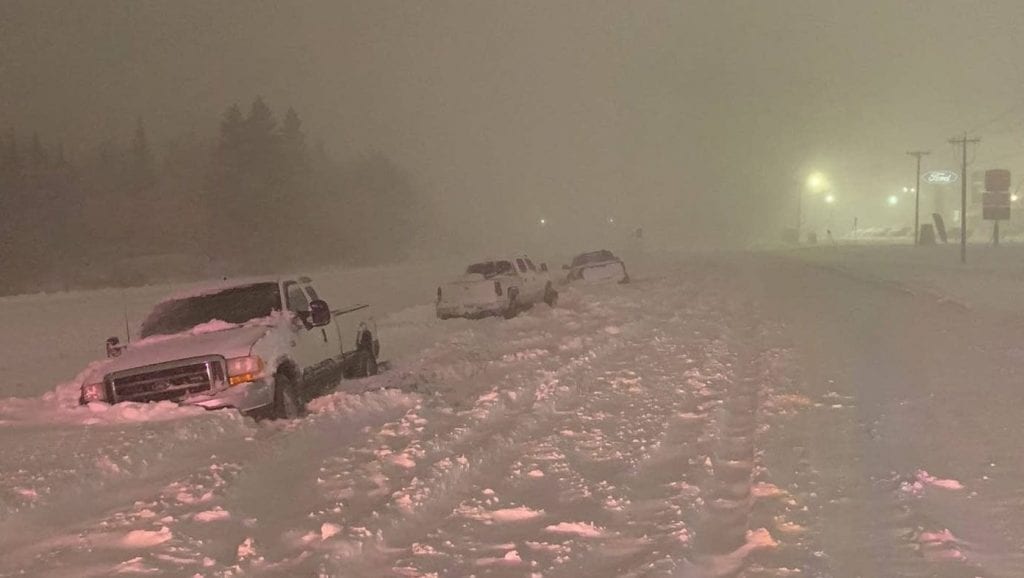 (Visited 742 times, 1 visits today)