Hurricane Isaias is linked with current coldave in Midwest and according to monthly forecast, a few states in the region will end probably with below temperature average in August 2020. Hurricane caused advection of Arctic air over central US and in Monday and Tuesday mornings, in International Falls station was measured only 39°F / +3,9°C. Temperatures reached autumn values across all area from Great Lakes to the Gulf Coast, e.g. Chicago reported maximum temperature only 71°F / 21,7°C or Kansas City only 75°F / 23,9°C.
According to NOAA "We've entered the dog days of summer across the United States which, along with continued summer heat, comes a climatological increase in hurricane activity in the Tropical Atlantic Ocean. (The season's average peaks occurs around September 10). The updated August 2020 outlook favors hotter-than-average temperatures along both coasts, while tropical moisture is likely to lead to a wetter-than-average August along the East Coast."
July 2020, however, ends extremely hot and in 1/2 of US territory as one from 10 the hottest Julies in history. In Phoenix, Washington D.C. and Philadelphia was recorded the hottest July in history, from the beginning of measures in 1872.
According to Weather Nation "Washington, D.C., experienced a record-setting 28 out of 31 days with high temperatures matching or exceeding 90 degrees. Philadelphia also set a record for the most 90-degree days in a month with 21 days of 90 [degree or higher] heat."
Forecasted temperature and precipitation anomalies over USA in August 2020 according to NOAA
Eastern US – Average temperatures in July 2020 and placement in TOP10 Julies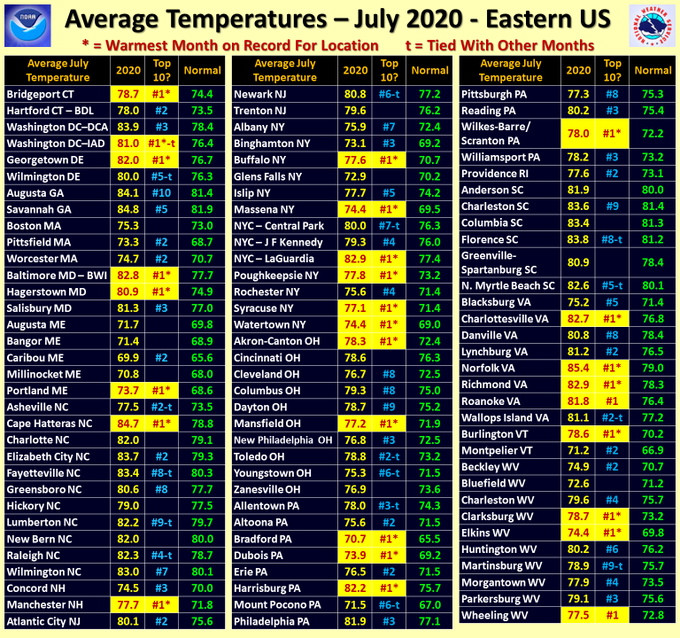 Midwest coldwave – read more:
https://www.accuweather.com/en/severe-weather/july-brought-the-heat-broke-a-slew-of-records-across-the-us/788248
https://www.accuweather.com/en/severe-weather/july-brought-the-heat-broke-a-slew-of-records-across-the-us/788248
(Visited 58 times, 1 visits today)