Australia with Christmas heatwaves: +47,9°C, and +40°C in Perth on Christmas day, the tropical system is coming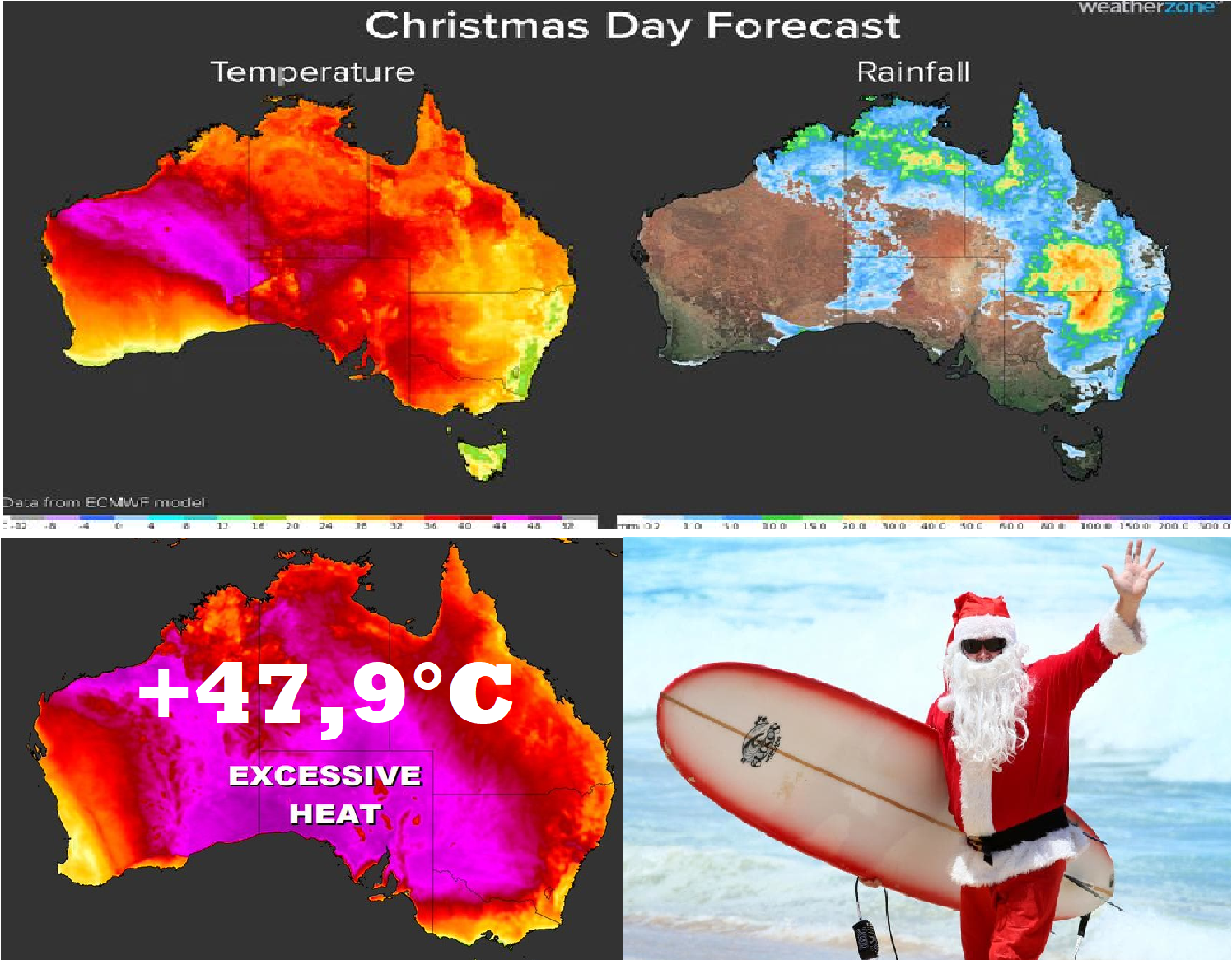 Already in the last article, we have warned before a severe heatwave, which hit Australia in the last period, with a possibility of wildfires /https://mkweather.com/australia-with-the-first-serious-heatwave-49c-with-catastrophic-fire-potential-up-to-christmas-after-the-coldest-november-in-history//.
Wildfire risk was, fortunately, lower, than was forecasted, but maximum temperatures reached the highest values of Summer 2021/2022
In Mardie, on 20. December 2021, +47,9°C was measured.
Simultaneously, the average December 2021 maximum temperature in Marble Bar is still above +45,0°C, which is making from a relatively unhabituated area in NW Australia a very hot place, despite ongoing La Nina, wet MJO, and negative IOD.
In Sydney, +33,7°C was on 19. December measured, Adelaide reported +37,7°C 2 days earlier, or Melbourne +34,3°C on 18. December 2021.
A tropical day even appeared in Hobart, Tasmania, with +31,5°C on 18. December 2021.
Brisbane reported +32,5°C on 20. December.
In Alice Springs, +43,2°C on 19. December 2021 was measured (a minimum temperature +30,5°C).
In Perth appeared +39,5°C on 8. December so far, but extremely hot Christmas, with above +40°C are forecast. It´s only around 2°C below all-time Christmas records.
Northern Territory and Queensland will be in the next days hit by a tropical system 97S Invest, with the next heavy rains and possible floods.
Christmas will bring severe storms in northern New South Wales, according to Weatherzone (weatherzone.com.au), too.
Overall stormy, rainy, and flood character of Summer 2021/2022 is forecast /Summer 2021/2022 forecast for Australia and Oceania here: https://mkweather.com/summer-2021-2022-forecast-for-australia-and-oceania-stormy-colder-la-nina-pattern-above-the-continent//, but extreme heatwaves in the region were possible mainly in the second half of the season, thanks to the transition from negative to positive IOD and the weakening of MJO, in combination with changes of still relatively powerful La Nina.