The Philippines BEFORE/AFTER total destruction: Supertyphoon Rai (CAT 5) – 396 dead +(aerial) footages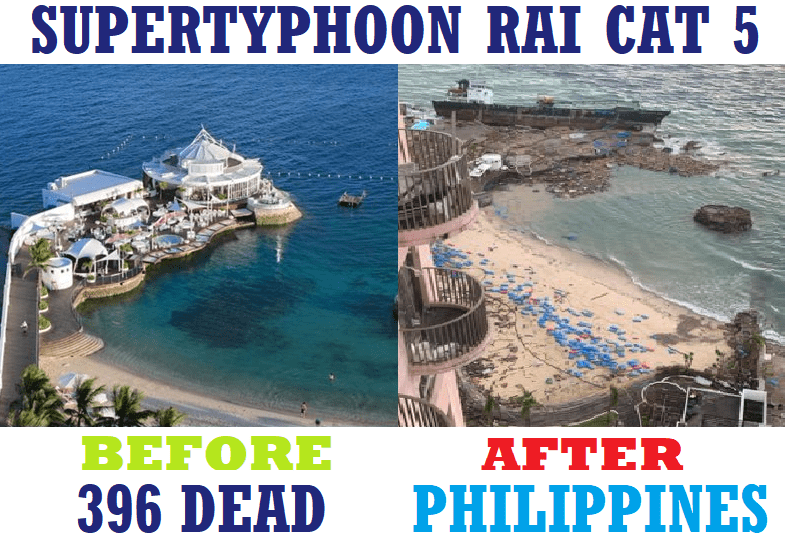 Only on 16. December 2021 we warned before severe Supertyphoon Rai, which was forecast to hit the Philippines in the next days /https://mkweather.com/category-5-supertyphoon-rai-with-320-km-h-winds-hit-the-philippines//.
Rai hit the country in full power and brought total havoc and devastation.
According to the last news, 396 people were killed and the next, 500 are seriously injured and 56 next are still missing.
1-minute sustained winds reached 260 km/h / 160 mph, with wind gusts at peak up to around 320 km/h.
The lowest temperature in the middle of the system reached 915 hPa.
Before the Philippines were hit Palau and the Caroline Islands, after Philippines Spratly Islands, Vietnam, China, Hong Kong, and Macau.
Almost all deaths are reported from the Philippines, some from Vietnam.
Estimated damages reached 730 million USD.
Approximately 10 000 towns and villages in the Philippines were hit by the center of the system.
Up to 1 000 000 people were displaced.
A few days after supertyphoon, the first shocking footage and comparisons before and after and videos have appeared on the internet and we attached some materials to this article.
E.g. Movenpick Cebu, where the bar was totally wiped out by the sea (title picture).
The next materials are showing extensive floods after several hundreds of millimeters of rainfall.
The next videos are showing the devastating power of winds, heavy rains, flooded regions, or colossal havoc after the storm regions.
About 20 storms and typhoons batter the Philippines every year. The archipelago is also located in the seismically active Pacific "Ring of Fire" region, which makes the region one of the most disaster-prone areas in the world.
Therefore, if you live in the Philippines, don´t forget to watch current weather, volcano, and seismic warnings continuously.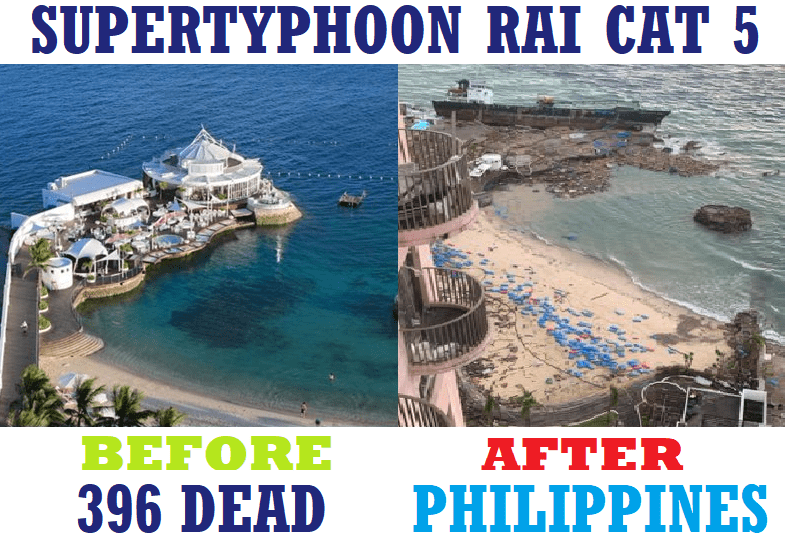 Illustration picture: XRPunks Twitter