South Korea suffered devastating damage from its longest monsoon season on record, which lasted 65 days starting June 24. Some 37 people died, with five others still missing. More than 30,000 cases of property damage were reported.
The Korea Meteorological Administration said Wednesday that as of 4 p.m. Typhoon Bavi was 200 kilometers west of Jeju Island. The tropical storm had a maximum wind speed of 162 kilometers per hour and an atmospheric pressure of 945 hectopascals at its center, when hit island.
The eighth, strongest typhoon of this year, which formed off the east coast of Taiwan last week, has been gaining strength and intensity over the past few days and earned the "very strong" typhoon designation at 9 a.m. Wednesday, three hours earlier than originally expected. The "very strong" rank is the second-highest classification on the weather agency's five-level scale introduced in May.
A typhoon with wind speeds of 194 kilometers per hour earns the "super-strong" rank. In a "super-strong" typhoon, serious damage can be expected, from trains derailing to cars and people being swept into the air, the KMA warned.
In South Korea, more than 470 domestic flights in and out of Jeju and the southern mainland city of Busan were cancelled. South Korean authorities also halted some railroad services, shut down public parks and sea bridges and moved hundreds of fishing boats and passenger vessels to safety.
Some 160 ferries operating on 99 routes were suspended, while trains connecting the country's southern regions were also put on hold in precautionary measure.
It was exceptional that North Korean TV routinely interrupted movies to report storm updates. Bavi had packed maximum winds of 133 kilometres (83 miles) per hour when it made landfall early Thursday in a western coastal region of North Korea that is a major source of farming and fishing in a nation that deals with chronic food shortages.
Bavi is similar to Typhoon Lingling in 2019 and typhoon Bolaven in 2012 in terms of its strength and its course.
Northwest of Pyongyang later that day before dying out near Harbin, China, Friday.The weather KMA agency said it is possible that Bavi will surpass 2003's Typhoon Maemi in terms of wind speed. Typhoon Maemi devastated many regions with gusts of up to 216 kilometers per hour.
The typhoon is forecast to pour up to 500 millimeters of rain on Jeju Island, up to 150 millimeters on the Jeolla provinces and up to 100 millimeters on other regions. The influence will be greater in the country's western regions.
China's National Meteorological Center (NMC) on Thursday renewed a red alert, the highest warning level, for typhoon Bavi, which is expected to bring gales and rainstorms to the country's northeast region.
The typhoon, eighth of this year, is expected to move northward before making landfall in the coastal areas between Donggang city of Liaoning province and North Korea's North Pyongan province, reports Xinhua news agency.
Ex-typhoon partly hit close regions of Russia and northern Japan til end of the week (after it hit southwestern parts this week), where heavy rain is expected.
Video and photodocumentation of strong typhoon Bavi: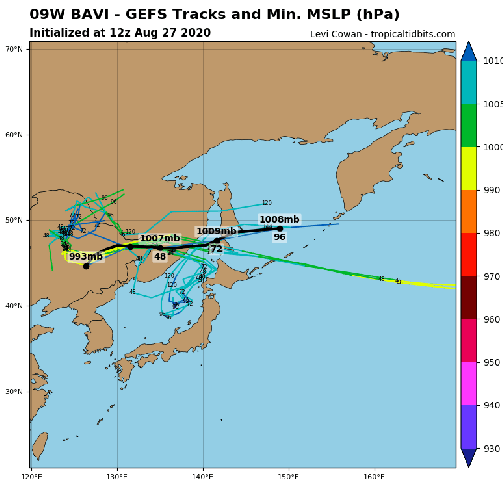 https://www.smh.com.au/world/asia/typhoon-bavi-makes-landfall-in-north-korea-20200827-p55pwk.html
https://www.thestandard.com.hk/breaking-news/section/6/154014/Typhoon-Bavi-destroys-facilities-in-southern-Korea,-hundreds-of-flights-halted
http://nwww.koreaherald.com/common/newsprint.php?ud=20200826000757
https://www.accuweather.com/en/hurricane/bavi-lashes-korean-peninsula-moves-into-china/799752
https://www.thestar.com.my/aseanplus/aseanplus-news/2020/08/27/typhoon-damages-buildings-floods-roads-on-korean-peninsula
https://www.express.co.uk/news/world/1327331/Typhoon-Bavi-update-satellite-images-NASA-typhoon-Bavi-North-Korea-warning
(Visited 44 times, 1 visits today)