In one from the last articles we have informed about the first snowing in Libya in 15 years and widespread snowfall in Middle East /https://mkweather.com/2021/02/20/snow-in-libya-after-15-years-blizzard-too-in-syria-jordan-lebanon-iraq-saudi-arabia-snowstorm-2021//.
In another articles, we have described anomalous arrival of Siberian air masses into Africa, including southern parts /https://mkweather.com/2021/02/19/siberian-winter-in-subequatorial-africa-south-sudan-chad-niger-and-nigeria-only-around-20c/; https://mkweather.com/2021/02/20/siberian-air-crossed-equator-temperatures-dropped-to-20c-2021//.
Now, we should look at anomalous and very rare snowfall event in Israel – Jerusalem in last workweek namely reported the first snowfall in 8 years!
The city eevated around 700 – 800 MASL got unexpectedly heavy snowfall, after arrival of Siberian outbreak from Europe. In Europe, during the first two February 2021 decades, many temperature records were overcame (summary of European records in one from African articles, too).
Surprised inhabitants and tourists immediately took many photos, because it is not fully clear, if similar event hit the city during the next 10 years, until 2030.
Snowy weather hit parts of Middle East above 600 – 800 MASL during last days and coldwave will be persisting in the region minimally until Wednesday, 24. February 2021.
Snow was gradually reported from Lebanon, Syria, Israel, Jordan, Saudi Arabia, Iraq and in the next period, coldwave will shift above Iran, Afghanistan or Central Asia.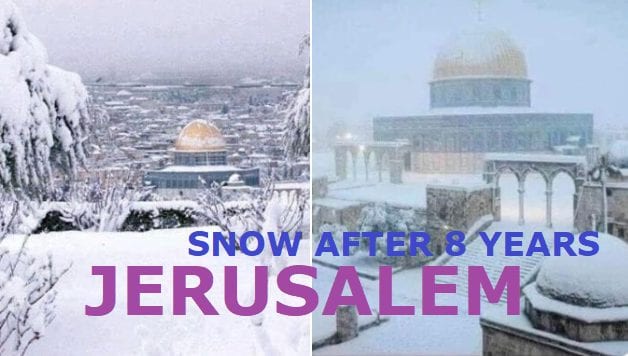 Read more:
(Visited 44 times, 1 visits today)