Del Rio, southern Texas: 28 cm / 11.2 inches of snow – a new all-time record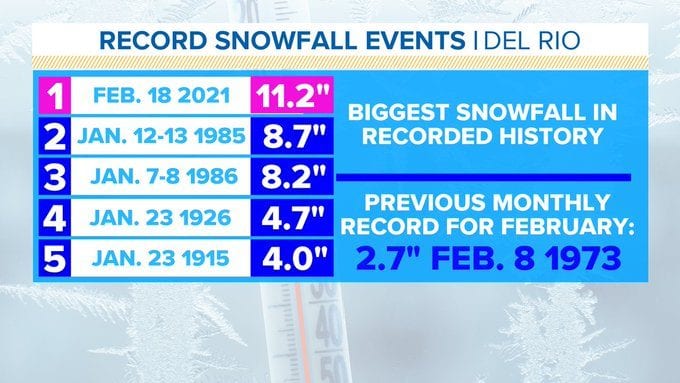 Last week brought many surprises not only in Europe or Africa, but too in the USA and Canada, including the southernmost territories.
Powerful blizzard hit Texas and northern Mexico, where caused power outages for more than 10 million households.
In Texas -20°F / -28.9°C was measured, what is only 3°F from all time temperature record, moreover, all-time snowfall records were widely observed, including the biggest cities, e.g. Del Rio, on border with Mexico.
Del Rio reported in the middle of workweek 11.2 inches (28,5 cm) of snow, what is the highest snow cover since the start of meteorological measurements!
Snow cover was reported from 73,2% of territory of the USA, what is the highest area since modern measurements began.
Before an arrival of extreme coldwave, deadly F3 tornado appeared in North Carolina.
Extreme winter at the weekend has shifted from Texas and Midwest to Northeast – blizzard is reported from New York and temperature anomalies are two-digits below long-term averages.
Warmer period is expected already during the next week, but between 27.2.-3.3., next powerful coldwave is expected to hit the USA. Winter should easily return before 10. March, again, mainly into western half of the country.
Warm, spring weather, is expected mainly in eastern half of the USA between 5.-10. March 2021.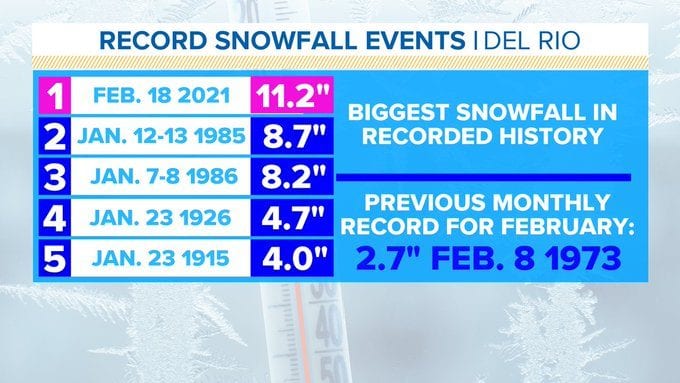 Read more: