Belarus -28,7°C, Lithuania -27,5°C, Estonia -25,1°C: next night will be deadly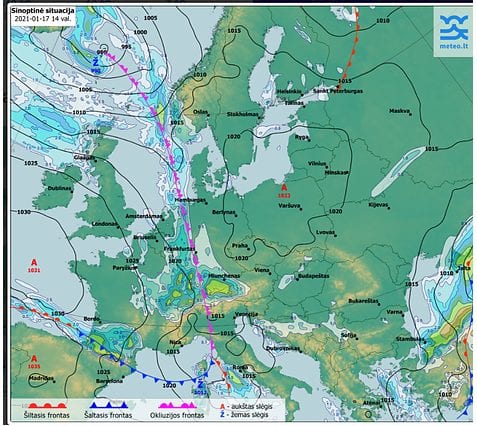 Belarus with extreme strong frosts up to -28,7°C, Lithuania up to -27,5°C and Estonia up to -25,1°C on Sunday and it should be even worse!
In Belarus, temperatures dropped minimally to -28,7°C (Sluck) and maximum temperature in the city reached freezing -19,9°C on Saturday. In Klicev, temperatures dropped up to -26,2°C and maximum temperature reached -20,0°C, Minsk reported -25,0°C in Sunday´s morning.
In Šeduvoje, central Lithuania, -27,5°C was in Sunday´s morning measured, Kybartai on Polish border reported -27,3°C and Ukmerge more eastward -26,9°C /https://www.delfi.lt/news/daily/lithuania/salciausia-sios-ziemos-naktis-kai-kur-temperatura-krito-iki-daugiau-nei-27-laipsniu.d?id=86251659/.
Below -20°C temperatures dropped in coastal regions, e.g. Klaipéda, -20,5°C.
According to Lithuanian news /https://www.lrt.lt/naujienos/lietuvoje/2/1322006/sulaukeme-salciausios-ziemos-nakties-kai-kur-stingde-27-laipsniai-salcio-kita-savaite-staigus-atsilimas/, the worst situation in roads is in neighboring parts with Poland.
In Estonia, -25,1°C (Korela) was measured on Sunday and this temperature should be overcame, too, during the next night. In Koodu meteorologists measured -25,0°C or in Jogeva -24,6°C.
Temperatures up to -31°C in Latvia, too, what will be a topic of the next article /https://balticnewsdesk.com/temperatures-dip-to-minus-30-celsius-in-latvia-article-eng-lsm-lv//.
Forecasts for the next night are uncompromissing, with monstruous Siberian high over Baltic region, Carpathians and Balkan, with possibility of frosts in Baltic states below -30°C, similarly such as in Poland or other Carpathian countries such are Czechia, Slovakia or Romania /https://mkweather.com/2021/01/17/poland-the-coldest-night-since-2012-is-here-after-27c-on-sunday-below-30c-on-monday-expected-extreme//.
In Poland and Baltic states however, extreme low temperatures should surprise not only in basins and valleys, but too in lowlands.
Frosts like this should are asociated with higher incidence and mortality of many diseases /https://mkweather.com/2021/01/16/heart-attack-influenza-cancer-frostbites-hypothermia-covid-what-you-should-to-know-about-arctic-and-siberian-coldwaves//, therefore stay safe and watch weather furthermore with Mkweather.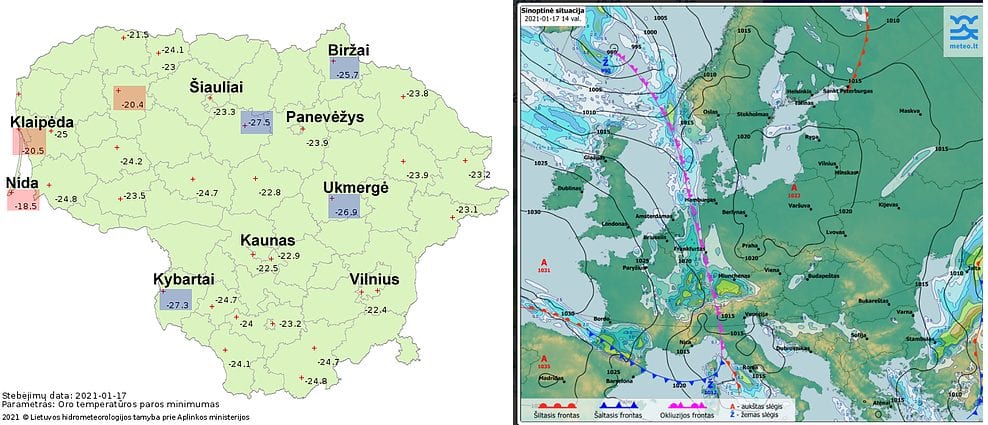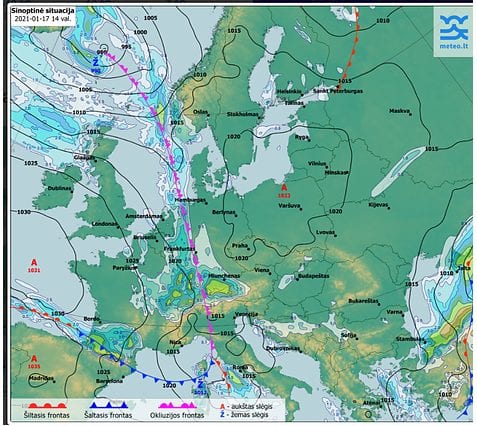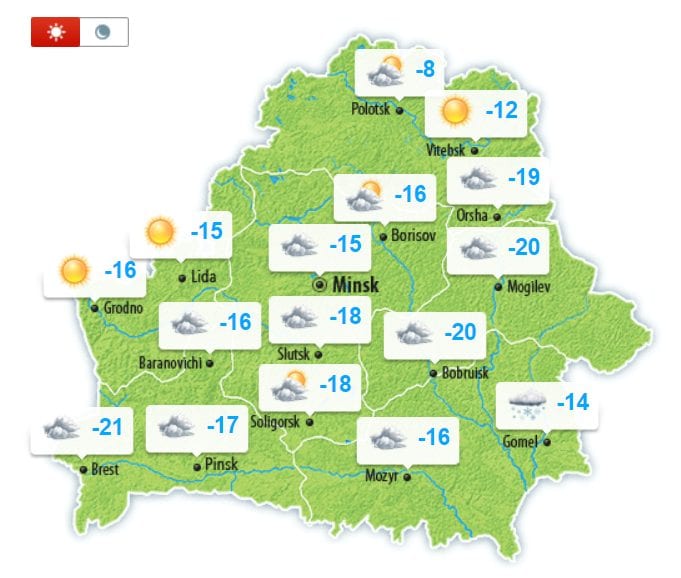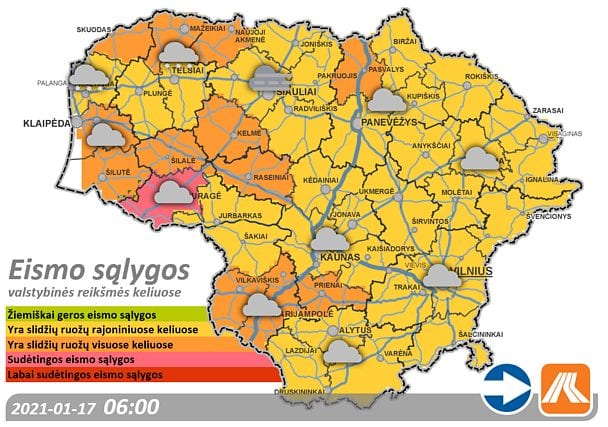 Source: https://www.lrt.lt/naujienos/lietuvoje/2/1322006/sulaukeme-salciausios-ziemos-nakties-kai-kur-stingde-27-laipsniai-salcio-kita-savaite-staigus-atsilimas
Read more: