Big Agricultural Forecast for World 2021: Weather patterns, NAO signals and ENSO signals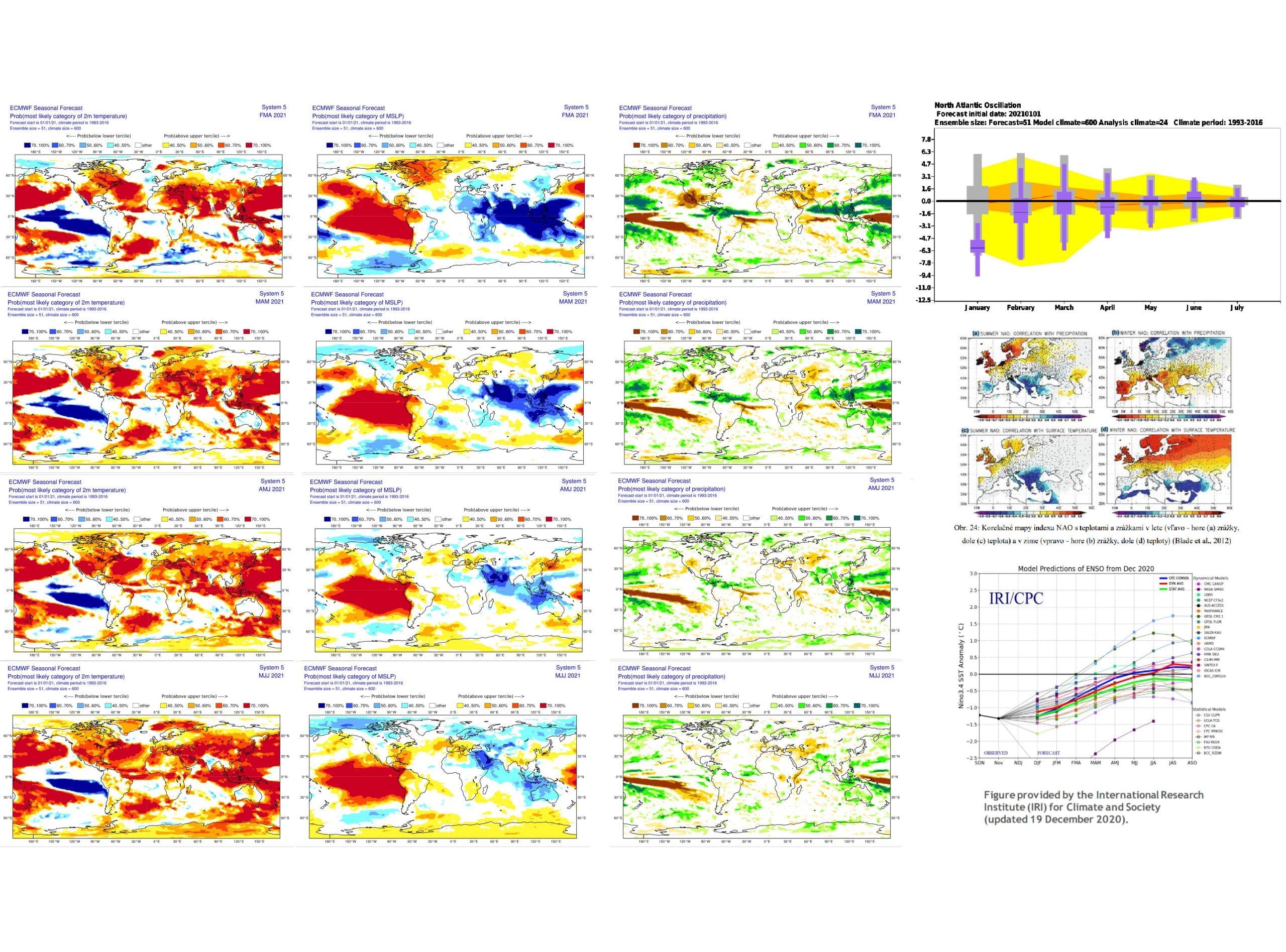 Due to big interest for long-term forecasts, Mkweather decided to publish current long-term outlook for agricultural secotor for Spring 2021 according to ECMWF / next half year (until July 2021) according to NAO signals and for all year 2021 according to ENSO signals.
Europe
According to ECMWF, it should be warm Spring 2021, with possibility of cold or neutral monthly anomalies only over western coasts of the continent (Portugal, Bay of Biscay, British Islands, Scandinavia).
Positive air pressure anomalies during the Spring 2021 are above Europe expected, only Scandinavia, Baltic region and Northern European Russia in the second half of the spring (and too February) expect negative pressure anomalies.
Expected drought in Mediterranean and southern half of Europe and more precipitation in northern half of Europe should be associated with possible prevailing NAO+ phase during the Spring 2021.
However, signals of NAO for Ferbuary and April are negative (NAO-) what should mean prolonged winter conditions in February and late frosts (dangerous for harvest).
According to ENSO signals, February and April should bring more cold spells and March and May more warm spells, summer a lot of heatwaves and thanks to the incoming El-nino, in many regions should appear drought (NAO signal for June NAO+, El-nino in August should bring Azores high in more norhtern positions).
Autumn should be in El-nino warmer than previous, but with early cold blasts in October 2021 and warm and dry weather i November 2021.
Upcoming El-nino should bring more favorable conditions in agriculture for western and central Europe (Agriculture stress index maps below), but very bad conditions to eastern Europe and central Asia (fertile steppes, grain cultivation) in the second half of season 2020 (JUL/AUG-NOV), in contrary with the first half of the season 2020.
North America
Spring should be warm, in southern USA extremely warm, only in Alaska and western Canada should persist cold La-nina weather pattern. Baja California in February should be very cold.
Pressure throughs over central parts of Canada and the USA should mean more precipitation for northwestern USA and western Canada, and more warm spells for Midwest and eastern parts of the USA and Canada.
However, in Southwest (California, Arizona, Nevada,…), later even in Rocky Mountains, is expected extreme drought.
According to NAO signals, in March should surprise early, in May late coldwaves with frosts mainly in densely populated parts of Canada (Great Lakes), Northern Plains, Midwest and Northeast.
According to ENSO signals, cold pattern in Alaska and western Canada should end gradually next half year. Mainly Summer 2021 should be hot in many parts in the northern half of the USA and in Canada thanks to incoming El-nino, however, in southern half of the USA it shouldn´t be so hot such in previous year (2020) in the Summer and during the Autumn 2021.
Hurricane season at the end of Summer 2021 and during the Autumn 2021 should be weaker, what means less threats of severe floods for southern and eastern states.
Upcoming El-nino phase should make problems with drought mainly in grain and corn belt in the USA in the second half of the season, while Agriculture stress index in the southern USA should be thanks to colder and calmer conditions favorable (all in contrary with the first half of the season 2020.
Asia
Warm Spring, expect for northern and eastern Siberia and parts of India (thanks to monsoon rains associated with La nina, MJO and IOD phases), are forecasted.
Over southern half of Asia, low air pressure patterns should be dominant until April 2021 thanks to La-nina, in the north oppositely high pressure patterns with more frosts and cold spells. Situation should change around May 2021, when already India and SE Asia expect after long period of floods and rains finally positive air pressure anomalies (but possible drought thanks to El-nino in the Summer and Autumn 2021).
In Middle East howewer, despite of low pressure anomalies, severe drought is during the Spring 2021 expected.
March and May in Asia should bring more early extreme heatwaves, while in April, risk of late Spring coldwaves is possible, thanks to expected NAO-.
ENSO signal is clear – tropical activity in southern half of Asia should continue minimally until the May 2021, while in the Summer and Autumn 2021, dry conditions above monsoon Asia are expected. El-nino in Asia should be in the second half of the year linked with increased frequency of temperature extremes – warm and cold spells both, because El-nino is often associated with AO-/NAO- phase. Only around month November it is reversely (NAO+) /Table of intercorrelations between telleconnetions here /https://mkweather.com/2020/09/24/updated-forecast-for-winter-2020-21-still-nao-ao-in-first-half-of-winter-nao-ao-in-second-half-of-winter-permanent-la-nina-and-surprisingly-easterly-qbo-possible//.
During the first half of the year 2021, Agricultural stress index, thanks to many precipitation will be good for SE Asia, but bad for China, while the second half of the year will bring bad agriculture conditions for SE Asia and better conditions for parts of China thanks to El-nino. In India, both extremes, La nina and El-nino, are over continental parts unfavorable (May, June, July should be neutral what should be good).
South America
Warmer conditions in Argentina and eastern Brazil and colder in the coast of Peru and northern Chile during the Spring will be still copy La-nina pattern. It will be linked with high pressure conditions above continent during the Spring 2021, only in eastern Brazil with low pressure anomalies. Colombia, Venezuela, Guyana and northern Amazon will be extremely rainy, while rest of the continent drier.
Reversed, El-nino pattern, should have in late Summer 2021 and in Autumn 2021, opposite behaviour in many parts of Southern America /maps here: https://mkweather.com/2020/11/14/forecast-for-world-winter-2020-21-and-summer-2021-according-to-enso-predictions-strong-la-nina-winter-neutral-summer//.
While El-nino means better Agriculture stress index for southern Brazil and worse for Argentina, eastern Brazil and Colombia/Venezuela, La-nina is quite reversely, with better conditions in eastern Brazil and worse in many other regions.
Australia
Cold, rainy and low pressure Summer 2020/2021 and Spring 2021 should replace warm, dry and high pressure late Winter and Spring 2021 (AUG-NOV 2021), thanks to shift from La-nina to El-nino.
Next summer, 2021/2022 should bring more extreme heatwaves and wildfires such as current, because El-nino phase should be very strong.
La-nina in Australia has more favorable Agriculture stress index than El-nino.
Africa
Warm spring in northern but colder in southern Africa is expected, thanks to La-nina. La-nina will cause negative air pressure anomalies above Africa in early Spring 2021, but in late Spring 2021 (in Southern Hemisphere Autumn 2021), is should appear positive air pressure anomalies above northwestern and southern Africa. These anomalies should increase during the Summer 2021, what should mean more Saharan heatwaves during the summer and colder, anticyclonic Winter 2021 in southern parts of Africa.
El-nino will bring to Africa lower precipitation amounts what should mean severe drought in many regions from in the second half of 2021.
El-nino has much worse Agriculture stress index for Africa, than La-nina, therefore, the first half of the year 2021 will be more happy, here.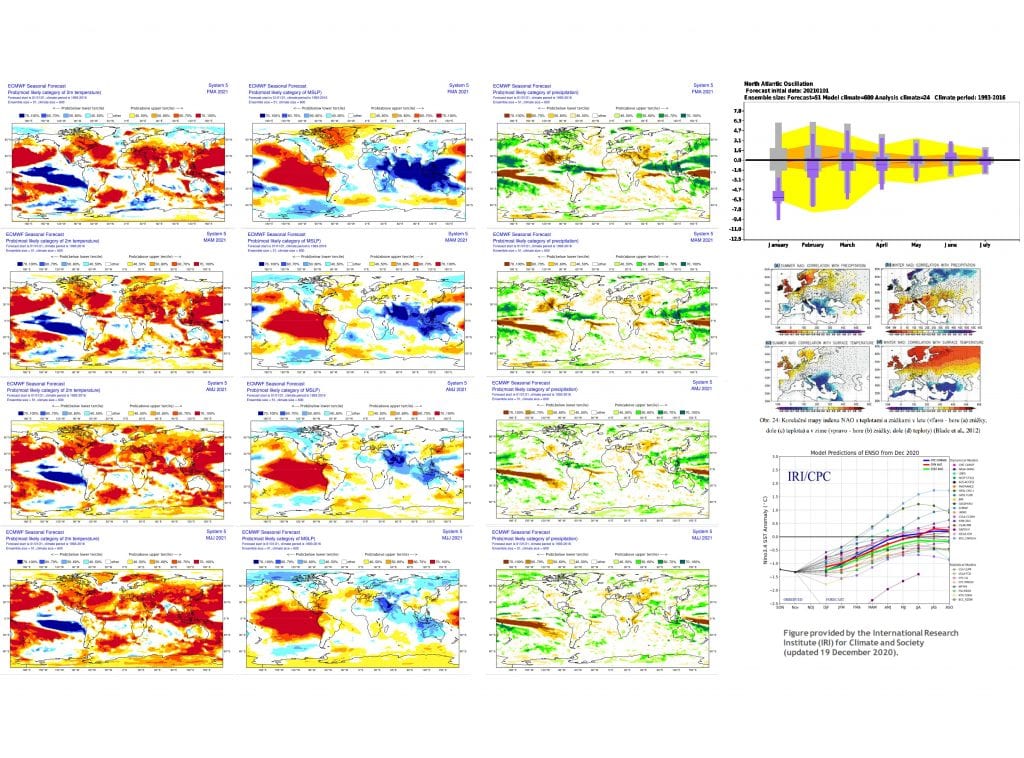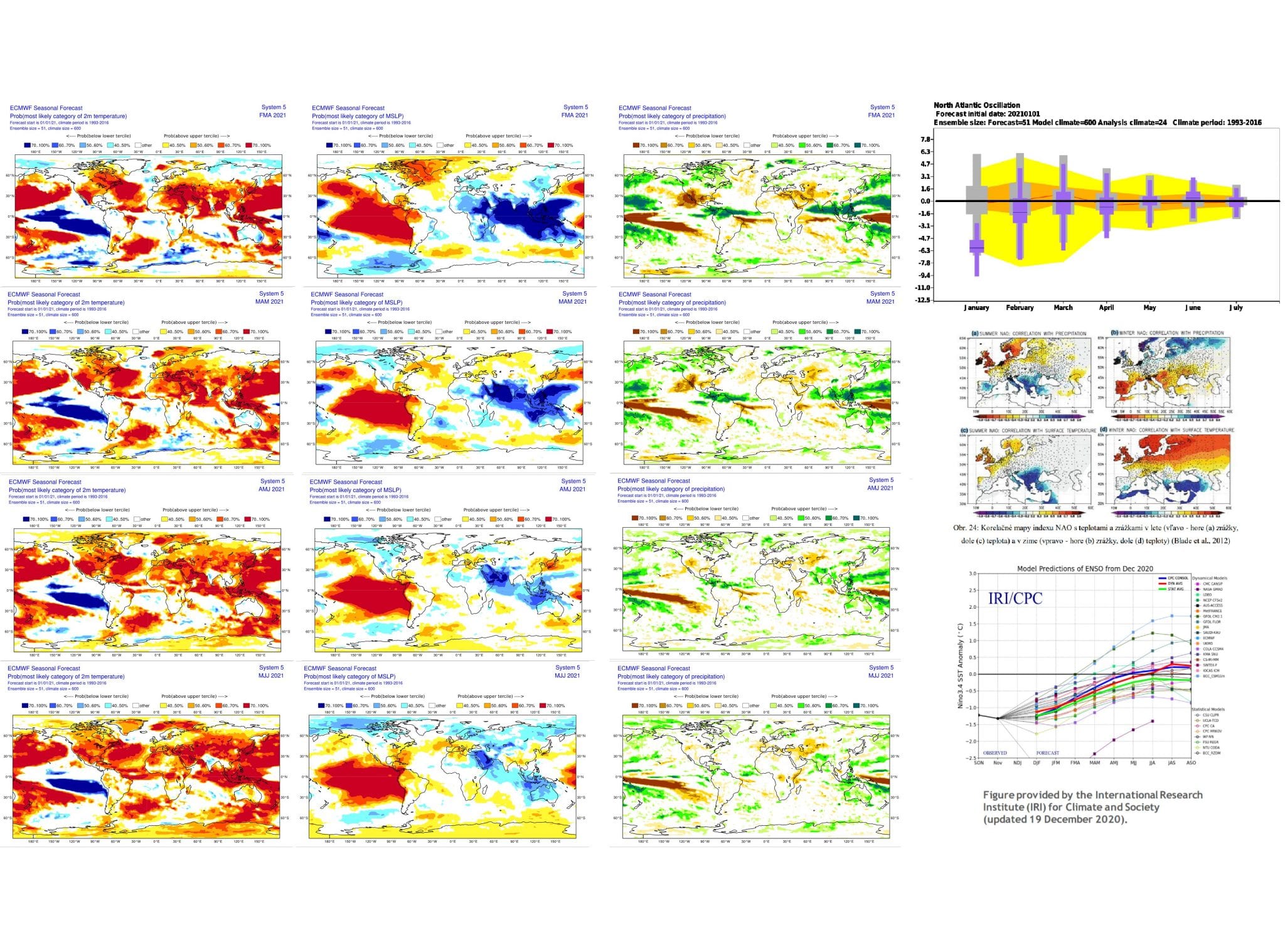 Forecasted temperature, air pressure and precipitation anomalies for FEB – MAY 2021 /ECMWF
Source: https://www.ecmwf.int/en/forecasts/charts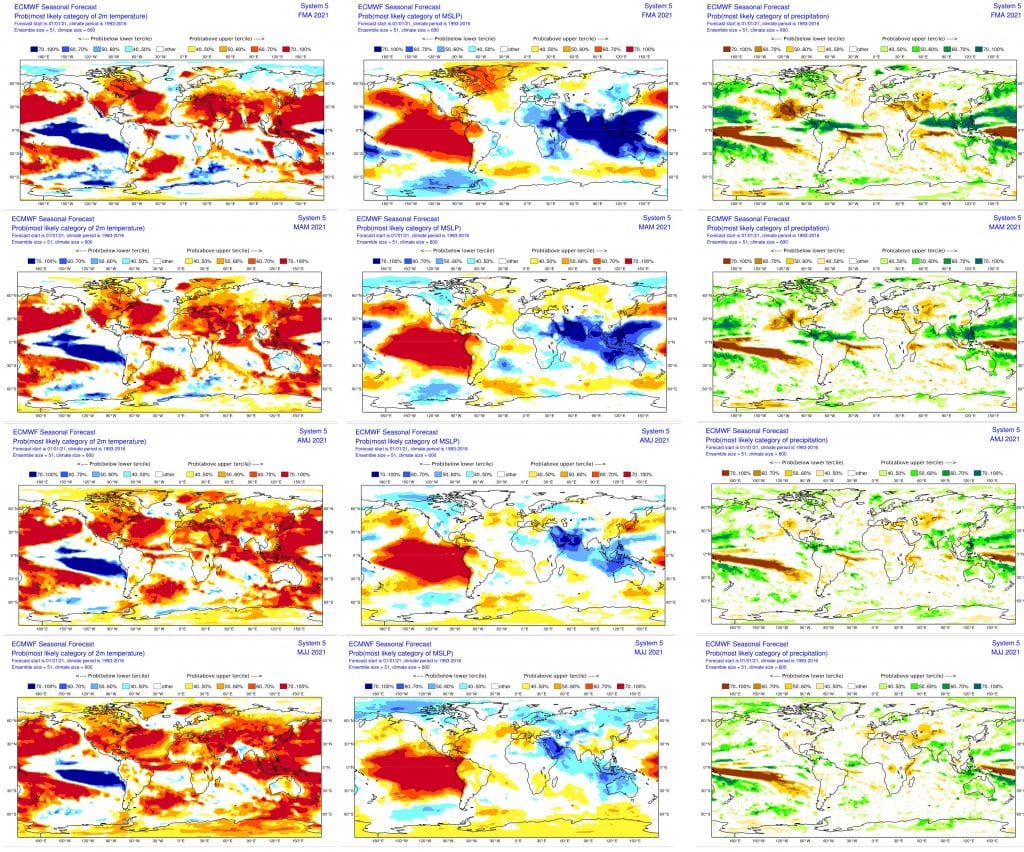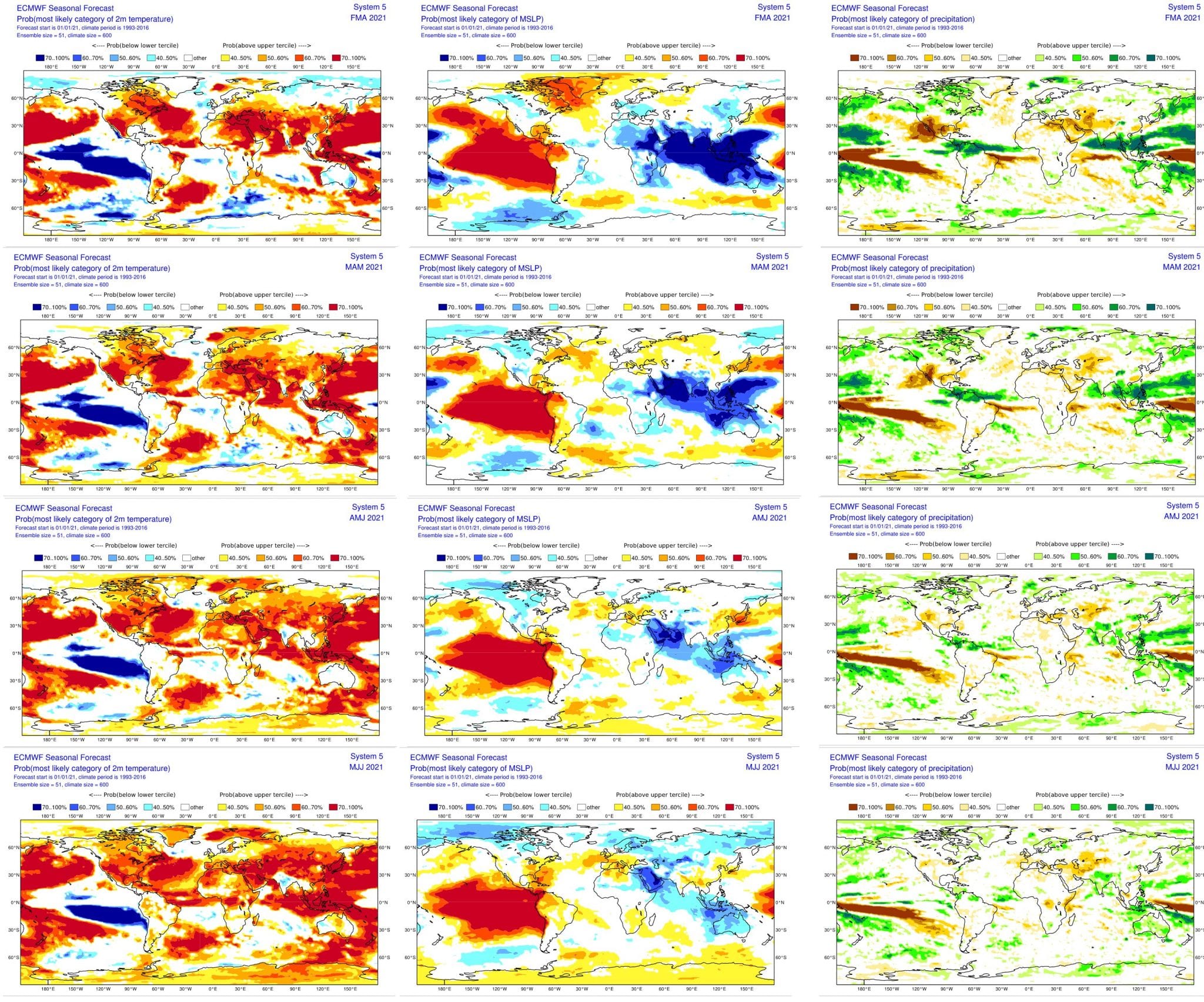 NAO index singals for next 0,5-year and correlations NAO with temperatures and precipitation in the winter and summer (Blade et al., 2012)
Sources: https://www.ecmwf.int/en/forecasts/charts
Blade I. , Liebmann B. , Fortuny D., 2012. Observed and simulated impacts of the summer NAO in Europe: implications for projected drying in the Mediterranean region, DOI: 10.1007/s00382-011-1195-x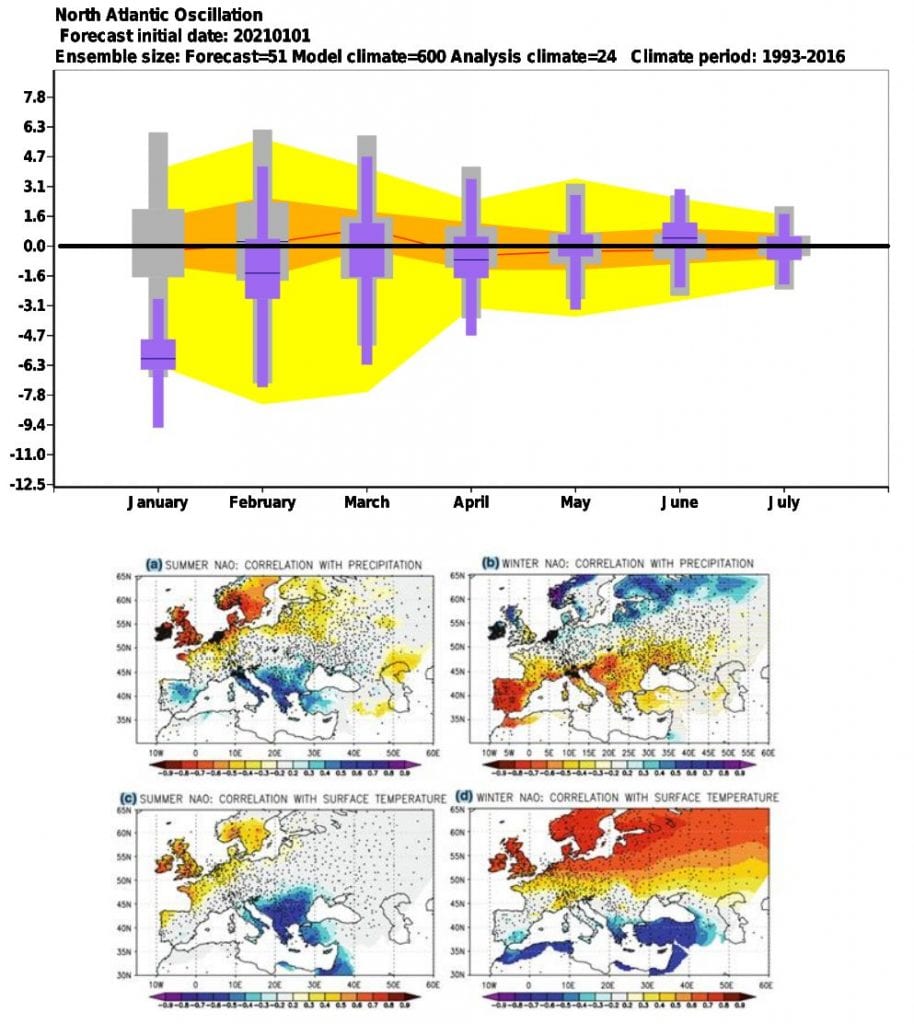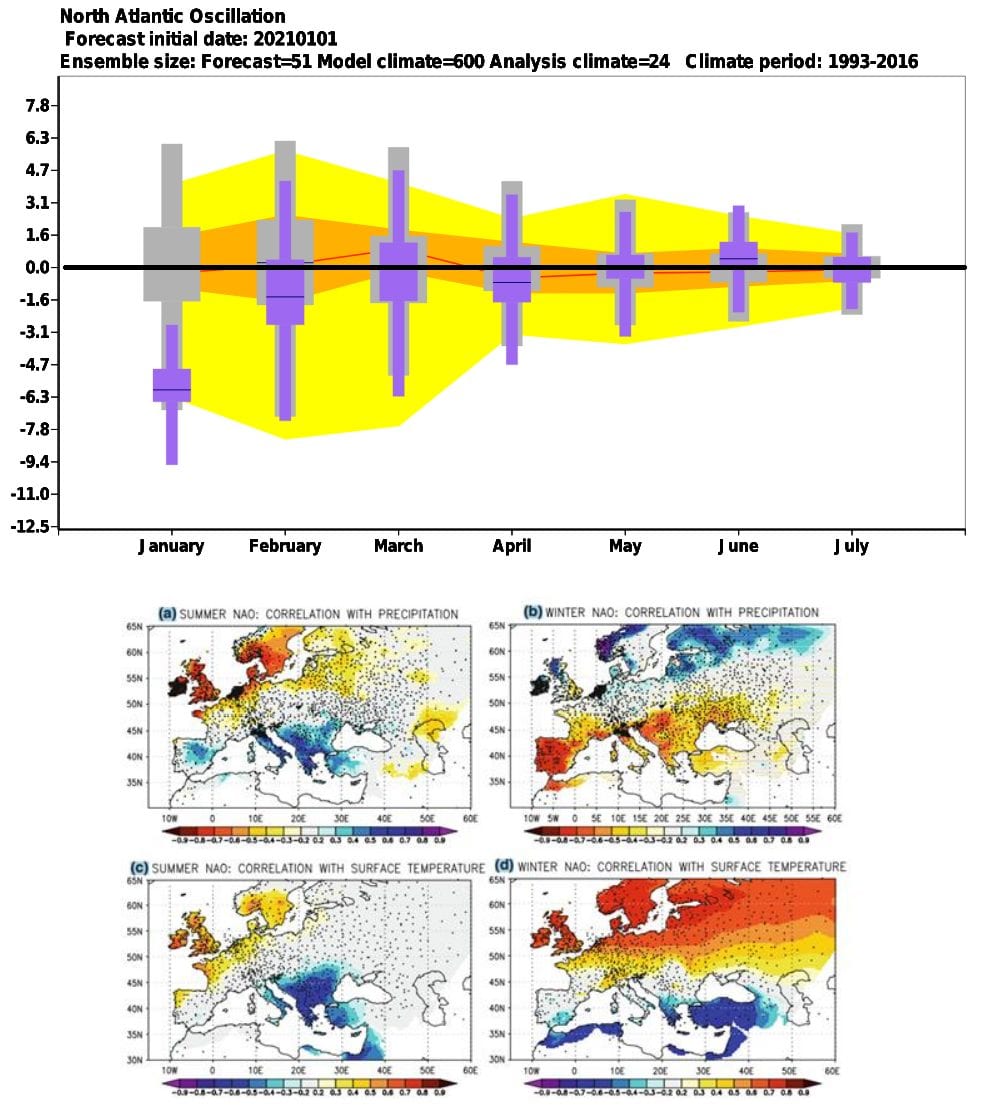 ENSO singals until November 2021
Source: https://www.cpc.ncep.noaa.gov/products/analysis_monitoring/lanina/enso_evolution-status-fcsts-web.pdf
Spearman correlation rank of Agriculture stress index with index SOI (left for El-nino, right for La-nina) /FAO
Source:
FAO, 2014. Understanding the drought impact of El Niño on the global agricultural areas: An assessment using FAO's Agricultural
Stress Index (ASI) – Food and Agriculture Organization of the United Nations, Rome 2014 < http://www.fao.org/3/ai4251e.pdf>

CFSv2 forecast for FEB-JUL 2021 – Temperature, air pressure and precipitation
Source: https://www.cpc.ncep.noaa.gov/products/CFSv2/htmls/glbSSTe3Mon.html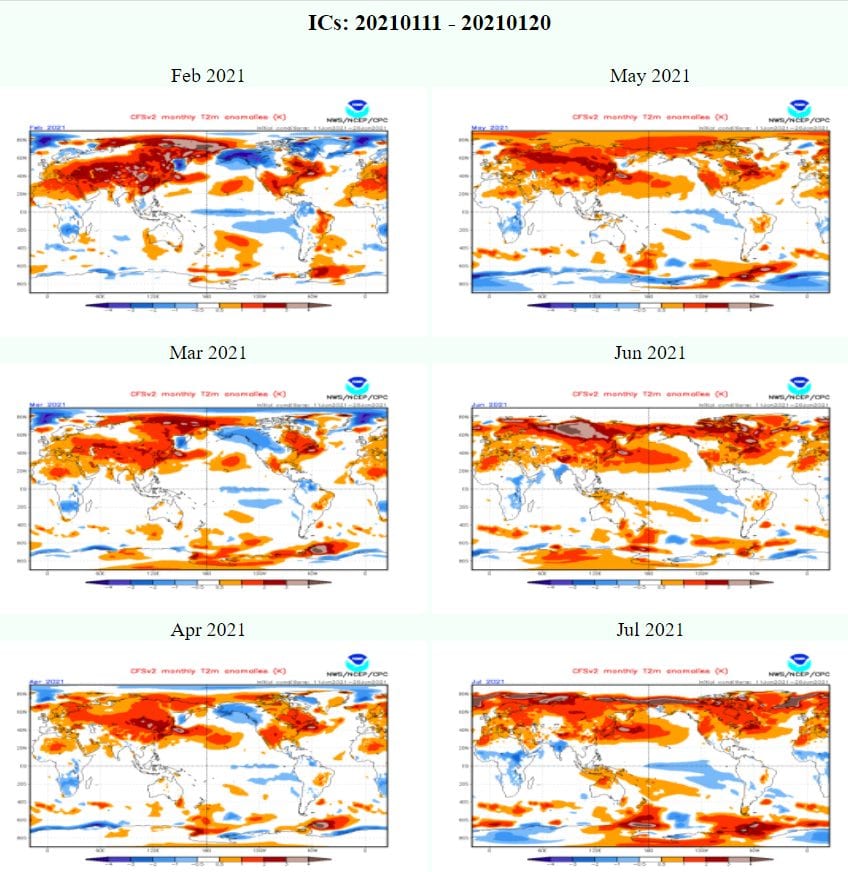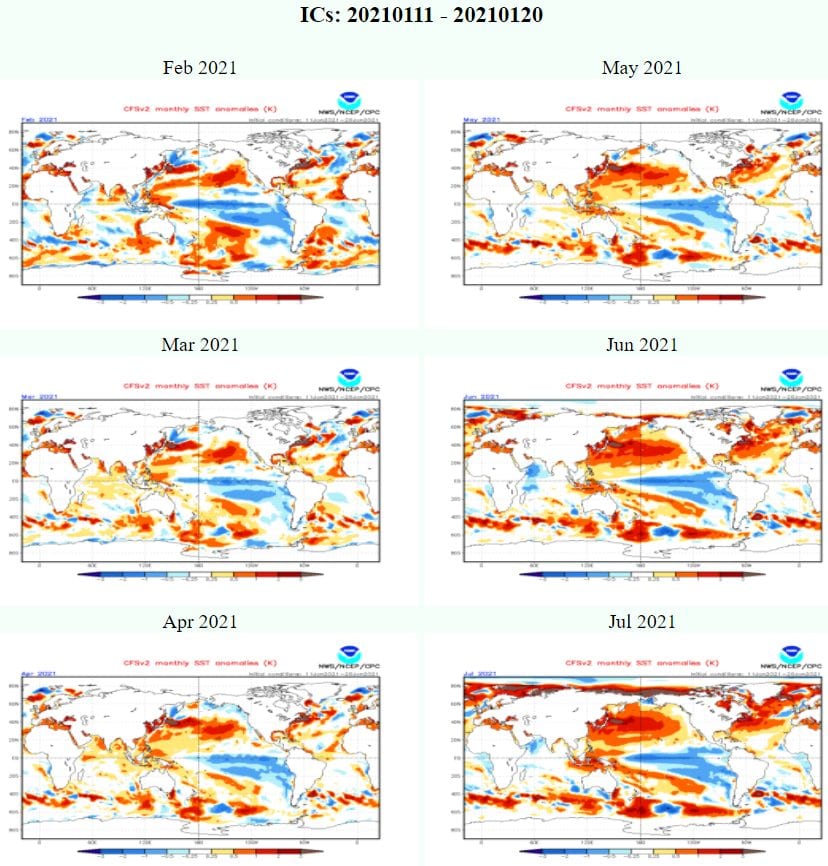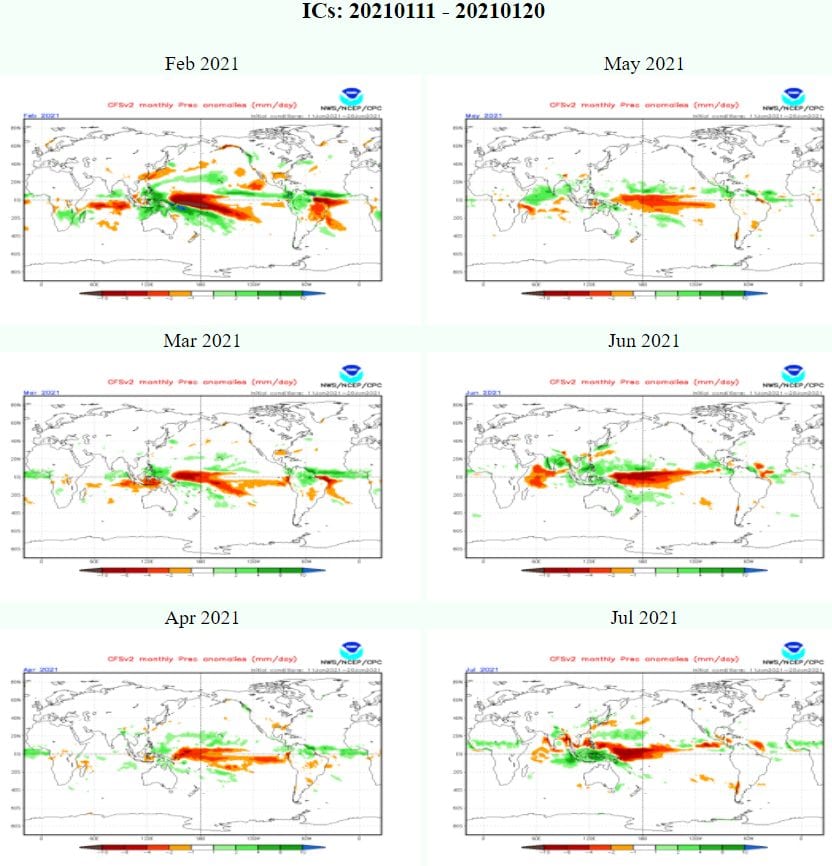 Read more: