Temperatures in lowlands and low situated basins in northern half of France already dropped up to -16,3°C (Buhl - Lorraine) on Thursday, 11. February 2021, but until the end of the week, even stronger frosts, with exceeding threshold -20°C are in Strasbourg region possible.
Severe frosts are reported from all northern half of France, including the warmest part - Brittany, where -7°C was measured.
Many parts of northern and central France reports snow cover, including Paris.
On Thursday, even colder weather hit British Islands - in the UK was measured historic -23,0°C - the coldest temeprature since 1995 and the coldest February temeprature since 1956 /https://mkweather.com/2021/02/11/the-uk-230c-the-coldest-night-since-1995-regionally-since-1940//.
On Tuesday and Wednesday, extreme frosts were reported from the Netherlands /https://mkweather.com/2021/02/09/hupsel-gelderland-the-netherlands-162c-the-coldest-times-since-2012-mk-2021// and Germany /https://mkweather.com/2021/02/10/germany-267c-siberian-winter-minimally-until-20-february-2021-mk//.
While Siberian winter will go away from the UK and France already early next week, in Central Europe should stay minimally until the next weekend, or it is here a probability of persisting Siberian conditions in eastern parts of Central Europe until the start of March 2021, with returning cold blasts in March /https://mkweather.com/2021/02/09/neverending-winter-siberian-blasts-until-late-march-2021//.
Extremely cold conditions around the world are a result of very strong La nina /https://mkweather.com/2021/02/05/the-coldest-earth-for-7-years-strong-impact-of-la-nina-is-here// in combination with persisting negative phase of Arctic Oscillation /https://mkweather.com/2021/02/06/ao-index-7-this-looks-like-historic-cicrulation-conditions-next-week//. It´s a question, how much have contributed to these cold conditions decreased emissions of CO2 due to COVID-19 crisis.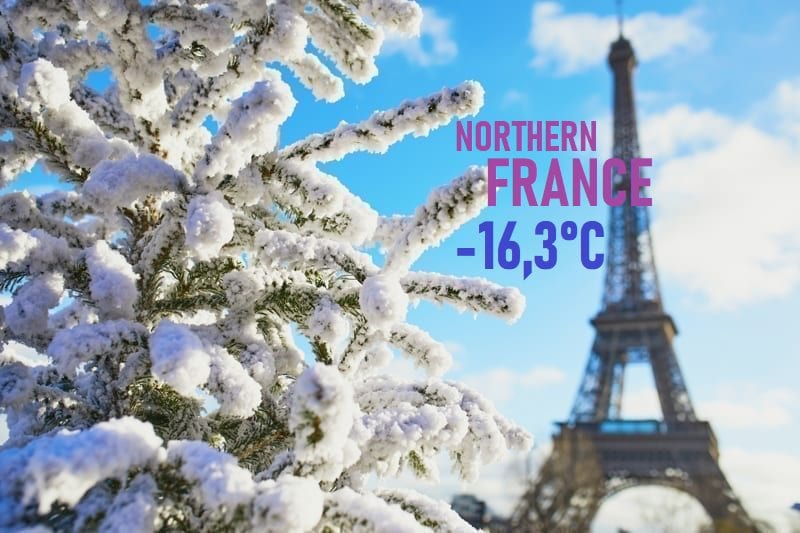 Next 4 mornings in the France /wetterzentrale.de
*national minimum temperatures should be 5-10°C lower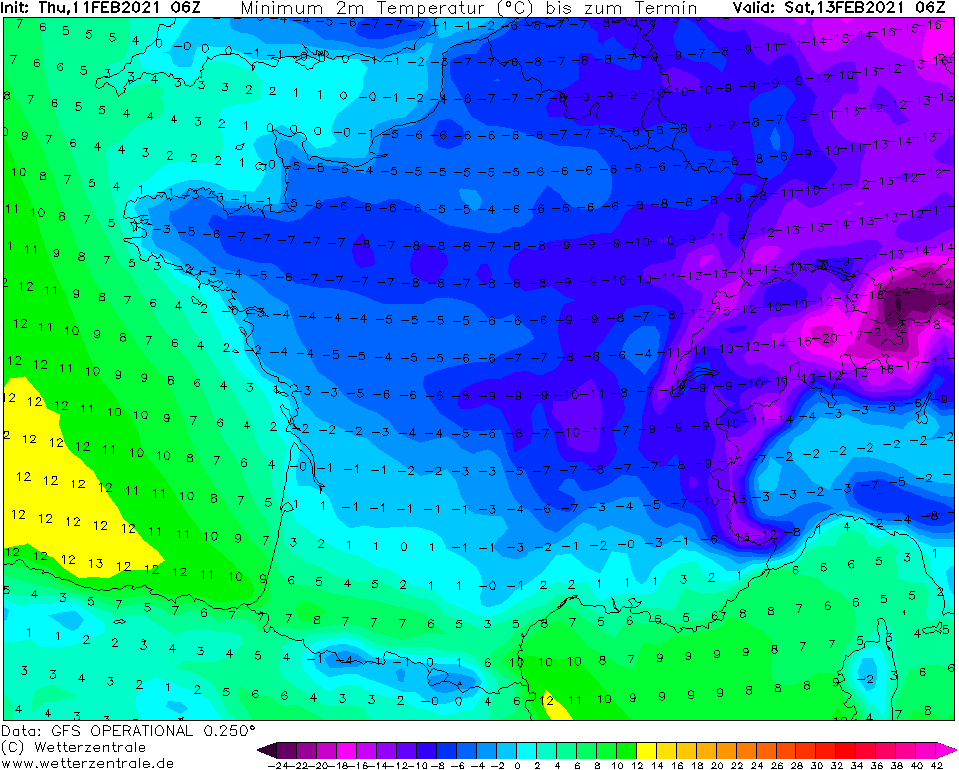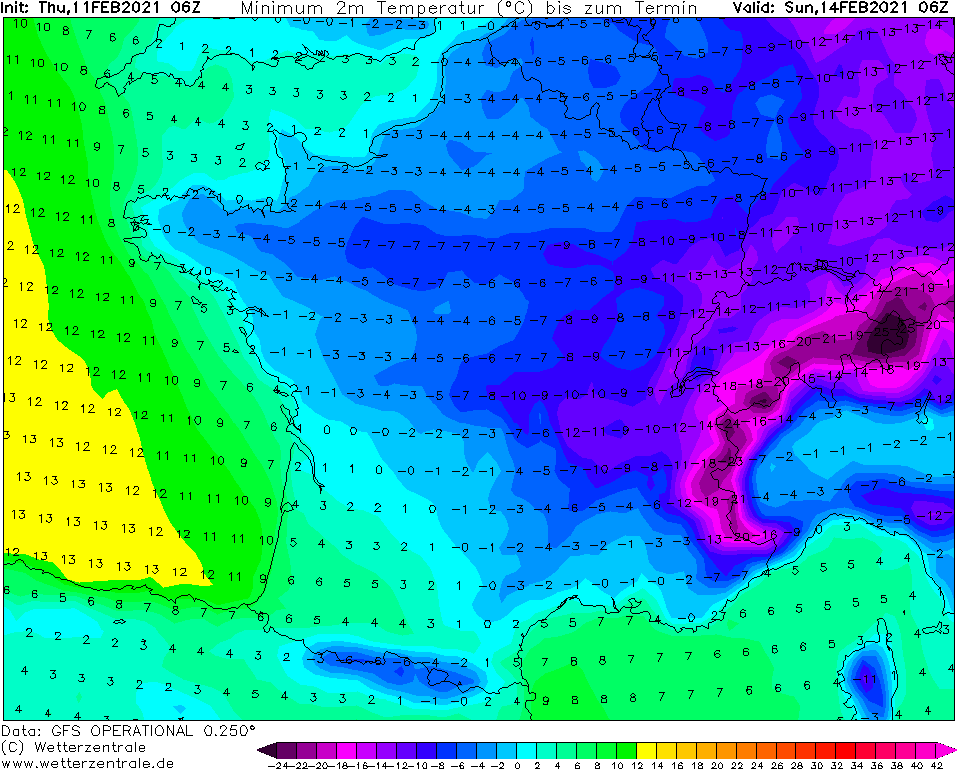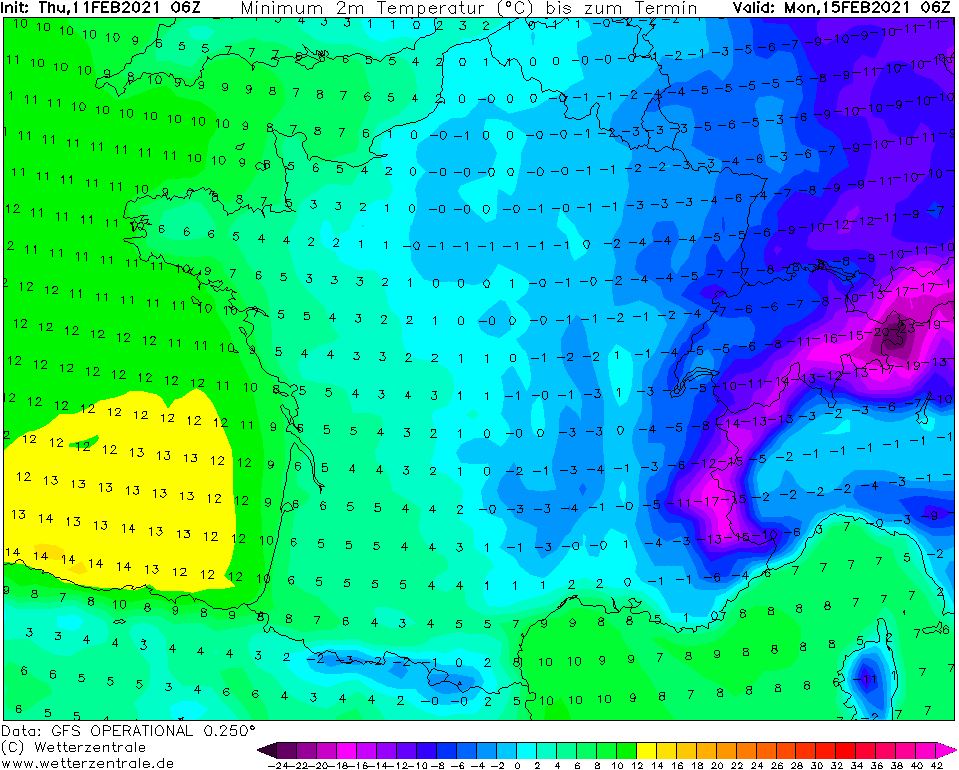 Read more:
(Visited 30 times, 1 visits today)