Canada Accuweather winter forecast: more NAO- and La-nina pattern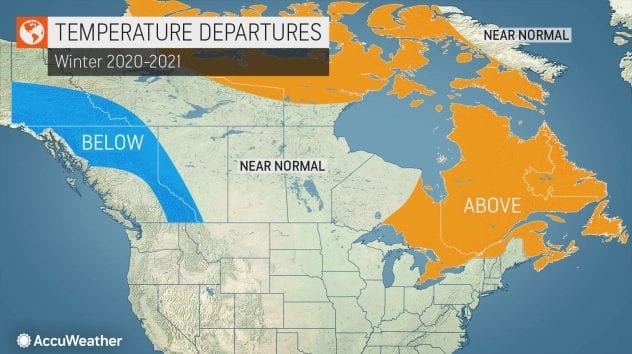 Accuweather has published forecast for Winter 2020/2021 for Canada and we should compare these outputs with Mkweather predictions for incoming winter.
According to Accuweather, northern and eastern Canada is expecting above temperature normal winter, while western parts of Canada should alive cold conditions during December, January and February.
Snowfall could be above average mainly in parts of British Columbia, Ontario and Quebec and below average mainly in Central Canada, southern Great Lakes and northwestern region.
/https://www.accuweather.com/en/winter-weather/accuweathers-2020-2021-canada-winter-forecast/830229/
According to Mkweather, powerful early cold shots are expected in parts of Northern hemisphere during the first half of winter and warmer conditions are expected during the second half of winter 2020/2021.
Mkweather Updated forecast for winter 2020/21 is similar than First forecast for winter 2020/21, with little longer duration of cold shots in January.
/https://mkweather.com/2020/09/24/updated-forecast-for-winter-2020-21-still-nao-ao-in-first-half-of-winter-nao-ao-in-second-half-of-winter-permanent-la-nina-and-surprisingly-easterly-qbo-possible//
/https://mkweather.com/2020/07/29/first-forecast-for-winter-2020-21-early-powerful-coldwaves-nov-dec-then-weakening-of-cold-pattern-and-warm-jan-feb-mar//
Since northern and eastern Canada is in Accuweather forecast warm, it can be linked with NAO- pattern (negative phase of North Atlantic Oscillation) over North Atlantic with cold conditions in Europe.
If warmer conditions in northern and eastern Canada will persist during most of the winter, it means, that cold shots in Europe should last longer in January, therefore, winter should be more better and early spring should come little later than was expected before, in Europe.
Cold and snowy conditions in British Columbia on the other hand should be linked with expected peak of La-nina during the winter 2020/21.
Under precipitation and warmer patterns in northern Canada are very probably linked with Arctic Amplification and possibly predominance of AO- (negative phase of Arctic oscillation) during the winter.
Overall, relative good winter conditions are expected during incoming winter in Northern Hemisphere thanks to La-nina, AO-, NAO-, QBO-, melting Arctic, Global warming hole, positive NH snow cover anomalies in early winter and minimum of Solar cycle. Winter in Southern Hemisphere was regionally the cruelest for last 20 years, therefore, despite of climate change, it should be relative good winter with a lot of cold shots in mid-latitudes, although, near temperature normals.
Infographics: Accuweather.com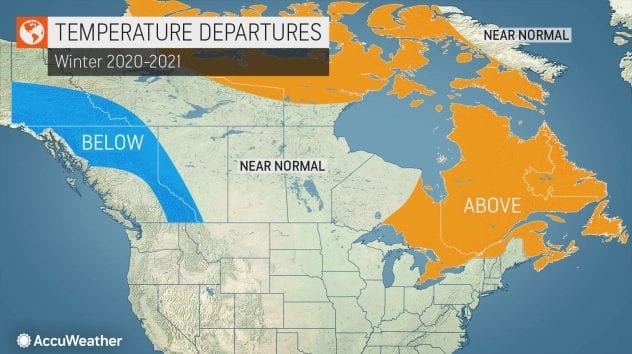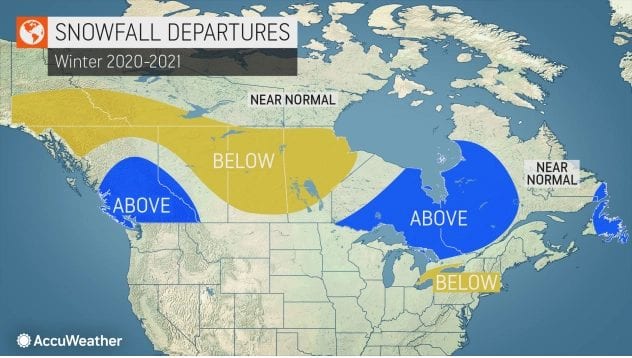 Read more: