Year after deadly floods in France and Italy are arriving the next catastrophic floods – a Genoa cyclone in southern France and northwestern Italy has triggered anomalous rainfall, floods, and 11 tornadoes, so far!
The station of Cairo Montenotte in Savona Province recorded 859mm in 24 hours, 496mm of this in 6 hours! *UPDATE: Rossiglione near Genoa, Liguria recorded 883,6 mm / 24 hours and 740,6 mm in 12 hours /https://twitter.com/extremetemps/status/1445429263017127937/photo/1/.
In Villefort, Région Languedoc-Roussillon, southern France, 457,2 mm / 24 hours was observed until 4. October 2021 /https://eswd.eu//.
Within the ESWD database, moreover, 11 tornado reports in Italy and France appeared between 2.-5. October 2021, with one – the scariest incident on the coast of Corsica /videos and Tweets below/.
Marseille received anomalous 173 mm / 24 hours and the city was heavily flooded, too.
The coasts of Liguria and Côte d'Azur were changed into streams of water from neighboring valleys and basins.
In Olbia, Sardinia, 6 cm hailstorms were bothering inhabitants and caused additional damages on properties and plants.
Extreme rainfall above 200 mm in a short time within ESWD were reported too from Mayres, Région Rhône-Alpes, France, 250,3 mm / 24 hours, Montpezat-sous-Bauzon, Région Rhône-Alpes, France, 226,5 mm / 24 hours, Cogoleto, Liguria, Italy, 268 mm / 12 hours, Mallare, Liguria, Italy, 329 mm / 17 hours, Pontinvrea, Liguria, Italy, 425 mm / 18 hours, Tiglieto, Liguria, Italy, 472 mm / 18 hours, Ovada, Piemonte, Italy, 258 mm / 19.5 hours, Savona (Colle Cadibona), Liguria, Italy, 286 mm / 18.5 hours, Sablières, Région Rhône-Alpes, France, 340,9 mm / 24 hours, La Souche, Région Provence-Alpes-Côte d'Azur, France, 323,2 mm / 24 hours, Barnas, Région Rhône-Alpes, 272,1 mm / 24 hours, Cairo Montenotte (Montenotte Inferiore), Liguria, Italy, 623 mm / 21 hours, Campo Ligure, Liguria, Italy, 359 mm / 24 hours only on Monday, 4. October 2021.
Tornado appeared even directly in Savona, Italy (a larger city with extreme rainfall above).
According to forecasts, a low-pressure system with devastating potential will be shifting until Friday, 8. October 2021 above Adriatic region, Balkan and Greece farther eastward, with a replacing of a heatwave in the region /https://mkweather.com/balkan-expects-30c-on-5-october-all-time-records-have-values-around-32-33c/; https://mkweather.com/germany-275c-munich-07c-from-all-time-october-record-austria-268c-hungary-267c-slovakia-256c-balkan-exceeds-30c-and-poland-25c// by heavy rains, floods, strong winds, and possible tornadoes.
In the southwestern Alps even, heavy snowfall is predicted (Austria, Slovenia, Italy).
If you live in a hit region or region with a forecasted track of a dangerous Mediterranean cyclone, we recommend you watch current weather news, forecasts, warnings, and advisories for better preparedness.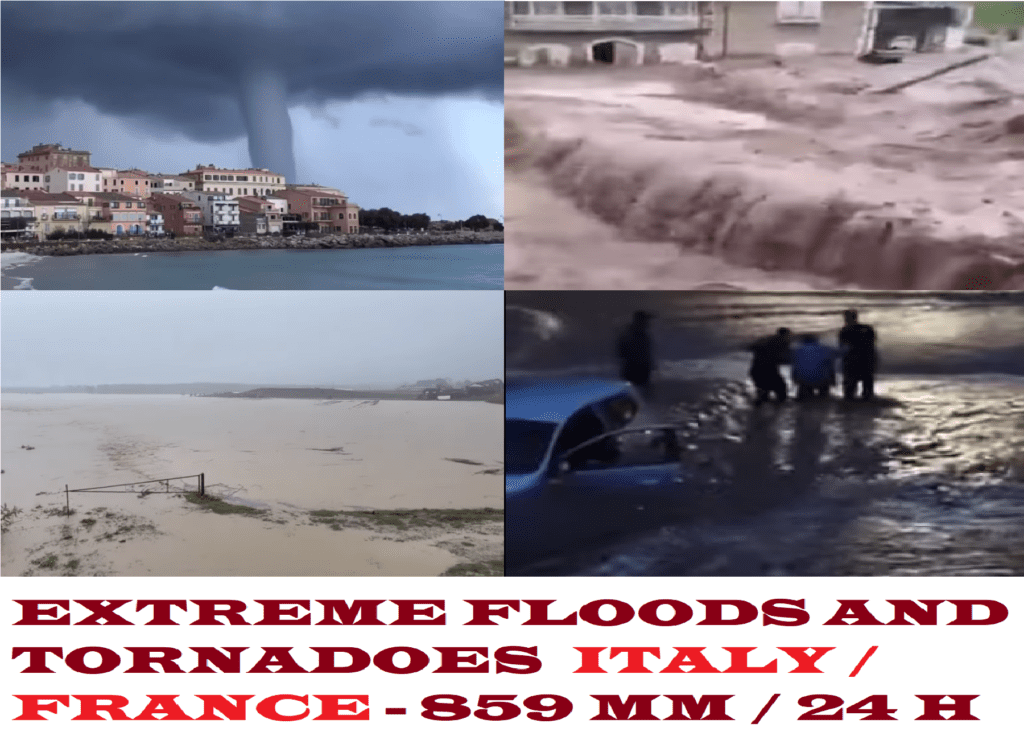 ITALY
FRANCE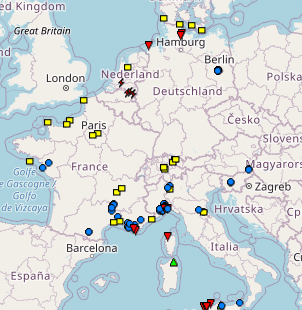 FORECAST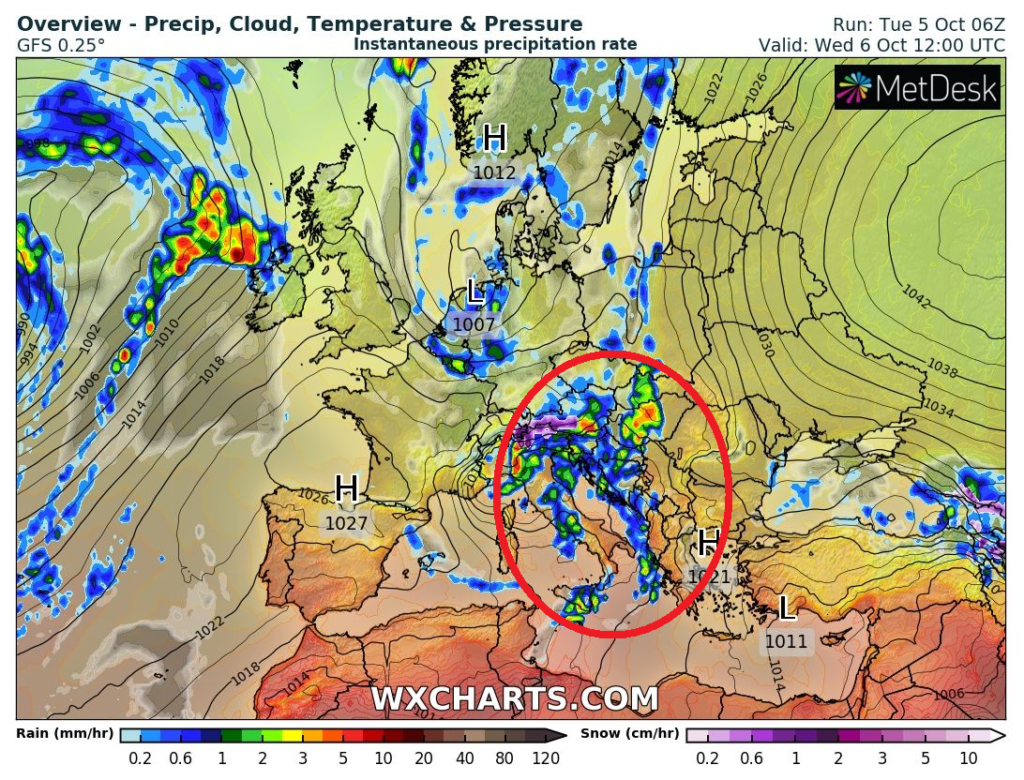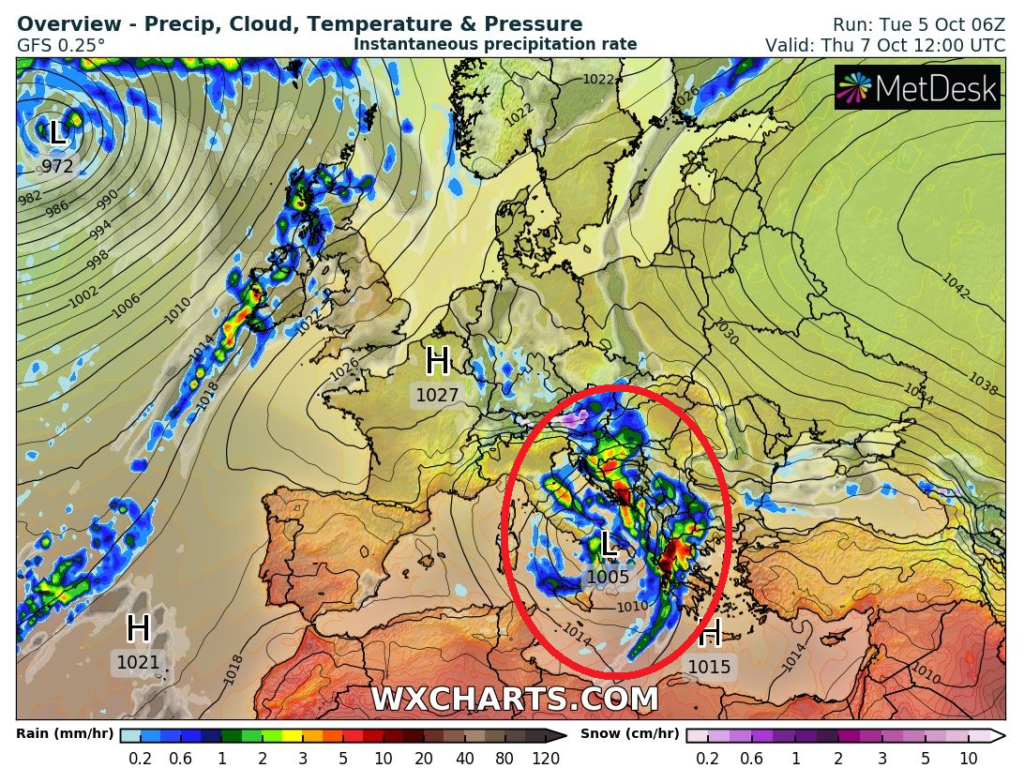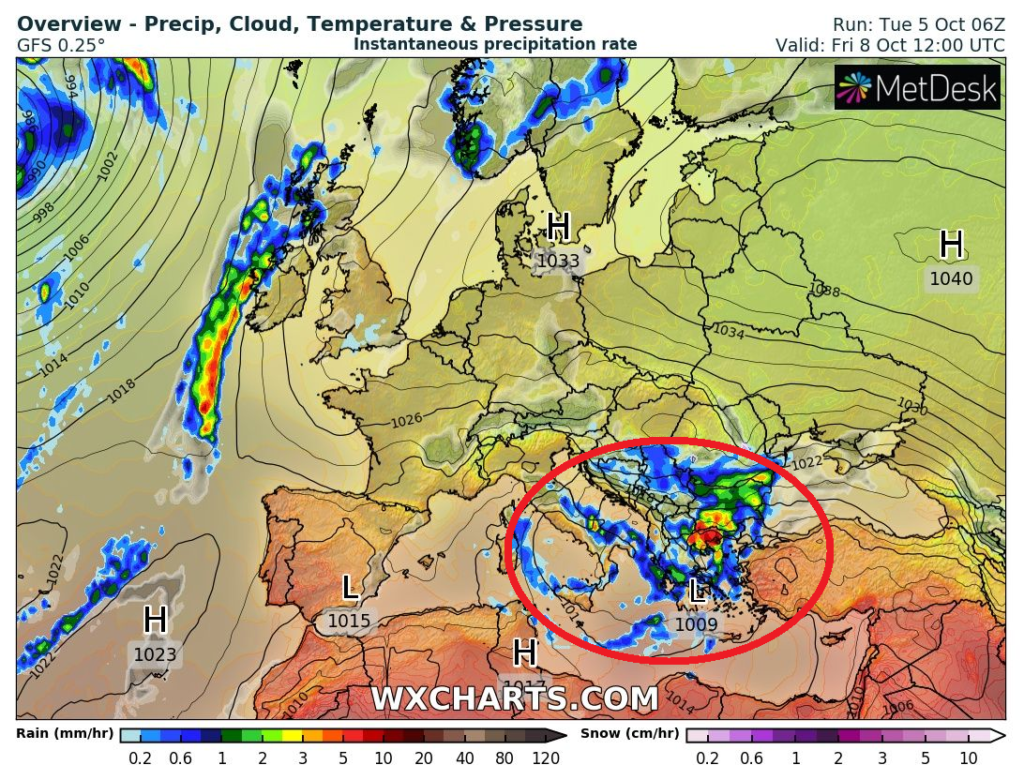 Source: wxcharts.com
(Visited 29 times, 1 visits today)